FTC Disclosure: Delicious Obsessions may receive comissions from purchases made through links in this article. As an Amazon Associate I earn from qualifying purchases.Read our full terms and conditions here.

Do you consume gelatin regularly? I do and there are many reasons why. Gelatin is one of those over-looked super foods that we all should be eating more of. 
If there is one food that all real foodies can agree on, it's going to be gelatin. I first learned about the health benefits of gelatin in the book Nourishing Traditions. Even though I had grown up eating a real food diet, I never really knew why gelatin was so good for us until I read this book.
Gelatin has a number of health benefits:
Supports and promotes healthy skin, hair, and nails growth.
An easily assimilable source of collagen, which helps support skin elasticity.
Supports bones and joint mobility and helping improve joint recovery when injured.
Helps improve aid in digestion.
Helps heal the gut lining for those suffering from leaky gut.
Great source of a wide range of amino acids (18 in total).
Helps fight inflammation, due to the amino acid glycine.

Great source of easily digested protein (great for exercise recovery).

Can help promote better sleep, due to the amino acid glycine.
Can help calm and soothe nerves and anxiety, due to the amino acid glycine.
Can help stop bleeding from wounds both internally and externally.
When it comes to gelatin, quality is of the utmost importance. The very best way to consume more gelatin is to simply drink homemade bone broth or eat soups and sauces made from this bone broth.
Canned and boxed broths are going to have very little gelatin in them and are quite often filled with other unsavory ingredients. I recommend staying away from store-bought broth unless absolutely necessary.
Important Note On Gelatin Types 
When it comes to gelatin, you don't want any old gelatin off the supermarket shelves. You want to look for 100% grass-fed gelatin from healthy animals. Just like other animal products, quality is important.
That is why I recommend Vital Proteins Grass-Fed Gelatin products and Perfect Supplements products exclusively. I have compared these brand with other brands on the market and the quality far surpasses anything else I've tried. I am thrilled to be one of their affiliate partners and support such great products and companies.
Perfect Supplements offers a grass-fed hydrolyzed collagen (cold-soluble) right now and has a gelatin (hot-soluble) in the works for 2016. Read my review of their product here or watch the video below. You can order their own products via their own site here or on Amazon here.
Vital Proteins offers two types of gelatin
. It is important to know that these ARE NOT interchangeable when it comes to recipes! The green top (Collagen Protein) is what you need for this recipe and for recipes where you are making gummies, "jello", etc. The blue top (Collagen Peptides) is cold water soluble and does not thicken or gel like gelatin does. Both are very nutritious, but can't be used interchangeably.
You can order their own products via their own site here or on Amazon here. 
Watch this video:
Want to know more about why gelatin is the bomb beezy? Check out these awesome articles from a few of my friends:
And, for even more info on gelatin, I LOVE this book from my friend and affiliate partner, Sylvie of The Hollywood Homestead — The Gelatin Secret: The Surprising Superfood that Transforms Your Health and Beauty. She dives into all of the benefits of gelatin, how it improves our health (especially bone, joint, brain, skin, dental, and gut health), plus she offers some tasty recipes too!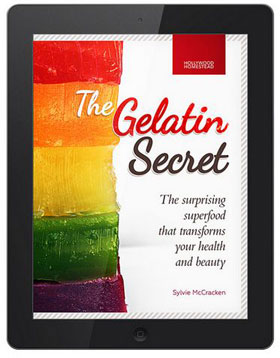 All in all, gelatin is just downright good for us to eat, so let's eat more of it!
Easy Ways to Add more Gelatin to Your Diet
Like I mentioned above, the best source of gelatin is going to be in your homemade bone broths. But, it's always handy to keep a jar of gelatin powder on hand for times when you may not have homemade broth to eat (despite my best efforts, I do run out from time to time), or when you just want to add a little boost of nutrition to your food.
Right off the top of my head, here are some super simple ways to add more gelatin to your diet. Scan through these and then check out all the recipe ideas below!
Add gelatin to your smoothies for a protein boost.
Add gelatin to your coffee or tea.
Use gelatin to make tasty snacks and desserts.
Sprinkle some gelatin over your soups and stews.
Add gelatin to your sauces and gravies.
80 Delicious Ways to Eat More Gelatin
Consuming gelatin through your food is the best way to incorporate more into your diet. I eat soup every single day for lunch. I make that soup with my homemade bone broth and my body craves it. Since I am working on healing my leaky gut, I am trying to get gelatin into my diet in more ways that just soup and now, I am armed with all these delicious recipes to try!
Beverages & Smoothies
Desserts & Snacks
Everything Else
Tell me, what is your favorite way to eat gelatin? Have you experienced improved health since incorporating gelatin into your diet? Leave a comment below and don't forget to check out Sylvie's book, The Gelatin Secret (affiliate link)!
References
Want Even More Gelatin Goodness?
Health Benefits and Gelatin Info
Gelatin Recipes (Gluten-Free)

Delicious Obsessions is a participant in the Amazon Services LLC Associates Program, an affiliate advertising program designed to provide a means for us to earn fees by linking to Amazon.com and affiliated sites.Read our full terms and conditions here.