About Jessica Espinoza, Certified Yoga Teacher, Nutritional Therapist & Mind-Body-Soul Health Coach
"When you change the way you look at things, the things you look at change." ~Wayne Dyer

Welcome to Delicious Obsessions and thank you for taking the time to read through my blog! I so appreciate you stopping by! I am honored to share a little of my story with you today in hopes that it helps you on your journey.
My name is Jessica and I am a Certified Yoga Teacher, Nutritional Therapist, Mind-Body-Soul Health Coach, Body Image Movement Global Ambassador, and Health at Every Size supporter. I am a jeans and t-shirt, outdoor loving mountain girl hailing from the beautiful state of Colorado (there is not a fancy bone in my body). I seriously love it here and try to get outside and off the computer any chance I get. I live in the city now, but I grew up in the mountains playing in the dirt, riding horses, chasing chickens, and running free.
I am also a wellness educator, health freedom advocate, avid researcher, book junkie, student, wife, former chef, real foodie, dog lover, and aspiring yogi. I love being outside, whether it's walking, hiking, or just reading a book in the park. In my free time, I enjoy painting, listening to music, playing with my dogs, and watching movies on Netflix.
I have been cooking since I was about three years old. My mother is a fantastic cook and a firm believer in wholesome and traditional food. She had me helping her in the kitchen from the time that I was old enough to stand on a chair and peer over the counter. I thank her tremendously for letting me help her and for her dedication to teaching me to cook and bake. I can honestly say that it has shaped me into the person I am today. She trusted me so much in the kitchen that I was cooking on my own from the time I was about seven or eight years old. After I got older, I ended up working in a restaurant for over nine years, working in every position a restaurant has, finally ending up as lead chef.
I thank my mother from the bottom of my heart for letting me help her and for her dedication to teaching me to cook and bake. I can honestly say that it has shaped me into the person I am today.
Since 2010, I have authored a number of real food cookbooks and eCourses including Real Food 101: Practical Tips for Healthy Eating, the best-selling DIY Herbal Coffee Substitutes Blending Guide, and the popular Eat the Rainbow eCourse where I teach people how to easily improve their health through the power of fruits and veggies.
My Food & Health Journey
I have been on my own "official" healing journey for autoimmune disease since 2012. I have worked with countless practitioners, done countless strategies, and have spent more time and money being stressed out about my health than I would care to admit. You can read some of my healing journey on here.
While I was raised in a home that ate real food and was into natural healing, etc., I "rebelled" in my late teens and early 20s and pretty much went the way of the Standard American Diet (SAD). All of that changed in August of 2012 when I knew that it was time to take control of my health. I realized that I had some issues that I needed to address, rather than ignore. I wasn't getting any younger and I knew that burying my head in the sand was likely not a good strategy for living a vibrant life. 😉
I was diagnosed as being hypothyroid many years ago, but in 2012 I knew it was time to get the additional testing done and see what else was really going on. I was officially diagnosed with an autoimmune disease and knew that I had to get serious about my health.
In my journey, I have dealt with everything from leaky gut and blood sugar imbalance, to nutritional deficiencies and insomnia, to depression and an undiagnosed eating disorder.
In 2015, I found myself feeling depressed, lost, overwhelmed, and at a crossroads in my life. I knew it was time to take my life in a whole new direction. I knew my health, business, and life had plateaued and I could either continue on as I had been, or I could take action and make a drastic shift. I had no idea how I was going to do this.
The thought of challenging my deepest, darkest beliefs was terrifying. But I knew it had to be done. For me, it was a matter of life or death, as I wrote about in this blog post.
After months of reflection and working with a life coach, I discovered that one of the primary reasons I had lost my way is there was a real lack of heart in my own healing journey. Not just a lack of heart in my health, but in my life.
This realization transformed my life and I'll never forget when it all hit me. It was literally one of those moments out of a movie and nothing has been the same since. I knew exactly where I needed to go and what I needed to do.
I needed to bring the heart back into healing.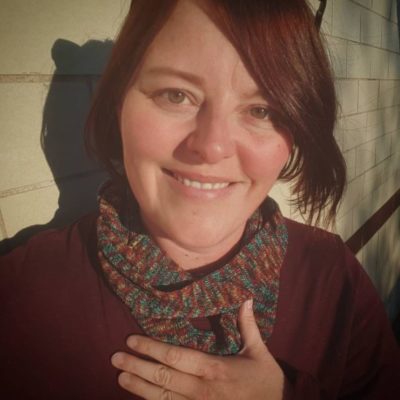 I desperately needed to reconnect with my spirituality and my trust and faith in God. While I was raised in a faith-centric household, as a young adult I lost sight of the deeper spiritual side of myself. Over time found myself feeling a great sense of disconnection from this beautiful higher power and the role that it needed to play in my life. Over time I have come back to my spirituality and each day continue to strengthen my faith and trust in God to guide my actions, hopes, and dreams.
I let go of the need to fix myself. I started learning that I was enough. I began cultivating daily self-care practices that brought joy to my life. I started to let go of the idea that I had to be perfect and that all things in my life had to be controlled.
It has been a beautiful experience that led me to become a mind-body nutrition coach and nutritional therapist. Now I spend less time in the kitchen developing recipes and more time helping women find peace and healing in their relationships with food and body in a very heart-centered way. The lack of heart in my own healing journey is what led me to the place I am today and to say I am passionate about my work is a vast understatement.
I am honored to be able to assist women on their own healing journeys and help them find the peace they are seeking around food and body. My whole life has reflected a very negative outlook towards my own body and my relationship with food as I discuss in my "You're So Fat" blog post. Finding peace in these areas is one of the most important things I've ever done and it transformed my life and my health in a way that I never knew possible.
I have spent more years than I can count waiting for the "right" time, the "right" weight, the "right" health status, the "right" amount of money, etc. before allowing myself to live my life to the fullest. While I was waiting life passed me by with no apologies.
Now, I am determined to help women across the world seize their inner passion and inspire them to live their most vibrant life ever, no matter what challenges they may be facing. I hope you'll join me and together we can change the world!
My Food Philosophy
My philosophy on food is quite simple: Eat real food.
As my mother has always said, "Eat what will rot, just eat it before it does."
While I love the Internet and all the amazing things it brings, what I do not like is how it has created such religion around diet and the "right" way to eat. Eat this, don't eat that, DEFINITELY don't eat x,y,z because it's pure sin. Blah, blah, blah.
All this diet dogma does nothing to actually help people live better lives. It just leaves them feeling confused and frustrated. Or even worse, with severe issues around food and body (i.e. disordered eating and eating disorders).
It's important for everyone to understand that there is no one-size-fits-all way to eat. We are all different in our dietary needs. It's up to you to figure out what works for you and your needs. And it's important to be fluid and allows your diet to change as your life phase changes. The way we eat at 20 is not the way we will need to eat at 40.
The Mission of Delicious Obsessions
When Delicious Obsessions was founded back in 2010, I had no idea where it would take me. I could have never dreamed that it would turn into such a vibrant community. I started the site as a way to keep track of all my recipes and also share them with family and friends.
Over time, my site grew and I met so many amazing people through it. Without this site, I would have never met some of my closest friends and for that, I am so thankful.
The main goal I have for this site is to provide natural living information that is easy to understand and recipes that are nutritious, easy, and delicious. I want to help people eat better, feel better, and live better without having to break the bank to do it.
Since 2010, we have built a library that has hundreds of delicious real food recipes, all created by either myself or my website contributors. You can visit the full recipe library here.
Because vibrant health goes far beyond what we put in our mouth, we have also created an extensive library on nutrition and health here, as well as a library of DIY and how-to tutorials here.
If you are interested in learning more about the eBooks and eCourses I have created, please visit this page.
If you're looking for something specific, simply use the search bar at the top of this page and I am betting we have something that would be of interest!
Please feel free to contact me with comments, ideas, suggestions, etc. I love hearing from readers, no matter the topic! You can also connect with me on Facebook, Google (personal page), Google+ (blog page), Twitter, Pinterest, Instagram, and YouTube.
If you are interested in working with me in a professional capacity, please visit this page for more information.
Here's to YOUR health, with love,
Legal Note & Copyright
All original material including recipes, articles, photos, and/or video published on this website are the property of Jessica Espinoza and Delicious Obsessions, LLC (unless otherwise noted) and may not be reproduced elsewhere without permission or credit. Please review my terms and conditions for detailed information about this site.