FTC Disclosure: This post contains affiliate links which means if you make a purchase through one of these links, I may earn a small commission on your sale which allows me to cover a portion of the cost of running the Delicious Obsessions site and free content we provide every week. This has no effect on your price and is simply a cost of doing business from the company you purchase from. I only recommend products or services that I have personally tried and love. You can view it like leaving a tip. Thank you for your support!
This Peppermint White Hot Chocolate Recipe came about years ago when I was totally addicted to Starbucks (like seriously addicted — I'd go at least once a day, sometimes twice). One of my favorite drinks that they made was their Peppermint White Hot Chocolate — so rich, creamy, sweet, and decadent.
And not at all good for me, especially with the number of drinks I consumed during that period of my life!
I decided that I needed to try making it at home, not only for my health, but for my budget. Not only was it very simple to recreate, now I don't feel so guilty about indulging in the sweet beverage once in awhile. Lots of healthy fats and you can adjust the sweetener to suit your own preferences. I prefer things much less sweet today, since I have broken my sugar addiction and don't consume much sugar now.
This delicious drink can be doubled, tripled, even quadrupled, if you're making it for a big group of people. It's rich and satisfying and absolutely perfect on a cold winter day after being outside in the snow.
Delicious Obsessions Product Recommendations
My affiliate partner, Vitacost, has really good prices on some of the ingredients in this recipe. If you sign up through this link, you'll get a coupon for $10 off your first purchase from Vitacost, and when your order ships, I'll get a $10 off coupon for referring you. The cool thing about this program is that you can then refer your family and friends through your own link and YOU can get the $10 coupons too! 🙂
Amazon, of course, has everything you need for this recipe. Their prices are often very good, though I love to shop around and sometimes find that Vitacost and Thrive Market have better deals. If you like saving money, it's good to shop around! 🙂
In addition, my affiliate partner, Tropical Traditions, is where I get all of my coconut products from and if you make a purchase from them through any of my links, you will receive a free copy of their Virgin Coconut Oil book, and I will receive a discount coupon for referring you.
Important Note On Gelatin Types 
When it comes to gelatin, you don't want any old gelatin off the supermarket shelves. You want to look for 100% grass-fed gelatin from healthy animals. Just like other animal products, quality is important.
That is why I recommend Vital Proteins Grass-Fed Gelatin products and Perfect Supplements products exclusively. I have compared these brand with other brands on the market and the quality far surpasses anything else I've tried. I am thrilled to be one of their affiliate partners and support such great products and companies.
Perfect Supplements offers a grass-fed hydrolyzed collagen (cold-soluble) right now and has a gelatin (hot-soluble) in the works for 2016. Read my review of their product here or watch the video below. You can order their own products via their own site here or on Amazon here.
Vital Proteins offers two types of gelatin
. The green top (Collagen Protein) is what you need for this recipe and for recipes where you are making gummies, "jello", etc. The blue top (Collagen Peptides) is cold water soluble and does not thicken or gel like gelatin does. Both are very nutritious, but can't be used interchangeably. 
You can order their own products via their own site here or on Amazon here.
Shout out to my friend Suzanne from Strands of My Life for shooting the photo for this recipe!

Peppermint White Hot Chocolate Recipe (Dairy Free)
I have linked to the products from my affiliate partners that I personally use and recommend. All funds earned go to help support the maintenance of this site and free content. Thank you! 🙂
Author:
Jessica Espinoza @ Delicious Obsessions
Instructions
In a medium saucepan, melt the white chocolate over very low heat.
Add the milk, honey, and gelatin and turn the heat up to medium-low. Stir continuously to combine and keep the milk from burning.
After the mixture has heated up, add the vanilla and peppermint extract. Stir and remove from heat.
Pour into mugs and top with whipped cream and if you really want to get fancy, you can add some crushed peppermint candies.
Serve immediately.
P.S. If you want to learn more about gelatin and its benefits for our health, I highly recommend this book,
The Gelatin Secret: The Surprising Superfood That Transforms Your Health and Beauty
, from my affiliate partner, Sylvie McCracken. This book is packed with incredible information on how gelatin helps all aspects of our health and also features delicious recipes!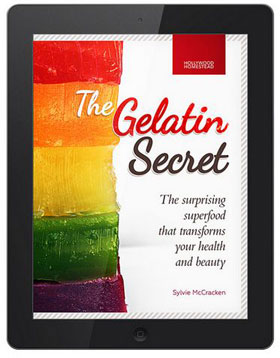 Paid Endorsement Disclosure: Delicious Obsessions is a participant in the Amazon Services LLC Associates Program, an affiliate advertising program designed to provide a means for sites to earn advertising fees by advertising and linking to AMAZON.COM. This post may contain affiliate links and/or ads. We only recommend products or services that we have personally tried and love. When you make a purchase through any of these links, we earn a small commission on each sale, which allows us to cover a portion of the cost of this site. This has no effect on your sale price and is simply a cost of doing business for the company you are purchasing from. All funds received help with the continued maintenance of this website and free content. You can view it like leaving a tip. Thank you! Read our full terms and conditions here.

Jessica is a real food wellness educator and the founder of the Delicious Obsessions website. She has had a life-long passion for food and being in the kitchen is where she is the happiest. She began helping her mother cook and bake around the age of three and she's been in the kitchen ever since, including working in a restaurant in her hometown for almost a decade, where she worked every position before finally becoming the lead chef. Jessica started Delicious Obsessions in 2010 as a way to help share her love for food and cooking. Since then, it has grown into a trusted online resource with a vibrant community of people learning to live healthy, happy lives through real food and natural living.