FTC Disclosure: Delicious Obsessions may receive comissions from purchases made through links in this article. As an Amazon Associate I earn from qualifying purchases.Read our full terms and conditions here.

Strawberry Clouds
Imagine big soft white clouds.
Now imagine them at the end of the day, when the setting sun gives them a lovely red tinge.
Now imagine them strawberry flavored!
Just like this dessert, they are Strawberry Clouds!
Light, airy, delicate and with just the right amount of sweetness. Perfectly balanced by the roundness of the whipped cream.
The perfect dessert for a summer dinner party, or for a Sunday brunch.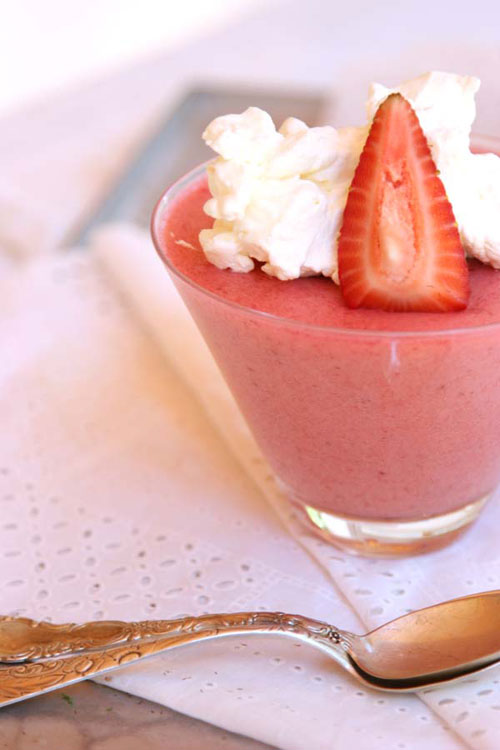 A sugar-free treat!
We all need and deserve a sweet treat sometimes!
The only problem with this fact is that sugar and carbohydrate consumption has reached a staggering proportion in the world. We consume at least 300 calories a day more from carbs ONLY compared to 40 years ago, while fat and protein consumption as stayed almost the same.
This sudden change in diet had brought dire consequences for the health of the people. Just look at the statistics for diabetes, metabolic syndrome, heart disease, etc. These are all degenerative diseases that originate in a bad diet and are preventable.
As a nutritionist, it is my duty to look out for your health. I do it for my patients and I do it for my readers!
As a cook, I incorporate my knowledge of nutrition to create delicious treats that are not bad for you.
This one is especially dear to my heart, as it came out delicious and won't leave you feeling ill from a sugar high and sudden crash. I hope you enjoy!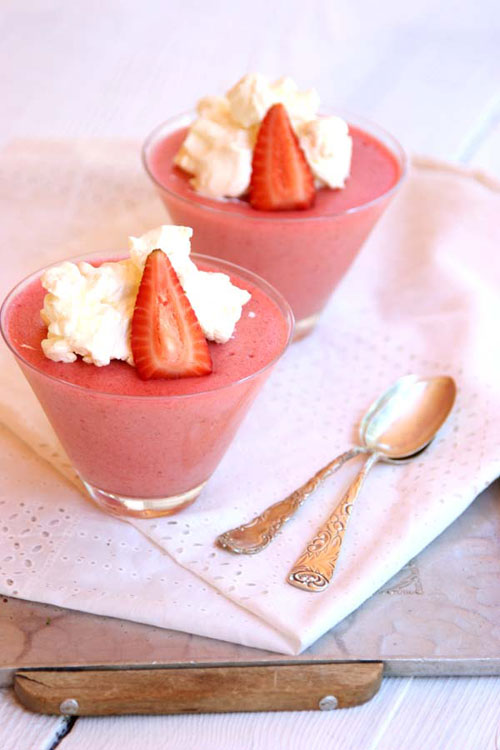 Delicious Obsessions Trusted Product Recommendations
I am always asked about my favorite ingredients and what I use in my own kitchen. I have linked to the products from my affiliate partners that I personally use and recommend. And now, here are the special coupon offers that select affiliate partners are currently offering:
Thrive Market: If you sign up through this link, you will get 15% OFF your first order.
Amazon, of course, has everything you need for this recipe. Their prices are often very good, though I love to shop around and sometimes find that Thrive Market has better deals. If you like saving money, it's good to shop around! 🙂
Important Note On Gelatin Types
When it comes to gelatin, you don't want any old gelatin off the supermarket shelves. You want to look for 100% grass-fed gelatin from healthy animals. Just like other animal products, quality is important.
That is why I recommend Vital Proteins Grass-Fed Gelatin products and Perfect Supplements products exclusively. I have compared these brand with other brands on the market and the quality far surpasses anything else I've tried. I am thrilled to be one of their affiliate partners and support such great products and companies.
Perfect Supplements offers a grass-fed hydrolyzed collagen (cold-soluble) right now and has a gelatin (hot-soluble) in the works for 2016. Read my review of their product here or watch the video below. You can order their own products via their own site here or on Amazon here.
Vital Proteins offers two types of gelatin
. It is important to know that these ARE NOT interchangeable when it comes to recipes! The green top (Collagen Protein) is what you need for this recipe and for recipes where you are making gummies, "jello", etc. The blue top (Collagen Peptides) is cold water soluble and does not thicken or gel like gelatin does. Both are very nutritious, but can't be used interchangeably.
You can order their own products via their own site here or on Amazon here.
Watch this video: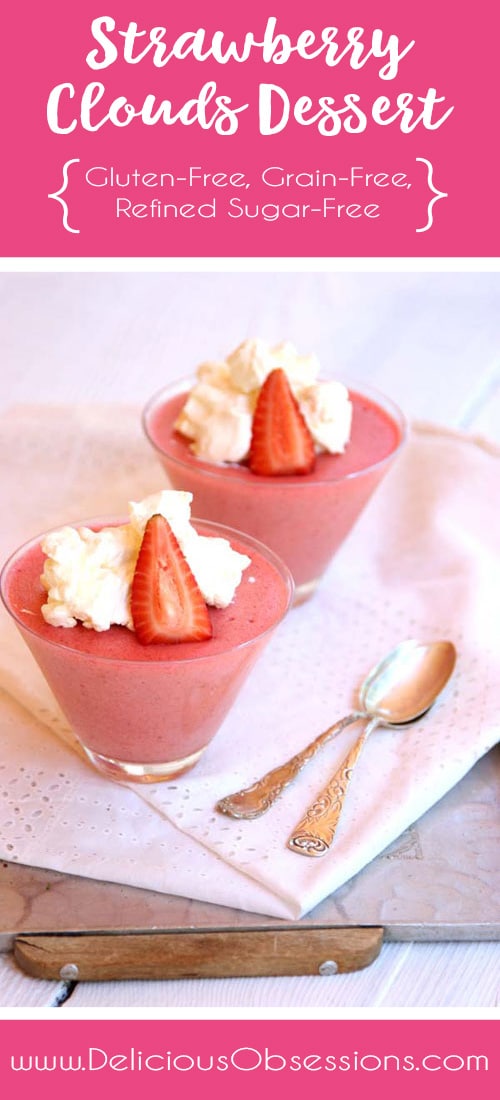 Strawberry Clouds Dessert :: Gluten-Free, Grain-Free, Sugar-Free
Light, fluffy, creamy deliciousness! This is strawberries and cream to a whole new level. Plus, it gives you an added boost of nutrient-dense gelatin.
Instructions
Beat the egg whites with an electric or hand whisk until stiff peaks form. Set aside.
Wash and trim strawberries.
Put the strawberries in a blender and puree them until completely liquified. Add the vanilla and stevia.
In the meantime, in a small sauce pan heat 1/4 cup of water to about 100 degrees.
Add the gelatin to the water and let dissolve.
Now with the blender going on slow, pour the gelatin into the strawberry puree and blend well for about 20 sec.
Now pour the strawberry mixture on the egg whites and fold in carefully until evenly mixed.
Pour the mix into 4 cups and put in the refrigerator to set for at least 4 hours.
When ready to serve whip the heavy cream in a blender or with an electric whip.
Serve with a large dollop of whipped cream and a strawberry for garnish.
Recommended Products
As an Amazon Associate and member of other affiliate programs, I may earn a small commission from qualifying purchases.
Nutrition Information:
Yield:

4
Serving Size:

1
Amount Per Serving:
Calories:

247
Total Fat:

22g
Saturated Fat:

14g
Trans Fat:

1g
Unsaturated Fat:

7g
Cholesterol:

67mg
Sodium:

45mg
Carbohydrates:

10g
Fiber:

2g
Sugar:

7g
Protein:

4g
This website provides approximate nutrition information for convenience and as a courtesy only. Nutrition data is gathered from Nutritionix and we often find their calculations to be slightly inaccurate based on the whole food ingredients we use on this site. Nutrition information can vary for a recipe based on many factors. We strive to keep the information as accurate as possible, but make no warranties regarding its accuracy. We encourage readers to make their own calculations based on the actual ingredients used in your recipe, using your preferred nutrition calculator.
Want Even More Gelatin Goodness?
Health Benefits and Gelatin Info
Gelatin Recipes (Gluten-Free)
The Gelatin Secret
For further reading, my friend Sylvie's book, The Gelatin Secret (affiliate link), is by far the best book out there on the subject.
Gelatin is the superfood that can give you relief from digestive disorders and thousands of people are finding that regular consumption is helping them heal their bodies and live a healthier life.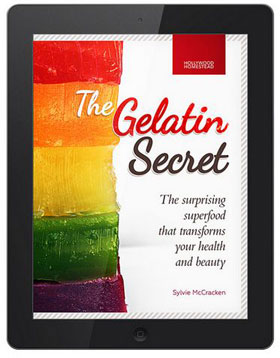 Delicious Obsessions is a participant in the Amazon Services LLC Associates Program, an affiliate advertising program designed to provide a means for us to earn fees by linking to Amazon.com and affiliated sites.Read our full terms and conditions here.