FTC Disclosure: Delicious Obsessions may receive comissions from purchases made through links in this article. As an Amazon Associate I earn from qualifying purchases.Read our full terms and conditions here.

You guys have heard me talk about how I was once a Starbucks® addict.
Like MAJORLY.
I used to drink Starbucks almost every day, and sometimes twice a day! EEK! Not only was that a big hit on my health, but my pocketbook sure suffered as well.
I am happy to report that I have since broken my Starbucks addiction and since learning that coffee is a migraine trigger for me, I only stop in occasionally for an iced tea. But boy do I miss coffee. I don't really miss the sugary coffee drinks, but I miss a cup of coffee with a big splash of cream. Yum… For more about how I broke my coffee habit and what I created as a suitable substitute, read this post here.
Earlier this Fall, I was going through their drive-thru to pick up a coffee for my husband and I saw their sign announcing that their pumpkin cream cheese muffins were back.
I used to LOVE those muffins. They were the perfect accompaniment to my pumpkin spice latte…Can you say sugar overload?
In any case, that brought back memories of those tasty muffins and I set out to re-create them in a slightly healthier version. This is what I developed and they are pretty dang tasty if I do say so myself.
The muffin is moist and flavorful and is perfectly offset with a bite of tangy cream cheese filling.
They make the perfect snack or dessert for your holiday meals — or, if you're like me, any time of year. It's always pumpkin season in my house! 🙂
Delicious Obsessions Trusted Product Recommendations for Pumpkin Cream Cheese Muffins
I am always asked about my favorite ingredients and what I use in my own kitchen. I have linked to the products from my affiliate partners that I personally use and recommend. And now, here are the special coupon offers that select affiliate partners are currently offering:
Thrive Market: If you sign up through this link, you will get 15% OFF your first order.
Amazon, of course, has everything you need for this recipe. Their prices are often very good, though I love to shop around and sometimes find that Thrive Market has better deals. If you like saving money, it's good to shop around! 🙂
Important Note On Gelatin Types
When it comes to gelatin, you don't want any old gelatin off the supermarket shelves. You want to look for 100% grass-fed gelatin from healthy animals. Just like other animal products, quality is important.
That is why I recommend Vital Proteins Grass-Fed Gelatin products and Perfect Supplements products exclusively. I have compared these brand with other brands on the market and the quality far surpasses anything else I've tried. I am thrilled to be one of their affiliate partners and support such great products and companies.
Perfect Supplements offers a grass-fed hydrolyzed collagen (cold-soluble) right now and has a gelatin (hot-soluble) in the works for 2016. Read my review of their product here or watch the video below. You can order their own products via their own site here or on Amazon here.
Vital Proteins offers two types of gelatin
. The green top (Collagen Protein) is what you need for this recipe and for recipes where you are making gummies, "jello", etc. The blue top (Collagen Peptides) is cold water soluble and does not thicken or gel like gelatin does. Both are very nutritious, but can't be used interchangeably.
You can order their own products via their own site here or on Amazon here.
Pumpkin Cream Cheese Muffins (a Starbucks® copycat recipe) :: Grain-Free, Gluten-Free, Dairy-Free Option
If you've been a fan of the Pumpkin Cream Cheese Muffins from Starbucks, you are going to swoon for this copycat recipe. Dare I say they taste just like those muffins (or perhaps even better!)? Enjoy!
Ingredients
Wet Ingredients
Dry Ingredients
Cream Cheese Filling Ingredients
Toppings (optional)
Instructions
Preheat oven to 350 F.
In a small bowl, whip the cream cheese filling ingredients together until light and fluffy.
In a large mixing bowl, combine all of the wet ingredients until smooth.
In a separate bowl, combine all dry ingredients and mix until combined.
With your mixer running, slowly add the dry ingredients into the wet ingredients until fully incorporated.
Line your muffin tins with paper wrappers. If you don't use wrappers, make sure you grease your muffin tins well.
Spoon the muffing mixture into the pan, filling each slot 1/3 full.
Add a dollop (about 2 tsp.) of the cream cheese mixture directly in the middle of each muffin.
Top each muffin with a few pumpkin seeds and candied ginger.
Bake at 350 F for 25-35 minutes, or until a toothpick comes out clean when you test the middle of a muffin.
Remove from the oven and let cool completely before serving.
This recipe makes approximately 18 muffins.
Nutrition Information:
Yield:

18
Serving Size:

1
Amount Per Serving:
Calories:

208
Total Fat:

14g
Saturated Fat:

6g
Trans Fat:

0g
Unsaturated Fat:

7g
Cholesterol:

57mg
Sodium:

193mg
Carbohydrates:

19g
Fiber:

1g
Sugar:

16g
Protein:

4g
This website provides approximate nutrition information for convenience and as a courtesy only. Nutrition data is gathered from Nutritionix and we often find their calculations to be slightly inaccurate based on the whole food ingredients we use on this site. Nutrition information can vary for a recipe based on many factors. We strive to keep the information as accurate as possible, but make no warranties regarding its accuracy. We encourage readers to make their own calculations based on the actual ingredients used in your recipe, using your preferred nutrition calculator.
Were you ever a Starbuck's® addict? What was your favorite thing to get there? Leave a comment below!
Learn How to Make Perfect Ice Cream (and Other Frozen Treats) at Home
Ice cream is the quintessential dessert (and, ahem, it would probably go pretty darn great with this recipe!). I mean, I can't think of a single person that I've ever met who doesn't like ice cream. While not everyone is as passionate about the cold, creamy, sweet concoction as I am, I am betting that if you're reading this, you probably enjoy a frozen treat of some sort every now and then.
If so, then I have the PERFECT resource for you today.
I am crazy for ice cream, but I find that there are very few commercial ice creams that I can eat. I can't do dairy, so that scratches a good 75% of them off the list. And the non-dairy options either taste funny, have too much sugar, or have weird gums and additives that my poor gut just doesn't tolerate.
So, what's a gal to do?
Master the art of making her own ice cream at home, that's what!
And create I did and The Splendid Scoop and Other Frozen Treats eBook was born! This is one of my best-selling eBooks because I arm you with everything you need to make your own perfect ice cream (or other frozen treats) at home any time you want.
And I do it all with real food ingredients, no refined sweeteners, not gums, not stabilizers. No junk here.
Oh, and I also have made the recipes allergen-friendly and even adaptable for stricter healing diets (like the AIP).
So, if you are ready to master the art of making your own ice cream at home, this is the perfect book for you. Don't let another special occasion or hot day in the summer pass you by watching everyone else enjoying cold treats while you sit on the sideline due to your dietary restrictions.
No more!
If you are ready to learn more about The Splendid Scoop and Other Frozen Treats and see how you can download your own copy today, click here (or just click on the image below!).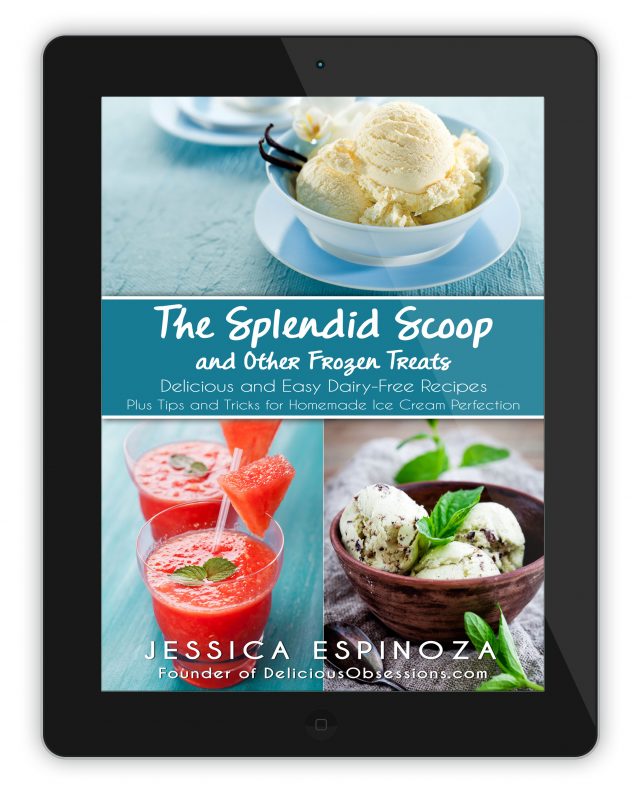 Want Even More Gelatin Goodness?
Health Benefits and Gelatin Info
Gelatin Recipes (Gluten-Free)

Delicious Obsessions is a participant in the Amazon Services LLC Associates Program, an affiliate advertising program designed to provide a means for us to earn fees by linking to Amazon.com and affiliated sites.Read our full terms and conditions here.