FTC Disclosure: Delicious Obsessions may receive comissions from purchases made through links in this article. As an Amazon Associate I earn from qualifying purchases.Read our full terms and conditions here.

Cheesecake.
If I had to choose my favorite dessert, it would be a tie between cheesecake and ice cream.
Heck. Why not just have both?!
Sadly, when I said bye-bye to dairy several years ago, I also said bye-bye to cheesecake.
What a sad, sad day. 🙁
Now, don't get me wrong.
There are TONS of dairy-free cheesecake recipes out there. A simple Google search will give you thousands of suggestions.
But the one thing that drove me crazy about all of those recipes is that they are all made using a nut base for the "cheese" part.
I like nuts, but that is just too dang much, especially if you are following any sort of gut-healing diet or the autoimmune protocol.
While I have successfully reintroduced nuts and seeds into my diet, I still keep my consumption to a minimum, just because it's easy for me to get carried away and eat far too many. A few here and there is fine, but a slice of cheesecake made with macadamia nuts or cashews is just too much for me to handle.
So, that is how this recipe came about.
I knew there had to be a way to get a cheesecakey dessert without having to use nuts in my crust or as the base for the filling.
And so my vanilla bean faux cheesecake was born.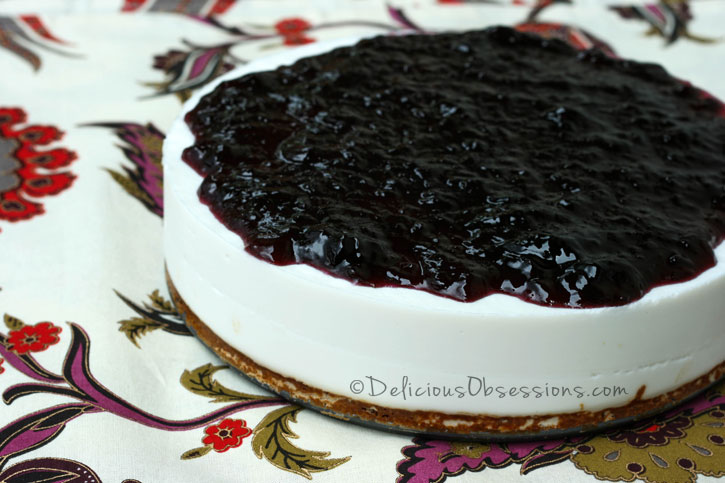 100% gluten, grain, dairy, egg, and nut free.
The splash of fresh lemon juice and zest gives it that slight tang of cream cheese. While it's not going to taste exactly like your favorite cheesecake, it's a pretty darn good substitute!
If you're on a restricted diet, enjoy!
I used Norm's Farms Elderberry Jam as the topping on this, but you could use any other jam or jelly of your choice. Fresh fruit would also be amazing, as would a fruit puree or sauce. Feel free to experiment with what you have on hand.
Coupons for Vanilla Bean Faux Cheesecake Ingredients
I am always asked about my favorite ingredients and what I use in my own kitchen. I have linked to the products from my affiliate partners that I personally use and recommend. And now, here are the special coupon offers that select affiliate partners are currently offering:
Thrive Market: If you sign up through this link, you will get 15% OFF your first order.
Amazon, of course, has everything you need for this recipe. Their prices are often very good, though I love to shop around and sometimes find that Thrive Market has better deals. If you like saving money, it's good to shop around! 🙂
Important Note On Gelatin Types
When it comes to gelatin, you don't want any old gelatin off the supermarket shelves. You want to look for 100% grass-fed gelatin from healthy animals. Just like other animal products, quality is important. I discuss this in detail in this post, The Scoop on Gelatin Brands.
That is why I recommend Vital Proteins Grass-Fed Gelatin products and Perfect Supplements products exclusively. I have compared these brand with other brands on the market and the quality far surpasses anything else I've tried. I am thrilled to be one of their affiliate partners and support such great products and companies.
Perfect Supplements offers a grass-fed hydrolyzed collagen (cold-soluble) and a gelatin (hot-soluble). Read my review of their product here or watch the video below. You can order their own products via their own site here or on Amazon here.
Vital Proteins offers two types of gelatin
. The green top (Collagen Protein) is what you need for this recipe and for recipes where you are making gummies, "jello", etc. The blue top (Collagen Peptides) is cold water soluble and does not thicken or gel like gelatin does. Both are very nutritious, but can't be used interchangeably.
You can order their own products via their own site here or on Amazon here.
Vanilla Bean Faux Cheesecake :: Gluten-Free, Grain-Free, Dairy-Free, Egg-Free, Nut-Free, Refined Sugar-Free
Total Time:
1 hour
40 minutes
The splash of fresh lemon juice and zest gives it that slight tang of cream cheese. While it's not going to taste exactly like your favorite cheesecake, it's a pretty darn good substitute!
Instructions
CRUST
Preheat oven to 350 F.
Warm your coconut butter over low heat until smooth and liquidy.
Place in a small mixing bowl and add the rest of the ingredients.
Mix all the ingredients together until combined.
Press dough into your springform pan, pie pan, or other baking dish until it covers the bottom.
Bake for 10-15 min or until lightly browned.
Remove from oven and let cool to room temp while you make the filling.
FILLING
Combine all ingredients except gelatin in a saucepan.
Heat over low heat until slightly warm.
Slowly sprinkle the gelatin in while whisking vigorously.
Remove from heat and pour the mixture into a bowl.
Place in the fridge to chill for one hour.
Once chilled, pour the mixture into room temperature crust and chill completely. You can also freeze this if you're making it ahead of time.
Top with your favorite jam or fresh fruit.
Notes
1. I made this with a 9" springform pan with a VERY tight seal. If you question whether your pan will seal enough to prevent the mixture from leaking, I recommend making this in a normal pie pan (maybe reduce the recipe by 1/4 - 1/3 depending on the size of your pie pan). You could also use any type of glass baking dish and make cheesecake bars.
2. Because I get so many questions on this, coconut butter, coconut cream concentrate, coconut manna, and creamed coconut are all the same thing. The terms are used interchangeably to refer to dried coconut meat that has been ground into a super fine consistency, much like a nut butter. It is NOT the same thing as coconut milk or coconut cream (which is just thick coconut milk). Please read this post for more info.
Recommended Products
As an Amazon Associate and member of other affiliate programs, I may earn a small commission from qualifying purchases.
Nutrition Information:
Yield:

12
Serving Size:

1
Amount Per Serving:
Calories:

547
Total Fat:

24g
Saturated Fat:

23g
Trans Fat:

0g
Unsaturated Fat:

1g
Cholesterol:

0mg
Sodium:

54mg
Carbohydrates:

15g
Fiber:

5g
Sugar:

10g
Protein:

8g
This website provides approximate nutrition information for convenience and as a courtesy only. Nutrition data is gathered from Nutritionix and we often find their calculations to be slightly inaccurate based on the whole food ingredients we use on this site. Nutrition information can vary for a recipe based on many factors. We strive to keep the information as accurate as possible, but make no warranties regarding its accuracy. We encourage readers to make their own calculations based on the actual ingredients used in your recipe, using your preferred nutrition calculator.
Want Even More Gelatin Goodness?
Health Benefits and Gelatin Info
Gelatin Recipes (Gluten-Free)
The Gelatin Secret
For further reading, my friend Sylvie's book, The Gelatin Secret (affiliate link), is by far the best book out there on the subject.
Gelatin is the superfood that can give you relief from digestive disorders and thousands of people are finding that regular consumption is helping them heal their bodies and live a healthier life.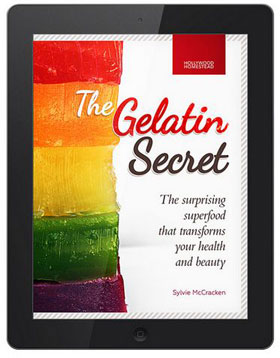 Delicious Obsessions is a participant in the Amazon Services LLC Associates Program, an affiliate advertising program designed to provide a means for us to earn fees by linking to Amazon.com and affiliated sites.Read our full terms and conditions here.