FTC Disclosure: This post contains affiliate links which means if you make a purchase through one of these links, I may earn a small commission on your sale which allows me to cover a portion of the cost of running the Delicious Obsessions site and free content we provide every week. This has no effect on your price and is simply a cost of doing business from the company you purchase from. I only recommend products or services that I have personally tried and love. You can view it like leaving a tip. Thank you for your support!
Many of my readers are following the autoimmune protocol (AIP), which requires elimination of eggs. There are also a number of you who cannot tolerate eggs at all, which makes certain recipes a no-go.
This post is for you!
I am able to tolerate eggs in small amounts. I tolerate raw eggs much better than cooked eggs. I can get away with eating homemade mayo throughout the week, but I can't sit down and eat a big plate of eggs for breakfast.
UPDATE 2/1/16 – I am no longer able to tolerate eggs, even in small amounts, and even raw. I seem to still be reacting to them, which my antibody reactions getting worse over time, so for now (and maybe permanently), I have eliminated them 100% from my diet.
Needless to say, baking without eggs can be tricky, especially when there are so many delicious recipes out there I want to try!
The most common egg replacers are chia seeds and flax seeds. I wrote a detailed post awhile back on how to use chia and flax eggs for your egg-free baking. You can read that here.
But, for those who are on the AIP, or those who simply cannot tolerate seeds in any form, that creates a dilemma for egg replacement.
Enter the gelatin egg.
Gelatin is a great binder and I personally prefer it over flax and chia eggs. I find that it blends in much smoother and binds a lot better. Oh, and gelatin is SUPER good for you too, so that makes it win-win! If you're not familiar with the health benefits of gelatin, then you MUST read this post on the Top 10 Health Benefits of Gelatin, plus 80 Ways to Eat More of It.
How to Make Your Gelatin "Egg"
Making a gelatin egg is SO easy and you'll be amazed at how well it works as an egg replacement in certain recipes.
Important Note On Gelatin Types 
When it comes to gelatin, you don't want any old gelatin off the supermarket shelves. You want to look for 100% grass-fed gelatin from healthy animals. Just like other animal products, quality is important.
That is why I recommend Vital Proteins Grass-Fed Gelatin products and Perfect Supplements products exclusively. I have compared these brand with other brands on the market and the quality far surpasses anything else I've tried. I am thrilled to be one of their affiliate partners and support such great products and companies.
Perfect Supplements offers a grass-fed hydrolyzed collagen (cold-soluble) right now and has a gelatin (hot-soluble) in the works for 2016. Read my review of their product here or watch the video below. You can order their own products via their own site here or on Amazon here.
Vital Proteins offers two types of gelatin
. It is important to know that these ARE NOT interchangeable when it comes to recipes! The green top (Collagen Protein) is what you need for this recipe and for recipes where you are making gummies, "jello", etc. The blue top (Collagen Peptides) is cold water soluble and does not thicken or gel like gelatin does. Both are very nutritious, but can't be used interchangeably.
You can order their own products via their own site here or on Amazon here. 
Watch this video:
How to Make One Gelatin "Egg"
This recipe makes 1 "egg".
Author:
Jessica Espinoza @ Delicious Obsessions
Instructions
Mix the gelatin and 1 tbsp. of warm water together until the gelatin is wet. It will be a bit fluffy looking.
Pour 2 tbsp. of hot water over the mixture and whisk vigorously. You will see the gelatin start to dissolve and it will turn into a thick, sticky paste.
Let the gelatin "egg" sit for a 2-3 minutes and then add to whatever you are making. Stir in until well combined and proceed as normal with the recipe.
NOTE: Gelatin "eggs" will work well in recipes where 1-3 eggs are required. In recipes calling for more than 3 eggs, you may start running into issues. There are some things that real eggs provide to a recipe that simply cannot be replaced by flax, chia, or gelatin eggs. You can definitely experiment, but I cannot guarantee recipes with 4+ eggs will turn out properly with the gelatin egg.
Want EVEN MORE I

nfo on Gelatin?
Then I simply have to recommend this book from my friend and affiliate partner, Sylvie of The Hollywood Homestead — The Gelatin Secret: The Surprising Superfood that Transforms Your Health and Beauty.
Sylvie dives into all of the benefits of gelatin, how it improves our health (especially bone, joint, brain, skin, dental, and gut health), plus she offers a ton of tasty recipes too!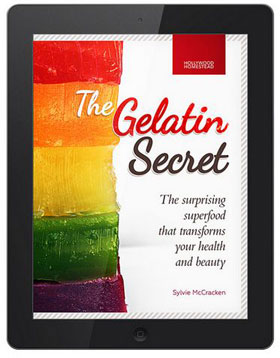 Learn More and Download Your Copy Here
 Want to learn more about gelatin and get even more recipes? Check out this post!
Here are some of my newest recipes using gelatin that are not included above:
Paid Endorsement Disclosure: Delicious Obsessions is a participant in the Amazon Services LLC Associates Program, an affiliate advertising program designed to provide a means for sites to earn advertising fees by advertising and linking to AMAZON.COM. This post may contain affiliate links and/or ads. We only recommend products or services that we have personally tried and love. When you make a purchase through any of these links, we earn a small commission on each sale, which allows us to cover a portion of the cost of this site. This has no effect on your sale price and is simply a cost of doing business for the company you are purchasing from. All funds received help with the continued maintenance of this website and free content. You can view it like leaving a tip. Thank you! Read our full terms and conditions here.