FTC Disclosure: This post contains affiliate links which means if you make a purchase through one of these links, I may earn a small commission on your sale which allows me to cover a portion of the cost of running the Delicious Obsessions site and free content we provide every week. This has no effect on your price and is simply a cost of doing business from the company you purchase from. I only recommend products or services that I have personally tried and love. You can view it like leaving a tip. Thank you for your support!
Tonight, when I got home from yoga, I was craving two things: a smoothie and an avocado. So, I decided to combine the two.
It turned out amazingly delicious.
This was the first time I had ever included an avocado in my smoothie and I was a little worried at first. I don't know why though — the avocado was amazing. It makes the smoothie so rich and creamy and smooth.
Delicious!
This smoothie is so full of good fats that it will keep you satiated for hours. I now add avocado to almost every smoothie I make for an extra boost of fat. I also pretty much always include a dollop of coconut oil too. 🙂
I'm going to share the basic recipe with you and then suggest some additional options for the smoothie. Like all smoothies, you really can tailor this to suit your own tastes and whatever you have on hand!
Delicious Obsessions Product Recommendations
My affiliate partner, Vitacost, has really good prices on some of the ingredients in this recipe. If you sign up through this link, you'll get a coupon for $10 off your first purchase from Vitacost, and when your order ships, I'll get a $10 off coupon for referring you. The cool thing about this program is that you can then refer your family and friends through your own link and YOU can get the $10 coupons too! 🙂
In addition, my affiliate partner, Tropical Traditions, is where I get all of my coconut products from and if you make a purchase from them through any of my links, you will receive a free copy of their Virgin Coconut Oil book, and I will receive a discount coupon for referring you.
Amazon, of course, has everything you need for this recipe. Their prices are often very good, though I love to shop around and sometimes find that Vitacost and Thrive Market have better deals. If you like saving money, it's good to shop around! 🙂
Important Note On Gelatin Types 
When it comes to gelatin, you don't want any old gelatin off the supermarket shelves. You want to look for 100% grass-fed gelatin from healthy animals. Just like other animal products, quality is important.
That is why I recommend Vital Proteins Grass-Fed Gelatin products and Perfect Supplements products exclusively. I have compared these brand with other brands on the market and the quality far surpasses anything else I've tried. I am thrilled to be one of their affiliate partners and support such great products and companies.
Perfect Supplements offers a grass-fed hydrolyzed collagen (cold-soluble) right now and has a gelatin (hot-soluble) in the works for 2016. Read my review of their product here or watch the video below. You can order their own products via their own site here or on Amazon here.
Vital Proteins offers two types of gelatin
. The green top (Collagen Protein) is what you need for this recipe and for recipes where you are making gummies, "jello", etc. The blue top (Collagen Peptides) is cold water soluble and does not thicken or gel like gelatin does. Both are very nutritious, but can't be used interchangeably. 
You can order their own products via their own site here or on Amazon here.
If you want to learn more about gelatin and its benefits for our health, I highly recommend this book, The Gelatin Secret: The Surprising Superfood That Transforms Your Health and Beauty, from my affiliate partner, Sylvie McCracken. This book is packed with incredible information on how gelatin helps all aspects of our health and also features delicious recipes!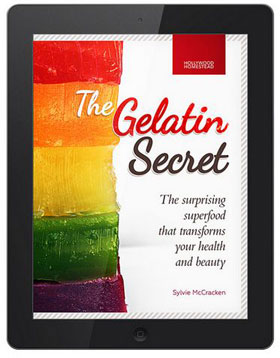 Shout out to my friend Suzanne from Strands of My Life for shooting the photo for this recipe!
Creamy Coconut Avocado Smoothie Recipe (dairy free)
I have linked to the products from my affiliate partners that I personally use and recommend. All funds earned go to help support the maintenance of this site and free content. Thank you! 🙂
Author:
Jessica Espinoza @ Delicious Obsessions
Recipe type:
Dairy Free Smoothie
Ingredients
1 ripe avocado
1 cup full-fat coconut milk or coconut cream (I love Aroy-D brand for both)
½ cup coconut water (Taste Nirvana is one of my favorites)
1 large handful greens (spinach, lettuce, chard, etc.)
2-4 sprigs parsley (stem and all)
1 tbsp. cold-soluble grass-fed gelatin (see note above)
5-10 drops stevia (or, you can omit if you're going completely sweet-free)
ice
Instructions
In a high-powered blender (I LOVE my Blendtec), combine avocado, coconut milk tonic, and coconut water until smooth.
Add the greens, parsley, and stevia and blend.
Slowly sprinkle the gelatin powder into the blender with it running. This will help it blend in w/out becoming lumpy.
Add ice until you reach the desired consistency.
This would also taste great with fresh or frozen fruit added in like berries, pineapple, or strawberries. The smoothie is rich and creamy and gives you another couple servings of veggies and good fats, something we can all use.
Give it a try and tell me your favorite combination. I'd love to hear it!
P.S. I absolutely LOVE my Blendtec blender. Read my Blendtec vs. Vitamix comparison here.
Paid Endorsement Disclosure: Delicious Obsessions is a participant in the Amazon Services LLC Associates Program, an affiliate advertising program designed to provide a means for sites to earn advertising fees by advertising and linking to AMAZON.COM. This post may contain affiliate links and/or ads. We only recommend products or services that we have personally tried and love. When you make a purchase through any of these links, we earn a small commission on each sale, which allows us to cover a portion of the cost of this site. This has no effect on your sale price and is simply a cost of doing business for the company you are purchasing from. All funds received help with the continued maintenance of this website and free content. You can view it like leaving a tip. Thank you! Read our full terms and conditions here.