FTC Disclosure: Delicious Obsessions may receive comissions from purchases made through links in this article. As an Amazon Associate I earn from qualifying purchases.Read our full terms and conditions here.

Tonight, when I got home from yoga, I was craving two things: a smoothie and an avocado. So, I decided to combine the two.
It turned out amazingly delicious.
This was the first time I had ever included an avocado in my smoothie and I was a little worried at first. I don't know why though — the avocado was amazing. It makes the smoothie so rich and creamy and smooth.
Delicious!
This smoothie is so full of good fats that it will keep you satiated for hours. I now add avocado to almost every smoothie I make for an extra boost of fat. I also pretty much always include a dollop of coconut oil too. 🙂
I'm going to share the basic recipe with you and then suggest some additional options for the smoothie. Like all smoothies, you really can tailor this to suit your own tastes and whatever you have on hand!
Delicious Obsessions Product Recommendations
I am always asked about my favorite ingredients and what I use in my own kitchen. I have linked to the products from my affiliate partners that I personally use and recommend. And now, here are the special coupon offers that select affiliate partners are currently offering:
Thrive Market: If you sign up through this link, you will get 15% OFF your first order.
Amazon, of course, has everything you need for this recipe. Their prices are often very good, though I love to shop around and sometimes find that Thrive Market has better deals. If you like saving money, it's good to shop around! 🙂
I get all of my herbs and spices from Mountain Rose Herbs. I have tried so many other brands and have never found the quality, flavor, and aroma to be as good as the herbs I get from Mountain Rose.
Important Note On Gelatin Types 
When it comes to gelatin, you don't want any old gelatin off the supermarket shelves. You want to look for 100% grass-fed gelatin from healthy animals. Just like other animal products, quality is important.
That is why I recommend Vital Proteins Grass-Fed Gelatin products and Perfect Supplements products exclusively. I have compared these brand with other brands on the market and the quality far surpasses anything else I've tried. I am thrilled to be one of their affiliate partners and support such great products and companies.
Perfect Supplements offers a grass-fed hydrolyzed collagen (cold-soluble) right now and has a gelatin (hot-soluble) in the works for 2016. Read my review of their product here or watch the video below. You can order their own products via their own site here or on Amazon here.
Vital Proteins offers two types of gelatin
. The green top (Collagen Protein) is what you need for this recipe and for recipes where you are making gummies, "jello", etc. The blue top (Collagen Peptides) is cold water soluble and does not thicken or gel like gelatin does. Both are very nutritious, but can't be used interchangeably. 
You can order their own products via their own site here or on Amazon here.
Shout out to my friend Suzanne from Strands of My Life for shooting the photo for this recipe!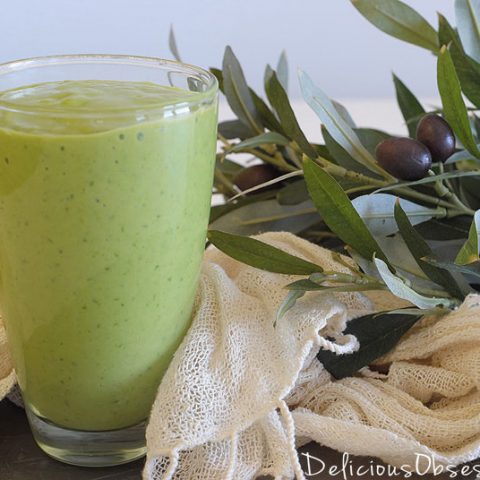 Creamy Coconut Avocado Smoothie Recipe (dairy free)
This smoothie is so full of good fats that it will keep you satiated for hours. The avocado in the smoothie is amazing. It makes the smoothie so rich and creamy and smooth. Delicious!
Instructions
In a high-powered blender (I LOVE my Blendtec), combine avocado, coconut milk tonic, and coconut water until smooth.
Add the greens, parsley, and stevia and blend.
Slowly sprinkle the gelatin powder into the blender with it running. This will help it blend in w/out becoming lumpy.
Add ice until you reach the desired consistency.
This would also taste great with fresh or frozen fruit added in like berries, pineapple, or strawberries. The smoothie is rich and creamy and gives you another couple servings of veggies and good fats, something we can all use.
Recommended Products
As an Amazon Associate and member of other affiliate programs, I may earn a small commission from qualifying purchases.
Nutrition Information:
Yield:

1
Serving Size:

1
Amount Per Serving:
Calories:

845
Total Fat:

58g
Saturated Fat:

30g
Trans Fat:

0g
Unsaturated Fat:

25g
Cholesterol:

0mg
Sodium:

300mg
Carbohydrates:

83g
Fiber:

30g
Sugar:

43g
Protein:

13g
IMPORTANT! PLEASE READ!!! This website provides approximate nutrition information for convenience and as a courtesy only. Nutrition data is gathered from Nutritionix and we often find their calculations to be slightly inaccurate based on the whole food ingredients we use on this site. Nutrition information can vary for a recipe based on many factors. We strive to keep the information as accurate as possible, but make no warranties regarding its accuracy. We encourage readers to make their own calculations based on the actual ingredients used in your recipe, using your preferred nutrition calculator.
Give it a try and tell me your favorite combination. I'd love to hear it!
P.S. I absolutely LOVE my Blendtec blender. Read my Blendtec vs. Vitamix comparison here.
Hey AIP Friends! Are You Struggling with Breakfasts?
I can help! I have done the AIP twice, once for 6 months and the next time for about 18 months and now a large number of my readers are also following the autoimmune protocol for their own healing. I have created a number of AIP compliant recipes for this site, and many can easily be modified to fit your AIP lifestyle.
During my time on the AIP I learned a lot, but breakfasts were, by far, the hardest meals for me to plan out. I was an eggs-for-breakfast kind of gal and turns out, I react to eggs so those for sure had to go. What's a gal to do when she's had her favorite go-to breakfast taken away?
Get creative!
Which is what I did, along with the help of 25 other amazing AIP bloggers who all used the AIP to help further along their healing. Together, we created the 85 Amazing AIP Breakfasts eBook (one of the very first digital resources of its kind). The book was coordinated and designed by my friend, Eileen of Phoenix Helix website, and it quickly became a favorite resource in the AIP community!
ONE OF THE FIRST DIGITAL RESOURCES OF ITS KIND, THIS COOKBOOK IS:
A paleo autoimmune protocol cookbook that is aligned with The Paleo Approach
A resource for reversing autoimmune disease
The work of 26 AIP bloggers who have used the AIP to improve their own health.
85 curated breakfast recipes from the best of the AIP blogs, including 33 completely new recipes never published before!
Over half of the recipes can easily be modified for low-FODMAP, GAPS/SCD, low-histamine, and coconut-free diets using the handy substitution charts included in the book.
RECIPES INCLUDE:
Delicious beverages like Rooibos "Latte", Vanilla "Cappuccino", Smoothies, Liver & Kidney Detox drink, and more!
Breakfast bowls like Creamy Grain-Free "Porridge", Roasted Cinnamon Pear "Oatmeal", Biscuits & Gravy, Cranachan, and more!
Breakfast skillets like Sweet Potato Beef Curry, Rabbit Sweet Potato Hash, Bacon & Veggie Fry-Up, Liver & Mushroom Stir-fry, Zucchini Apple Hash, and more!
Soups (yes! You can eat soup for breakfast) like Greek Gyro Soup, Carrot Ginger Halibut Soup, Fragrant Herb & Coconut Chicken Soup, Offal (but now awful!) Stew, and more!
Patties like Apple Pie Pork Patties, Ginger Green Onion Patties, Perfect Breakfast Sausage, Tuna Cakes with Green Olives, Cranberry Maple Chicken Patties, and more!
Pancakes (yum!) like Sweet Potato Banana Pancakes, Spinach Plantain Pancakes, Fig & Citrus Hand Pies, Plantain Waffles, Cinnamon Crumb Cakes, and more!
Regardless of whether you are just starting out on the AIP or you're already into the program, this cookbook is the perfect addition to your kitchen. Say goodbye to boring breakfasts and hello to deliciousness every morning! Learn more here and download your copy today (it would make a great gift for a loved one too!) by clicking on this link here, or on the image below.


Delicious Obsessions is a participant in the Amazon Services LLC Associates Program, an affiliate advertising program designed to provide a means for us to earn fees by linking to Amazon.com and affiliated sites.Read our full terms and conditions here.