FTC Disclosure: Delicious Obsessions may receive comissions from purchases made through links in this article. As an Amazon Associate I earn from qualifying purchases.Read our full terms and conditions here.

This post and recipe development was sponsored by Perfect Supplements.
What's that you say?
Brownies?
For breakfast?
What crazy talk is this?
Well, it's simply an invention that I came up with because I love brownies and I needed something different to go along with breakfast!
These delicious breakfast brownies are not only packed with tons of protein, but they have a healthy whammy of superfood goodness too!
Healthy fats from the coconut milk and coconut butter.
Healthy, filling fiber from the coconut butter, almond flour, and chia seed.
Healthy protein from the eggs, plant-based protein powder, and collagen.
Healthy minerals and vitamins from the fermented kale powder.
When Perfect Supplements asked if they could hire me to develop a brand new recipe using their new collagen, I (of course) said yes. They have been one of my most trusted affiliate partners for a long time now and not only do I love their products and use many of them daily in my own home, but I love their mission and the folks that run the company. They are a down-to-earth company with strong ethics about the products they carry. As you all know, I only promote brands and products on this site that I personally use and love. I have really high standards, so if I don't love it, I won't share it.
While I was experimenting in the kitchen, I decided to play around with a couple of other Perfect Supplements products to see if I could boost the nutrition of these brownies — hence justifying that they are A-OK to eat for breakfast! 😉
Let's take a quick look at the ingredients that I used as I developed this recipe.
Perfect Supplements Collagen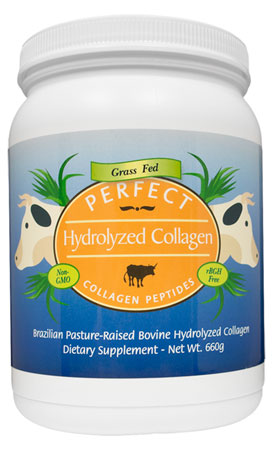 You guys have probably heard me mention Perfect Supplement's new Hydrolyzed Collagen that they released a month or so ago. I knew this product was in the works and then all of a sudden, a container showed up at my door. I couldn't wait to dive in.
I use a lot of gelatin/collagen in my everyday life and I love having another option for a clean source of collagen.
What is "hydrolyzed" collagen?
Hydrolyzed simply means that we use an all natural enzyme process to break down the very long chain collagen, into shorter chain Collagen Peptides. Why do this? Because shorter chain collagen peptides, with a lower molecular weight than gelatin or standard collagen is much easier for the body to absorb.
One 11 gram serving of their Perfect Hydrolyzed Collagen has over 10 grams of protein and no sugar, fat or carbs. In fact, the Perfect Hydrolyzed Collagen tests out at 97% protein – the highest in the industry. Here are the lab reports to verify.
Perfect Hydrolyzed Collagen Provides:
100% Hydrolyzed Collagen
Sourced EXCLUSIVELY From Brazilian Pasture Raised (Grass Fed) Cows
100% Natural and Pesticide and Hormone Free
Non-GMO
Low Molecular Weight For Easy Absorption
High Bioavailability
Tasteless, Odorless and Easily Mixes in Any Liquid
Lab Tested With Proof of Purity
Backed By Our 100% Money Back Guarantee
Silver Level Green America Certified Business
No Fillers or Flow Agents – Just Pure Collagen
60 Servings Per Bottle, 660-gram container (approx. 1.5 lbs)
If you've followed this blog (or the many other paleo, Weston A. Price, traditional foods blogs out there), then you have probably heard about the vast health benefits of collagen (sometimes referred to as gelatin — though they are technically a tad different).
Some of the potential health benefits of collagen include:
Improve Skin Health
Promote Younger, Firmer Skin
Support Joint Health
Improve Gut Function and Digestion
Keep Excess Inflammation in Check
Build and Restore Muscle
Support Healthy Metabolism
Keep Appetite In Check
Promote Healthy Brain Function
Promote Deeper Sleep
When it comes to consuming collagen, typically the number one recommendation is to consume bone broth (and lots of it). But, that can be hard to do and some people quite honestly do not tolerate bone broths very well. Perfect Supplements Collagen allows you those benefits via a powder that you can easily take every day.
The Perfect Hydrolyzed Collagen is a cold-soluble product, meaning you can easily incorporate it into cold beverages, smoothies, etc. without it clumping up.
Here's a look at the full product label (click on the image to bring up a bigger version).
For even more info on the Perfect Hydrolyzed Collagen as well as the 9 Point Test For High-Quality Collagen Supplements, visit the Perfect Supplements site here.
Perfect Supplements Fermented Kale Powder
Now, it may seem weird to put kale in your brownies (hey, at least I didn't put some offal in here – LOL!), but this is another excellent way to get some added nutrition into the diet. This would be excellent for those kids (or adults) who need some extra veggies.
I've been using Perfect Supplements Fermented Kale Powder for a while as a way to get some added greens into my diet. My goal is to eat 6-9 cups of cooked veggies per day as part of my mineral balancing protocols. That is A LOT of veggies and frankly, I rarely get that much in. At least this way I can get a little extra.
I have been just mixing it with water or a smoothie and drinking it that way. While playing with the browning recipe, I thought, "hmmm, I wonder how the kale would taste in here?" Well, it wasn't bad — as a matter of fact, you can't taste it at all.
Kale is one of the most nutrient-dense vegetables in the world! It is packed with vitamins, minerals, protein, and fiber. Like all foods, kale can be made even more nutrient-dense with fermentation. Perfect Fermented Kale is simply one of nature's greatest superfoods fermented for optimum nutrient value and digestibility.
One Serving of Perfect Kale Contains:
9 Calories
1654 IU Vitamin A
22mg of Vitamin C
25mg of Calcium
83mg of Potassium
0.32mg of Iron
6.32mg of Magnesium
46.14mcg Vitamin K
31.29mcg Vitamin K2
20% Protein by Weight
12% Fiber by Weight
Perfect Fermented Kale is naturally nutrient-dense and it contains beneficial enzymes and probiotics. Perfect Fermented Kale is perfect for everyone because it is USDA Certified Organic, non-GMO, vegan, gluten-free, and it contains ZERO artificial ingredients.
Here's a look at the full product label (click on the image to bring up a bigger version).
Now, we do lose the beneficial probiotic benefit of this fermented product since we are baking with it, but we don't lose the mineral and vitamin content (except for the vitamin C since that is heat-sensitive). So, it's still a great way to sneak in some added nutrition.
Perfect Supplements Plant Protein
I am typically not a huge fan of protein powders and supplements, but I do try to keep some on hand for those really busy days when I just need a little extra protein in a quick form.
I feel that Perfect Supplements' Perfect Plant Protein is one of the cleanest on the market and is a great way to boost your protein intake up in an easily digestible form. Great for those who cannot tolerate dairy (like me) and who want to avoid soy (which everyone should IMO).
The Perfect Plant Protein is a blend of hemp, mushroom, and brown rice protein enhanced with live enzymes and probiotics. It is easily digestible and perfect for building and maintaining lean muscle mass. This vegetarian protein powder contains an immune system enhancing the blend of superfood mushrooms including Reishi, King Trumpet, Lion's Mane, Cordyceps, Turkey Tail, Shiitake, and Maitake.
All varieties of the Perfect Plant Protein are USDA certified organic, gluten-free, non-GMO, and contain zero artificial ingredients. All ingredients are grown and processed in the USA and Canada. They have a plain version (which I use) that contains no flavors or sweeteners. They also carry a vanilla version that is made with organic vanilla and stevia.
Here's a look at the full product label (click on the image to bring up a bigger version).
To learn more about Perfect Supplements' Perfect Plant Protein, check out their site here.
High-Protein Superfood Breakfast Brownies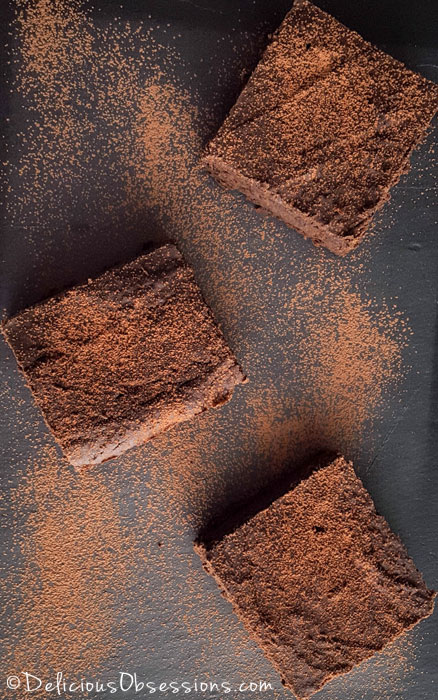 OK, let's dive right into this delicious recipe, shall we? These incredibly rich, fudgy brownies are worth getting out of bed for!
It took me making about 8 batches (no kidding) of these brownies before I got the flavor and texture just right. So, before we start, let me give you a few notes on the recipe:
1. You are welcome to use any protein powder you like. I have only tested this recipe with the Perfect Supplements Plant Protein Powder mentioned above, but I don't see any reason that another powder would not work.
2. You can use any granulated sweetener you like. I used both Swerve and coconut sugar during testing. I also tested a batch with just straight stevia and a combo of stevia and different sweeteners but found it to be a little "off" in flavor. I normally like stevia, but didn't like it in this recipe. You could also use a liquid sweetener of your choice, just add a pinch more chia seed powder to account for the small amount of extra liquid.
3. You can adjust the sweetness to suit your own tastes. Since I am eating these with my breakfast, I like them on the less sweet side, but if you want them sweeter feel free to adjust.
4. For the chia seeds, I just whizzed them up in my spice grinder. If you don't have a spice grinder, you can find chia seed powder/flour at your health food stores or online.
5. You can use any other green powder you like as well. I only tested them with the Perfect Fermented Kale discussed above since that is the only green powder I keep on hand. You could even puree some cooked greens and add those in, reducing the coconut milk by about 1/4 cup or so.
6. You may find it a little strange that there is no baking powder or baking soda used in this recipe. During development, I experimented with it both ways and I much prefer the texture WITHOUT any leavening. I find the leavening to make the brownies too fluffy and cake-like and they don't hold together as well.
PLEASE READ!!!! Quick note about "coconut cream concentrate" and "coconut butter", since I get asked this all the time.
Whenever I refer to those two terms in my recipes, it means the product that is super finely ground coconut meat, which has a consistency similar to a nut butter. It's not referring to coconut milk or coconut cream (the liquid beverage-type products), and it's not referring to those vegan "butters" that often use coconut oil in them.
You cannot substitute dairy butter for coconut butter, nor can you substitute coconut oil for coconut butter.
Please read this post where I talk about coconut products in detail and clear up the common confusion with ingredient names.
Now, time for the recipe! I eat these with my breakfasts, which is typically about 4 ounces of some sort of protein and a lot of veggies. They are also a great snack in the middle of the afternoon when I need extra protein to tide me over until dinner.
High-Protein Superfood Breakfast Brownies :: Gluten-Free, Grain-Free, Dairy-Free
Brownies? For breakfast? What crazy talk is this? These delicious breakfast brownies are not only packed with tons of protein, but they have a healthy whammy of superfood goodness too!
Instructions
Preheat your oven to 350 F.
Grease a 7"x11"x2" glass baking dish (can also use an 8"x8"x2" pan - the brownies will be a little thicker). Set aside.
In a mixing bowl, combine your eggs, coconut butter, sweetener, vanilla, coconut milk, and collagen until smooth.
In a separate bowl, combine your almond flour, cocoa or carob powder, protein powder, kale powder, chia seed powder, and sea salt. Stir together until combined.
While your mixer is running on slow, sprinkle in the dry ingredients to the wet ingredients.
Mix until smooth. You may need to stop the blender and scrape the sides and bottom of the bowl to ensure everything in combined.
Stir in your add-ins (nuts, seeds, etc.) if using.
Pour the mixture into your greased baking dish and bake for 35-45 minutes or until the top is slightly firm and a toothpick comes out clean.
Remove from oven and let cool completely before serving.
Store in the fridge or portion up and freeze in single serving packages.
Recommended Products
As an Amazon Associate and member of other affiliate programs, I may earn a small commission from qualifying purchases.
Nutrition Information:
Yield:

12
Serving Size:

1
Amount Per Serving:
Calories:

151
Total Fat:

9g
Saturated Fat:

6g
Trans Fat:

0g
Unsaturated Fat:

3g
Cholesterol:

62mg
Sodium:

71mg
Carbohydrates:

14g
Fiber:

3g
Sugar:

8g
Protein:

5g
This website provides approximate nutrition information for convenience and as a courtesy only. Nutrition data is gathered from Nutritionix and we often find their calculations to be slightly inaccurate based on the whole food ingredients we use on this site. Nutrition information can vary for a recipe based on many factors. We strive to keep the information as accurate as possible, but make no warranties regarding its accuracy. We encourage readers to make their own calculations based on the actual ingredients used in your recipe, using your preferred nutrition calculator.
Thank you to my sponsor, Perfect Supplements, for allowing me to test out their wonderful products and put this amazing recipe together. I hope everyone enjoys them as much as I do. I have a freezer full from all my experimenting, so I am set on brownies for the next 6 months!
If you want to learn more about Perfect Supplements and the products I use and recommend, you can visit their site here. I also put together a video about some of their products earlier this year (2015) that discusses the company and some of the products I have been using. All of my favorite products can be found here.

Delicious Obsessions is a participant in the Amazon Services LLC Associates Program, an affiliate advertising program designed to provide a means for us to earn fees by linking to Amazon.com and affiliated sites.Read our full terms and conditions here.