FTC Disclosure: Delicious Obsessions may receive comissions from purchases made through links in this article. As an Amazon Associate I earn from qualifying purchases.Read our full terms and conditions here.

You guys already know that I love coconut. I've been a coconut addict enthusiast for as long as I can remember. Even when I was a kid, before the days of coconut oil / milk / flour everything, I still loved coconut. It was one of my favorite flavors.
I use coconut in some form daily in my life. Whether it's a dab of coconut oil for my cooking or a dollop of coconut milk or cream in my tea or famous herbal coffee, coconut finds its way into my mouth at least once (but often more) a day.
This winter, I have been doing a major purge in our house. I am ready to clear out the clutter and downsize our living. We don't even have that big of a house, but I feel like we are filled to the brim with stuff.
I'm tired of the stuff and am ready to live a lot more simply.
Stuff, stuff, stuff, and more stuuuuuuuuuuuuuuuuuuuuffffffff….
This purge has been happening in every room of our home, including my kitchen. I recently wrote about the 11 Must Have Kitchen Tools For Every Real Food Kitchen. I wrote that post after a big clean out of my kitchen where I took time to really evaluate all the stuff I had and see what I truly wanted to keep and what I could sell or donate.
Purging is SO freeing!
I still have about half the house to do, but I already feel so much lighter. I personally am finding that having less stuff is a blessing! It forces you to focus on what's really important in life.
By the way, have you read that book called The Life-Changing Magic of Tidying Up? I'd love to know what you think? I haven't read it, but every time I look in my social media feeds, there is at least one post about how awesome it is. Will it really teach me anything I don't already know about getting rid of stuff? Leave me a comment below. Would love to hear your thoughts! If you want to check the book out, you can find it on Amazon here. You can probably find it at the library too, but last time I checked mine, I was going to be like the 759th person in the queue to get it…. so yeah…
So, anyway, I was purging the kitchen and shoved in the back of my pantry was a big bag of raw coconut chips. I always keep these on hand for adding to things like salads, yogurt, homemade granola, etc. Somehow I had lost track of this bag and it needed to be used. Coconut chips are the really big flakes of coconut that you can get, not the small shreds.
I decided to make one of my all-time favorite treats, candied coconut chips. I typically buy these at the store whenever I want a little something special, but this time I decided to save some money and make them myself. Plus, I have been craving a lot of cinnamon this fall and I knew immediately that I wanted to use cinnamon on these chips for a warm, sweet flavor.
The result was incredible. The best coconut chips I've eaten…and I've eaten a lot. 🙂 Let's dive into the recipe!
P.S. If you want to skip making your own, the Dang brand is the one I love. Find them on Amazon here.
Coupons and Freebies for Sweet Cinnamon Coconut Chips
I am always asked about my favorite ingredients and what I use in my own kitchen. I have linked to the products from my affiliate partners that I personally use and recommend. And now, here are the special coupon offers that select affiliate partners are currently offering:
Thrive Market: If you sign up through this link, you will get 15% OFF your first order.
Amazon, of course, has everything you need for this recipe. Their prices are often very good, though I love to shop around and sometimes find that Thrive Market has better deals. If you like saving money, it's good to shop around! 🙂
Sweet Cinnamon Coconut Chips :: Gluten, Grain, Dairy, and Refined Sugar Free
Total Time:
3 hours
10 minutes
One of my all-time favorite treats is candied coconut chips. I typically buy these at the store whenever I want a little something special, but this time I decided to save some money and make them myself. Plus, I have been craving a lot of cinnamon this fall and I knew immediately that I wanted
to use cinnamon on these chips for a warm, sweet flavor. They did not disappoint!
Instructions
Preheat oven to 200 degrees.
In a small pan, mix together your coconut sugar, sea salt, and water and heat over medium heat until the sugar is dissolved and the mixture is simmering a little.
Remove from heat and stir in your vanilla extract and ground cinnamon.
Place your coconut chips/flakes in a large bowl and pour the sugar mixture over the flakes. Toss until all the coconut is well coated.
Pour onto a baking sheet (I lined mine with parchment paper) and dehydrate in your oven for 3-5 hours, or until the flakes are golden brown and dry. Check on them every once in a while and stir them around to help the drying process.
Remove from the oven and let cool to room temperature. Store in an airtight container at room temperature.
Eat as a snack right out of the container, or sprinkle into salads, on top of yogurt, smoothies, or ice cream. Add to homemade granola or cereal. The sky's the limit!
Nutrition Information:
Yield:

12
Serving Size:

1
Amount Per Serving:
Calories:

224
Total Fat:

15g
Saturated Fat:

13g
Trans Fat:

0g
Unsaturated Fat:

1g
Cholesterol:

0mg
Sodium:

322mg
Carbohydrates:

24g
Fiber:

4g
Sugar:

20g
Protein:

2g
This website provides approximate nutrition information for convenience and as a courtesy only. Nutrition data is gathered from Nutritionix and we often find their calculations to be slightly inaccurate based on the whole food ingredients we use on this site. Nutrition information can vary for a recipe based on many factors. We strive to keep the information as accurate as possible, but make no warranties regarding its accuracy. We encourage readers to make their own calculations based on the actual ingredients used in your recipe, using your preferred nutrition calculator.
Sometimes You Just Need a Good Snack!
If you're reading this blog, chances are you've embarked on your gluten-free journey, but are missing your favorite snack foods. You're bored with all of the gluten-free options out there (which, let's face it, aren't all that healthy). Let me ask you a few questions:
Are you new to a real foods diet or just bored with eating the same thing every day?
Are you in need of healthy snack ideas for your whole family?
Would you like recipes that are easy, delicious, and healthy?
If you answered yes to any of these, then my eBook, Gluten-Free Snacks, is for YOU! This book features delicious real food snack recipes from an established community of real food bloggers. All of the recipes featured in this ebook are tried and true recipes that have been put to the test of both preparation and taste.
Long before blogging and social networks, trading recipes has been a way to connect and transfer culture, nourishment, and love from the heart of the home (the kitchen) to others. So, in the spirit of old-fashioned cookbooks produced by schools and churches, each cook featured in this book has provided her BEST recipe, so it winds up a collection of the best of the best!
You will love all the new ideas and new flavors in this book. Clear, easy to follow instructions, beautiful photographs, and accessible ingredients will make this book a favorite resource.
Feed your family healthy and nourishing gluten-free snacks every day without sacrificing taste! These snacks are a great way to add variety to your family's diet. Healthy snacks are what keep us going between meal times, giving us the energy and sustainable blood sugar that we need to power through our to-do list.
It's time to ditch the food boredom and embrace deliciousness once again! The Gluten-Free Snacks eBook is your ticket to healthy, delicious, well-balanced snacks to keep you energized and focused no matter the time of day or activities you're enjoying! Learn more about this eBook and how to download your copy of Gluten-Free Snacks here (or click on the image below).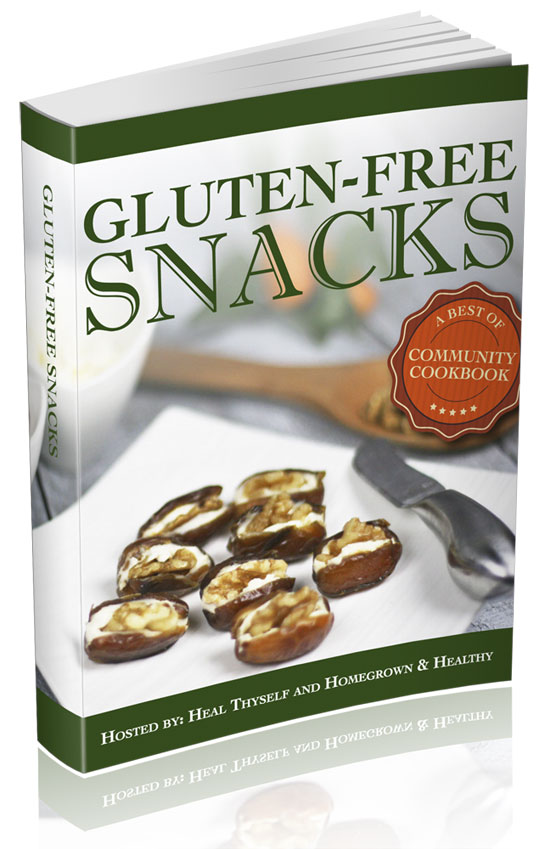 Delicious Obsessions is a participant in the Amazon Services LLC Associates Program, an affiliate advertising program designed to provide a means for us to earn fees by linking to Amazon.com and affiliated sites.Read our full terms and conditions here.