FTC Disclosure: Delicious Obsessions may receive comissions from purchases made through links in this article. As an Amazon Associate I earn from qualifying purchases.Read our full terms and conditions here.

Enjoy the classic flavors of cinnamon and apple in this easy to make cinnamon apple mug cake. For those days where you are craving cake but don't want to make a whole pan, this is the perfect solution. Single serve and oh so delicious! Try it topped with coconut whipped cream or vanilla coconut ice cream for an extra special treat.
I don't know about you, but to me, there is something oh so heavenly about the flavor combination of apple and cinnamon. It has to be one of my favorite flavor combos of all time and this super easy cinnamon apple mug cake checks all the boxes.
The flavors of cinnamon and apple are quintessentially Fall, but I enjoy this delicious mug cake (and cinnamon apple flavors) any time of year. The warm cinnamon spice and tangy apples are the perfect companions for a simple vanilla cake. And this easy, single-serve recipe is perfect for those days where you want some cake, but don't want to make a whole huge pan.
A Peek at Cinnamon's History and Nutrition
Next to turmeric, I would say that cinnamon may be one of the most studied spices. There is so much info out there about the health benefits of cinnamon, far more than I could ever list here. I recommend checking out PubMed or the GreenMedInfo websites for scientific studies and data about this aromatic spice. It has been studied for all sorts of health applications, including blood sugar control, blood clotting, anti-microbial activity, brain function, and more.  Just a simple search on PubMed yields over 2,200 results!
Cinnamon has a long history as both a culinary spice and a medicine. It's warm, fragrant, and sweet flavors pair well with many foods and it can be used in both sweet and savory applications. Cinnamon is one of the oldest known spices and was mentioned in the Bible and ancient Egyptian and Chinese texts. In medieval Europe, it became one of the most relied on spices for cooking and trade. (source)
A Peek at Apple's History and Nutrition
You know that old saying, "an apple a day keeps the doctor away"? Well, there could be some truth in that. Apples provide a wide range of nutrients, specifically phenolic phytonutrients. In short, apples are full of antioxidants. There is a massive list of all the antioxidants contained in apples that can be found on the World's Healthiest Foods website here.
In addition, apples are an excellent source of fiber, both soluble and insoluble. We need both forms in order to keep our gut microbiome happy. And lastly, they are an excellent source of vitamin C. Keep in mind that both the vitamin C and the antioxidants are reduced or eliminated when cooked, so eating a raw apple here and there is a great way to boost your nutrition.
It is thought that the first wild apples originated in Central Asia and it didn't take long for people to domesticate it and spread apples throughout the world. Early diversity in cultivating apples is what gave way to the thousands of apple varieties we have today. What you see on your supermarket shelves is just a teeny tiny fraction of all of the different varieties out there. I remember the first time I learned just how many different varieties of apples existed. My mind was blown!
My Love for Apples and Cinnamon
As I was writing this cinnamon apple mug cake recipe, I was curious to see how far my love for all things apple and cinnamon had spread through the site. I knew I had a few recipes using these two ingredients, but would you believe I ended up with more than ten! I guess I really do love apples and cinnamon. 🙂
Today's cinnamon apple mug cake recipe is quite tasty, but if you don't get your fill of these two ingredients today, then may I interest you in any of the following:
Cinnamon Apple Mug Cake Notes
I created this cinnamon apple mug cake recipe one evening when I had a hankering for cake, but I did not want to take the time to make a huge batch. So I started stirring some ingredients together in my favorite mug and then tossed it in the oven. The result was good, but not great. So I tweaked it and then tweaked it a little more and that's how we got to today. 🙂
Mug cakes are super popular and are typically made in the microwave. This cinnamon apple mug cake can be made either way, depending on your preference. I've noted the baking instructions for both down below.
Because mug cakes are so forgiving and don't have to be perfect, you could sub another flour for the almond flour if you like. If you use coconut flour, you would use about half of what I have listed below. You will also need to let it sit for 5-8 minutes before you stick it in the oven to give the coconut flour time to absorb some of the liquid and expand. After that, if it gets too thick or dry, you'll need to add a little more milk in before baking. You can easily use tapioca powder in place of the arrowroot if you prefer.
As far as sweeteners go, use whatever granulated sweetener you like in this cinnamon apple mug cake. You could even use a liquid sweetener like honey or maple syrup if you prefer since this is such a small cake and doesn't have to turn out perfectly. I just use erythritol and stevia since that is what works best for my body right now.
One thing I love about this cinnamon apple mug cake is that you only end up with one dirty dish, unlike regular cakes. I'm all about less clean up in the kitchen. If you're making this for more than just you, you can easily double this recipe and then just divide it into two separate mugs before baking.
Cinnamon Apple Mug Cake :: Gluten-Free, Grain-Free, Dairy-Free, Refined Sugar-Free
Yield: 1

Prep Time: 5 minutes

Cook Time: 30 minutes

Total Time: 35 minutes

Enjoy the classic flavors of cinnamon and apple in this easy to make cinnamon apple mug cake. For those days where you are craving cake but don't want to make a whole pan, this is the perfect solution. Single serve and oh so delicious! Try it topped with coconut whipped cream or vanilla coconut ice cream for an extra special treat.
Instructions
Combine the egg, oil, milk, erythritol, vanilla, stevia, and sea salt in a large mug and whisk to combine.
Finely chop 1/2 of a small apple and add to the liquid ingredients. Stir to combine.
Add the almond flour, arrowroot powder, ground cinnamon, and baking soda and stir until combined.
Bake at 350 degrees Fahrenheit for 30-40 minutes, or until set in the middle.
Remove from oven and let cool slightly before serving. Top with this dairy-free vanilla ice cream or this quick and easy dairy-free whipped cream for an extra decadent treat!
NOTE: If you use a microwave, you can microwave on high for 2 minutes and then in 15-second increments after that until set in the middle.
Nutrition Information:
Yield: 1 Serving Size: 1
Amount Per Serving: Calories: 228Total Fat: 14gSaturated Fat: 2gTrans Fat: 0gUnsaturated Fat: 11gCholesterol: 186mgSodium: 369mgCarbohydrates: 19gFiber: 6gSugar: 10gProtein: 10g

This website provides approximate nutrition information for convenience and as a courtesy only. Nutrition data is gathered from Nutritionix. Nutrition information can vary for a recipe based on many factors. We strive to keep the information as accurate as possible, but make no warranties regarding its accuracy. We encourage readers to make their own calculations based on the actual ingredients used in your recipe, using your preferred nutrition calculator.
You Know What Goes Good with Cinnamon Apple Mug Cake? Ice Cream!
If you want to know how to make your own decadent ice cream at home, I've got you covered in my best-selling eBook, The Splendid Scoop and Other Frozen Treats: Delicious and Easy Dairy-Free Recipes, Plus Tips and Tricks for Homemade Ice Cream Perfection!
When the weather gets warm, nothing is more delicious than a bowl of cold ice cream or a delicious frozen treat. But, when you're on a restricted diet, finding treats that are suitable for your needs can be tricky. Plus, what happens when you want to make ice cream, but don't own an ice cream maker? Can you still make tasty treats without all the special equipment?
Yes! You can!
That is why I created The Splendid Scoop and Other Frozen Treats eBook! I, myself, am on a restricted diet for health reasons and when the weather starts warming up over 65 F, I start to get cranky. I am definitely a cool weather gal and one way to keep me sane and satisfied during the height of summer is knowing that I can make something delicious, at home, using healthy ingredients that fit my lifestyle.
All of the recipes in this book are dairy-, grain-, and gluten-free and easily be modified for the autoimmune protocol as well, making them extra special for those on super restricted diets.
In The Splendid Scoop and Other Frozen Treats eBook, You Will Learn:
Why making your own ice cream and frozen treats at home is better than buying them at the store (even the organic ones!).
Tips and tricks for homemade ice cream success.
How to make ice cream without an ice cream maker (it's easier than you think!).
Delicious dairy-free recipes the whole family will love (recipes are also gluten and free and can easily be adapted for the autoimmune protocol as well).
Extensive resource suggestions for real food, wellness, and beyond.
Don't let another summer or special occasion pass you by. No longer will you have to watch your friends and family indulge on their favorite frozen treats while you sit on the sidelines due to your dietary restrictions.
Now you can enjoy creamy, delicious, and allergen-friendly frozen treats once again with The Splendid Scoop.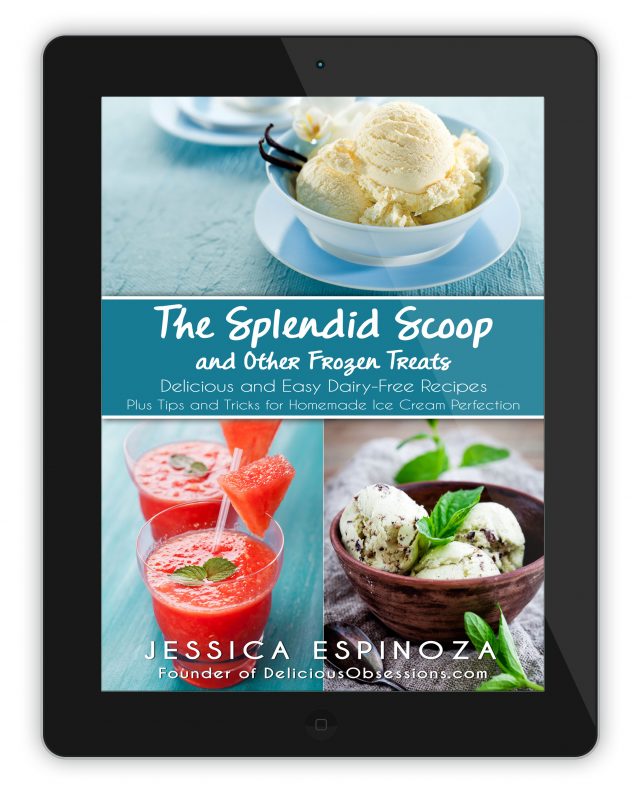 Delicious Obsessions is a participant in the Amazon Services LLC Associates Program, an affiliate advertising program designed to provide a means for us to earn fees by linking to Amazon.com and affiliated sites.Read our full terms and conditions here.