FTC Disclosure: Delicious Obsessions may receive comissions from purchases made through links in this article. As an Amazon Associate I earn from qualifying purchases.Read our full terms and conditions here.

This dairy free vanilla ice cream recipe is a classic and is so delicious that you won't even miss the dairy! This recipe is perfect to have on hand for those who have food allergies and it is so simple and easy to make.
I love ice cream – pretty much any flavor, non-dairy or dairy. However, I rarely buy it because most commercial ice creams are filled with so much junk. Even the organic and all-natural brands still have certain ingredients that I don't like. So, that's why I invested in a Cuisinart ice cream maker (it was on clearance at Sur la Table) and it has gotten a lot of love!
Here is a simple and delicious non-dairy ice cream. Perfect by itself, or on top of bananas foster or mixed fruit cobbler. Even better, try it with some coconut oil Magic Shell drizzled over the top and get your daily dose of coconut oil! Yum!
Feel free to add other flavors or mix-ins to this recipe. You could customize it any way you like. Enjoy!
Intimidated by the thought of making your own ice cream at home? Don't be! It's so easy and here are 5 Tips for Perfect Homemade Ice Cream.
NOTE: People seem to freak out because I've included raw egg yolks in this recipe. If you don't want to eat raw eggs, then don't. I ONLY eat raw eggs when they come from a source I trust, like my parents (who raise chickens) or a local farmer that I know and trust. I would NEVER eat commercial eggs raw. So, if you don't have a safe source for eggs, you can either omit them, or heat the mixture over very low heat to pasteurize the eggs before making the ice cream.
My passion for homemade ice cream and frozen treats is exactly why I wrote my eBook, The Splendid Scoop. You can learn more about that book here, or read on down to the bottom of this article.
Coupons and Freebies for Dairy-free Vanilla Ice Cream Ingredients
I am always asked about my favorite ingredients and what I use in my own kitchen. I have linked to the products from my affiliate partners that I personally use and recommend. And now, here are the special coupon offers that select affiliate partners are currently offering:
Thrive Market: If you sign up through this link, you will get 15% OFF your first order.
Amazon, of course, has everything you need for this recipe. Their prices are often very good, though I love to shop around and sometimes find that Thrive Market has better deals. If you like saving money, it's good to shop around! 🙂
I get all of my herbs and spices from Mountain Rose Herbs. I have tried so many other brands and have never found the quality, flavor, and aroma to be as good as the herbs I get from Mountain Rose.
Dairy-free Vanilla Ice Cream Recipe
I have linked to the products from my affiliate partners that I personally use and recommend. If you purchase through one of these links, I may earn a small commission.
Author:
Jessica Espinoza @ Delicious Obsessions
Recipe type:
Dairy-free ice cream dessert
Instructions
Mix all the ingredients together with a hand mixer until thoroughly combined.
Chill completely, at least 6 hours, or overnight.
Prepare according to your ice cream maker's instructions.
No ice cream maker? No problem. Just pour the mixture into a shallow freezer-safe dish. Place in the freezer and every 30-45 minutes, stir the mixture around until it reaches a consistency you like. More time consuming, but totally doable. 🙂
Want to Learn How to Make Your Own Ice Cream Perfection At Home?
I've got you covered in my best-selling eBook, The Splendid Scoop and Other Frozen Treats: Delicious and Easy Dairy-Free Recipes, Plus Tips and Tricks for Homemade Ice Cream Perfection!
When the weather gets warm, nothing is more delicious than a bowl of cold ice cream or a delicious frozen treat. But, when you're on a restricted diet, finding treats that are suitable for your needs can be tricky. Plus, what happens when you want to make ice cream, but don't own an ice cream maker? Can you still make tasty treats without all the special equipment?
Yes! You can!
That is why I created The Splendid Scoop and Other Frozen Treats eBook! I, myself, am on a restricted diet for health reasons and when the weather starts warming up over 65 F, I start to get cranky. ? I am definitely a cool weather gal and one way to keep me sane and satisfied during the height of summer is knowing that I can make something delicious, at home, using healthy ingredients that fit my lifestyle.
All of the recipes in this book are dairy, grain, and gluten free. They can easily be modified for the autoimmune protocol as well, making them extra special for those on super restricted diets.
In The Splendid Scoop and Other Frozen Treats eBook, You Will Learn:
Why making your own ice cream and frozen treats at home is better than buying them at the store (even the organic ones!).
Tips and tricks for homemade ice cream success.
How to make ice cream without an ice cream maker (it's easier than you think!).
Delicious dairy-free recipes the whole family will love (recipes are also gluten and free and can easily be adapted for the autoimmune protocol as well).
Extensive resource suggestions for real food, wellness, and beyond.
Don't let another summer or special occasion pass you by. No longer will you have to watch your friends and family indulge on their favorite frozen treats while you sit on the sidelines due to your dietary restrictions.
Now you can enjoy creamy, delicious, and allergen-friendly frozen treats once again with The Splendid Scoop.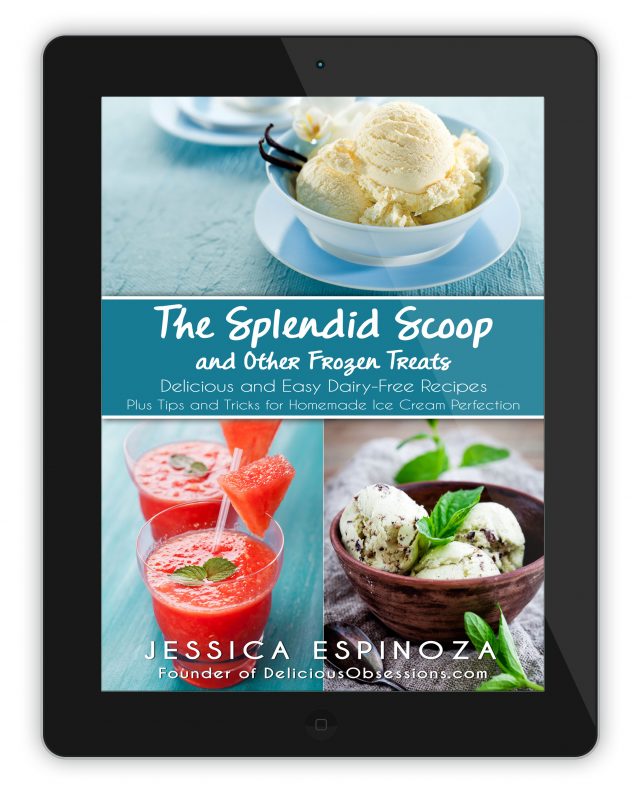 Delicious Obsessions is a participant in the Amazon Services LLC Associates Program, an affiliate advertising program designed to provide a means for us to earn fees by linking to Amazon.com and affiliated sites.Read our full terms and conditions here.