FTC Disclosure: This post contains affiliate links which means if you make a purchase through one of these links, I may earn a small commission on your sale which allows me to cover a portion of the cost of running the Delicious Obsessions site and free content we provide every week. This has no effect on your price and is simply a cost of doing business from the company you purchase from. I only recommend products or services that I have personally tried and love. You can view it like leaving a tip. Thank you for your support!
There is a little something you may not know about me.
I am a sucker for all things apple.
When fall rolls around, I can't get enough of this delicious fruit. While I love apples year round, it's fall when those cravings hit me.
Recently, fellow blogger and paleo chef, Simone Miller from Zenbelly.com sent me a copy of her new cookbook to review. (Can I just say that I have a SERIOUS cookbook addiction?)
The first thing I do when I get a new cookbook is flip through it and make note of all the recipes that jump out at me.
These rustic apple tartlets were one of the first recipes on my list and I was thrilled when she gave me permission to share them here on the site!
These tasty treats are easy to make and amazingly delicious. There is very little added sugar in the recipe, which is really nice. The natural sweetness of the apple really shines through without it being sickeningly sweet like so many fall-time desserts. This would taste amazing with my coconut vanilla ice cream or whipped cream / coconut cream!
These tartlets sure soothed my fall apple craving and I know you're going to love them!
Delicious Obsessions Trusted Product Recommendations
I am always asked about my favorite ingredients and what I use in my own kitchen. I have linked to the products from my affiliate partners that I personally use and recommend. All funds earned go to help support the maintenance of this site and free content. You can view it like leaving a tip. Thank you! 🙂 And now, here are the special coupon offers that select affiliate partners are currently offering:
Thrive Market: If you sign up through this link, you will get 15% OFF your first order.
Amazon, of course, has everything you need for this recipe. Their prices are often very good, though I love to shop around and sometimes find that Thrive Market has better deals. If you like saving money, it's good to shop around! 🙂
I get all of my herbs and spices from Mountain Rose Herbs. I have tried so many other brands and have never found the quality, flavor, and aroma to be as good as the herbs I get from Mountain Rose.
Rustic Apple Tartlets :: Gluten-Free, Grain-Free, Dairy-Free, Paleo, Primal
Author:
Simone Miller @ Zenbelly
Cuisine:
Gluten-Free, Grain-Free, Paleo, Primal
Instructions
Pre-heat the oven to 350 F.
In a medium mixing bowl, combine the slices apples, 1½ teaspoons of the coconut sugar, 1½ teaspoons of arrowroot, lemon juice and cinnamon. Stir to combine and set aside.
In another bowl, whisk together the almond flour, remaining ½ cup of arrowroot, remaining 1½ teaspoon of coconut sugar, and the salt. Cut the butter into small pats and cut it into the dough with the pastry cutter or two knives.
Mix one of the eggs and the vanilla extract into the almond flour mixture. Keep mixing until it forms a dough.
Divide the dough into flour sections. On a floured piece of parchment paper, press each section into a disc. Dust the discs and a rolling pin with arrowroot and roll them out into circles about 5 inches across.
Beat the remaining egg in a small bowl and brush the tops of the discs. Slide the parchment and dough onto onto a baking sheet.
Arrange a row of apple slices in the center of each disc, leaving space around the outside large enough to fold up.
Carefully fold up the sides of the discs around the outer edges of the apples. Using a flat metal spatula is helpful: Slide it under the dough and lift it up and over the apples, leaving the center uncovered. Using your fingers, crease the dough together every couple of inches to enclose the apples.
Brush the exposed apples with a little of the juice remaining in the bowl. Brush the crusts with the egg wash.
Bake for 25 to 30 minutes, or until the crust is golden and the apples have softened.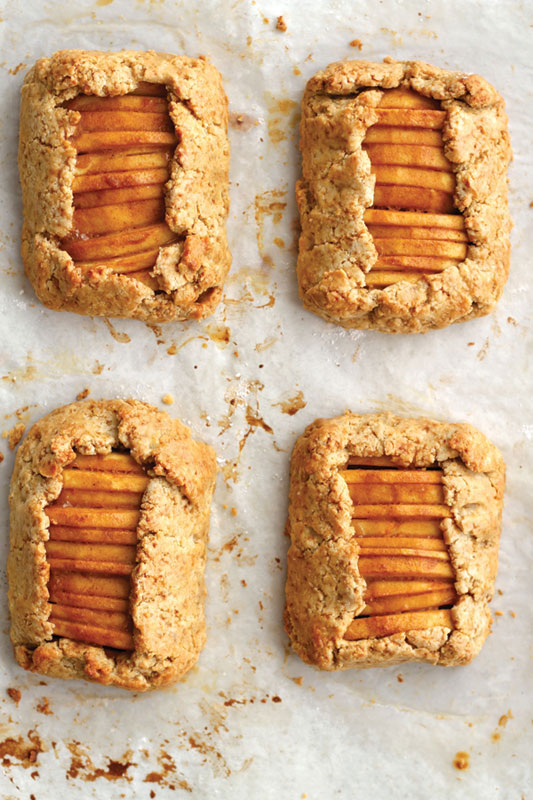 Above image courtesy of Simone Miller and The Zenbelly Cookbook
Like I mentioned above, I have a serious cookbook addiction. I absolutely love them and pretty much get every one I can get my hands on!
The Zenbelly Cookbook shows you how to create elegant restaurant-style paleo meals without needing to be a professional chef. Simone shows you how to turn boring old paleo into truly gourmet cuisine with over 100 gluten and grain free recipes that the whole family will love.
The Zenbelly Cookbook Features:
Paleo Recipes for Every Course and Occasion
Step-By-Step Photo Tutorials
Photos of the Raw Ingredients
Menu Suggestions
Entertainment Tips
Easy-To-Follow Recipes
Beautiful Photographs
Creative Inspiration
No matter your level of experience in the kitchen, you will easily be able to make Simone's recipes with no headaches and no fuss.
Recipes Include:
Avocado Mousse
Champagne Vinaigrette
Silver Dollar Pancakes with Blueberry Compote
Pork Chops with Caramelized Apples
Orange-Ginger Beef Stir Fry
Roasted Green Beans with Kalamata Olive Vinaigrette
Pan-Roasted Chicken with Bacon and Apples
Cilantro-Lime Roasted Shrimp
Paleo-friendly Biscuits and Breadsticks
Maple Bourbon Bacon Jam
BBQ Pork Pho
Grilled Sardines
Crispy Cinnamon Chicken Fingers
Pistachio-Crusted Rack of Lamb
Fig and Olive Crackers
Berry Custard Tart
And much, much more!
Want to learn more about The Zenbelly Cookbook? Click here.
Want to connect with Simone? You can find her on:
Looking for more apple recipes? Check these out!
Paid Endorsement Disclosure: Delicious Obsessions is a participant in the Amazon Services LLC Associates Program, an affiliate advertising program designed to provide a means for sites to earn advertising fees by advertising and linking to AMAZON.COM. This post may contain affiliate links and/or ads. We only recommend products or services that we have personally tried and love. When you make a purchase through any of these links, we earn a small commission on each sale, which allows us to cover a portion of the cost of this site. This has no effect on your sale price and is simply a cost of doing business for the company you are purchasing from. All funds received help with the continued maintenance of this website and free content. You can view it like leaving a tip. Thank you! Read our full terms and conditions here.