FTC Disclosure: This post contains affiliate links which means if you make a purchase through one of these links, I may earn a small commission on your sale which allows me to cover a portion of the cost of running the Delicious Obsessions site and free content we provide every week. This has no effect on your price and is simply a cost of doing business from the company you purchase from. I only recommend products or services that I have personally tried and love. You can view it like leaving a tip. Thank you for your support!
Creamy, perfectly spiced, refreshing Spiced Apple Cider Ice Cream is the perfect way to enjoy the flavors of fall.
Sipping on a mug of spiced apple cider might be a common way to celebrate fall on a chilly day. But I say step aside hot apple cider! Okay, maybe don't step aside because it's still delicious too. But … ICE CREAM. How can you go wrong with ice cream?
I truly believe homemade ice cream is perfectly acceptable year-round, especially when you're enjoying seasonal flavors like spiced apple cider ice cream!
If it's chilly out, just bundle up by the fire or wrap yourself in a cozy blanket and put on some super thick wool socks. You could even put on a hat if you want to. Just get warmed up, super easy, right? Then you can enjoy a nice bowl (or mug if you don't want to hold a bowl) of this delectable spiced apple cider ice cream.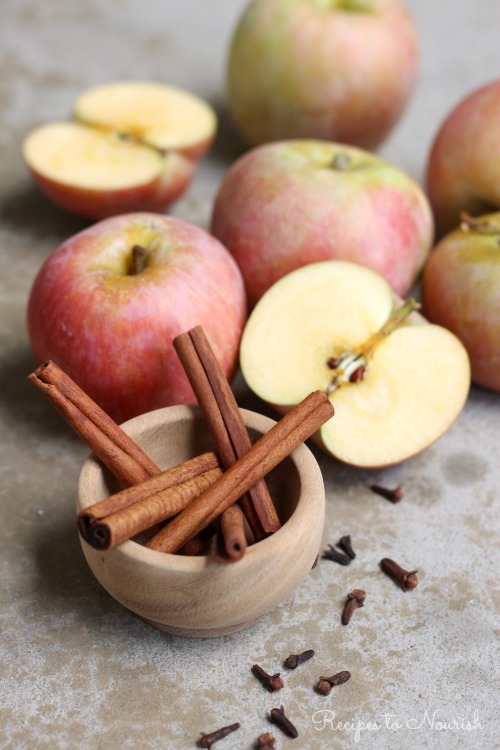 How to Enjoy Spiced Apple Cider Ice Cream
Maybe it seems obvious how to enjoy ice cream. I know, you put it in a bowl and eat it. But if you truly want to make it a special experience, why not get creative? It is after all the time of year when cozy flavors are on the menu for fall harvest and the holidays.
I highly recommend topping this crazy good ice cream with sea salted caramel sauce. True BLISS. There's no other way to explain it. It's just simply perfect with salty, creamy caramel sauce. Enough said.
Spiced apple cider ice cream is also so good à la mode with homemade apple pies, galettes, cobblers, crisps, and pumpkin pie. For an extra special treat, you can add a scoop on top of homemade pancakes or waffles. It's especially delicious served on top pumpkin pancakes! You can even add a scoop or two to a mug of hot chai or coffee for a little fall treat.
This is the perfect time of year to make this luscious ice cream. With u-pick apple orchards open and farmers markets packed with apples, there's no reason why you shouldn't enjoy this.
So grab yourself some organic apples, a few fall spices and break out your ice cream maker. Enjoy this cozy treat!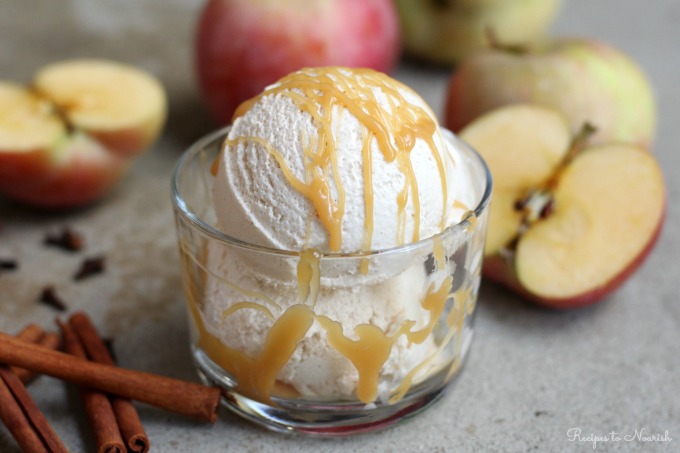 Coupons and Freebies for Spiced Apple Cider Ice Cream
I am always asked about my favorite ingredients and what I use in my own kitchen. I have linked to the products from my affiliate partners that I personally use and recommend. All funds earned go to help support the maintenance of this site and free content. You can view it like leaving a tip. Thank you! 🙂 And now, here are the special coupon offers that select affiliate partners are currently offering:
Thrive Market

: If you sign up through

this link

, you will get

15% OFF your first order

.
Vitacost

: If you sign up through

this link

, you'll get a coupon for

$10 off your first purchase.
Amazon, of course, has everything you need for this recipe. Their prices are often very good, though I love to shop around and sometimes find that Vitacost and Thrive Market have better deals. If you like saving money, it's good to shop around! 🙂
I get all of my herbs and spices from Mountain Rose Herbs. I have tried so many other brands and have never found the quality, flavor, and aroma to be as good as the herbs I get from Mountain Rose.
I get all of my vanilla beans and other vanilla goodies from Beanilla. I've tried a ton of brands of vanilla and vanilla beans and Beanilla is by far the best quality I've found! Make sure you check out their Bean Bucks Rewards program so you can save on future orders.

Spiced Apple Cider Ice Cream :: Dairy-Free Option
yield: approx. 1 quart 
Ingredients
2 cups raw/organic/grass-fed cream or full-fat coconut milk/cream
1 cup homemade apple cider or organic spiced apple cider (you can find this in the refrigerated section of your grocery store)
1/3 cup raw honey or pure maple syrup
1 tablespoon vanilla extract
1/2 teaspoon ground cinnamon
1/4 teaspoon ground ginger
1/8 teaspoon ground cloves
1/4 teaspoon Celtic sea salt
Zest of 1 organic orange
2 tablespoons grass-fed collagen – optional
Instructions
Add all ingredients to a blender. Pulse just until combined.
Prepare ice cream maker. Turn ice cream maker on and pour ice cream mixture into the ice cream maker. Churn according to the manufacturer's instructions. When ice cream starts to have a "soft serve" texture, it's done.
Serve immediately or use a wooden spoon to transfer the ice cream to a freezer-safe container. Cover and freeze until ready to serve. If it's frozen overnight, make sure to remove it from the freezer and leave at room temperature for at least 15 minutes before serving.
Notes
Dairy Free Version: For best results use equal parts coconut cream and full-fat coconut milk in place of the cream.
Quick Homemade Apple Cider: Core 4 organic apples, cut into fourths and add to a blender. Add 1 cup filtered water, zest of 1 orange, 1 tablespoon fresh orange juice and 1/2 teaspoon ground cinnamon. Blend on high until liquified. Strain juice through a fine mesh strainer, then strain again for a second time and again once more. Juice should be strained 3 times for a thin consistency.
Use a lighter honey like clover, star thistle or orange blossom (wild flower varieties tend to be too strong for this flavor combo).
I run my ice cream maker for about 20-25 minutes until it's a thick soft-serve consistency. My family loves it like this. If we're not eating it right away, I usually place it in the freezer for a few hours to firm up a bit.
Storage: Cover in an airtight freezer-safe container and store in freezer for up to 2 weeks.
Serving Suggestions: Top with sea salted caramel sauce, homemade whipped cream or homemade whipped coconut cream.
Paid Endorsement Disclosure: Delicious Obsessions is a participant in the Amazon Services LLC Associates Program, an affiliate advertising program designed to provide a means for sites to earn advertising fees by advertising and linking to AMAZON.COM. This post may contain affiliate links and/or ads. We only recommend products or services that we have personally tried and love. When you make a purchase through any of these links, we earn a small commission on each sale, which allows us to cover a portion of the cost of this site. This has no effect on your sale price and is simply a cost of doing business for the company you are purchasing from. All funds received help with the continued maintenance of this website and free content. You can view it like leaving a tip. Thank you! Read our full terms and conditions here.

Emily Sunwell-Vidaurri is a water kefir and chocolate loving, holistic-minded wife and homebirth mom of two little loves. She's the founder and voice behind Recipes to Nourish, a gluten free blog focusing on Real Food and Holistic Health. She's a real foodie, passionate about nourishing home cooking, lover of seasonal food, advocate of "green" living and daydreams about being a homesteader by the sea. Her passion and mission is to make healthy and natural living as uncomplicated and enjoyable as possible. Find Emily's latest recipes and natural living tips at Recipes to Nourish. Connect with her on Facebook, Instagram, Pinterest, and Twitter plus grab her free eBook Holistic Tips to Keep Your Family Healthy.