FTC Disclosure: This post contains affiliate links which means if you make a purchase through one of these links, I may earn a small commission on your sale which allows me to cover a portion of the cost of running the Delicious Obsessions site and free content we provide every week. This has no effect on your price and is simply a cost of doing business from the company you purchase from. I only recommend products or services that I have personally tried and love. You can view it like leaving a tip. Thank you for your support!
I. Love. Waffles. Especially these Apple Cinnamon Sweet Potato Waffles. Which are also gluten, grain, and dairy free. Woot!
For me, waffles are a splurge food, a special treat that I enjoy every once in awhile. And boy do I love every minute of it when I do! 🙂
This recipe for gluten-free, grain-free, and dairy-free apple cinnamon sweet potato waffles is SO good. Think fancy breakfast restaurant style waffles made at home with healthy, nutrient-dense ingredients.
I can't take credit for the recipe though, but I am excited to share it with you today. My dear friend and business partner, Orleatha Smith, is the person who came up with this tasty treat for our new breakfast menus launching in September! Learn more about what we do over at 20 Dishes (weekly meal plans + a social mission) here.
UPDATE Aug. 2017 – 20 Dishes no longer carries this line of flours, but you can find my favorite replacement for Apple Flour here and favorite Sweet Potato flour here.
Oh, and woot! I have always wanted to have a line of gluten-free flours and now I do…Well, technically the line belongs to my other company, 20 Dishes, but as co-owner of that site I treat them as though they were my own! 🙂 I am so stinking excited and proud of them!
These apple cinnamon sweet potato waffles use 20 Dishes new apple and sweet potato flours which give a new twist on a standard breakfast treat. I'll share more details about our other flours below the recipe if you're interested in learning more!
I personally think these waffles are sweet enough without a bunch of extra toppings (thanks to the apple flour), but feel free to add anything that tickles your fancy. Butter, cream cheese, yogurt, syrup, honey, fresh fruit, or even nut butter would taste amazing!
Waffle Maker Recommendations for Your Apple Cinnamon Sweet Potato Waffles
If you don't have a waffle maker, I bet these would make delicious pancakes. While I know that a waffle maker is not a kitchen tool that I use all the time, I really like having one on hand for special occasions. One of my favorite things when I used to go out and eat breakfast a lot was waffles so it's nice to have the option to make them at home when the mood strikes. More times than none, I have been asked on social media which waffle makers I recommend. So here are a few popular options, including the one I have (and love):
This Oster Ceramic Waffle Maker is the one I have and love. It's easy to use and clean and it has a non-stick ceramic coating that is free of PTFE and PFOA chemicals. The coating also doesn't flake or peel and it's 4x more durable than other coatings. It also cooks up to 20% faster than other waffle irons which saves some time and energy (though I don't use it enough to really have that be a big issue for me). It also has an adjustable temperature control. At under $35, I thought it was a great deal considering it had the ceramic coating I was looking for.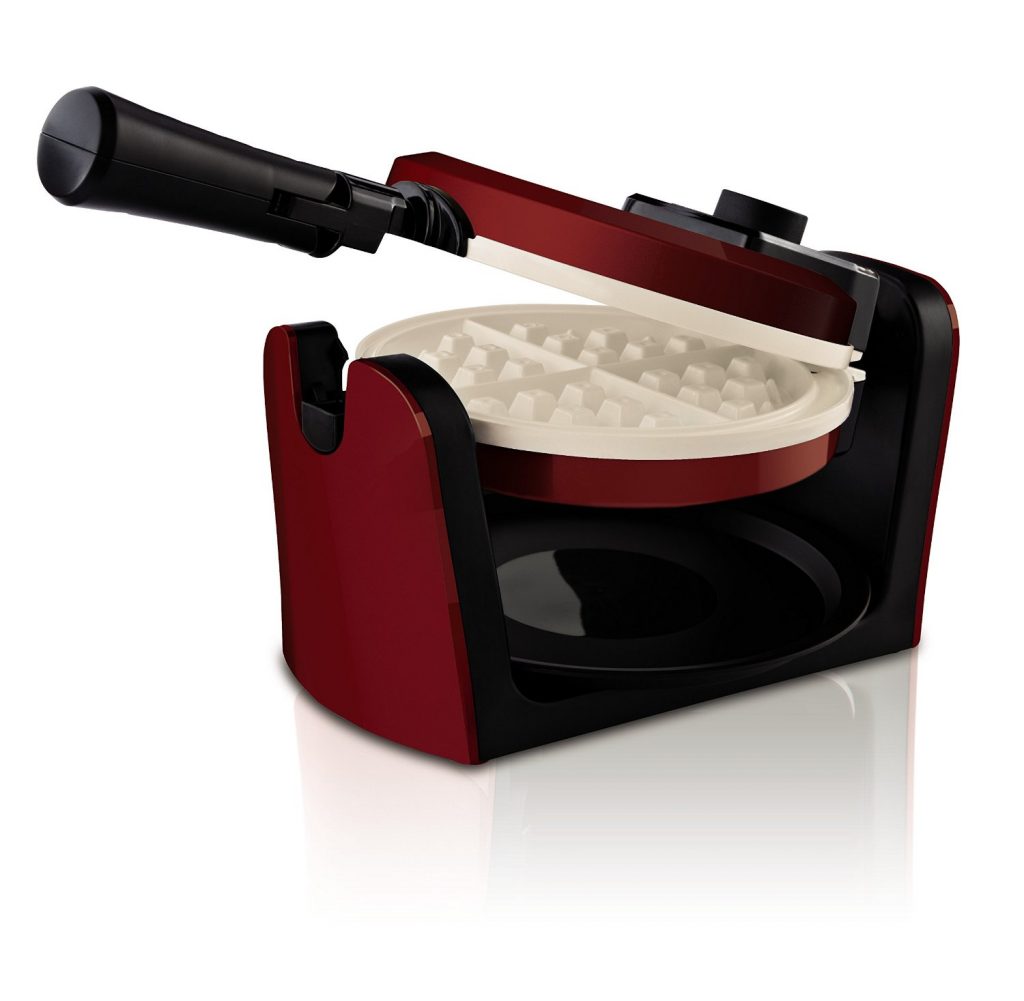 P.S. If you're looking for some other ceramic options, check these out.
This Hamilton Beach Waffle Maker reminds me of the one my mom had when I was little. Square waffles were what I was accustomed to when I was growing up. I didn't even realize there were round waffles until I was a little older. No junk food in my home growing up so I don't think I even knew about Eggo® Waffles! LOL!
This one has a non-stick grid that makes 2 waffles and a shade selector so you can get the perfect brown every time. It's compact and can be stored upright. The exterior is made from stainless steel. At under $20, this is a great option for people who are not going to use it very often.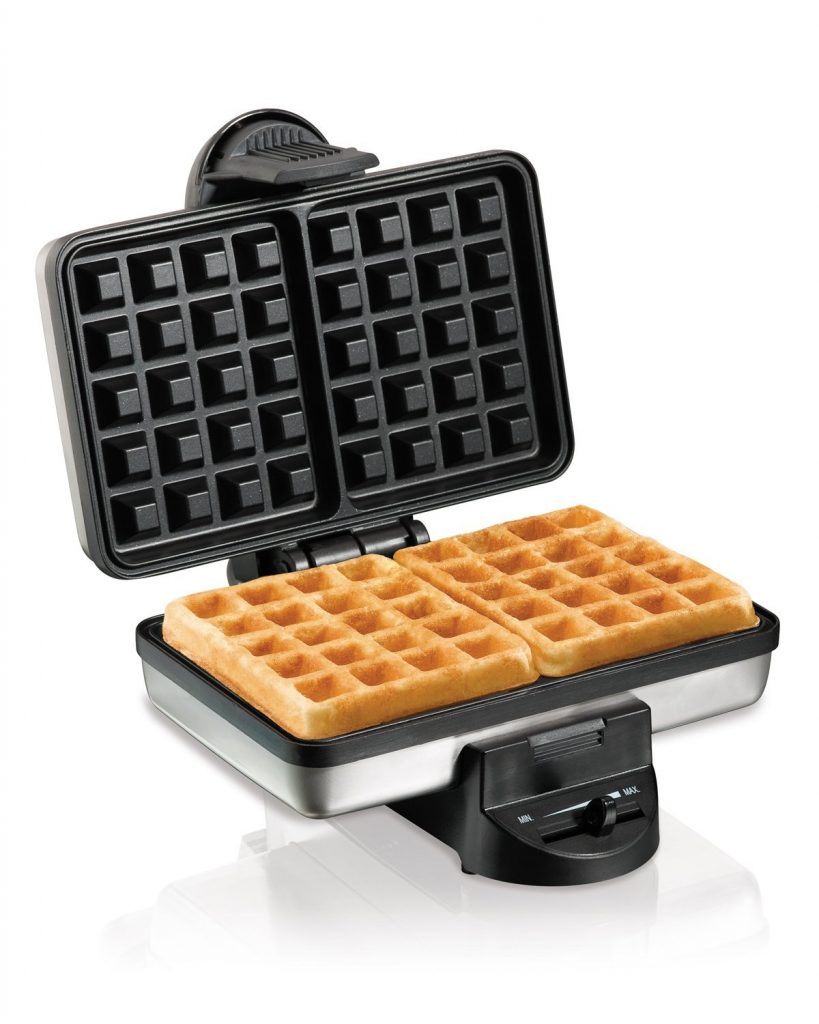 When it comes to a traditional waffle maker, this Presto FlipSide is what most people think of. It's no wonder that it is one of Amazon's #1 best sellers. And it has almost 3,500 customer reviews! This waffle maker features an extra thick grid that makes huge and thick waffles that can easily be cut into sections.
It also has a countdown timer so you know when the waffle is ready and a non-stick interior coating. The pricing for this one stays right around $35. It was one that I was wondering when I bought the Oster Ceramic Waffle Maker above and the price never moved more than a few cents.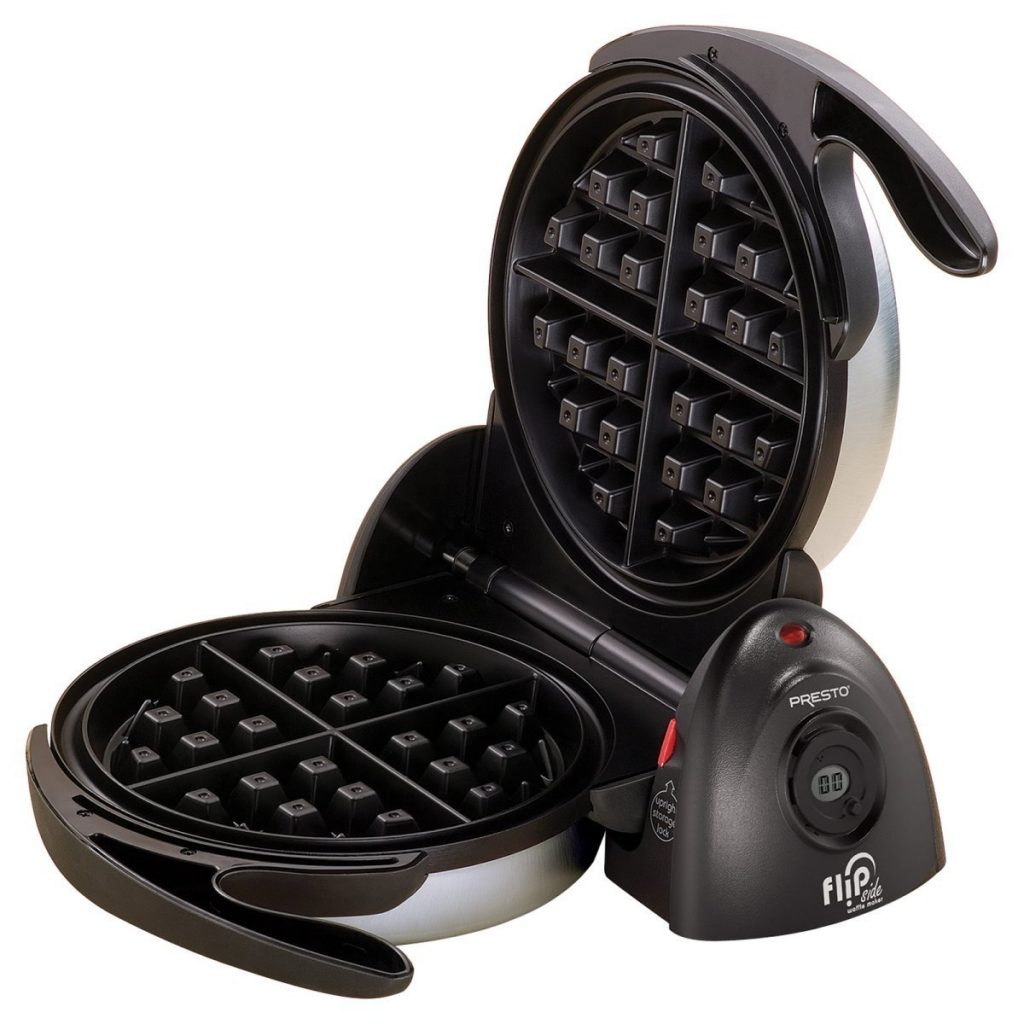 Old Fashioned Cast Iron Waffle Makers
If you want to avoid electric waffle makers and questionable coatings altogether, then they do still make cast iron options. Here are a few I found on Amazon, but they seem to come and go so if you see one you like, snag it. You might also keep an eye out at thrift stores and antique stores for a cast iron waffle maker. Click on the name of the product or the image to learn more.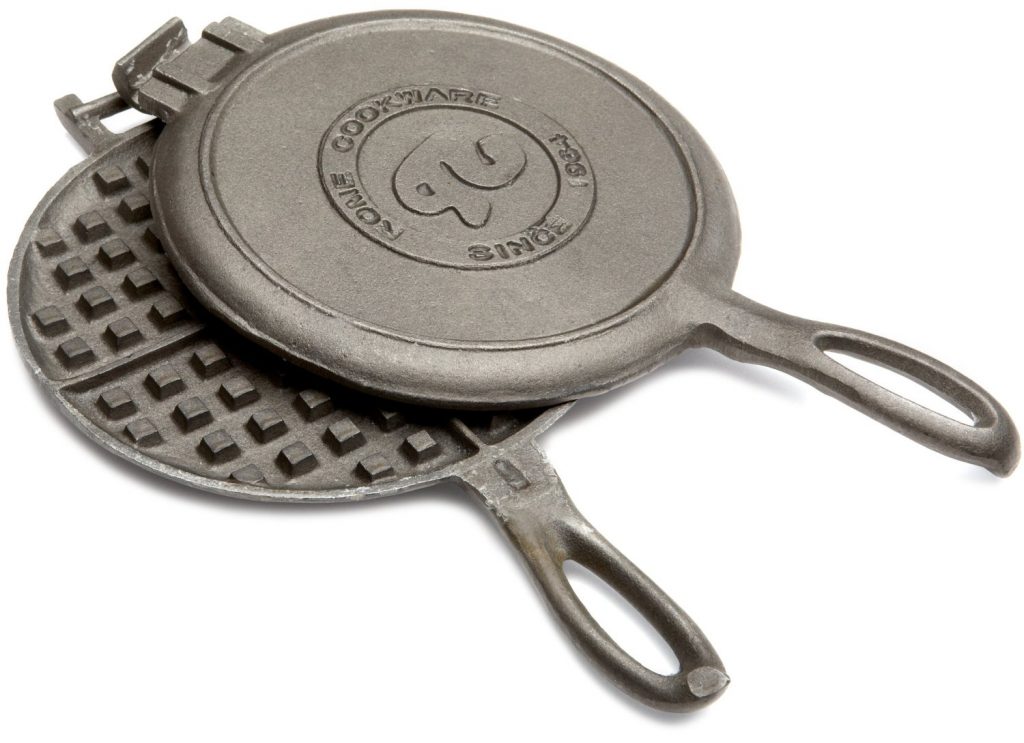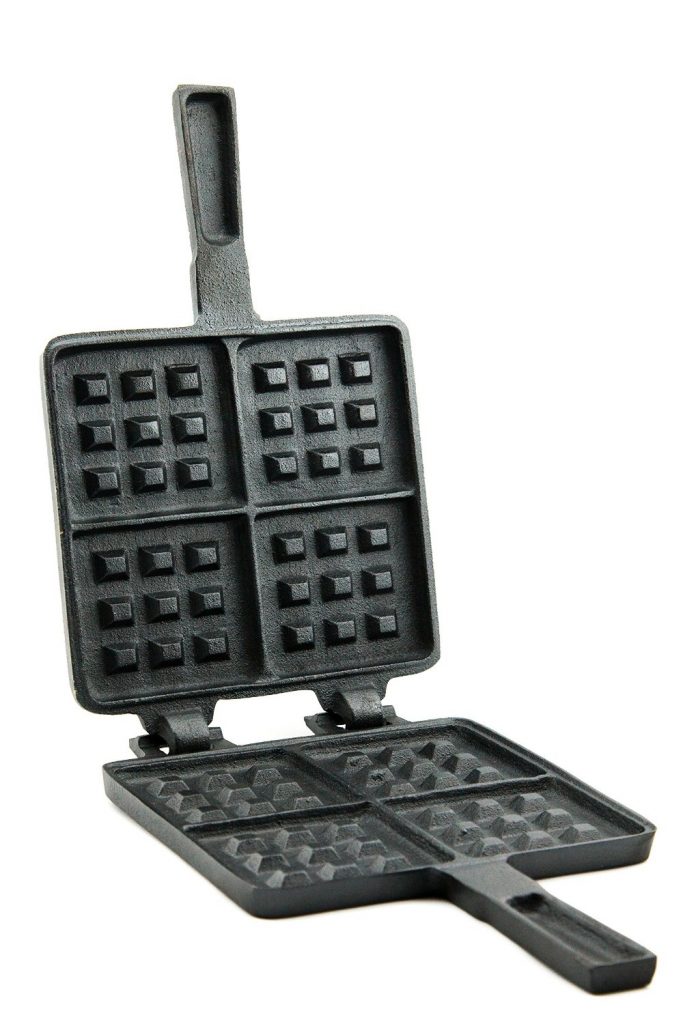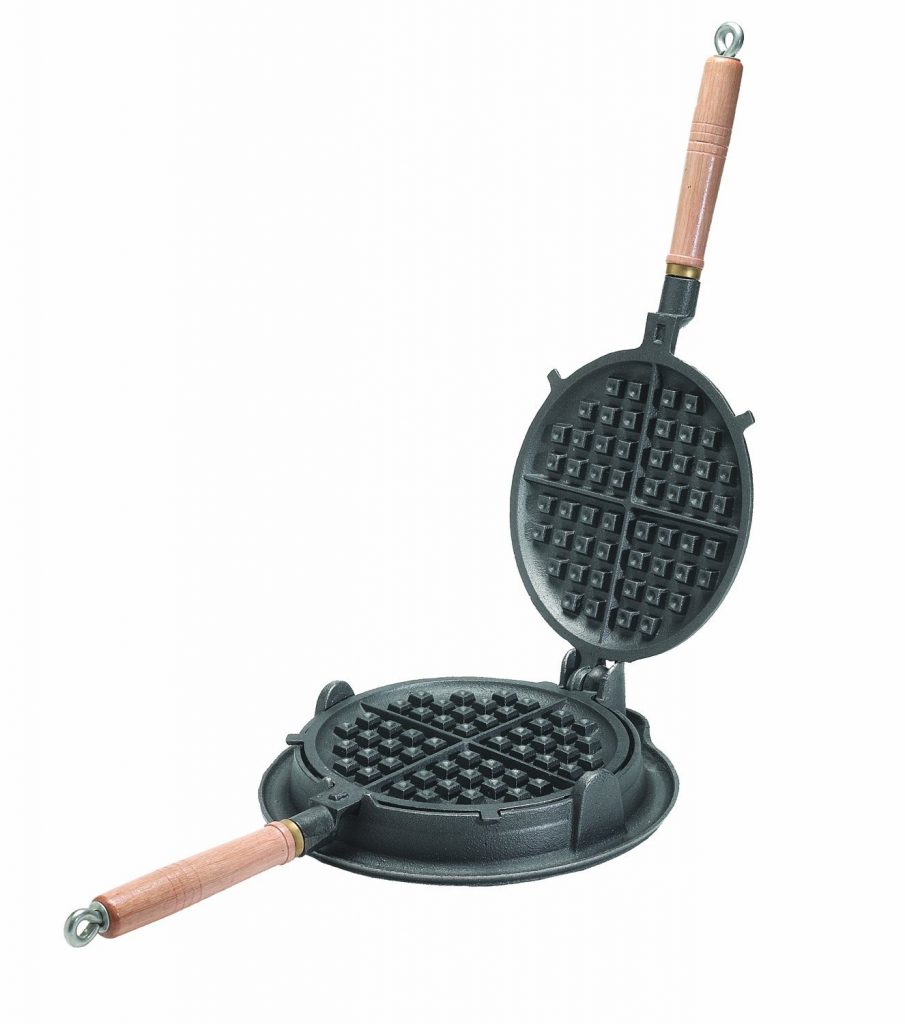 Hopefully, that gives you some options to research if you've been wanting to get a waffle iron for your own kitchen. IMHO, these waffles are worth getting a waffle iron for. 😉 Ready to dive in? Let's eat! Recipe below, or you can watch Orleatha make them on camera in a recent Facebook Live Stream!
Orleatha and the 20 Dishes team do really fun recipes and kitchen tips on Facebook every week, so make sure you follow us over there so you don't miss out on the newest Live Streams! 🙂
Apple Cinnamon Sweet Potato Waffles (gluten, grain, and dairy free) + My NEW Line of Gluten-Free Flours!
Author:
Orelatha Smith @ 20 Dishes
Cuisine:
Gluten-Free, Grain-Free, Dairy-Free,
Instructions
Preheat waffle iron to medium/low (we like this Presto Round Belgian Waffle Maker and this Hamilton Beach Square Belgian Waffle Maker)
In a mixing bowl, add all dry ingredients and mix with a fork.
In a separate bowl, thoroughly combine all wet ingredients.
Pour wet ingredients into dry and mix well. Set aside.
Grease the top and bottom of the waffle iron then pour about half a cup of the batter into the heated iron.
Cook for 5 minutes.
Remove the waffle using tongs or a large fork. Enjoy with honey and butter!

About Our 20 Dishes Gluten-Free Flours
The super tasty Apple Cinnamon Sweet Potato Waffles above used our sweet potato and our apple flours. Our sweet potato flour is contains just one single ingredient: sweet potatoes. Our sweet potatoes are harvested from American soil then drum-dried and milled right here in the U.S. The result is an all-natural and high-quality flour that plays very well with others in both sweet and savory dishes. This sweet potato flavor will shine through in most recipes (like the waffles above) and also makes for some killer noodles and bagels.
We offer two different apple flours, conventional and organic. Our apple flour contains just a single ingredient: apples. The apples are picked from local trees here in the U.S. and then are drum-dried and milled (skin and all). The result is a sweet, versatile, and all-natural flour that has a wide range of uses in both beverages (like smoothies) and baked goods like biscuits, cookies, pies, etc.). We like to use apple flour in baked goods in lieu of some of the sugar since it acts like a natural sweetener + some extra fiber.
In addition to the super tasty sweet potato and apple flours mentioned above, we also offer gluten-free oat flour, plantain flour, and blanched almond flour. We will also be releasing cassava flour in the very near future!
Paid Endorsement Disclosure: Delicious Obsessions is a participant in the Amazon Services LLC Associates Program, an affiliate advertising program designed to provide a means for sites to earn advertising fees by advertising and linking to AMAZON.COM. This post may contain affiliate links and/or ads. We only recommend products or services that we have personally tried and love. When you make a purchase through any of these links, we earn a small commission on each sale, which allows us to cover a portion of the cost of this site. This has no effect on your sale price and is simply a cost of doing business for the company you are purchasing from. All funds received help with the continued maintenance of this website and free content. You can view it like leaving a tip. Thank you! Read our full terms and conditions here.