FTC Disclosure: Delicious Obsessions may receive comissions from purchases made through links in this article. As an Amazon Associate I earn from qualifying purchases.Read our full terms and conditions here.

I. Love. Waffles. Especially these Apple Cinnamon Sweet Potato Waffles. Which are also gluten, grain, and dairy free. Woot!
For me, waffles are a splurge food, a special treat that I enjoy every once in awhile. And boy do I love every minute of it when I do! 🙂
This recipe for gluten-free, grain-free, and dairy-free apple cinnamon sweet potato waffles is SO good. Think fancy breakfast restaurant-style waffles made at home with healthy, nutrient-dense ingredients.
I can't take credit for the recipe but I am excited to share it with you today. My dear friend and former business partner, Orleatha Smith, is the person who came up with this tasty treat and allowed me to share it here on my site.
If you're not familiar with apple flour and sweet potato flour, you're in for a treat. It can get really boring using the same gluten and grain free flours over and over. I feel like the bulk of my recipes use almond flour and coconut flour. Occasionally I'll use cassava flour, but that's really all I use.
Kinda boring, am I right?!
Sometimes you just need to break out of the gluten-free flour box and this recipe is just the thing to help you do that. These apple cinnamon sweet potato waffles give a new twist on the classic breakfast treat. As you guys know, I love whole food ingredients. I prefer things without additives — just the real food, the way nature created it.
What is Apple Flour?
Apple flour is made from, guess what, APPLES! Just apples, nothing else. It's naturally sweet and versatile. It can take place of some (if not all) of the sweetener in your recipes. You can even add it to non-baked goods (think smoothies) for a boost of sweetness and vitamins.
Apple flour is not a flour that can be used alone so you will need to mix it in with other gluten and grain-free flours. I like to think of it as part of the background cast of the production. Vital to the show, but not in the spotlight so-to-speak.
I have not seen apple flour anywhere locally, so I order the Hearthy Foods brand Apple Flour through Amazon. I do recommend buying organic apple flour as apples are notoriously high in pesticide residue and there are very few organic apple flours on the market as of the time of this writing.
If you like making your own things, you can even dehydrate your own apple puree and then whiz it up in a high-speed blender or food processor. You have to make sure it is VERY dry though or else you'll end up with more of a paste than a flour.
What is Sweet Potato Flour?
Who doesn't love a good sweet potato? I know I do and seeing it in flour form blew my mind. What a fun ingredient to play with. Like apple flour, sweet potato flour is just that — sweet potatoes.
Sweet potato flour is very versatile and can be used in baked goods and other things like soups and sauces or even breading and batters. It retains its sweet flavor so it will add natural sweetness to whatever you are making. In some cases you could reduce or maybe even omit the sweetener in your recipe, depending on what you're making.
Sweet potato flour can be used by itself in quick bread recipes (like these waffles). For more complex baked goods that need more structure, you will need to blend it with another flour or two for best texture and results.
Like apple flour, I have never seen sweet potato available locally so I turn to the Internet to order mine. Two great brands are Hearthy Foods Sweet Potato Flour and Zócalo Peru Sweet Potato Flour.
Because of the delicate texture of both apple flour and sweet potato flour, it's a good idea not to use them at heats much over 350 degrees Fahrenheit.
OK, now that you know a little about today's special ingredients, who wants waffles? 🙂
I personally think these waffles are sweet enough without a bunch of extra toppings (thanks to the apple flour), but feel free to add anything that tickles your fancy. Butter, cream cheese, yogurt, syrup, honey, fresh fruit, or even nut butter would taste amazing!
Waffle Maker Recommendations for Your Apple Cinnamon Sweet Potato Waffles
If you don't have a waffle maker, I bet these would make delicious pancakes. While I know that a waffle maker is not a kitchen tool that I use all the time, I really like having one on hand for special occasions. One of my favorite things when I used to go out and eat breakfast a lot was waffles so it's nice to have the option to make them at home when the mood strikes. More times than none, I have been asked on social media which waffle makers I recommend. So here are a few popular options, including the one I have (and love):
This Oster Ceramic Waffle Maker is the one I have and love. It's easy to use and clean and it has a non-stick ceramic coating that is free of PTFE and PFOA chemicals. The coating also doesn't flake or peel and it's 4x more durable than other coatings. It also cooks up to 20% faster than other waffle irons which saves some time and energy (though I don't use it enough to really have that be a big issue for me). It also has an adjustable temperature control. At under $35, I thought it was a great deal considering it had the ceramic coating I was looking for.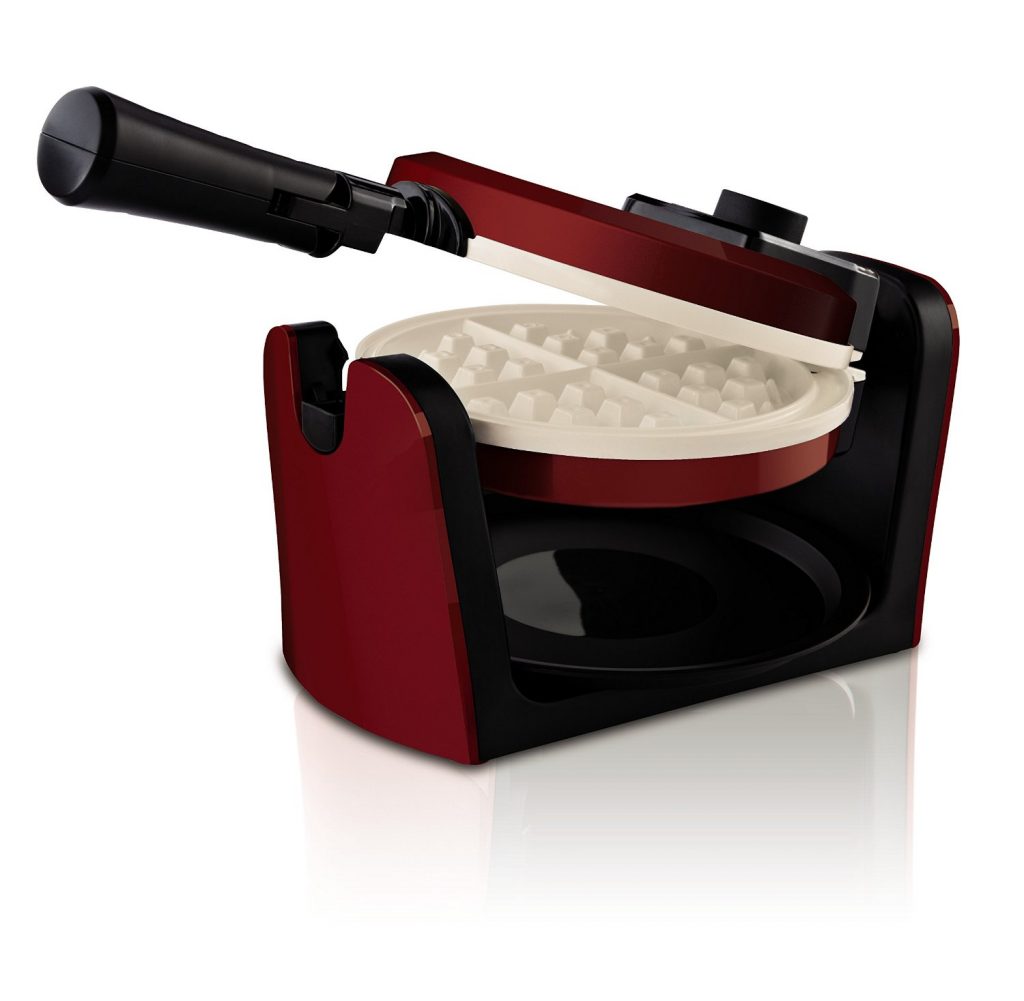 P.S. If you're looking for some other ceramic options, check these out.
This Hamilton Beach Waffle Maker reminds me of the one my mom had when I was little. Square waffles were what I was accustomed to when I was growing up. I didn't even realize there were round waffles until I was a little older. No junk food in my home growing up so I don't think I even knew about Eggo® Waffles! LOL!
This one has a non-stick grid that makes 2 waffles and a shade selector so you can get the perfect brown every time. It's compact and can be stored upright. The exterior is made from stainless steel. At under $20, this is a great option for people who are not going to use it very often.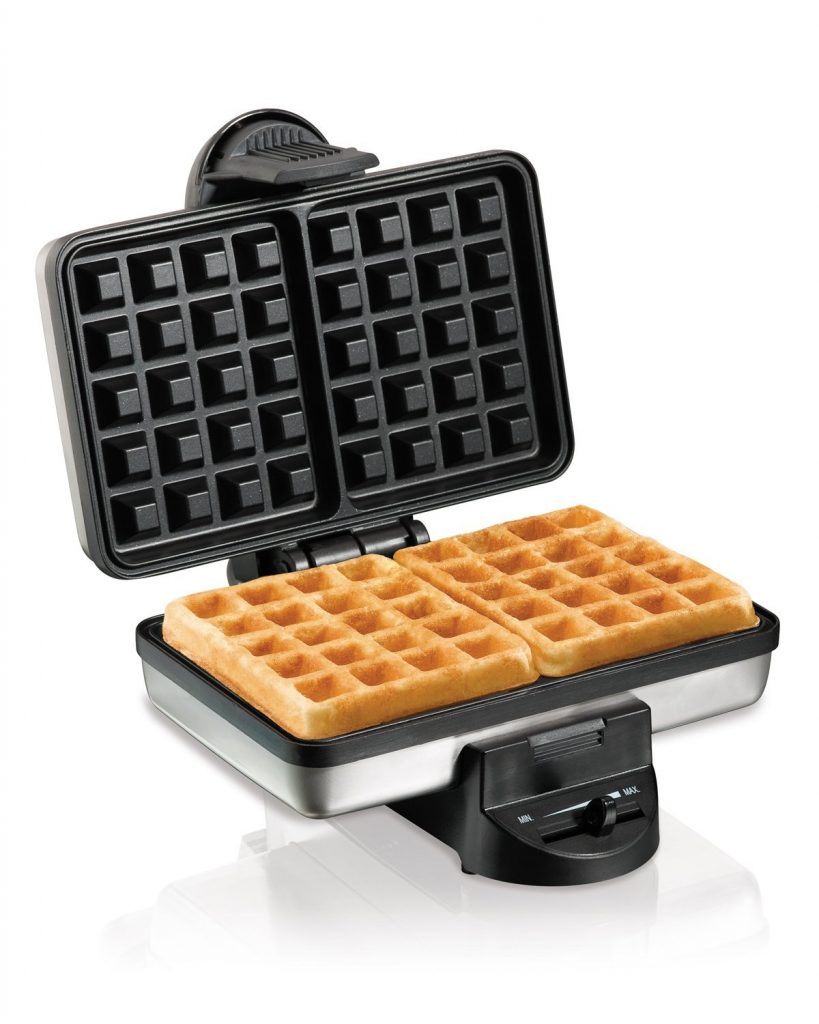 When it comes to a traditional waffle maker, this Presto FlipSide is what most people think of. It's no wonder that it is one of Amazon's #1 best sellers. And it has almost 3,500 customer reviews! This waffle maker features an extra thick grid that makes huge and thick waffles that can easily be cut into sections.
It also has a countdown timer so you know when the waffle is ready and a non-stick interior coating. The pricing for this one stays right around $35. It was one that I was wondering when I bought the Oster Ceramic Waffle Maker above and the price never moved more than a few cents.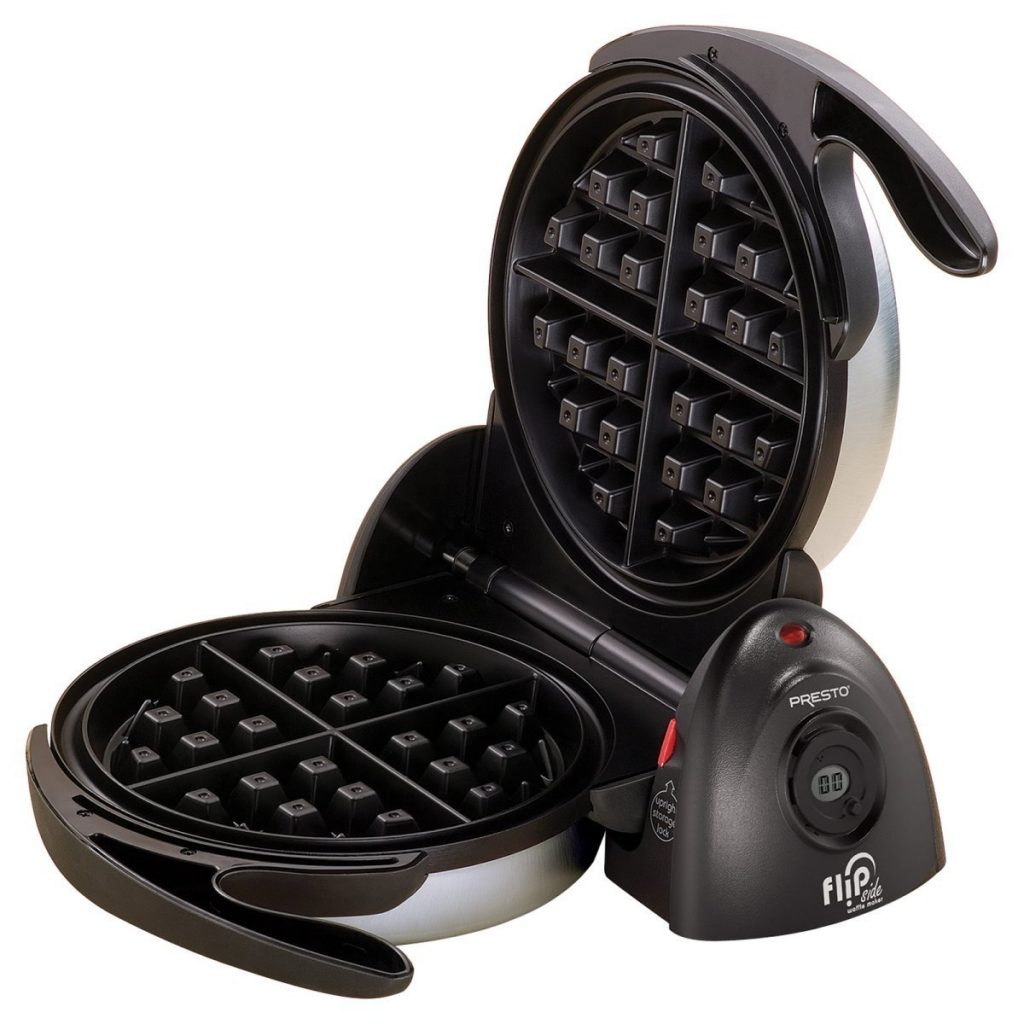 Old Fashioned Cast Iron Waffle Makers
If you want to avoid electric waffle makers and questionable coatings altogether, then they do still make cast iron options. Here are a few I found on Amazon, but they seem to come and go so if you see one you like, snag it. You might also keep an eye out at thrift stores and antique stores for a cast iron waffle maker. Click on the name of the product or the image to learn more.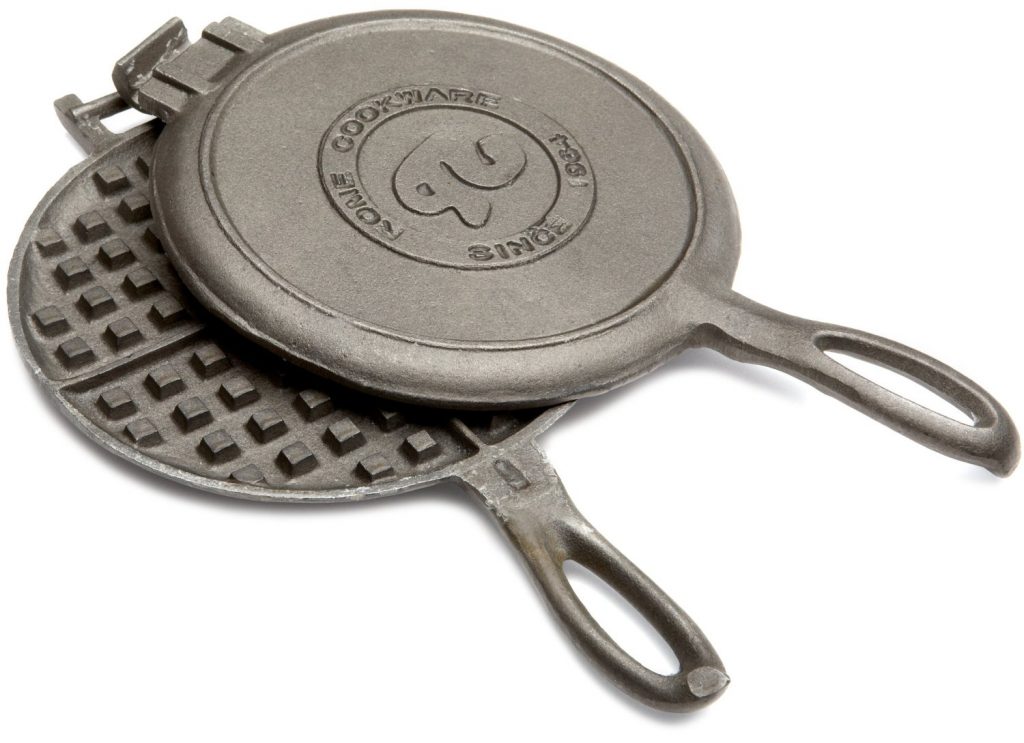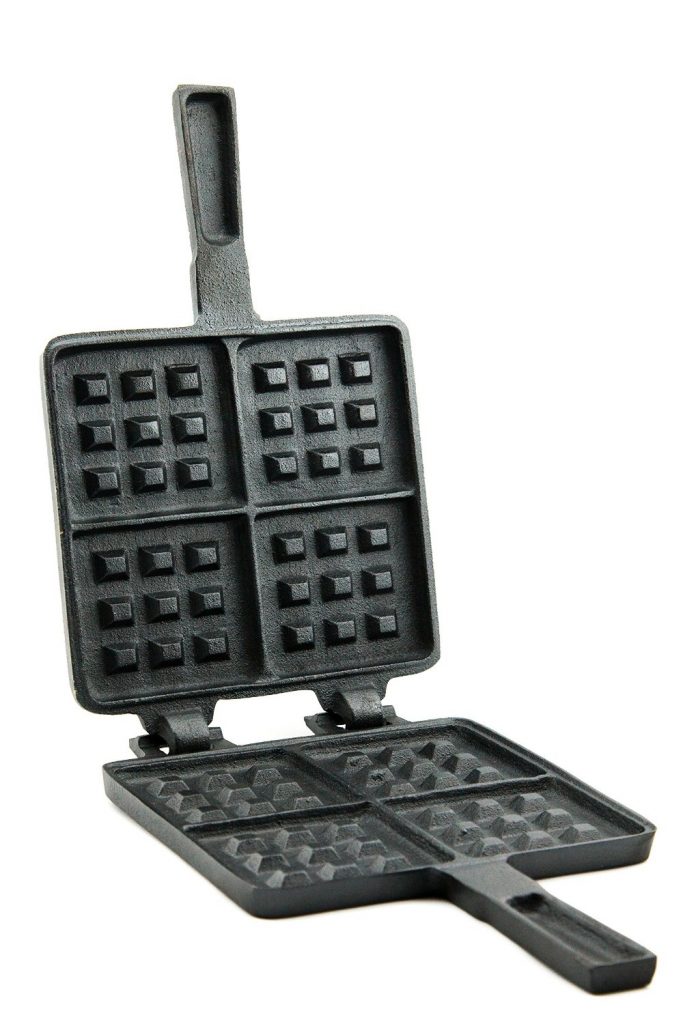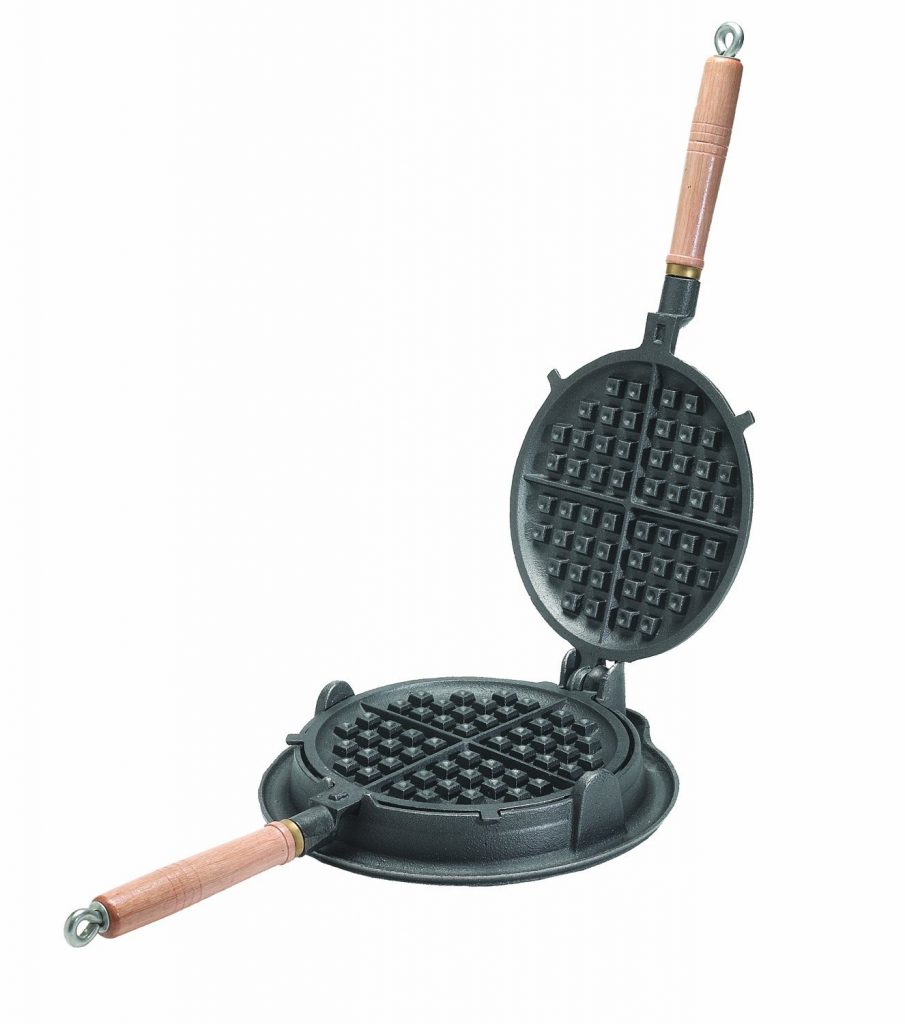 Hopefully, that gives you some options to research if you've been wanting to get a waffle iron for your own kitchen. IMHO, these waffles are worth getting a waffle iron for. 😉 Ready to dive in? Let's eat!
Apple Cinnamon Sweet Potato Waffles (gluten, grain, and dairy free)
This recipe for gluten-free, grain-free, and dairy-free apple cinnamon sweet potato waffles is SO good. Think fancy breakfast restaurant-style waffles made at home with healthy, nutrient-dense ingredients.
Instructions
Preheat waffle iron to medium/low (we like this Presto Round Belgian Waffle Maker and this Hamilton Beach Square Belgian Waffle Maker)
In a mixing bowl, add all dry ingredients and mix with a fork.
In a separate bowl, thoroughly combine all wet ingredients.
Pour wet ingredients into dry and mix well. Set aside.
Grease the top and bottom of the waffle iron then pour about half a cup of the batter into the heated iron.
Cook for 5 minutes.
Remove the waffle using tongs or a large fork. Enjoy with honey and butter!
Recommended Products
As an Amazon Associate and member of other affiliate programs, I may earn a small commission from qualifying purchases.
Nutrition Information:
Yield:

4
Serving Size:

1
Amount Per Serving:
Calories:

81
Total Fat:

4g
Saturated Fat:

1g
Trans Fat:

0g
Unsaturated Fat:

2g
Cholesterol:

140mg
Sodium:

590mg
Carbohydrates:

7g
Fiber:

1g
Sugar:

1g
Protein:

5g
This website provides approximate nutrition information for convenience and as a courtesy only. Nutrition data is gathered from Nutritionix and we often find their calculations to be slightly inaccurate based on the whole food ingredients we use on this site. Nutrition information can vary for a recipe based on many factors. We strive to keep the information as accurate as possible, but make no warranties regarding its accuracy. We encourage readers to make their own calculations based on the actual ingredients used in your recipe, using your preferred nutrition calculator.


Delicious Obsessions is a participant in the Amazon Services LLC Associates Program, an affiliate advertising program designed to provide a means for us to earn fees by linking to Amazon.com and affiliated sites.Read our full terms and conditions here.