FTC Disclosure: Delicious Obsessions may receive comissions from purchases made through links in this article. As an Amazon Associate I earn from qualifying purchases.Read our full terms and conditions here.

Apple pie.
Oh, how I love thee.
Let me count the ways. (Every time I say that I think of Roger Rabbit … click here if you don't know what I'm referring to.)
Moving on now.
Recently, I have been in love with all things apple. I just can't get enough of this tasty fruit. Something about the cooler weather makes me crave apples and the warm fall spices. Pair that with fennel and ginger, and you have a pie that is simply divine.
At least I think so … and I haven't received any complaints from my family members who have been subject to taste-testing my experiments. Hey, it's a dirty job, but someone's gotta do it. 😉
This pie is rich in flavor, with just a hint of spiciness from the ginger. The fennel is very mild and blends perfectly with the apples and warm pie spices. This recipe really evolved out of a strange craving that I had for apples and fennel a few months ago. I just kept adding stuff in and before I knew it, I had a pie filling. The first few times I made this, I just ate the filling on its own, but then I decided to pair it with a gluten-free pie crust and top it with a delicious nutty crumble.
This pie is the perfect end to almost any meal. It has quickly become a new favorite in my home and will be my go-to pie for any special occasion.
Oh, and if you top it with vanilla ice cream or whipped cream, it takes the divineness to a whole new level.
Before we get started, here are a few notes about the recipe:
I never add any additional sweetener to the filling, because I find that the sweetness of the apples and the candied ginger is plenty sweet for me. If you want it a little sweeter, you could add some honey, maple syrup, stevia, or any sweetener of your choice (this is noted in the recipe below).
Sometimes I like to keep it simple, so I make it without a crust. But, it also tastes equally as delicious with a crust. I provide two crust ideas below.
If you are nut free, you can replace the almond meal with more shredded coconut.
You may not need to add the arrowroot, depending on how much pectin cooks out of your apples. A couple of batches I made got super thick, just from the pectin, so I didn't need to add any arrowroot.
I never peel my apples, but if you would prefer to have no skins in your pie, by all means, peel away.
Delicious Obsessions Product Recommendations
I am always asked about my favorite ingredients and what I use in my own kitchen. I have linked to the products from my affiliate partners that I personally use and recommend. And now, here are the special coupon offers that select affiliate partners are currently offering:
Thrive Market: If you sign up through this link, you will get 15% OFF your first order.
Amazon, of course, has everything you need for this recipe. Their prices are often very good, though I love to shop around and sometimes find that Thrive Market has better deals. If you like saving money, it's good to shop around! 🙂
I get all of my herbs and spices from Mountain Rose Herbs. I have tried so many other brands and have never found the quality, flavor, and aroma to be as good as the herbs I get from Mountain Rose.
Deep Dish Apple Pie with Fennel and Ginger (gluten, grain, and dairy free)
Yield: 8

Prep Time: 30 minutes

Cook Time: 40 minutes

Total Time: 1 hour 10 minutes

This deep dish apple pie is rich in flavor with just a hint of spiciness from the ginger. The fennel is very mild and blends perfectly with the apples and warm pie spices.
Instructions
In a large saucepan or frying pan, add 4 tablespoons of coconut oil, your sliced apples, sliced fennel, chopped ginger, and salt.
Cover and cook over medium-low heat until the apples and fennel start to soften, about 10-12 minutes.
Add coconut milk, apple pie spice, vanilla, and sweetener (if you're using any), and stir to combine.
Reduce heat to low. Gently simmer until the apples and fennel are completely soft, about another 10 minutes or so.
If your apples have cooked out a lot of pectin, you may not need to add any arrowroot. If the filling is still rather thin, sprinkle the arrowroot powder over the apple mixture and stir in. Remove from heat.
Pour the apple mixture into a glass pie pan, casserole dish, or your pie crust and top with your crumble topping.
Bake at 325 for 30 minutes, or until the pie is bubbling. If the top of the crumble starts to get too dark, place a piece of parchment paper over the top to keep it from getting too brown.
Serve warm with vanilla ice cream or whipped cream and enjoy!
Notes
Recommended Products
As an Amazon Associate and member of other affiliate programs, I may earn a small commission from qualifying purchases.
Nutrition Information:
Yield: 8 Serving Size: 1
Amount Per Serving: Calories: 1692Total Fat: 98gSaturated Fat: 43gTrans Fat: 0gUnsaturated Fat: 47gCholesterol: 23mgSodium: 1388mgCarbohydrates: 186gFiber: 14gSugar: 49gProtein: 20g

IMPORTANT! PLEASE READ!!! This website provides approximate nutrition information for convenience and as a courtesy only. Nutrition data is gathered from Nutritionix and we often find their calculations to be slightly inaccurate based on the whole food ingredients we use on this site. Nutrition information can vary for a recipe based on many factors. We strive to keep the information as accurate as possible, but make no warranties regarding its accuracy. We encourage readers to make their own calculations based on the actual ingredients used in your recipe, using your preferred nutrition calculator.
Learn How to Make Perfect Ice Cream (and Other Frozen Treats) at Home
Ice cream is the quintessential dessert. I mean, I can't think of a single person that I've ever met who doesn't like ice cream. While not everyone is as passionate about the cold, creamy, sweet concoction as I am, I am betting that if you're reading this, you probably enjoy a frozen treat of some sort every now and then.
If so, then I have the PERFECT resource for you today.
I am crazy for ice cream, but I find that there are very few commercial ice creams that I can eat. I can't do dairy, so that scratches a good 75% of them off the list. And the non-dairy options either taste funny, have too much sugar, or have weird gums and additives that my poor gut just doesn't tolerate.
So, what's a gal to do?
Master the art of making her own ice cream at home, that's what!
And create I did and The Splendid Scoop and Other Frozen Treats eBook was born! This is one of my best-selling eBooks because I arm you with everything you need to make your own perfect ice cream (or other frozen treats) at home any time you want.
And I do it all with real food ingredients, no refined sweeteners, not gums, not stabilizers. No junk here.
Oh, and I also have made the recipes allergen-friendly and even adaptable for stricter healing diets (like the AIP).
So, if you are ready to master the art of making your own ice cream at home, this is the perfect book for you. Don't let another special occasion or hot day in the summer pass you by watching everyone else enjoying cold treats while you sit on the sideline due to your dietary restrictions.
No more!
If you are ready to learn more about The Splendid Scoop and Other Frozen Treats and see how you can download your own copy today, click here (or just click on the image below!).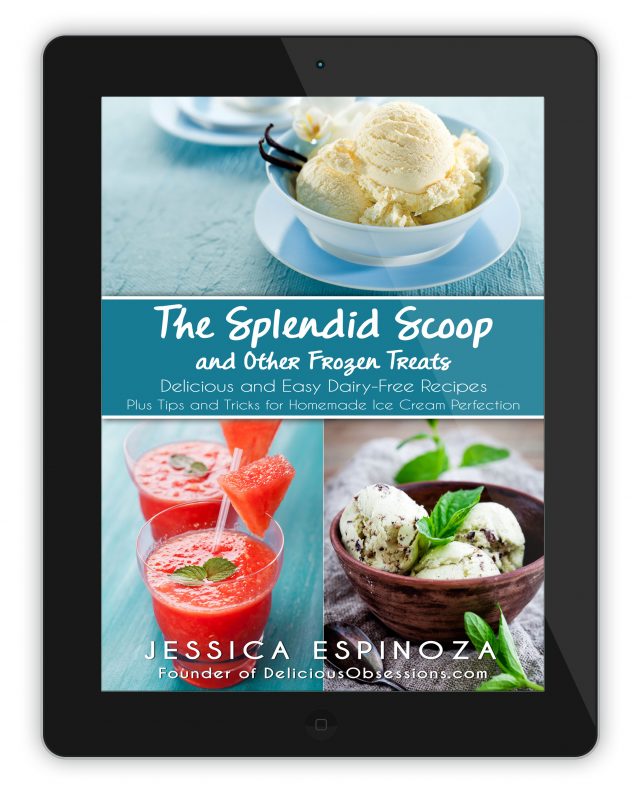 Delicious Obsessions is a participant in the Amazon Services LLC Associates Program, an affiliate advertising program designed to provide a means for us to earn fees by linking to Amazon.com and affiliated sites.Read our full terms and conditions here.