FTC Disclosure: Delicious Obsessions may receive comissions from purchases made through links in this article. As an Amazon Associate I earn from qualifying purchases.Read our full terms and conditions here.

As I write this post, summertime is upon us. But as I write this post, I also realize that this recipe is perfect for the Fall too. Because, gingerbread + Fall = YUM!
I don't know about you, but one of my very favorite treats during the hot months of summer is an ice cream sandwich. After our family transitioned to a whole food lifestyle, I thought they might be gone from my life forever. Those classic frozen treats that we once purchased regularly from the grocery store were no longer the ideal thing for us to be indulging on as often as we were.
I've mentioned a number of times before that I am not one to accept defeat easily. If I have to steer clear of something due to my food intolerances (or just personal preference), I always began tinkering in the kitchen. My goal for a long time has been to recreate a lot of the standard American diet classics that I once knew and loved, but can no longer partake in. Since then, I (along with some of the other amazing contributors to this site) have come up with some of the following recipes that taste amazing, while also avoiding common allergens like gluten, grain, dairy, corn, and refined sugars.
Homemade Ranch and Italian Dressings — These taste just like the stuff you buy at the store! Well, they actually taste better in my opinion! 🙂 Plus, since you are in charge of the ingredients, it's better for you!
Copycat Chick-Fil-A® Chicken Nuggets (gluten and grain free!) — I don't know about you, but in my pre- real food days, I LOVED the nuggets from Chick-Fil-A. But, since I can no longer tolerate grains and gluten, they are out for me, but this recipe delivers the exact flavor my tastebuds crave.
Copycat Shamrock Shake — How many of you enjoy the frozen treat every year from the place with the golden arches? If dairy and refined sugars are not your friends, then you will swoon for this copycat recipe!
Copycat Little Debbie Chocolate Cupcakes with Cream Filling — Remember those tasty little snack cakes from your childhood? The ones that people would try to trace their boring cookies or carrot sticks for? Yeah, well, now you can have them with no gluten, grains, refined sugar, or other nasty additives.
Junk and Additive Free Homemade Marshmallows — Marshmallows don't need a lot of ingredients but the storebought ones often contain things that are really poor quality, like heavily refined sugar and gelatin from unhealthy animals. You can now have all the taste, texture, and fun of marshmallows, without any of the junk!
Copycat Magic Shell Ice Cream Topping — I don't know about you, but I love that crispy, crunchy coating that Magic Shell puts on my ice cream. Who knew it was so easy to make?!
Real Food Sweet and Sour Chicken — Hands down my favorite takeout dish as a child. I was beyond thrilled to find this amazing sweet and sour chicken recipe and let me tell you, it tastes 1,000 times better than you would expect!
Classic Egg Rolls Made Gluten and Grain Free — Anyone else here love crispy crunchy egg rolls whenever they would get takeout? Yes, please! Well, now you can make them at home, sans the gluten, grain, MSG, rancid oils, and other questionable ingredients.
Better than Takeout General Tso's Chicken — Keeping with the Chinese takeout theme, this General Tso's chicken will knock your socks off. Plus, did I mention that it's SO easy to prepare?!
WAY BETTER than Takeout Orange Chicken — And last, but certainly not least, this takeout orange chicken has been one of the most popular recipes on my site and for good reason. It tastes EXACTLY like what you expect orange chicken to taste like. YUM!
And that's totally not all! If you want to check out all of the amazing, kitchen-tested, picky eater approved, new to real food recipes, there are close to 600 of them! You can find them all here in our Recipe Library.
Back to the Chocolate Gingerbread Ice Cream Sandwiches
Sorry for that little tangent, but when I get excited about copycat recipes, I just have to stop and share. In regards to the topic of today's post — Chocolate Gingerbread Ice Cream Sandwiches — I'm happy to report that I have developed a yummy grain-free, dairy-free, and refined sugar-free take on the classic ice cream sandwich.
Since I am a bit partial to those warm Fall spices (ginger, cinnamon, etc.), I had the hankering to dress up my boring chocolate cookie and turn it into a gingerbread cookie instead. Some people might think that chocolate and gingerbread is a weird combination, but trust me, it's not! It's incredibly delicious!
Please note, that if you're not a fan of gingerbread, you could easily leave those spices out and just make this a regular ol' chocolate cookie ice cream sandwich. They are equally delicious both ways.
Oh, and before we dive into the recipe, are you feeling intimidated by the thought of making your own ice cream at home? Don't be! It's so easy and here are 5 Tips for Perfect Homemade Ice Cream. My passion for homemade ice cream and frozen treats is exactly why I wrote my eBook, The Splendid Scoop. You can learn more about that book here, or read on down to the bottom of this article.
Delicious Obsessions Product Recommendations Chocolate Gingerbread Ice Cream Sandwiches
I am always asked about my favorite ingredients and what I use in my own kitchen. I have linked to the products from my affiliate partners that I personally use and recommend. And now, here are the special coupon offers that select affiliate partners are currently offering:
Thrive Market: If you sign up through this link, you will get 15% OFF your first order.
Amazon, of course, has everything you need for this recipe. Their prices are often very good, though I love to shop around and sometimes find that Thrive Market has better deals. If you like saving money, it's good to shop around! 🙂
Chocolate Gingerbread Ice Cream Sandwiches :: Gluten-Free, Grain-Free, Dairy-Free, Refined Sugar-Free
Some people might think that chocolate and gingerbread is a weird combination, but trust me, it's not! It's incredibly delicious!  If you're not a fan of gingerbread, you could easily leave those spices out and just make this a regular ol' chocolate cookie ice cream sandwich. They are equally delicious both ways.
Instructions
COOKIES
Heat oven to 275 F.
Mix cookie ingredients together thoroughly.
Roll out the dough out on a parchment-lined baking sheet to about a 1/2 inch thickness. You can cut the dough into circles for individual round sandwiches, or just leave it in a whole sheet to make long cookies.
Bake for about 15 minutes. Watch it carefully. You want it to still be soft and not brittle.
While the cookies are baking, you can prepare your ice cream using the instructions below.
When the cookies are done, remove from oven and cool completely.
When the dough is completely cool you can remove the cookies and fill with the homemade ice cream. If you prefer to cut into long cookies, use a pizza cutter to cut it in half right down the middle so you have two symmetrical pieces. Then cut each side into equal portions.
ICE CREAM
Combine coconut milk, maple syrup, and a pinch of sea salt and place in an ice cream maker until finished (about 20 minutes).
When the ice cream is done, spread it on one of the cookies and place the other piece of cookie on top.
Roll the edges in chocolate chips if desired.
Put the ice cream sandwiches in the freezer for at least 20-30 minutes, or until firm enough to hold up to holding them in your hands!
Enjoy
Recommended Products
As an Amazon Associate and member of other affiliate programs, I may earn a small commission from qualifying purchases.
Nutrition Information:
Yield:

8
Serving Size:

1
Amount Per Serving:
Calories:

370
Total Fat:

27g
Saturated Fat:

8g
Trans Fat:

0g
Unsaturated Fat:

17g
Cholesterol:

7mg
Sodium:

297mg
Carbohydrates:

27g
Fiber:

7g
Sugar:

14g
Protein:

9g
This website provides approximate nutrition information for convenience and as a courtesy only. Nutrition data is gathered from Nutritionix and we often find their calculations to be slightly inaccurate based on the whole food ingredients we use on this site. Nutrition information can vary for a recipe based on many factors. We strive to keep the information as accurate as possible, but make no warranties regarding its accuracy. We encourage readers to make their own calculations based on the actual ingredients used in your recipe, using your preferred nutrition calculator.
Want to Learn How to Make Your Own Ice Cream Perfection At Home?
I've got you covered in my best-selling eBook, The Splendid Scoop and Other Frozen Treats: Delicious and Easy Dairy-Free Recipes, Plus Tips and Tricks for Homemade Ice Cream Perfection!
When the weather gets warm, nothing is more delicious than a bowl of cold ice cream or a delicious frozen treat. But, when you're on a restricted diet, finding treats that are suitable for your needs can be tricky. Plus, what happens when you want to make ice cream, but don't own an ice cream maker? Can you still make tasty treats without all the special equipment?
Yes! You can!
That is why I created The Splendid Scoop and Other Frozen Treats eBook! I, myself, am on a restricted diet for health reasons and when the weather starts warming up over 65 F, I start to get cranky. ? I am definitely a cool weather gal and one way to keep me sane and satisfied during the height of summer is knowing that I can make something delicious, at home, using healthy ingredients that fit my lifestyle.
All of the recipes in this book are dairy, grain, and gluten free. They can easily be modified for the autoimmune protocol as well, making them extra special for those on super restricted diets.
In The Splendid Scoop and Other Frozen Treats eBook, You Will Learn:
Why making your own ice cream and frozen treats at home is better than buying them at the store (even the organic ones!).
Tips and tricks for homemade ice cream success.
How to make ice cream without an ice cream maker (it's easier than you think!).
Delicious dairy-free recipes the whole family will love (recipes are also gluten and free and can easily be adapted for the autoimmune protocol as well).
Extensive resource suggestions for real food, wellness, and beyond.
Don't let another summer or special occasion pass you by. No longer will you have to watch your friends and family indulge on their favorite frozen treats while you sit on the sidelines due to your dietary restrictions.
Now you can enjoy creamy, delicious, and allergen-friendly frozen treats once again with The Splendid Scoop.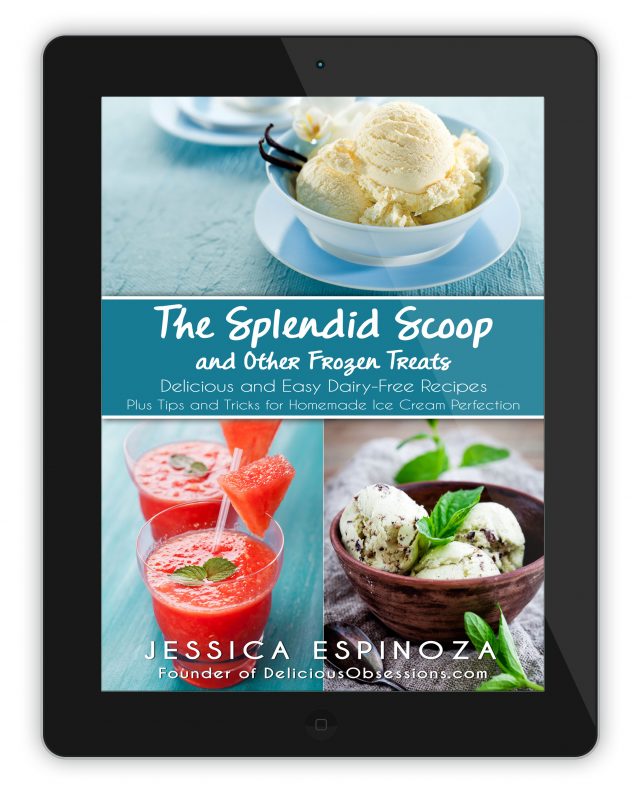 What is your favorite summertime treat? Leave a comment below!

Delicious Obsessions is a participant in the Amazon Services LLC Associates Program, an affiliate advertising program designed to provide a means for us to earn fees by linking to Amazon.com and affiliated sites.Read our full terms and conditions here.