FTC Disclosure: This post contains affiliate links which means if you make a purchase through one of these links, I may earn a small commission on your sale which allows me to cover a portion of the cost of running the Delicious Obsessions site and free content we provide every week. This has no effect on your price and is simply a cost of doing business from the company you purchase from. I only recommend products or services that I have personally tried and love. You can view it like leaving a tip. Thank you for your support!
Here I go writing about ice cream again.
Dang, you'd think I was addicted or something! 😉
Well, maybe I am.
Or, maybe it's because I see so many people at the grocery store during these hot summer days with cartons of processed, chemical-laden ice cream in their baskets and I just want to reach out and tell them how simple it is to make your own ice cream at home.
Really.
It is SUPER simple.
If you don't have an ice cream maker and want one, these are some great options:
If you don't have an ice cream maker and DON'T want one, keep reading. I have you covered too! 😉
3 Reasons Why You Should Make Your Own Ice Cream
Many people wonder why they should bother making their own ice cream when they can easily pick up a half-gallon at the store. Well, there are many reasons, but here are my top 3:
1. It's healthier. You get to choose the ingredients you put into your ice cream and that allows you to avoid things like artificial colors and flavors, refined sugars, and castoreum (Google it if you want to know what it is — gross!).
2. It's cheaper. Unless you get the cheap-o half gallons that cost $2.50, making your own gourmet ice cream at home will save you money. Last time I checked, one pint of a high-quality coconut milk ice cream (since I'm dairy-free) costs $5.50 – $7.50 depending on the brand. Eeeowch!
3. It's more fun! Since you are making your own, you can customize it any way you like. Think going to a fancy ice cream parlor or frozen yogurt shop, except in the comfort of your own home and with MUCH better ingredients.
5 Tips for Homemade Ice Cream Success
Making your own ice cream is super easy! Many people think it will be difficult to do, but it's not. Here are a few tips for success:
1. Get a good base. Start with a good base ice cream recipe and then customize from here. I like my Dairy-Free Vanilla Ice Cream as a base and then I can create new flavors from there.
2.  Use super fine granulated sweeteners. Using a granulated sugar keeps the water content of the ice cream down, therefore creating less water crystals in the ice cream (which makes it not as smooth and creamy). Whiz your sugar up in your food processor or blender until it's SUPER fine before adding it to your base. This helps it blend into the ice cream better and won't leave the mixture gritty.
3. Keep it scoopable. To keep the ice cream from setting up too firm, add a tablespoon or two (per quart) of some sort of alcohol to the mixture. If you're wanting to avoid alcohol, you could try adding some gelatin to the ice cream base. I prefer the blue top (Collagen Peptides) from my affiliate partner Vital Proteins or Perfect Supplements (see note below).
4. Don't fear the fat. When making homemade ice cream, use FULL FAT cream or coconut milk. Avoid half-and-half and regular milk (even whole milk) for a truly rich and creamy treat. This keeps the water content of the ice cream down and reduces ice crystals.
5. Have FUN! Ice cream should be fun! Make the event a family affair. Have the kids choose their favorite toppings and help prepare the ice cream. This gets everyone involved and helps strengthen the family unit.
Important Note On Gelatin Types 
When it comes to gelatin, you don't want any old gelatin off the supermarket shelves. You want to look for 100% grass-fed gelatin from healthy animals. Just like other animal products, quality is important.
That is why I recommend Vital Proteins Grass-Fed Gelatin products and Perfect Supplements products exclusively. I have compared these brand with other brands on the market and the quality far surpasses anything else I've tried. I am thrilled to be one of their affiliate partners and support such great products and companies.
Perfect Supplements offers a grass-fed hydrolyzed collagen (cold-soluble) right now and has a gelatin (hot-soluble) in the works for 2016. Read my review of their product here or watch the video below. You can order their own products via their own site here or on Amazon here.
Vital Proteins offers two types of gelatin
. The green top (Collagen Protein) is what you need for this recipe and for recipes where you are making gummies, "jello", etc. The blue top (Collagen Peptides) is cold water soluble and does not thicken or gel like gelatin does. Both are very nutritious, but can't be used interchangeably. 
You can order their own products via their own site here or on Amazon here.
But, I Don't Have an Ice Cream Maker
No problemo!
One of my favorite ways to make ice cream is to just make it in my blender. It's fast, easy, and requires the clean-up of only one appliance. You can make them thin like a smoothie or a shake, or you can add lots of frozen fruit and/or ice for a thick soft-serve consistency.
Tip: Use frozen bananas for blender ice creams. They add a lot of creaminess to the mix, as well as sweetness so you need little or no added sugar. Avocados also make a delicious base for homemade ice creams. They blend in so well you'd never know they were there!
For recipes that do call for an ice cream maker, this is how you do it without one:
1. Prepare your ice cream base as the recipe instructs.
2. Pour the mixture into a shallow freezer-safe dish and stick in the freezer.
3. After 45-60 minutes, check it and you should notice that the edges have started to freeze. Stir the mixture well, making sure to break up any clumps. When smooth, return to the freezer.
4. Check again in 30-45 minutes and repeat. Keep doing this until the ice cream reaches the consistency you like. Thanks David Lebovitz for teaching me this technique a long time ago!
OK, OK, Now I Need Recipes!
Now that you have seen how easy it is, you are all set to make your ice cream. Now, round up your supplies and get to makin'! Here are some delicious and nourishing recipe ideas to get you started
Creamy Vanilla Ice Cream (dairy free and the perfect base for any flavor)
Strawberry Lemonade Ice Cream (dairy free and autoimmune friendly)
Coconut Tulsi (Holy Basil) Ice Cream (dairy free and autoimmune friendly)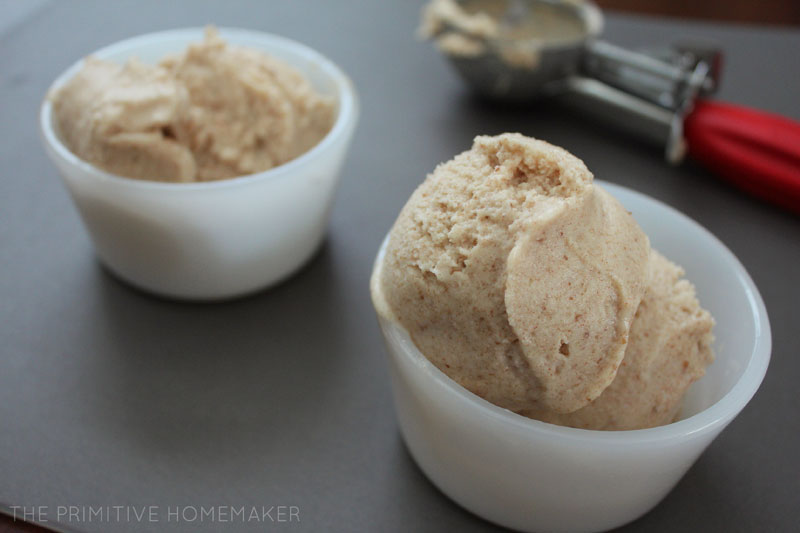 Mint Chocolate Chip Ice Cream (dairy and non-dairy versions)
Looking for some more allergy-friendly ice cream recipes?
 This eBook from my affiliate partner has you covered! Right now, take advantage of the end of summer promo through Sept. 22, 2014 and receive this awesome ebook for only $5.00! 
Click here to learn more.
Do you make your own ice cream? If so, what is your favorite kind? Leave a comment below!
Paid Endorsement Disclosure: Delicious Obsessions is a participant in the Amazon Services LLC Associates Program, an affiliate advertising program designed to provide a means for sites to earn advertising fees by advertising and linking to AMAZON.COM. This post may contain affiliate links and/or ads. We only recommend products or services that we have personally tried and love. When you make a purchase through any of these links, we earn a small commission on each sale, which allows us to cover a portion of the cost of this site. This has no effect on your sale price and is simply a cost of doing business for the company you are purchasing from. All funds received help with the continued maintenance of this website and free content. You can view it like leaving a tip. Thank you! Read our full terms and conditions here.

Jessica is a real food wellness educator and the founder of the Delicious Obsessions website. She has had a life-long passion for food and being in the kitchen is where she is the happiest. She began helping her mother cook and bake around the age of three and she's been in the kitchen ever since, including working in a restaurant in her hometown for almost a decade, where she worked every position before finally becoming the lead chef. Jessica started Delicious Obsessions in 2010 as a way to help share her love for food and cooking. Since then, it has grown into a trusted online resource with a vibrant community of people learning to live healthy, happy lives through real food and natural living.