FTC Disclosure: Delicious Obsessions may receive comissions from purchases made through links in this article. As an Amazon Associate I earn from qualifying purchases.Read our full terms and conditions here.

Homemade gluten free orange chicken. There's no way it could ever be as good as takeout, right?
Wrong!!
Orange chicken is one of those dishes that hubby and I get a craving for every now and then.
But, rather than going down the street and eating at Panda Express and loading up on salt, MSG, soybean oil, canola oil, etc., why not make it at home?
It is much easier than I once thought and I don't know if I want to eat takeout orange chicken ever again!
Served with steamed rice, cauliflower rice, and/or steamed veggies, you've got a meal that is sure to satisfy.
Honestly though, the gluten free orange chicken is delicious on it's own and I often just snack on it by itself!
A Few Notes About this Gluten Free Orange Chicken Recipe
1. You can use whatever flour you have on hand. If you tolerate grains, use your favorite grain-based flour. If you are grain- / gluten-free, use almond, coconut, or your favorite gluten-free mix.
2. The palm shortening (affiliate link) is a great fat for frying because it is very stable at high heats and has a neutral flavor that is not transferred to the chicken. I ONLY buy my palm products from Tropical Traditions because they are harvested sustainably and DO NOT come from Indonesia where habitat and animals are being destroyed.
3. If you don't want to use corn starch, you can use arrowroot or tapioca. If you do use cornstarch, always make sure it is from organic, GMO-free corn.
4. The key to crispy fried chicken is the process of coating it. You want to do dry –> wet –> dry. In my recipe's instructions, that would be corn starch/arrowroot –> egg –> flour.
5. Some people have seemed concerned about the amount of sugar in this recipe. Let's not forget that a dish like this should be considered a treat and is not one you want to consume regularly. I make this dish maybe twice a year.
If you want to reduce the sugar, you can reduce the amount of honey. Since we don't consume high-sugar foods often, I don't mind eating extra honey for this meal.
Delicious Obsessions Trusted Product Recommendations for Gluten Free Orange Chicken
I am always asked about my favorite ingredients and what I use in my own kitchen. I have linked to the products from my affiliate partners that I personally use and recommend. And now, here are the special coupon offers that select affiliate partners are currently offering:
Thrive Market: If you sign up through this link, you will get 15% OFF your first order.
Amazon, of course, has everything you need for this recipe. Their prices are often very good, though I love to shop around and sometimes find that Thrive Market has better deals. If you like saving money, it's good to shop around! 🙂
I get all of my herbs and spices from Mountain Rose Herbs. I have tried so many other brands and have never found the quality, flavor, and aroma to be as good as the herbs I get from Mountain Rose.
Now, time to dive in! This recipe has a lot of steps, but it is worth it for special occasions. The prep time and sugar content are two reasons why this meal should be reserved for treats and not made regularly. 🙂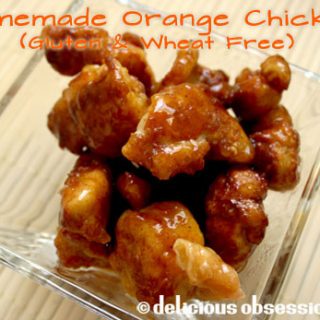 Better Than Take Out: Homemade Orange Chicken (Gluten and Wheat Free)
Yield: 4

Prep Time: 30 minutes

Cook Time: 20 minutes

Total Time: 50 minutes

Making homemade orange chicken is much easier than you think, and I don't know if you'll want to eat take-out orange chicken ever again!
Ingredients
ORANGE SAUCE
1 cup chicken stock (preferably homemade)
1/2 cup mild honey
1/2 cup fresh orange juice
1/2 cup rice wine vinegar or apple cider vinegar
2 1/2 tbsp. organic gluten-free tamari or coconut aminos
2 tbsp. lemon juice
2 tsp. fresh ginger, grated or minced (or more, if you like it gingery, like me!)
1/4 tsp. garlic powder
Pinch of red chili flakes
Zest of one orange
Zest of one lemon
3 tbsp. GMO-free corn starch OR arrowroot powder
CRISPY FRIED CHICKEN
1 pound chicken breasts cut into bite-sized chunks and dried off
2 cups gluten-free flour mix (your choice - a GF mix, almond flour, rice flour, etc.)
2 tbsp. cultured buttermilk
Sea salt and fresh ground pepper to taste
Skin of one orange, most of the white removed, and sliced into small slivers (optional)
Instructions
INSTRUCTIONS FOR SAUCE
In a medium saucepan, combine all ingredients, except the corn starch, and bring to a simmer over medium-high heat, while whisking regularly to keep the honey from burning.
In a small bowl or cup, mix the corn starch with the chicken stock or water. Mix well until there are no clumps.
Slowly pour the corn starch mixture into the orange sauce, while whisking vigorously. Lower heat to medium-low and continue to stir. Once the sauce has reached your desired thickness, you can reduce the heat to low, or turn the burner off. If you leave the burner on, make sure you stir it regularly. I usually turn off the burner and let the sauce stand while I am preparing the chicken. It will stay hot for quite some time! If it has cooled off too much by the time you have your chicken ready, just re-heat over low heat and stir often.
Make Ahead Tip: You can make this sauce in large batches ahead of time and freeze it for fast dinners. The key is to prepare the sauce as directed, except do not add the corn starch. Portion and freeze. When you're ready to prepare it, re-heat and add the corn starch as directed above.

INSTRUCTIONS FOR CHICKEN
In a large frying pan, start heating two cups of palm shortening over medium to medium-high heat.
Cut your chicken into bite-sized pieces and dry off.
Place the corn starch in a Ziploc bag and add the chicken. Toss the chicken pieces around until they are completely coated. Like I mentioned above, you don't have to use corn starch. I find that tossing the chicken in corn starch first yields a much crispier breading. If you don't want to use corn starch, you can substitute whatever flour you want.
In a bowl, whisk the eggs and buttermilk together.
In a separate bowl, mix your flour, sea salt, and pepper together.
Remove about 1/3 of the chicken pieces from the Ziploc bag and place them in the egg mixture. Coat each piece of egg and then place in the flour mixture. Coat each piece in the flour.
Shake off any excess flour and place chicken in the hot oil, careful not to overcrowd the pan. I usually fry mine in 3 batches to ensure each piece gets crispy and golden.
Flip each piece and allow to cook until the outside is golden brown. You may need to adjust your burner, depending on your stove. I sometimes have to lower my burner down to medium from medium-high. The pieces should be pretty small, so they will cook through in just a couple of minutes.
Remove the chicken from the pan and repeat for the rest of the chicken pieces. If I'm making a really big batch, I'll keep my cooked chicken on a sheet pan in a warm oven.
If you want, when you're done frying the chicken, you can fry the slivers of orange peel. That is one thing that sometimes sets take out orange chicken apart. You get these crunchy bits of fried orange peel and I really enjoy those somewhat bitter morsels. My husband doesn't like them, so this is totally an optional step!
You're ready to serve! We like to just add the sauce over our chicken, rice, and veggies. You can toss the chicken in the sauce if you'd like, but it will get soggy rather quickly.
Enjoy!
Notes
Make your own homemade chicken stock or broth here.
Recommended Products
As an Amazon Associate and member of other affiliate programs, I may earn a small commission from qualifying purchases.
Nutrition Information:
Yield: 4 Serving Size: 1
Amount Per Serving: Calories: 610Total Fat: 9gSaturated Fat: 4gTrans Fat: 0gUnsaturated Fat: 4gCholesterol: 97mgSodium: 512mgCarbohydrates: 86gFiber: 5gSugar: 15gProtein: 45g

IMPORTANT! PLEASE READ!!! This website provides approximate nutrition information for convenience and as a courtesy only. Nutrition data is gathered from Nutritionix and we often find their calculations to be slightly inaccurate based on the whole food ingredients we use on this site. Nutrition information can vary for a recipe based on many factors. We strive to keep the information as accurate as possible, but make no warranties regarding its accuracy. We encourage readers to make their own calculations based on the actual ingredients used in your recipe, using your preferred nutrition calculator.
What is your favorite Chinese take-out dish? Leave a comment below!

Delicious Obsessions is a participant in the Amazon Services LLC Associates Program, an affiliate advertising program designed to provide a means for us to earn fees by linking to Amazon.com and affiliated sites.Read our full terms and conditions here.