FTC Disclosure: Delicious Obsessions may receive comissions from purchases made through links in this article. Read our full terms and conditions here.

Want to know how to make honey candied ginger and ginger syrup?
Well, today I am going to show you!
Candied ginger is a tasty treat and something I keep on hand. I use it in certain recipes and also will eat a piece when my stomach is feeling a little upset.
You can buy organic candied ginger at the store, but most of the time it is not only candied in cane syrup, but it's also coated in extra sugar. I try to stay away from excess sugar in my diet, so I don't often purchase it.
Making your own honey candied ginger at home though is so easy. While it's still going to contain natural sugars from the honey, it is going to be a little less sweet and sugary than the stuff you buy in the store.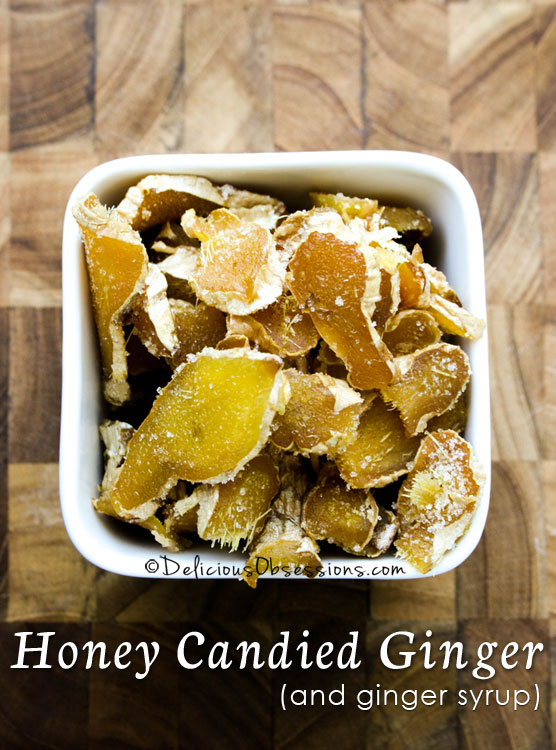 How to Use Honey Candied Ginger
You can use candied ginger in a wide range of recipes, from desserts to salads. Or, keep it on hand and have a piece or two when you stomach is feeling a bit icky. It really works, at least for me.
I use this honey candied ginger in:
After you make the honey candied ginger, you will be left with a delicious ginger syrup. There are may uses for this, but a few of my favorites are: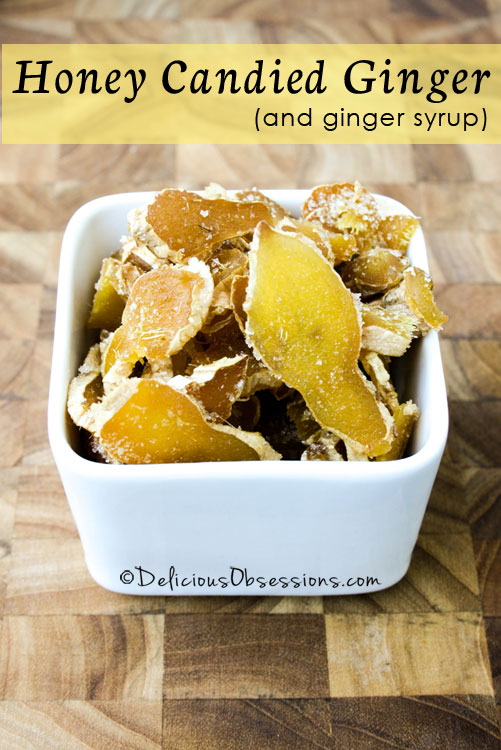 How to Make Honey Candied Ginger and Ginger Syrup
Author:
Jessica Espinoza @ Delicious Obsessions
Ingredients
1 pound fresh ginger
1½ cups honey (you could also use maple syrup, but the taste will be different)
1½ cups filtered water
Instructions
Wash your ginger and peel if desired. I personally don't peel it. I just scrub it really well.
Slice it very thin or chop into small chunks.
Place in a small saucepan and cover with the honey and water.
Bring to a simmer and reduce to low heat.
Cover and let simmer for 30 minutes.
Remove lid and let summer on low heat for another 30 minutes or until the ginger is tender when you poke it with a fork. The syrup should also be reduced by about half.
Remove from heat and let cool.
Pour the mixture through a strainer and let the syrup completely drip off the ginger pieces.
Once drained completely, spread the ginger pieces out in a single layer on a wire rack or a sheet pan covered with wax paper. The wire rack works best if you have one.
Let the ginger sit out for at least 12 hours or until it has started to dry. You could also use your dehydrator on low for about 8 hours if you prefer.
Transfer to an airtight container. I store mine in the fridge and it will keep for quite a long time.
Enjoy as a healthy little sweet treat, or come up with creative ways to incorporate it into your cooking or baking!
Have you ever made candied ginger? How do you use it in your home? Leave a comment below!

Delicious Obsessions is a participant in the Amazon Services LLC Associates Program, an affiliate advertising program designed to provide a means for us to earn fees by linking to Amazon.com and affiliated sites.Read our full terms and conditions here.