FTC Disclosure: This post contains affiliate links which means if you make a purchase through one of these links, I may earn a small commission on your sale which allows me to cover a portion of the cost of running the Delicious Obsessions site and free content we provide every week. This has no effect on your price and is simply a cost of doing business from the company you purchase from. I only recommend products or services that I have personally tried and love. You can view it like leaving a tip. Thank you for your support!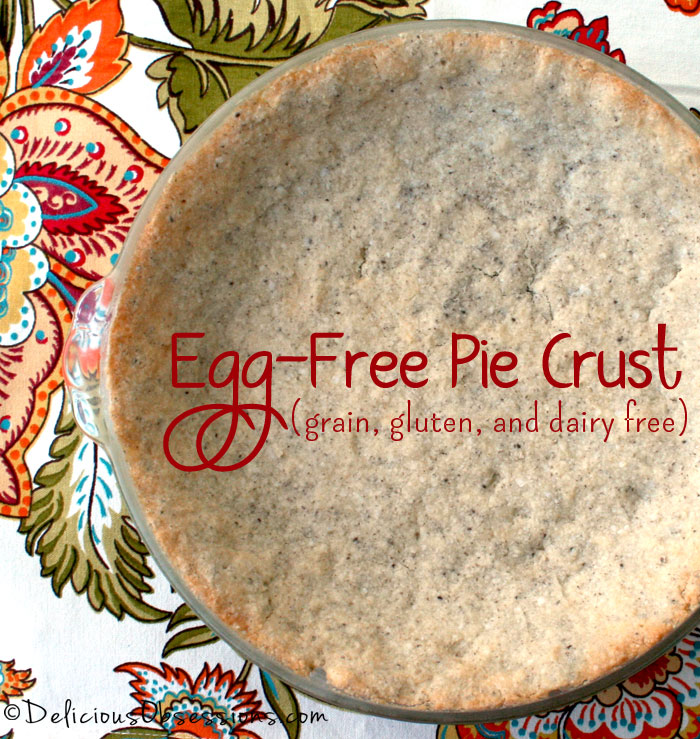 I am currently egg-free, as I work through potential food allergens and try to identify what may be causing me problems (read about my journey to health here). For the most part, I don't really miss eggs, except in my homemade mayo.
Man, I really miss my mayo — so rich, creamy, smooth, delicious. Yum.
But, I digress. This post is not about mayo. It's about pie crusts.
Sometimes a girl gets a hankering for pie. And by pie, I specifically mean apple pie, because recently, I have been addicted to all things apple (see my Apple Pie Bites recipe here). Well, Thanksgiving rolled around and it was time to make pie.
But, alas, my standard gluten-free coconut flour pie crust has two eggs in it. What's a gal to do?
Replace the egg with a chia seed egg and carry on.
Which is exactly what I did and my pie turned out amazing.
Best. Apple. Pie. Ever.
Recipe for that delicious apple pie here!
If you don't have chia, you can also use flax for an egg substitute. I never seem to have flax seed on hand, but I do keep chia on hand for a few things I make for my husband. If you don't have any chia or flax, I have also heard some people use psyllium husks and water as an egg replacement. I haven't tried that yet, but I imagine it would work.
And, better yet, if you can't tolerate seeds, then trying using a gelatin egg. Learn how to make gelatin eggs here.
Delicious Obsessions Product Recommendations
I am always asked about my favorite brands, so I want to share with you the places I get my ingredients.
My affiliate partner, Vitacost, has really good prices on some of the ingredients in this recipe. If you sign up through this link, you'll get a coupon for $10 off your first purchase from Vitacost, and when your order ships, I'll get a $10 off coupon for referring you. The cool thing about this program is that you can then refer your family and friends through your own link and YOU can get the $10 coupons too! 🙂
Amazon, of course, has everything you need for this recipe. Their prices are often very good, though I love to shop around and sometimes find that Vitacost and Thrive Market have better deals. If you like saving money, it's good to shop around! 🙂
Thrive Market is another exceptional online grocery store. They are like Costco and Whole Foods combined in an online format. They have great pricing on all sorts of natural and organic foods. If you sign up through this link, you will get 15% OFF your first order and I will get a coupon for referring you.
In addition, my affiliate partner, Tropical Traditions, is where I get all of my coconut products from and if you make a purchase from them through any of my links, you will receive a free copy of their Virgin Coconut Oil book, and I will receive a discount coupon for referring you.

Egg-Free Pie Crust (Grain, Gluten, and Dairy Free)
I have linked to the products from my affiliate partners that I personally use and recommend. All funds earned go to help support the maintenance of this site and free content.
Author:
Jessica Espinoza @ Delicious Obsessions
Recipe type:
Grain, Dairy, and Egg Free Pie Crust
Instructions
Preheat your oven to 325.
In a bowl, place you coconut flour, tapioca flour, arrowroot flour, and finely shredded coconut and stir until combined.
Add the chia egg and palm shortening.
Using your hands (you'll get a little messy), work the chia egg and palm shortening into the flour. You could also use a fork, but I always use my hands. A food processor will also work (just add your ingredients and pulse until combined).
You want the consistency to be like a crumbly, thick clay. At this point, it will probably to too soft to work with, so stick the crust in the fridge for about 15 minutes. If you are not ready to use your crust, you can just keep it in the fridge and then when you're ready to use, just let it warm up to room temperature.
Since there is no gluten in this crust, it will not roll out easily, so what I recommend is placing the dough in your pie dish and using your fingers, press the dough around the pie dish until it is even. If the dough feels too sticky, sprinkle a little coconut flour on the top of the crust.
Bake a 325 for 10-15 minutes, or until golden brown.
Remove from oven and fill with your favorite filling! Works great for both hot and cold pies.
Paid Endorsement Disclosure: Delicious Obsessions is a participant in the Amazon Services LLC Associates Program, an affiliate advertising program designed to provide a means for sites to earn advertising fees by advertising and linking to AMAZON.COM. This post may contain affiliate links and/or ads. We only recommend products or services that we have personally tried and love. When you make a purchase through any of these links, we earn a small commission on each sale, which allows us to cover a portion of the cost of this site. This has no effect on your sale price and is simply a cost of doing business for the company you are purchasing from. All funds received help with the continued maintenance of this website and free content. You can view it like leaving a tip. Thank you! Read our full terms and conditions here.

Jessica is a real food wellness educator and the founder of the Delicious Obsessions website. She has had a life-long passion for food and being in the kitchen is where she is the happiest. She began helping her mother cook and bake around the age of three and she's been in the kitchen ever since, including working in a restaurant in her hometown for almost a decade, where she worked every position before finally becoming the lead chef. Jessica started Delicious Obsessions in 2010 as a way to help share her love for food and cooking. Since then, it has grown into a trusted online resource with a vibrant community of people learning to live healthy, happy lives through real food and natural living.