FTC Disclosure: Delicious Obsessions may receive comissions from purchases made through links in this article. As an Amazon Associate I earn from qualifying purchases.Read our full terms and conditions here.

Have you ever made your own homemade vanilla extract? If not, you should!
I will never go back to buying vanilla extract. It is so easy to make your own at home, costs a fraction of what a bottle of high-quality vanilla extract costs, and tastes amazing! Plus, it's pure, with no additives, sugar, etc.
What Alcohol Do I Use?
I make both a vodka-based version and a rum-based version. Both are delicious, but I prefer the rum-based version as it has more richness.
The vodka-based version is great when you don't want anything but a straight vanilla flavor. Some people use bourbon, though I haven't tried that yet.
Keep in mind that vodka is often made from grains (wheat, barley, and rye), so if you're gluten-free, find a brand that is made from corn, potatoes, or grapes (just go to your local liquor store and ask and they can direct you to the right brands).
When it comes to using grain-based vodka, it really will depend on your sensitivity as to whether they will bother you. I have heard testimony on both sides of the issue — some people are so sensitive that they notice a reaction, while others do not. I personally have not noticed a reaction in myself. For a gluten-free vodka list, check out this post.
Rum is made from molasses or sugar cane juice, so it will be grain-free. Bourbon is typically made from corn, so keep that in mind if you are avoiding corn.
For the alcohol, you can go cheap or expensive. I prefer to go middle of the road. Nothing too cheap, but I'm not going to splurge for top-shelf rum or vodka, either. If you have a brand of vodka or rum that you like, then go with that. If not, Smirnoff or Absolute is good quality vodkas, though they are both made from grains. My most recent batch I made with Smirnoff, and I really liked it. For rum, I used Bacardi this last time, and it had great flavor. For the next batch I make, I'm going to use spiced rum for some. I think that would add awesome flavor to certain items.
Give the Gift of Vanilla
Homemade vanilla also makes a great gift. Bottle it in a pretty bottle and your foodie friends will be thrilled. I brewed mine in my flip-top Grolsch-style bottles (see photos at bottom of post), but you could brew a huge batch in a mason jar and then pour it up into smaller bottles when it's ready. You can find pretty gift-quality jars at craft stores or online.
Notes on the Recipe
Since I use so much vanilla in my home, I make my extract by the liter. The longer it sits, the better it tastes, so I don't worry about it going bad. If you don't use that much, just make a smaller batch.
The general proportion of vanilla bean to alcohol is roughly: 5 vanilla beans per cup of liquid.
Keep in mind that this is an estimate. I like my vanilla on the strong side, so I typically add a couple extra beans per batch. But, that gives you a place to start and you can adjust the recipe from there.
The amount of flavor will vary from batch to batch and this depends on your beans. I have had a wide range of bean quality — some that were super moist and fragrant and others that were dry and barely had any scent. The end flavor of your extract is going to depend on the quality of beans used. Here are the brands I recommend:
I am always researching and trying new brands, so I will continue to add to this list. I have ordered beans off of Amazon from independent retailers and it has been hit and miss. Some batches are very good, others are not.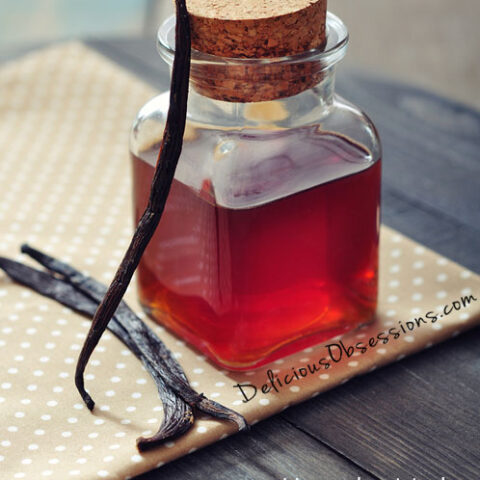 How to Make Your Own Vanilla Extract
It is so easy to make your own at home, costs a fraction of what a bottle of high-quality vanilla extract costs, and tastes amazing!
Ingredients
Big Batch: 40 vanilla beans per 1.75 liters (roughly a half gallon) of alcohol (give or take a few beans — more is better IMO)
Small Batch: 5 vanilla beans per cup of alcohol (give or take a few beans — more is better IMO)
Instructions
Find the jar(s) or bottle(s) that you want to use. Wash them well and allow them to air dry.
Using a sharp knife, slice the vanilla beans in half, but don't go all the way through. You want them to stay intact and just expose the little seeds inside.

Place your split vanilla beans in your containers.
Fill with your rum or vodka and cover with a tight lid.
Label your jar(s) and stick them someplace where they can just work their magic for a minimum of 6 weeks, though I prefer a longer "brew". I think the last batch I made went for 3-4 months. Some people say 6 months is ideal. You can taste it along the way and see how the flavors develop for you.
Every week or so, give the bottle a shake.
After 6 weeks to 6 months, it will be ready to use. Use just like you would any other vanilla.

Notes
Some people will reuse the vanilla beans to make second batches, but the flavor won't be as good. I personally don't bother because I really like the strong flavor of the first brew.

Delicious Obsessions is a participant in the Amazon Services LLC Associates Program, an affiliate advertising program designed to provide a means for us to earn fees by linking to Amazon.com and affiliated sites.Read our full terms and conditions here.