FTC Disclosure: Delicious Obsessions may receive comissions from purchases made through links in this article. As an Amazon Associate I earn from qualifying purchases.Read our full terms and conditions here.

If you are in need of a delicious and fun summertime dessert or snack, this watermelon pizza is for you! Not only is it refreshing on a hot summer day, but it's also easy to make with only a handful of easy to find ingredients. This watermelon pizza is also a great recipe to get the kids involved in the kitchen!
Watermelon pizza is such a simple concept. Does it really need its own blog post? I mean, it's so easy to make and extra fun for the little kids. I toyed with the idea of whether I should make this a formal post because it is such a simple concept. But then I realized that I had completely forgotten about watermelon pizza even being a thing and I figured others probably had as well.
Which brings us here!
Simple is Better When it Comes to Food
I have been professionally creating recipes for close to 15 years now. Many of the ones I have come up with I have shared on this site. You can find all of those in my massive recipe library here. And many more that I have created have been total flops and those have gone by the wayside, never to see the light of day on this site. While I do have lots of recipes that are more complex, I am continually reminded that SIMPLE IS BETTER.
Sometimes it's the simplest recipes that make all the difference. Simple doesn't have to mean boring. Simple means letting the food shine through in its natural state. Plus, seeing that we live in an ever-increasingly busy world, simple is often preferred. A recipe that can be fixed in a handful of minutes with a handful of commonly found ingredients is more appreciated and approachable than one with a mile-long ingredient list.
If simple is up your alley, then you'll probably enjoy these easy recipes too:
Watermelon Pizza Recipe Notes
Summer is in full swing at the time of this blog post going live. You may be enjoying it outside, soaking up the sunshine and warm (or hot) air, depending on where you live. Or, you may be sticking close to the air conditioner. We have been enjoying the weather and are thankful for the springtime move that got us out of the hot city and more into the mountains where the air stays quite a bit cooler in these hot summer months.
No matter where you live, you probably have access to watermelon and other summer fruits. This recipe is a cinch to make and is 100% customizable depending on your needs and what you have on hand. Here are a few suggestions before we dive into the actual recipe.
This recipe can be prepared in advance. A few hours ahead would be fine for full preparation, but I wouldn't spread the cheese on and let it sit longer than that. Otherwise, the cheese starts to get a little too mushy. But you can definitely have everything prepped in advance so all you have to do is assemble it when you're ready for it.
Make sure your watermelon is fully chilled before preparing. Warm watermelon doesn't slice as well and frankly, it just doesn't taste as good either. You can make as much or as little as you want, depending on how big your watermelon is.
If you can tolerate dairy, feel free to use full-fat ricotta or mascarpone. You could even use softened cream cheese or cottage cheese, but ricotta and mascarpone are the best in my opinion. Yogurt will also work, but it needs to be a very thick yogurt, like Greek.
If you are dairy-free, you could use any non-dairy substitute you like. Kite Hill has an almond milk ricotta and VioLife Foods has a cream cheese and a chocolate cocospread that would be delicious with this recipe. Or you may have your own favorite brand of vegan cheese. Use whatever tickles your fancy.
When it comes to toppings for your watermelon pizza, use whatever you want. Fresh berries and herbs are classic but you could also add some chopped nuts, a drizzle of honey or balsamic, shredded coconut, hemp seeds… The sky's the limit!
Kids LOVE watermelon pizza so get them involved in helping prepare it. If they are older and knife savvy, they could prepare the whole thing. If they are younger, have them help wash the berries, spread the cheese, and sprinkle on the toppings.
Ok, all of this talk about watermelon is making me hungry! Let's dive into the recipe!
Watermelon Pizza
If you are in need of a delicious and fun summertime dessert or snack, this watermelon pizza is for you! Not only is it refreshing on a hot summer day, but it's also easy to make with only a handful of easy to find ingredients. This watermelon pizza is also a great recipe to get the kids involved in the kitchen!
Ingredients
Whole watermelon slices (approx. 1/2"-1" thick, as shown in photos)
Mascarpone, ricotta, Greek yogurt or any non-dairy/vegan substitute. You need approx. 1/2-3/4 cup of cheese mixture per slice of watermelon.
Fresh lemon or lime juice. You need 1-2 tsp of juice per 1/2-3/4 cup of cheese mixture.
Fruit toppings of your choice, such as berries, sliced orange, kiwi, pineapple, etc.
Other toppings of your choice, such as shredded coconut, chopped nuts, thick balsamic vinegar, raw honey, sprinkles (these are may favorite sprinkles), chocolate chips, etc.
Optional: Coconut sugar, honey, or other sweetener for the cheese mixture. You can add 1-3 tablespoons of sweetener per 1/2-3/4 cup of cheese mixture.
Instructions
Wash the outside of your watermelon and slice into 1/2" - 1" slices. Set on a sheet pan or serving dish.
Prepare any of your other toppings, like washing your berries, chopping nuts, etc.
Place your mascarpone, ricotta, etc. in a mixing bowl with the lemon or lime juice and optional sweetener and whip until smooth and fluffy.
Spread the cheese mixture evenly over the watermelon slices.
Top with your toppings of choice and then slice into wedges.
Chill in the fridge until ready to serve (up to a few hours - the cheese can sometimes get too runny if it sits on the watermelon longer than that).
Enjoy!
Notes
This recipe is so simple and flexible that it's almost hard to write instructions for it. None of this is set in stone, so please feel free to adjust as you desire. It's going to taste delicious no matter what! 🙂
This Watermelon Pizza Helps You Eat the Rainbow! (+ Special Coupon Code)
As you guys know, I am a huge fan of all things veggies. If there was just one single thing that I could tell people to do to improve their health, it would be to eat more vegetables. An increased intake of veggies helps boost your nutrition and your health in ways that you simply cannot achieve elsewhere. Science continues to explore and show how the antioxidants and phytonutrients in fruits and veggies can "talk" directly to our genes and help alter genetic expression. It's truly fascinating and I want to help you improve your health and your life with Nature's miracle "drug."
That's why I love sharing recipes like this (and all the other veggie recipes on this site) and also why I created my popular Eat the Rainbow eCourse. Most people know that vegetables are heath-packed powerhouses, but they simply do not feel they have the knowledge, time, or the ability to add more to their diet. I want to help change that and make eating vegetables easier and a heck of a lot more fun!
In the Eat the Rainbow eCourse, I show you how to do exactly that (and a ton more). This 30-day eCourse arms you with the skills and creativity you need to make vegetables a centerpiece in your diet — all in bite-sized nuggets that won't overwhelm or frustrate you. In order to really get the full spectrum of phytonutrients and antioxidants that vegetables provide, you need to eat a wide variety of types and colors (i.e. the rainbow), but so many people find themselves eating the same four or five veggies over and over and over again.
For a limited time, I am running a special on my Eat the Rainbow eCourse where you can enroll for 50% off. That means you can get a full 30 days of content + a bonus cookbook for only $10. This is a steal for one of the most important investments you can make for your health (eating more veggies).
Enroll in the Eat the Rainbow eCourse here (or click the image below) and enter coupon code VEGGIE at checkout to save 50%.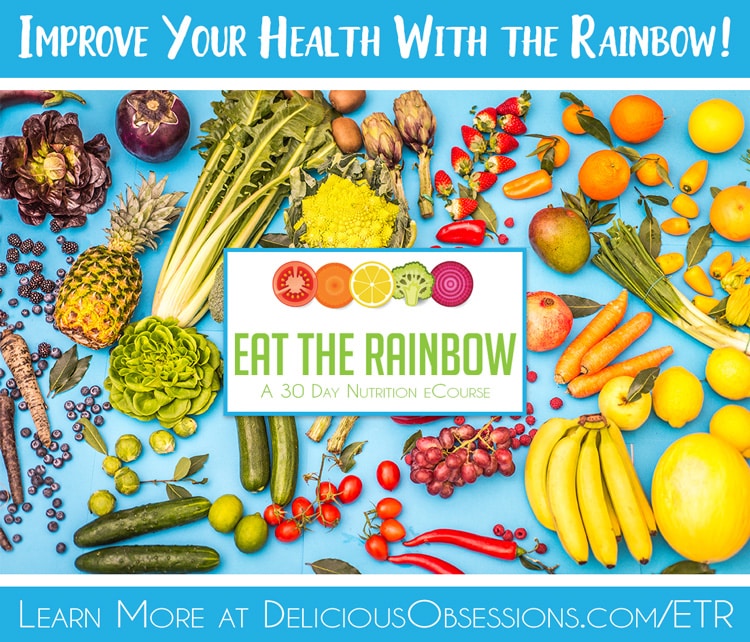 I can't wait to see you in the course and hear how your health improves once you start eating the rainbow!

Delicious Obsessions is a participant in the Amazon Services LLC Associates Program, an affiliate advertising program designed to provide a means for us to earn fees by linking to Amazon.com and affiliated sites.Read our full terms and conditions here.