FTC Disclosure: Delicious Obsessions may receive comissions from purchases made through links in this article. As an Amazon Associate I earn from qualifying purchases.Read our full terms and conditions here.

If you're looking for a deliciously simple, no-fail, powdered sugar free frosting, look no further than this Whipped Chocolate Ganache Frosting. This frosting is fluffy, smooth, and creamy without all of the added powdered sugar. Plus, this Whipped Chocolate Ganache Frosting is so easy to make and can be used the same way you would any other frosting!
I've never been a big frosting fan. Sure, it tastes good (depending on who makes it), but I could never bring myself to make it because of all the sugar. I just hated having to use 3, 4, or even 5 CUPS of powdered sugar for one batch of frosting.
As someone who tries to keep her sugar intake down, this was just overkill for me. I tried making frosting with powdered Swerve and it turned out pretty good. But again, it uses A LOT of the stuff, and frankly, it's not that cheap. I hated spending so much money on just one ingredient for one recipe.
But now, making frosting is no big deal and requires no powdered sugar of any kind.
None.
Nada.
Zilch.
Enter Whipped Chocolate Ganache Frosting
You all are probably familiar with chocolate ganache. It's a rich, decadent glaze used on certain baked goods. Ganache is very simple to make and adds a lovely professional look to your baked goods.
Ganache may seem like a fancy word. It may make you feel like it's too complicated for the average cook. Well, you couldn't be further from the truth. Can you heat up some heavy cream or coconut cream on the stove? Can you place some chocolate chips or chopped chocolate in a bowl?
Yes? Then you, my wonderful friend, can make ganache!
But did you know you can WHIP your ganache and it turns into a decadent fluffy frosting?
Yep. You can. And it's a total game-changer.
This is now my go-to chocolate frosting and I use it on #allthethings. Sometimes I *may* make a double batch just so I have a little extra to keep in the fridge for when the sweet tooth hits.
Ahem, ahem… 😉
So any time you need a chocolate frosting, skip the butter and powdered sugar and head right for this recipe. Trust me, you won't regret it. Promise.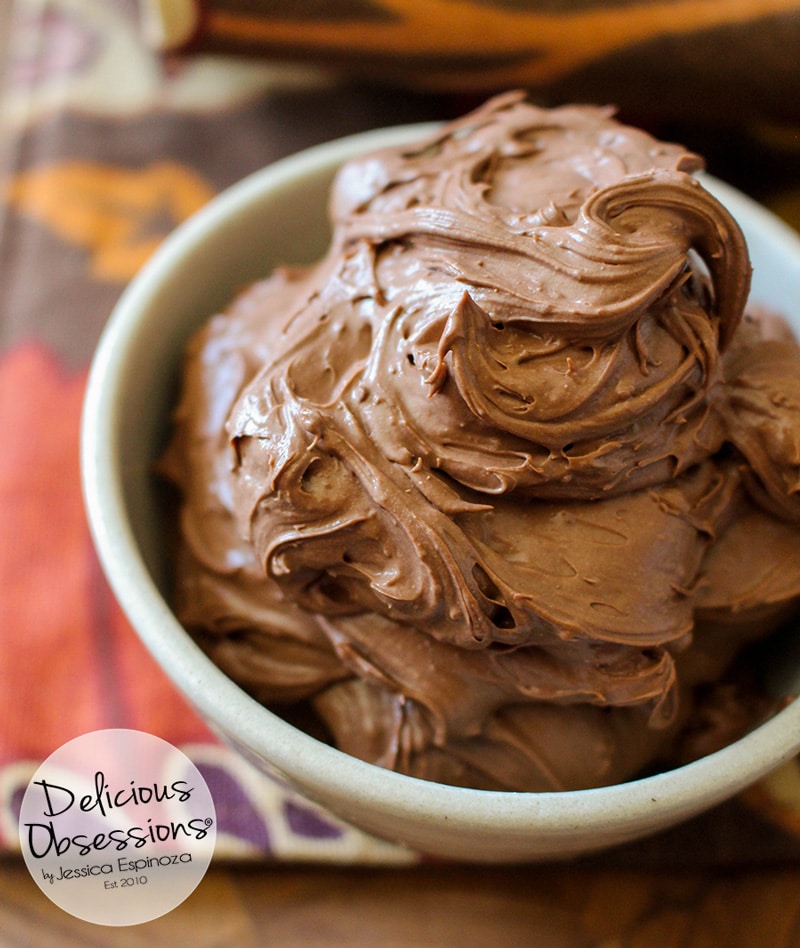 Notes About Whipped Chocolate Ganache Frosting
This is such an easy recipe so there aren't a lot of notes. But there are a few things I wanted to tell you before we dive in.
When it comes to the chocolate, use whatever chocolate you like. It will all work in here. I personally like Lily's brand Dark Chocolate Chips, but you could use any chocolate chip that you like. Dark or milk will work. And you could also skip the chips and just go with your favorite chocolate bar. Just chop it up into small pieces before you add the cream.
I typically make this recipe with coconut cream to keep it dairy-free. But, if you are not sensitive to dairy then you can just swap that out for heavy cream. Both will work.
When heating the cream (it may sound s little weird, I actually prefer to scald it ever so slightly. I feel like this adds a hint of deeper flavor to it, but you definitely don't need to do that.
When whipping the ganache, make sure your ganache is fully chilled. You want it to be thick, almost like fudge before you whip it. Otherwise, it won't get as fluffy. I typically stick mine in the fridge for a few hours, or even overnight before whipping. If you did whip it when it's too warm, have no fear. Just put it back in the fridge and let it chill completely and whip it again. It's super forgiving.
This frosting does get soft when it warms up so it's not one that could easily stand up to a warm day at the park or sitting in the sun for a while. If you're using it for something where it's going to be exposed to heat, I'd keep it chilled until about 30 minutes before you're going to serve. Letting it come to room temp is good, but letting it get hot will cause it to get too melty.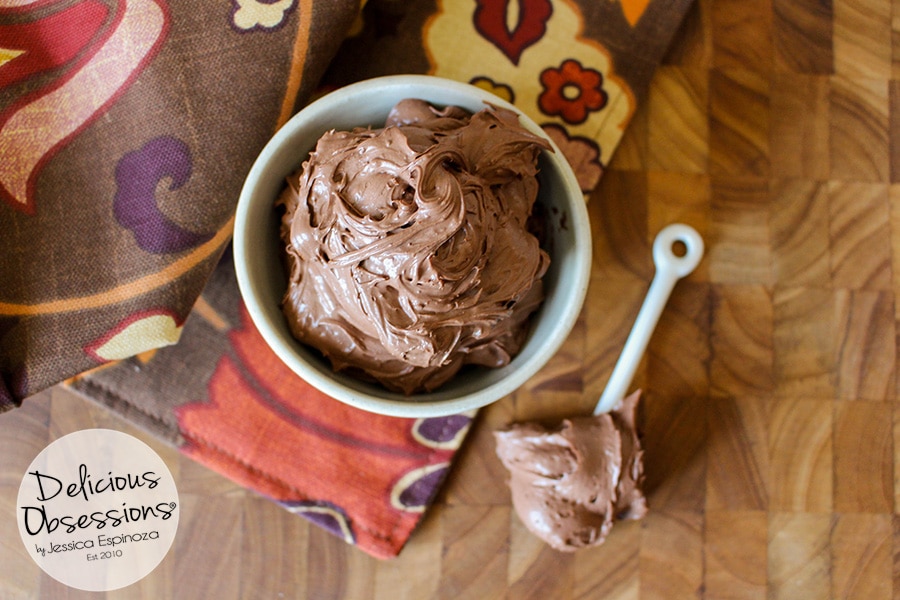 How to Use Your Whipped Chocolate Ganache
You can use this whipped chocolate ganache frosting any way you would another frosting. On cupcakes, cakes, mug cakes, cookies. Or just off the spoon. 😉 If you need some ideas, I've got you covered with these tasty treats!
Who's ready to try it out? Let's go!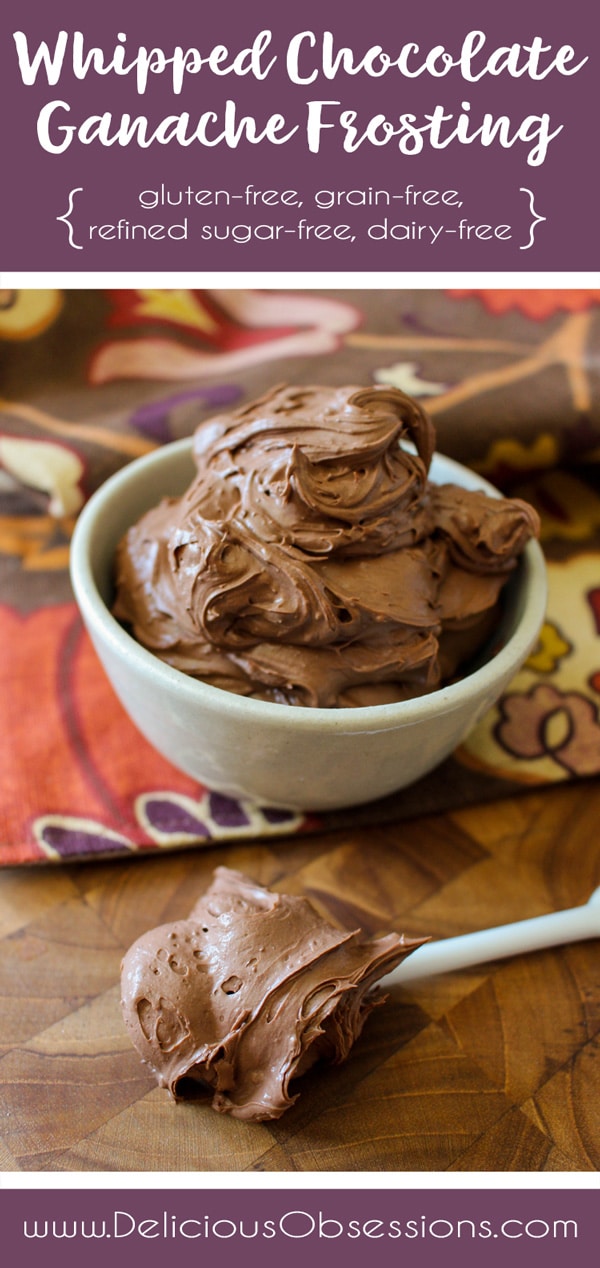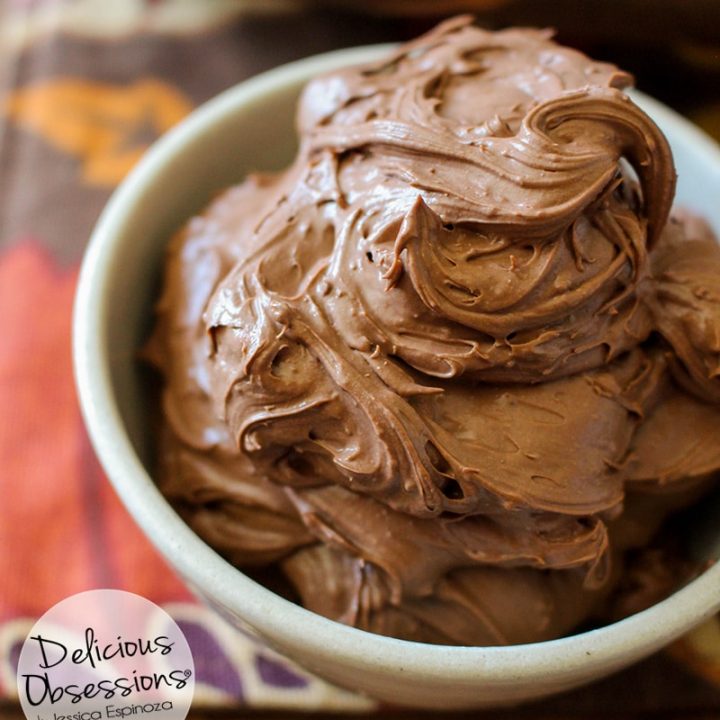 Whipped Chocolate Ganache Frosting :: Gluten-Free, Grain-Free, Dairy-Free, Refined Sugar-Free
Additional Time:
4 minutes
Instructions
Place your chocolate chips or chopped bar in a glass bowl and set aside.
Heat your cream over medium-high heat until it just starts to simmer. Stir it while it's heating, but if it scalds just a tiny bit, that's ok. It actually adds flavor!
Pour the hot cream over the chocolate chips and swirl the bowl to ensure everything is covered.
Place a cover on the bowl and let sit, undisturbed, for 5-6 minutes.
Remove the cover and gently whisk the melted chocolate and milk together, starting at the middle and working your way out. You'll see it start to get shiny and smooth.
Let it cool for 15-20 minutes and then cover and chill in the fridge for a few hours, or overnight. You want it to be thick, almost like fudge.
Remove from the fridge and whip until fluffy. Use any way you would frosting.
Recommended Products
As an Amazon Associate and member of other affiliate programs, I may earn a small commission from qualifying purchases.
Nutrition Information:
Yield:

16
Serving Size:

1
Amount Per Serving:
Calories:

155
Total Fat:

9g
Saturated Fat:

6g
Trans Fat:

0g
Unsaturated Fat:

2g
Cholesterol:

3mg
Sodium:

11mg
Carbohydrates:

21g
Fiber:

1g
Sugar:

19g
Protein:

1g
IMPORTANT! PLEASE READ!!! This website provides approximate nutrition information for convenience and as a courtesy only. Nutrition data is gathered from Nutritionix and we often find their calculations to be slightly inaccurate based on the whole food ingredients we use on this site. Nutrition information can vary for a recipe based on many factors. We strive to keep the information as accurate as possible, but make no warranties regarding its accuracy. We encourage readers to make their own calculations based on the actual ingredients used in your recipe, using your preferred nutrition calculator.
Have food sensitivities or allergies? Missing out on delicious treats?
Well, now you don't have to any longer!
Hi! My name is Jessica and I have a major sweet tooth! I also have multiple food sensitivities that include gluten and dairy and my body doesn't do well with any form of refined sugar.
What's a girl to do?
Well, I could go to my local Natural Grocers and find a lot of healthier treat options, but even then, many of them tote a hefty price tag or still include ingredients that don't work so well for my body. So, I decided to head into my kitchen and start creating my own delicious treats at home. That way I can control the ingredients and customize everything to my own individual needs.
And today, I am excited to share my newest eBook, Deliciously Decadent Desserts, with you! This eBook is available exclusively to my newsletter subscribers and features never-bef0re-published recipes. This book includes some of my all-time favorite recipes and you can download your copy below for FREE!
Recipes include my beloved Homemade Thin Mints AND my Thin Mint Sandwiches Cookies (among others!). If you love Girl Scout cookies, but the ingredients don't love you, have no fear! These two recipes alone will knock your socks off!
Regardless of whether you are gluten, grain, dairy, or refined sugar free (or a combo of all), now you can have your treats and eat them too! I can guarantee the whole family will swoon for the recipes in this new eBook.
Download your copy today using the form below! If you have any questions, don't hesitate to reach out and ask!

Delicious Obsessions is a participant in the Amazon Services LLC Associates Program, an affiliate advertising program designed to provide a means for us to earn fees by linking to Amazon.com and affiliated sites.Read our full terms and conditions here.