FTC Disclosure: Delicious Obsessions may receive comissions from purchases made through links in this article. As an Amazon Associate I earn from qualifying purchases.Read our full terms and conditions here.

If you are looking for a fresh and flavorful salad that also is a cinch to whip up, look no further! This Easiest Watermelon Salad comes together in just a few minutes and only uses 5 ingredients. This Easiest Watermelon Salad goes perfectly with almost any main course and is especially delicious during the summer!
You guys, I cannot get enough of this salad this summer. I want to eat it for breakfast, lunch, and dinner. Not only is it super tasty but it's incredibly simple to make with only 5 ingredients. So it's perfect for those hot summer days when you don't want to be in the kitchen any more than you have to.
I've always loved watermelon, but something about it this summer has me craving it like crazy. My favorite go-to watermelon recipe is my watermelon strawberry slushee, which immediately transports me back to my childhood.
Getting My Fill of The Easiest Watermelon Salad
The watermelons have been exceptionally good this year. I'm not sure what it is but it seems like they've been way more flavorful than years past.
Recently we went to a birthday party and they had watermelon salad on the menu. I was reminded of just how delicious it was and I immediately made a batch.
And then another.
And then perhaps another…
LOL!
At least I'm staying well hydrated as of late. Which is a good thing because I'm still nursing my little one and staying hydrated is of the utmost importance when you're breastfeeding.
Notes About the Easiest Watermelon Salad
It almost seems silly to share a recipe that is so incredibly simple. But often, those are the recipes that are the best. Simple ingredients and delicious flavor.
Which is exactly what you get in this summertime salad.
The watermelon is delightfully crunchy and juicy, while the citrus juice gives it a pop of brightness. This is perfectly balanced against the saltiness of the feta cheese and the earthiness of the fresh herbs.
When it comes to the dressing, it's literally two ingredients: lemon or lime juice and extras virgin olive oil. You don't even need any extra salt because the feta is salty enough on its own.
Speaking of cheese, if you can tolerate dairy, then use whatever your favorite feta is. If you are dairy-free, have to fear. There are a couple of delicious vegan fetas out there. The two I currently love are VioLife Vegan Feta and Follow Your Heart Vegan Feta Crumbles.
Lastly, herbs. You need to add some fresh herbs to this. They add such wonderful flavor. My favorite is mint and basil, but you could use any other herbs you like. Lemon balm would be delicious. Tarragon would also be good. Don't skip the fresh herbs. They make a big difference in the overall satisfaction of the salad.
Lastly, this salad is super forgiving. You don't really need to measure things. Want a little more like juice? Add it. Want more or less herbs? Go for it. You truly cannot mess this salad up.
Looking for More Healthy Salad Recipes?
I'm a huge fan of salads. From simple to complex, I love them all. If you're looking for some other recipe ideas, I've got you covered. Also, make sure you check out the very bottom of this post for a little info about my popular Eat the Rainbow self-paced eCourse and a special coupon code to save 50% on enrollment. 🙂
And now, who's ready for some watermelon? Let's go!
Easiest Watermelon Salad
If you are looking for a fresh and flavorful salad that also is a cinch to whip up, look no further! This Easiest Watermelon Salad comes together in just a few minutes and only uses 5 ingredients. This Easiest Watermelon Salad goes perfectly with almost any main course and is especially delicious during the summer!
Ingredients
1 mini watermelon, cut into small cubes (this gives you roughly 6-8 cups of watermelon)
1 large lime, juiced
3-4 tbsp good quality extra virgin olive oil
3/4  cup feta crumbles (more or less to suit your tastes)
1/4 cup fresh herbs (like mint or basil), rough chopped
Instructions
Cube your watermelon and place in a large bowl.
Drizzle with lime juice and EVOO.
Add your feta crumbles and fresh herbs and gently toss to combine.
Serve and enjoy!
Recommended Products
As an Amazon Associate and member of other affiliate programs, I may earn a small commission from qualifying purchases.
Nutrition Information:
Yield:

4
Serving Size:

1
Amount Per Serving:
Calories:

456
Total Fat:

47g
Saturated Fat:

10g
Trans Fat:

0g
Unsaturated Fat:

35g
Cholesterol:

25mg
Sodium:

260mg
Carbohydrates:

7g
Fiber:

0g
Sugar:

6g
Protein:

5g
IMPORTANT! PLEASE READ!!! This website provides approximate nutrition information for convenience and as a courtesy only. Nutrition data is gathered from Nutritionix and we often find their calculations to be slightly inaccurate based on the whole food ingredients we use on this site. Nutrition information can vary for a recipe based on many factors. We strive to keep the information as accurate as possible, but make no warranties regarding its accuracy. We encourage readers to make their own calculations based on the actual ingredients used in your recipe, using your preferred nutrition calculator.
This Easiest Watermelon Salad Helps You Eat the Rainbow! (+ Special Coupon Code)
As you guys know, I am a huge fan of all things veggies. If there was just one single thing that I could tell people to do to improve their health, it would be to eat more vegetables. An increased intake of veggies helps boost your nutrition and your health in ways that you simply cannot achieve elsewhere. Science continues to explore and show how the antioxidants and phytonutrients in fruits and veggies can "talk" directly to our genes and help alter genetic expression. It's truly fascinating and I want to help you improve your health and your life with Nature's miracle "drug."
That's why I love sharing recipes like this (and all the other veggie recipes on this site) and also why I created my popular Eat the Rainbow eCourse. Most people know that vegetables are heath-packed powerhouses, but they simply do not feel they have the knowledge, time, or the ability to add more to their diet. I want to help change that and make eating vegetables easier and a heck of a lot more fun!
In the Eat the Rainbow eCourse, I show you how to do exactly that (and a ton more). This 30-day eCourse arms you with the skills and creativity you need to make vegetables a centerpiece in your diet — all in bite-sized nuggets that won't overwhelm or frustrate you. In order to really get the full spectrum of phytonutrients and antioxidants that vegetables provide, you need to eat a wide variety of types and colors (i.e. the rainbow), but so many people find themselves eating the same four or five veggies over and over and over again.
For a limited time, I am running a special on my Eat the Rainbow eCourse where you can enroll for 50% off. That means you can get a full 30 days of content + a bonus cookbook for only $10. This is a steal for one of the most important investments you can make for your health (eating more veggies).
Enroll in the Eat the Rainbow eCourse here (or click the image below) and enter coupon code VEGGIE at checkout to save 50%.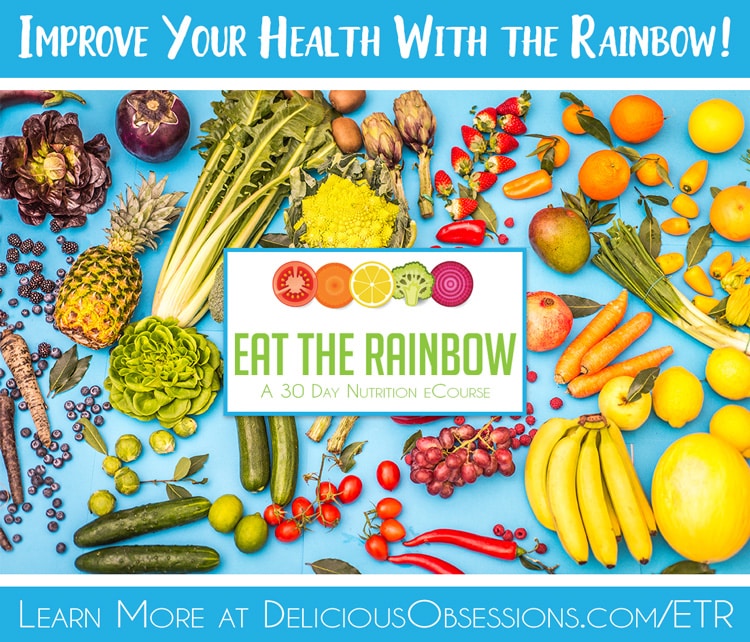 I can't wait to see you in the course and hear how your health improves once you start eating the rainbow!

Delicious Obsessions is a participant in the Amazon Services LLC Associates Program, an affiliate advertising program designed to provide a means for us to earn fees by linking to Amazon.com and affiliated sites.Read our full terms and conditions here.