FTC Disclosure: Delicious Obsessions may receive comissions from purchases made through links in this article. As an Amazon Associate I earn from qualifying purchases.Read our full terms and conditions here.

If you're looking for a tangy, slightly sweet addition to your favorite salads, sandwiches, and wraps, look no further than these Quick Pickled Red Onions. Not only are they super easy to make, but they also taste amazing on pretty much everything. Grab a small handful of common ingredients from your pantry and whip up a batch today!
If you've been reading my blog over the last year or so, you are probably noticing a trend in my recipes… That trend being that I am sharing a variety of recipes that came about because I was pregnant.
So many of the recipes I've shared over the last year (and will likely share over the next year) are from that wonderful 10 months of pregnancy. I'm only partially sarcastic with the use of the word "wonderful". 😉 Pregnancy was definitely a challenge for me, but it is an experience that I am thankful for. I feel so much stronger now and I have learned things about myself that I never imagined possible.
If you follow me on Instagram, you probably saw me talk a lot about what I was and wasn't eating while I was pregnant. I talked a lot about my food aversions in my First Trimester Recap blog post, as well as my Second Trimester Recap post. The first 20 weeks of pregnancy was really tough on the food front…
But there was one thing that remained consistent for the entire duration of my pregnancy. From start to finish, I LOVED all things tart, tangy, and acidic. I ate sauerkraut daily. I loved salty, briny pickled foods like peppers, olives, and artichoke hearts. And I ate a ton of vinegar on my salads and veggies, along with lots of lemons and limes in my beverages.
If it was tart and acidic, I wanted it!
One day, I got a hankering for quick pickled red onions. I have made them in the past, but had forgotten all about them until they popped into my mind randomly one day. So I whipped up a batch and realized that I should probably share this recipe with you guys too!
Not only is this recipe super easy, but they also taste really amazing on almost anything. I eat them on salads, sandwiches, wraps, tacos, and even soups. Sometimes I'll eat them plain. Try using them in place of regular onions in your tuna or chicken salad. Top your deviled eggs with them. Use them all the ways! 🙂
There's really not a ton to say about pickled red onions, so I won't ramble on and on mindlessly. Let's get to cooking, shall we?
Delicious Obsessions Trusted Product Recommendations for Quick Pickled Red Onions
I am always asked about my favorite ingredients and what I use in my own kitchen. I have linked to the products from my affiliate partners that I personally use and recommend. And now, here are the special coupon offers that select affiliate partners are currently offering:
Thrive Market: If you sign up through this link, you will get 15% OFF your first order.
Amazon, of course, has everything you need for this recipe. Their prices are often very good, though I love to shop around and sometimes find that Thrive Market has better deals. If you like saving money, it's good to shop around! 🙂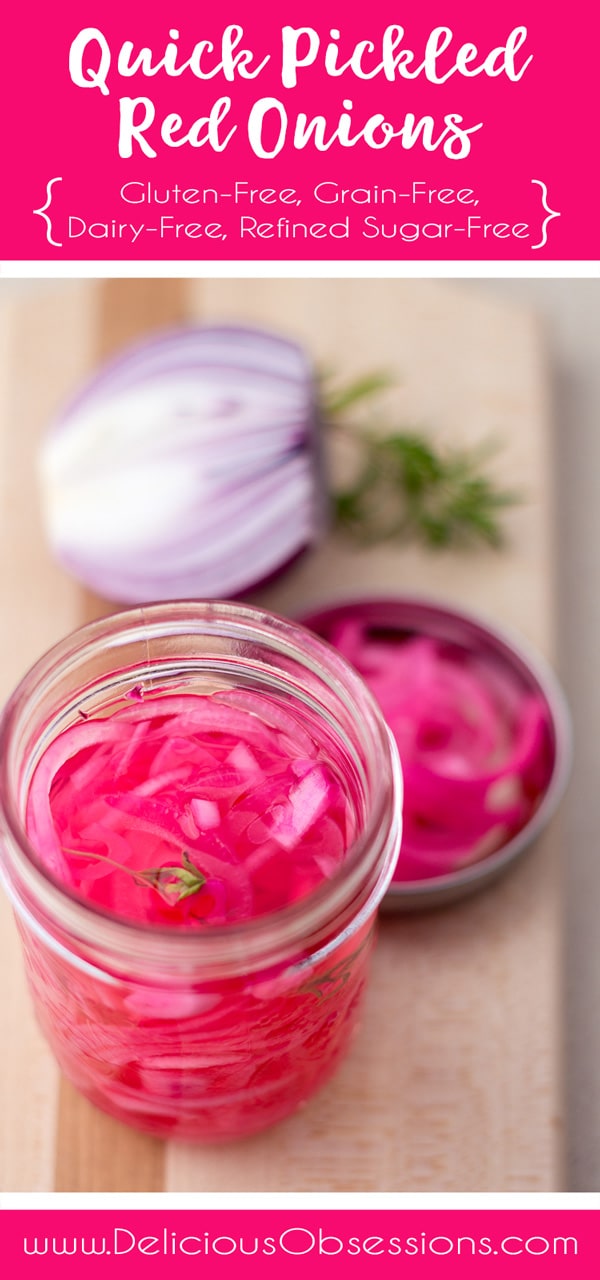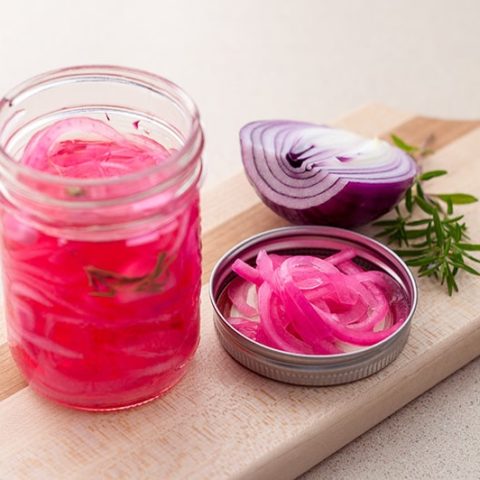 Quick Pickled Red Onions :: Gluten-Free, Grain-Free, Dairy-Free, Refined Sugar-Free
Total Time:
1 hour
10 minutes
I love these quick pickled red onions. They are so tasty on sandwiches, salads, wraps, tacos, and more. Enjoy!
Ingredients
1 red onion, thinly sliced
1 cup apple cider vinegar (see notes below)
1/8 tsp liquid stevia (see notes below)
1 tsp sea salt
Optional, but tasty: fresh herbs of your choice like thyme, rosemary, parsley, chives, etc.
Instructions
Thinnly slice your red onion. If you have a mandolin, use that. You can also do it with your slicer attachment on your food processor. Or, the old fashioned way -- by hand with a sharp knife. 🙂
Place your slices in a glass jar.
Add the apple cider vinegar, stevia, and sea salt. If you're adding in any fresh herbs, do that here.
Shake to combine and place in the fridge. Let marinate for at least one hour, shaking periodically if you think about it.
Serve with your favorite dishes and enjoy!
Notes
You may need more or less vinegar, depending on the size of your onion. You want the vinegar to cover the slices completely.
You can also use white wine vinegar or red wine vinegar if you prefer those over apple cider. I prefer apple cider vinegar because it has more health benefits.
If you don't want to use stevia, you can substitute about 1 tablespoon of sweetener of your choice. Honey, maple syrup, or unrefined cane sugar will all work. Since I don't tolerate sugar well right now, I choose stevia and I think it tastes just fine!
Recommended Products
As an Amazon Associate and member of other affiliate programs, I may earn a small commission from qualifying purchases.
These Quick Pickled Red Onions Helps You Eat the Rainbow! (+ Special Coupon Code)
As you guys know, I am a huge fan of all things veggies. If there was just one single thing that I could tell people to do to improve their health, it would be to eat more vegetables. An increased intake of veggies helps boost your nutrition and your health in ways that you simply cannot achieve elsewhere. Science continues to explore and show how the antioxidants and phytonutrients in fruits and veggies can "talk" directly to our genes and help alter genetic expression. It's truly fascinating and I want to help you improve your health and your life with Nature's miracle "drug."
That's why I love sharing recipes like this (and all the other veggie recipes on this site) and also why I created my popular Eat the Rainbow eCourse. Most people know that vegetables are heath-packed powerhouses, but they simply do not feel they have the knowledge, time, or the ability to add more to their diet. I want to help change that and make eating vegetables easier and a heck of a lot more fun!
In the Eat the Rainbow eCourse, I show you how to do exactly that (and a ton more). This 30-day eCourse arms you with the skills and creativity you need to make vegetables a centerpiece in your diet — all in bite-sized nuggets that won't overwhelm or frustrate you. In order to really get the full spectrum of phytonutrients and antioxidants that vegetables provide, you need to eat a wide variety of types and colors (i.e. the rainbow), but so many people find themselves eating the same four or five veggies over and over and over again.
For a limited time, I am running a special on my Eat the Rainbow eCourse where you can enroll for 50% off. That means you can get a full 30 days of content + a bonus cookbook for only $10. This is a steal for one of the most important investments you can make for your health (eating more veggies).
Enroll in the Eat the Rainbow eCourse here (or click the image below) and enter coupon code VEGGIE at checkout to save 50%.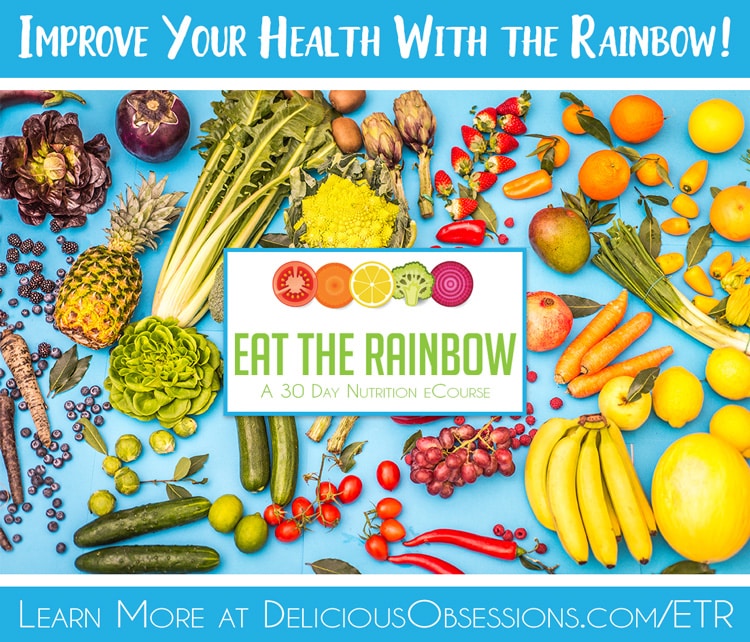 I can't wait to see you in the course and hear how your health improves once you start eating the rainbow!

Delicious Obsessions is a participant in the Amazon Services LLC Associates Program, an affiliate advertising program designed to provide a means for us to earn fees by linking to Amazon.com and affiliated sites.Read our full terms and conditions here.