FTC Disclosure: Delicious Obsessions may receive comissions from purchases made through links in this article. As an Amazon Associate I earn from qualifying purchases.Read our full terms and conditions here.

Chocolate lovers unite for these double chocolate pumpkin protein muffins. Rich chocolate flavor with a hint of pumpkin. Full of protein and fiber to keep you feeling full and satiated for hours. Slather them with some grass-fed butter and you're in for a real treat!
These double chocolate pumpkin protein muffins were literally developed out of necessity when I was pregnant. If you read my first trimester recap, then you know that eating during that time (and even into my second trimester) was a big struggle for me. From weeks 6 through week 16, I was largely vegetarian since meat was repulsive to me most days.
Protein is really important during pregnancy, for many reasons, and I was simply not getting enough in each day via animal products. My body is one that needs quality animal protein at each meal. It helps give me the energy and satiation I need, as well as helps keep my blood sugar balanced. So being vegetarian was tough.
Thankfully I could tolerate eggs, and the occasional bit of turkey sausage or turkey bacon, but things like chicken, steak, and fish were largely out of the question for a long time. So, I had to find creative ways to get enough protein into my belly each day. I really utilized things like grass-fed collagen powder and eggs during this time. I even broke down and bought a high-quality protein powder to help supplement on days when I really needed it.
I love the combination of pumpkin and chocolate. One of my favorite things to make is pumpkin bread that is loaded with chocolate chips. So I knew that I wanted to do a pumpkin chocolate protein something. I was originally thinking of making this into a bread, but then decided muffins would be easier. That would allow me to easily freeze them and pop one or two out whenever I needed them.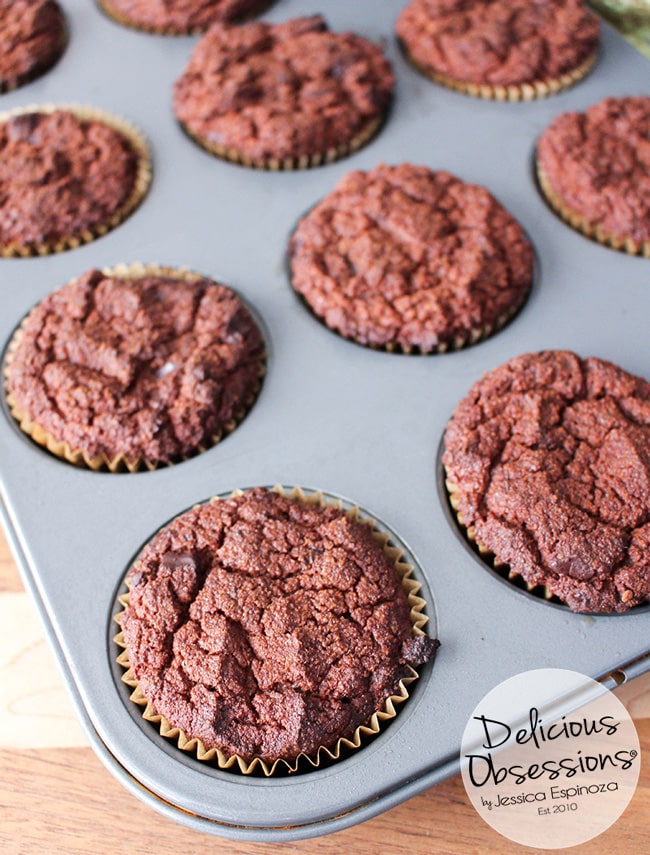 Recipes for All Pumpkin Lovers!
Since my first trimester was in the Fall of 2019, I was already craving pumpkin. Honestly, I love pumpkin any time of year and often make pumpkin things outside of the October-December season. But seeing all of the delicious pumpkin recipes circulating around me during that time made me crave pumpkin even more!
If you're a pumpkin lover, then you for sure want to check out all of these other pumpkin recipes I have:
I told you I was a bit of a pumpkin lover! 🙂
Double Chocolate Pumpkin Protein Muffins Notes
These muffins freeze beautifully. If you have a large family, or just know you'll be wanting to eat a lot of them, you can easily double or even tripled the recipe.
These muffins also stay SUPER moist. When you take them out of the oven, you're going ot feel like they're not done. If you do the toothpick test, the toothpick will come out with muffin on it. But trust me, 25-35 minutes will get them fully cooked, just expect them to be super moist inside.
Because I tend to not eat much in the way of sweets, I only used 1/4 cup of sweetener in this whole recipe. That's probably not enough for most people's tastebuds, so please feel free to add more to suit your tastes. 1/2-3/4 cup of granulated sweetener of your choice would be more "normal". Also, don't use a liquid sweetener for this recipe. It adds too much extra moisture to an already moist batter.
In regards to the gelatin, you want to make sure you actually use GELATIN, not collagen. The gelatin actually works with the eggs as a binder and texture-improver in gluten and grain-free baked goods. Collagen does not have the same effect since it doesn't gel. You need the gelling power in here to help keep the muffins together.
Alrighty! Who's ready to get baking?! Let's go!
Delicious Obsessions Trusted Product Recommendations for Double Chocolate Pumpkin Protein Muffins
I am always asked about my favorite ingredients and what I use in my own kitchen. I have linked to the products from my affiliate partners that I personally use and recommend. And now, here are the special coupon offers that select affiliate partners are currently offering:
Thrive Market: If you sign up through this link, you will get 15% OFF your first order.
Amazon, of course, has everything you need for this recipe. Their prices are often very good, though I love to shop around and sometimes find that Thrive Market has better deals. If you like saving money, it's good to shop around! 🙂
Double Chocolate Pumpkin Protein Muffins :: Gluten-Free, Grain-Free, Dairy-Free, Refined Sugar-Free
Chocolate lovers unite for these double chocolate pumpkin protein muffins. Rich chocolate flavor with a hint of pumpkin. Full of protein and fiber to keep you feeling full and satiated for hours. Slather them with some grass-fed butter and you're in for a real treat!
Instructions
Preheat your oven to 350 F.
Grease or paper-line your muffin tins and set aside.
In a large mixing bowl, combine your pumpkin puree, eggs, coconut oil, milk, granulated sweetener, and vanilla. Mix until well combined.
In a separate bowl, combine the almond flour, cocoa powder, gelatin, baking powder, xanthan gum (if using), and sea salt. Stir to combine.
Slowly add the dry ingredients into the wet ingredients, mixing until combined.
Spoon the batter into your muffin tins. Tap the bottom of the tins on the counter a few times to help the batter settle evenly.
Bake for 25-35 minutes. The tops will be firm, but the centers will still be soft and moist.
Remove from the oven and let cool before serving. You can serve right out of the oven, but they will be super soft and more likely to fall apart.
Store in the fridge, or freeze any leftovers in an airtight container.
Recommended Products
As an Amazon Associate and member of other affiliate programs, I may earn a small commission from qualifying purchases.
Nutrition Information:
Yield:

12
Serving Size:

1
Amount Per Serving:
Calories:

172
Total Fat:

10g
Saturated Fat:

2g
Trans Fat:

0g
Unsaturated Fat:

7g
Cholesterol:

64mg
Sodium:

182mg
Carbohydrates:

11g
Fiber:

2g
Sugar:

5g
Protein:

10g
This website provides approximate nutrition information for convenience and as a courtesy only. Nutrition data is gathered from Nutritionix and we often find their calculations to be slightly inaccurate based on the whole food ingredients we use on this site. Nutrition information can vary for a recipe based on many factors. We strive to keep the information as accurate as possible, but make no warranties regarding its accuracy. We encourage readers to make their own calculations based on the actual ingredients used in your recipe, using your preferred nutrition calculator.
Make Real Food Easy and Affordable! Introducing My Real Food 101 Series + Special Coupon!
Real food doesn't have to be complicated, overwhelming, or expensive. We're all busy, we're all on budgets, but we all deserve to eat nutritious food that satisfies our hunger and fuels our body.
That's why I created the Real Food 101 series and why I am sharing them (and a special coupon code with you today!). If you're new to real food, or just want a refresher, this series is PERFECT for you!
Countless hours of research, organization, recipe development, and design went into creating the perfect guide to all things real food. I created these books to help people eat better and live better through real food and natural living, which is the core mission of this site.

I'll be your personal guide, taking your hand and helping through every step of your whole health journey as you discover:
Why Your Health And Real Food Are Interconnected
What "Real Food" Actually Is
Making Real Food Affordable
Go-To Real Food Brands
Dozens Of Real Food Resources
Delicious, Kitchen-Tested Real Food Recipes the Whole Family Will Love
How to Stock Your Kitchen and Pantry
How to Prepare Real Food Meals at Home Without Breaking the Bank
How to Create Delicious Beverages and Smoothies.
How Making Your Own Condiments, Dressings, and Sauces is Easier Than You Think (and saves your Health and Your Budget!).
Ways to Eat More Vegetables (Even if There are Picky Eaters Involved).
How To Prepare Delicious Entrees That Will Have You Thinking You're Eating in a 5 Star Restaurant
Access To Curated Recipe Archives, Suggestions, And Pantry-Stocking Ideas
And Much, Much More!
In celebration of today's recipe, I am offering YOU a special coupon code where you can get my entire Real Food 101 Series for 50% OFF! Yes, you read that right! All you have to do is use coupon code REALFOOD50 at checkout to save.
For under $17 you will have a full resource library full for helpful information, tips, tricks, and delicious kitchen-tested recipes that will keep you and your family eating and feeling good year round.
Learn more about the Real Food 101 Series Bundle via this link, or click on the button below. Don't forget to use coupon code REALFOOD50 to save 50% on the full bundle! Here's to YOUR health and wellness!


Delicious Obsessions is a participant in the Amazon Services LLC Associates Program, an affiliate advertising program designed to provide a means for us to earn fees by linking to Amazon.com and affiliated sites.Read our full terms and conditions here.