FTC Disclosure: This post contains affiliate links which means if you make a purchase through one of these links, I may earn a small commission on your sale which allows me to cover a portion of the cost of running the Delicious Obsessions site and free content we provide every week. This has no effect on your price and is simply a cost of doing business from the company you purchase from. I only recommend products or services that I have personally tried and love. You can view it like leaving a tip. Thank you for your support!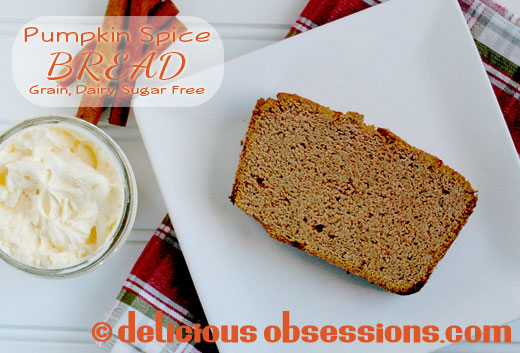 I love pumpkin bread. As a matter of fact, I love all things pumpkin! I have been craving pumpkin bread this season, but wanted to make a new version of it. You can find my original (and delicious, if I do say so myself) recipe for pumpkin bread here. This version fits more of my dietary needs now that I am lower carb and eating no sugar at all, not even non-sugar sweeteners like stevia. The coconut cream concentrate has a lot of natural sweetness in it, but if you want yours a little sweeter, feel free to add a couple tablespoons of sweetener of your choice.
This bread is smooth and soft, with an almost creamy texture if you warm it up. The smooth texture comes from the coconut butter and pureed pumpkin. Full of pumpkin spice flavor, I add a little extra cinnamon for a boost in spice. I use Vietnamese cinnamon, which is regarded as the best in the world. Read about why I love cinnamon (and 9 reasons cinnamon is good for you) here. Top your warm slice with some grass-fed butter or ghee and it is pure heaven!
Depending on the type of coconut butter and coconut flour you use, you may need a tad less or a tad more coconut flour. Start with the 2 rounded tablespoons and see what the batter looks like. Add a little more if needed. For one of my batches, I needed a total of 3 tablespoons.
Quick note about "coconut cream concentrate" and "coconut butter", since I get asked this all the time.
Whenever I refer to those two terms in my recipes, it means the product that is super finely ground coconut meat, which has a consistency similar to a nut butter. It's not referring to coconut milk or coconut cream (the liquid beverage-type products), and it's not referring to those vegan "butters" that often use coconut oil in them.
You cannot substitute dairy butter for coconut butter, nor can you substitute coconut oil for coconut butter.
Please read this post where I discuss all the differences between coconut products in an effort to clear up the confusion that is circulating around the Web.
Delicious Obsessions Product Recommendations
My affiliate partner, Vitacost, has really good prices on some of the ingredients in this recipe. If you sign up through this link, you'll get a coupon for $10 off your first purchase from Vitacost, and when your order ships, I'll get a $10 off coupon for referring you. The cool thing about this program is that you can then refer your family and friends through your own link and YOU can get the $10 coupons too! 🙂
Amazon, of course, has everything you need for this recipe. Their prices are often very good, though I love to shop around and sometimes find that Vitacost and Thrive Market have better deals. If you like saving money, it's good to shop around! 🙂
In addition, my affiliate partner, Tropical Traditions, is where I get all of my coconut products from and if you make a purchase from them through any of my links, you will receive a free copy of their Virgin Coconut Oil book, and I will receive a discount coupon for referring you.
Mountain Rose Herbs is where I get all of my herbs and spices. Because of their exceptional products and customer service, I am happy to support them as one of my affiliate partners. I have tried many brands of herbs over the years and keep coming back to Mountain Rose.
P.S. Don't forget to check out the very bottom of this post for a great list of delicious pumpkin recipes from some of my friends!
Pumpkin Spice Bread Recipe
I have linked to the products from my affiliate partners that I personally use and recommend.
Ingredients
Instructions
Note: The key to this batter working is to ensure that all of the ingredients are at room temperature, especially the eggs. Because you are working with coconut butter and coconut oil, if any of the ingredients are cold, it will seize up and not blend well. In all honesty, warming your coconut butter up until it's really soft is best. I like to warm up my coconut butter and then mix in my coconut oil – stir until well combined. I also use a food processor for this recipe. You could use a mixer or a blender if you like, but please note that I have only ever used a food processor. 🙂
1. Preheat the oven to 325 and grease a loaf pan (8.5″ x 4.5″)
2. In your food processor bowl, blend the eggs until creamy.
3. Add the pumpkin and vanilla and blend until creamy.
4. Add the pumpkin pie spice, cinnamon, baking soda, and sea salt and blend until combined.
5. With the food processor running, slowly add the coconut butter/coconut oil mixture a little at a time.
6. With the food processor still running, add 1 tbsp. of coconut flour and mix well. Stop and check the consistency of the batter. You want the batter to be "fluffy". The consistency is hard to explain. You want it to be thick and not runny, but not so firm you can't spread it easily. If your batter is a little thin, start the food processor back up and add another tablespoon of coconut flour.
7. Once your batter gets to that "fluffy" spreadable stage (almost like really rich frosting consistency), you're done.
8. Spread your batter into your greased loaf pan and smooth the top. Sprinkle your toasted pumpkin seeds on the top if you like.
9. Bake at 325 for 55-65 minutes, or until a toothpick comes out clean. Check the loaf after about 35 minutes. If the top of the loaf starts to brown too much, just put a cookie sheet or small pan over the top. This loaf is not going to rise a whole lot, so don't expect it to get poofy!
10. When the loaf is warm, it will be very, very tender, so be careful if you're going to slice it while warm (but oh boy, does it taste delicious when warm). Store in the fridge.
BUT WAIT! For some more amazing pumpkin recipes, check out some of these great recipes from my friends:
"Pumpkin Pie Kombucha" by Melanie from Pickle Me Too
"Pumpkin Poppers", "Pumpkin Bread", "Pumpkin Coconut Milk Custard", and "Pumpkin Coconut Smoothie" by Starlene from GAPS Diet Journey
"Pumpkin Nog", "GAPS Pumpkin Spice Coffee Creamer", and "Pumpkin Cranberry Spice Muffins" by Patty from Loving Our Guts
"Pumpkin Ice Cream", "Pumpkin Muffins", and "Pumpkin Chocolate Swirl Brownies" by Lydia from Divine Health
"Crock Pot Pumpkin Custard", "Pumpkin Recipes Gone Wild #1", "Pumpkin Recipes Gone Wild #2", and "Pumpkin Mousse" by Jennifer from Hybrid Rasta Mama
"Pumpkin Bean Fudge", "Crock Pot Pumpkin Pudding", "Rich Pumpkin Custard", and "Curried Pumpkin Soup" by KerryAnn at Cooking Traditional Foods
"Pumpkin Yogurt", "Spiced Pumpkin Muffins", and "Hot Pumpkin Drink" by Michaela from Vicariously Vintage
Paid Endorsement Disclosure: Delicious Obsessions is a participant in the Amazon Services LLC Associates Program, an affiliate advertising program designed to provide a means for sites to earn advertising fees by advertising and linking to AMAZON.COM. This post may contain affiliate links and/or ads. We only recommend products or services that we have personally tried and love. When you make a purchase through any of these links, we earn a small commission on each sale, which allows us to cover a portion of the cost of this site. This has no effect on your sale price and is simply a cost of doing business for the company you are purchasing from. All funds received help with the continued maintenance of this website and free content. You can view it like leaving a tip. Thank you! Read our full terms and conditions here.

Jessica is a real food wellness educator and the founder of the Delicious Obsessions website. She has had a life-long passion for food and being in the kitchen is where she is the happiest. She began helping her mother cook and bake around the age of three and she's been in the kitchen ever since, including working in a restaurant in her hometown for almost a decade, where she worked every position before finally becoming the lead chef. Jessica started Delicious Obsessions in 2010 as a way to help share her love for food and cooking. Since then, it has grown into a trusted online resource with a vibrant community of people learning to live healthy, happy lives through real food and natural living.