FTC Disclosure: This post contains affiliate links which means if you make a purchase through one of these links, I may earn a small commission on your sale which allows me to cover a portion of the cost of running the Delicious Obsessions site and free content we provide every week. This has no effect on your price and is simply a cost of doing business from the company you purchase from. I only recommend products or services that I have personally tried and love. You can view it like leaving a tip. Thank you for your support!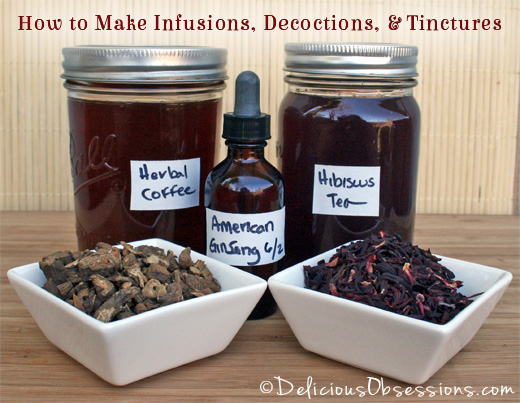 In this post, I am going to share with you how to make the following basic herbal preparations:
Infusions (like the hibiscus tea above)

Decoctions (like the herbal coffee above)

Tinctures (like the American Ginseng above)
Depending on the herb you are using and what you are hoping to get out of it, there are certain ways that you can prepare it to get the most benefit.
Once you know the basics, you can easily prepare a wide range of herbs to get the biggest bang for your buck!
Keep in mind that the proportions are not set in stone and you can adjust them to suit your needs and tastes.
Delicious Obsessions Trusted Product Recommendations
Mountain Rose Herbs is where I get all of my herbs and spices. Because of their exceptional products and customer service, I am happy to support them as one of my affiliate partners. I have tried many brands of herbs over the years and keep coming back to Mountain Rose.
How to Make Herbal Infusions
If you've ever made a cup of tea, you've made an herbal infusion. It's just that simple!
Infusions are typically used when the herbs you are using are leaves and flowers of a plant. Sometimes seeds and roots will be used in an infusion when there are delicate essential oils that would be lost when boiled in a decoction.
If you use seeds in an infusion, you should lightly crush them, so that the water has more access to the constituents in the seed.
Fresh or dried herbs can be made using an infusion method. To prepare an infusion all you need to know is:
Use cold, filtered water.

Use approximately 1-2 teaspoons of dried herb per cup of water OR use 3 teaspoons of fresh herb per cup of water.

Bring your water to a boil and pour over your herbs.

Allow to steep for 10-20 minutes, covered.

Strain off the herbs and serve.

If you are wanting more of a medicinal infusion, you can use up to 1/2 ounce of dried herbs per cup of water and allow it to steep for 20+ minutes, up to several hours.
Infusions do not have a long shelf-life, so it is best to make them as needed, or they can be stored in the fridge for a day or two.
How to Make Herbal Decoctions
Decoctions are preferred for harder herbs like roots, barks, and seeds. It is helpful to grind or crush your whole roots, barks, and seeds up some before brewing your decoction, but it is not required. I actually have a coffee grinder that I reserve specifically for herbs, so I will pulse my herbs in there first before starting the decoction.
You can also purchase roots, barks, and seeds already ground, but they will have a shorter shelf-life than the whole herb.
To make a decoction, you just need the following steps:
Use cold, filtered water.
Use approximately 1/4 ounce of dried herb per cup of water. I usually make mine by the quart, so you need roughly 1 ounce of herb per quart of water.
Bring your water to a boil and add the herbs.
Reduce the heat as low as possible and cover (keep covered tightly as many constituents like essential oils are lost through evaporation).
Simmer for 20 minutes if you're using small pieces of the herb, but if you're using bigger chunks of roots, bark, or seeds, then you can simmer for up to an hour.
Remove from heat and strain off the herbs and serve. If you like, you can also leave them to steep even longer, up to overnight.
Decoctions are going to be much stronger than infusions, so a typical serving size would be 1/4 cup to 1 cup, depending on what you're using.
How to Make an Herbal Tincture
Tinctures are herbal extracts and can be made with pretty much any herb. Tinctures are typically made with alcohol, vegetable glycerin, or vinegar.
Making tinctures at home is MUCH cheaper than buying them. Here is a price breakdown that I did recently:
Homemade Holy Basil Tincture:
Vodka (1.75 liters or roughly 59 ounces): $10.99 or $0.19 per ounce.
Organic Dried Holy Basil from Mountain Rose Herbs (1 pound / 16 ounces): $13.00 or $0.81 per ounce
Total per ounce cost for Homemade Holy Basil Tincture: $1.00
Store bought Holy Basil Tincture:
Gaia Herbs Holy Basil Tincture from Vitacost.com (price as of 5/28/15): $10.82 for a one ounce bottle
That is a MASSIVE savings!
For this tutorial, I am going to be using the alcohol method, as I have not yet tried making tinctures any other way.
Brandy and vodka are the recommended choices when making an herbal tincture and they should be at least 80 proof. I use vodka.
If you're avoiding grains and potatoes, there are vodkas made with grapes, which I didn't know about until just recently. I used a brand called IDÔL that is made from grapes in Burgundy, France. The huge liquor store here in Denver only carried two kinds of vodka made from grapes, but they said there are many more brands than that. It will just depend on what is carried in your area.
Here are some names of other vodkas made from grapes that you can look for in your area:
Bombora
Ciroc Ultra Premium
DiVine
Roth
Finger Lakes Distilling Vintner's
Grey Heron
SF Vodka "China Beach"
To make your tincture, all you need to do is follow these steps:
Use a very clean glass jar. Pint and half-pint Mason jars work great.

Make sure your herbs are finely chopped or ground.

Place your herbs in your jar and then cover with your alcohol until there is about 1 inch of liquid above the herbs. Remember that dried herbs will expand quite a bit, so you want to start out with less than you think. Some herbs are going to expand more than others. This is not an exact science, but a rough guideline that was given in Practical Herbalism, by David Hoffman, was 4 ounces of finely chopped or ground herbs to 1 pint of alcohol.

Cover with a tight lid and label and date the jar. I store mine in the pantry where it stays dark, as light can destroy the useful compounds.
Shake the tincture every day for the first week or two (if you remember) and then let it brew for 4-6 weeks.
Strain off the herbs. You can use a strainer, cheesecloth, or even a very clean t-shirt. That way you can really squeeze all of the tincture out of the herbs.
Pour the tincture into your bottle (the dropper bottles work nice). I liked the dark blue or amber glass, which helps keep the light out of the bottle.
Compost the herbs.
Due to an overwhelming number of requests, I finally got around to making a quick video showing how I bottle my own tinctures.
Dosage on tinctures is going to vary, depending on the herb. Tinctures are going to be much stronger than infusions and decoctions.
Do you make your own herbal preparations? What tips and tricks can you share? Leave a comment below!
If you like what you've read here, please keep in touch! You can subscribe to my semi-monthly newsletter or subscribe to email updates so you never miss a new post. You can also find me on Facebook, Twitter, Pinterest, and Google+. Have a question? Contact me here.
Paid Endorsement Disclosure: Delicious Obsessions is a participant in the Amazon Services LLC Associates Program, an affiliate advertising program designed to provide a means for sites to earn advertising fees by advertising and linking to AMAZON.COM. This post may contain affiliate links and/or ads. We only recommend products or services that we have personally tried and love. When you make a purchase through any of these links, we earn a small commission on each sale, which allows us to cover a portion of the cost of this site. This has no effect on your sale price and is simply a cost of doing business for the company you are purchasing from. All funds received help with the continued maintenance of this website and free content. You can view it like leaving a tip. Thank you! Read our full terms and conditions here.

Jessica is a real food wellness educator and the founder of the Delicious Obsessions website. She has had a life-long passion for food and being in the kitchen is where she is the happiest. She began helping her mother cook and bake around the age of three and she's been in the kitchen ever since, including working in a restaurant in her hometown for almost a decade, where she worked every position before finally becoming the lead chef. Jessica started Delicious Obsessions in 2010 as a way to help share her love for food and cooking. Since then, it has grown into a trusted online resource with a vibrant community of people learning to live healthy, happy lives through real food and natural living.