FTC Disclosure: Delicious Obsessions may receive comissions from purchases made through links in this article. As an Amazon Associate I earn from qualifying purchases.Read our full terms and conditions here.

Crispy, crunchy Grain-Free Almond Biscotti that are the perfect accompaniment to your favorite hot beverage. These lightly sweetened cookies are easy to make and will transport you to the country of their birth, Italy, with each bite. Unlike traditional biscotti, these Grain-Free Almond Biscotti is great for anyone dealing with food sensitivities or allergies.
You know, I can't say that biscotti is something I think about very often. It's not a food I consider a "must-have" or something that I even go out of my way to purchase on occasion (because finding gluten-free biscotti can be challenging).
But then one day, I had a weird hankering for biscotti. I have not had biscotti since my pre-gluten-free days so I thought it was funny that all of a sudden they popped into my mind. I remember specifically sipping on my pumpkin spice latte and thinking, "You know what would be good with this? Biscotti."
So, of course, I had to go to the kitchen and get to work. Once I created this base recipe for grain-free almond biscotti, I was reminded of all the fun things you can do with these crunchy cookies. So many different flavors, add-ins, or coatings you can do. Think dark chocolate rolled in pistachio or white chocolate rolled in coconut flakes.
The sky's the limit when it comes to biscotti!
A Little Biscotti History
You all know that any time I share a recipe on the site, I have to go and investigate the history of the item a little bit. I rarely take a full-fledged dive into all things history, but I do like to scratch the surface and learn a few of the basics about whatever it is I'm making.
This grain-free almond biscotti is no different. As I was typing out the recipe for it, I couldn't help but wonder how these crispy little cookie sticks came to be. It was my understanding that they originated in Italy, but from there, I had no clue.
There's A LOT of Biscotti Love in the World
OK, can I just say that when I searched for "biscotti history" I was shocked at how many websites came up that were dedicated solely to biscotti! I mean, I knew people liked biscotti, but apparently, there are a lot of people out there who LOVE biscotti.
The Biscotti Zone site gave insight into how the cookie's name came to be. In Italian, "biscotto" means "cookie" or "biscuit". "Biscotti" are actually named after their original method of baking in that the root words "bis" and "cotto" literally mean "twice" and "baked."
I love when words mean what they mean. 🙂
This crispy, twice-baked cookie can trace its origins back to the Tuscan region of Italy. They were created as a convenience food for travelers (rather than leisurely coffee drinkers). They were baked two times in order to make them more durable for long journeys and extend the shelf-life. According to the Everything Biscotti site,
"Owing to their longevity, biscotti helped fuel the expansion of the Roman Empire as the Legions and the Roman navy pushed outward from Rome, biscotti in hand."
Apparently, Pliny the Elder once boasted that "they would be edible for centuries." Hmm, the ancient version of a Twinkie, I suppose. 😉
From Boring to Fancy
From that time forward, Italy had a lot of ups and downs, but biscotti was there to stay. During the Renaissance, Italian bakers started getting more creative with their baking and the biscotti moved from being a boring old nourishment staple to a fancy culinary delight. During this time, the cookie became so popular that every region had its own special twist on flavor. (source)
Fast forward to 2019 and we now have a gazillion different flavors to choose from. Almost every store you go in will have at least one type of biscotti on the shelves of the cookie aisle. Going online yields a lot more pre-made options. And don't forget about local bakeries that also offer up this crunchy cookie delight.
Trust me, now that I've bitten off the homemade grain-free almond biscotti, more flavors are coming… Promise… 🙂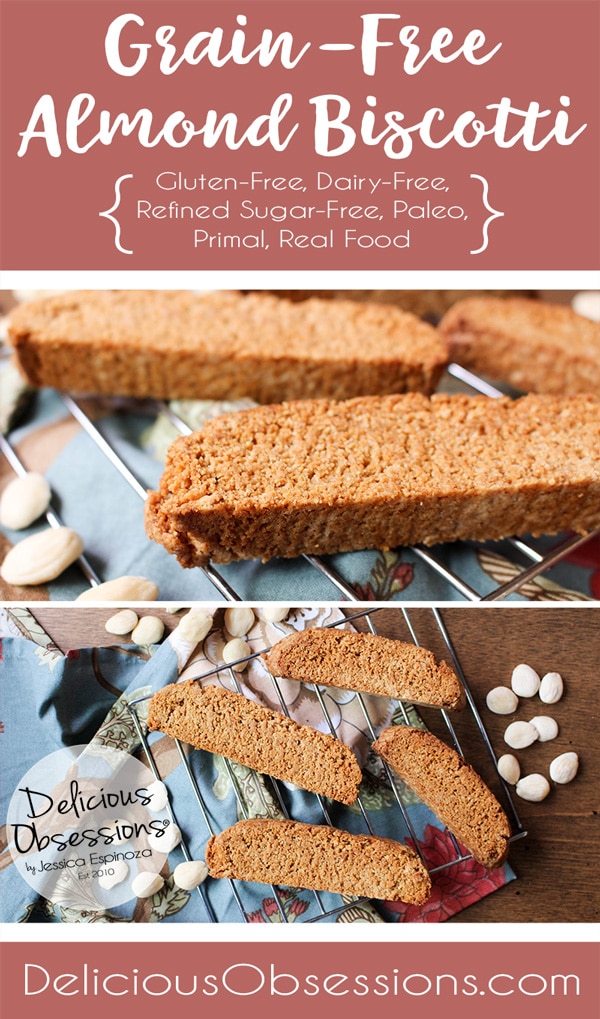 Tips for Making Grain-Free Almond Biscotti
Making biscotti is really easy. It takes a little more time since you have to do two rounds in the oven, but it's totally worth it to get those crispy little delights at the end. All that said, I wanted to share a couple quick tips with you before you dive into your grain-free almond biscotti making.
Depending on the style of biscotti you want (long strips like the ones in the photo or rounder discs like you may see in some coffee shops), you can form the log into any shape you want. It can be longer and thinner, or shorter and fatter.
How to Cut Your Biscotti
The hardest thing I faced when creating this grain-free almond biscotti recipe was getting the dough just right. Not too dry, not too wet.
After I figured out the ratio for all that, the next challenging thing was cutting the dough into strips after the first baking. The dough will be nice and firm on the outside and still soft in the middle, so the trick here is to get them sliced without a lot of crumbling or smushing.
To do that, I found a serrated knife, preferably a bread knife, worked best. To avoid crumbling or smushing, use a gentle sawing motion and let the knife move through the grain-free almond biscotti dough.
Don't put a lot of pressure on the knife or you'll end up with lots of crumbles. Some crumbles are going to happen — it's inevitable — so don't worry if you end up with some. But try to avoid forcing the knife through the loaf and just let it flow through with each swipe forward and backward.
After the first baking, you'll need to let the grain-free almond biscotti dough cool for a little bit before cutting (15-20 minutes should be good). If you cut them too quickly, they will smush down some. If you cut them too long after cooling, they will crumble.
Deliciously Dippable Beverages for Your Grain-Free Almond Biscotti
Biscotti is traditionally enjoyed by dipping them in your coffee. Truly, these grain-free almond biscotti can be enjoyed by dipping them into any hot beverage and if you're in need of any inspiration, I have a few amazing concoctions to choose from:
If you want coffee, but can't tolerate it, make sure you check out my DIY Herbal Coffee Substitutes Guide. Details (and coupon code) below!
Alright! Who's ready to get their grain-free almond biscotti on? Let's go!
Grain-Free Almond Biscotti :: Grain-Free, Gluten-Free, Refined Sugar-Free, Real Food, Paleo
Crispy, crunchy Grain-Free Almond Biscotti that are the perfect accompaniment to your favorite hot beverage. These lightly sweetened cookies are easy to make and will transport you to the country of their birth, Italy, with each bite. Unlike traditional biscotti, these Grain-Free Almond Biscotti is great for anyone dealing with food sensitivities or allergies.
Ingredients
DRY INGREDIENTS
WET INGREDIENTS
Instructions
Preheat oven to 350 F and line a baking sheet with parchment or a silicone mat like this one.
Mix dry ingredients in a bowl, including the sugar and the gelatin. Stir until well combined.
In a separate bowl, mix the wet ingredients together until well combined.
Pour the wet mixture into the dry ingredients and fold together. The dough will be on the dry side.
Using your hands, knead the dough until all of it all sticks together.
Form a ball and transfer to your lined baking sheet.
Form into whatever shape you want, either long and skinny for rounder biscotti, or short and fat for the traditional strips.
Bake at 350 F for 30 minutes. Remove from oven and let cool for 15-20 minutes before cutting.
Reduce heat to 300 F
When you're ready to cut into slices, use a sharp serrated bread knife like this one and use gentle sawing motions back and forth to cut through the dough. Refer to the tips above.
Slice into 1/2" to 1" slices and lay the slices cut side down on the baking sheet with ample room between each slice.
Bake the slices at 300 F for 15-20 minutes and then flip and bake for another 15-20 minutes. Keep an eye on them at this stage so they don't get too brown. You want them to be crispy and golden when you remove them from the oven.
Cool on baking racks with ample room between each slice.
Store in an airtight container at room temperature.
Nutrition Information:
Yield:

12
Serving Size:

1
Amount Per Serving:
Calories:

102
Total Fat:

8g
Saturated Fat:

1g
Trans Fat:

0g
Unsaturated Fat:

7g
Cholesterol:

16mg
Sodium:

158mg
Carbohydrates:

4g
Fiber:

2g
Sugar:

1g
Protein:

4g
This website provides approximate nutrition information for convenience and as a courtesy only. Nutrition data is gathered from Nutritionix. Nutrition information can vary for a recipe based on many factors. We strive to keep the information as accurate as possible, but make no warranties regarding its accuracy. We encourage readers to make their own calculations based on the actual ingredients used in your recipe, using your preferred nutrition calculator.
Want to Dip Your Grain-Free Almond Biscotti in Coffee, But Can't Tolerate It? I Can Help!
If you are still deep in your healing journey or just avoiding caffeine for other reasons, then I have a great option for you: herbal "coffees"! I developed these herbal blends when I had to give up coffee completely and needed something to take its place. Coffee, for me, was always a bit of a spiritual experience. It was something that calmed my soul, especially during a time in life where I was needing a lot of extra soothing.
When I gave up coffee completely, I tried to focus solely on herbal teas as a replacement, but the taste, aroma, and mouthfeel was beyond lacking for me. That's why I turned to herbs that could give me a similar experience as a freshly brewed cup of coffee. Thankfully such herbs exist and I created a handful of blends that did just the trick. It took a lot of experimenting, but I finally got the proportions right and had a new cuppa joe to soothe my soul. 🙂
I now have these recipes (the very ones that I used when I sold this line of herbal "coffees" online), in my DIY Herbal Coffee Substitutes Blending Guide. Not only do you get access to the recipes I created, you get a TON of info about coffee, caffeine, health, and the nutrition of these herbs. Oh, and did I mention that there are a bunch of coffee shop inspired beverage recipes too? If you've got a favorite, then it's likely in there.
If you've had to give up caffeine and herbal coffee is just not cutting it, then this is the book for you. Not only will these recipes soothe your coffee tooth, they will also support (and possibly) improve your health thanks to the nourishing herbs used.
For a limited time, I am offering Delicious Obsessions readers a special 50% OFF coupon code for my DIY Herbal Coffee Substitutes Blending Guide. Use coupon code COFFEE at checkout to save. Learn more and download your copy today here.

Delicious Obsessions is a participant in the Amazon Services LLC Associates Program, an affiliate advertising program designed to provide a means for us to earn fees by linking to Amazon.com and affiliated sites.Read our full terms and conditions here.