FTC Disclosure: Delicious Obsessions may receive comissions from purchases made through links in this article. Read our full terms and conditions here.

This decadent, creamy White Chocolate Matcha Latte will quickly become a new favorite in your house. Each cup brings the perfect balance between rich cocoa flavor and earthy matcha (and all of the nutrition they bring). This White Chocolate Matcha Latte is one that will certainly get you going in the early morning or calm your soul in the mid-afternoon. Try it topped with a dollop of deliciously fluffy coconut whipped cream.
OK, OK. I know what you're thinking. This Jessica girl is a little cuckoo for matcha. How many matcha recipes does one person need? 🙂
Well, so glad you asked. I am a bit of a match addict enthusiast. And as far as recipes go, the correct number is: how many I can make without getting bored. LOL!
If you are new to my site, then you may not know about my love affair with matcha green tea. It all started a couple years ago when I was able to successfully add green tea back into my diet with no side effects. Up until that point, I had been caffeine-free since 2012 for health reasons. Since I had done so much work on my health since then (and I really missed some of my favorite caffeinated beverages), I thought I'd give things like green and black teas a try.
Thankfully, it was a smashing success. No side effects. No negative reactions. No migraines. All good. Woot! Coffee and I are still not friends, but that's OK.
Matcha History and Recipes
Before we get into today's White Chocolate Matcha Latte recipe, if you're not familiar with matcha, then I'd love to suggest that you read this article on The Amazing Health Benefits of Matcha Green Tea. In it, you'll learn some of the history of matcha, how it's made, and how to select a matcha variety for your own beverages.
From there, your taste buds may be piqued and you've started craving some matcha recipes. Well, I can help you with that too. I've got a little something for every season, including:
Superfood Matcha Latte Recipe (Gluten-Free, Grain-Free, Dairy-Free, Refined Sugar-Free) — This is the perfect starting point for someone who is new to matcha. Yes, you can drink matcha plain (no milk or sweetener), but I personally prefer to add a little of both to mine. This recipe is super easy and delicious. Better than anything you can get at your local coffee shop.
Iced Superfood Matcha Green Tea Latte (Gluten-Free, Grain-Free, Dairy-Free, Refined Sugar-Free) — Sometimes you just want something cold to drink. Whether it's the middle of summer or you just happen to live in a part of the world that never sees cold weather, this iced matcha latte is creamy perfection on a warm day.
Matcha Green Tea Frappe (Gluten-Free, Grain-Free, Dairy-Free, Refined Sugar-Free) — Another great option for when the weather gets hot. I am pretty sure I lived on these things last summer. It was SO. DANG. HOT here in Denver. By mid-afternoon, I needed an icy pick-me-up. No more Starbucks for me, because this Frappe tastes a million times better (and is better for you!).
Creamy Matcha Green Tea Popsicles (Gluten-Free, Grain-Free, Dairy-Free, Refined Sugar-Free) — Last, but not least, another icy treat for the warmer months. I went through a popsicle craze awhile back and these were one of my favorites. All the flavors of my favorite iced matcha latte, but in popsicle form. Yum!
And now, let's talk about my latest matcha creation, the White Chocolate Matcha Latte, shall we?
White Chocolate Matcha Latte
So, this White Chocolate Matcha Latte recipe came about as an experiment suggestion from a friend. Not too long ago, a friend and I were talking about our favorite hot beverages and she suggested a white hot chocolate (I have an AMAZING peppermint white hot chocolate recipe here) with the addition of matcha.
I was intrigued, so I went to the kitchen and started playing around with ingredients. Why I never thought to combine those two flavors before, I don't know, but once I had tasted it, I knew it was a keeper for my regular matcha rotation.
Around the same time, one of my favorite small businesses (Perfect Supplements) released their brand new Perfect Matchinga™ powder (more about that below). It was perfect (pun intended) timing to take my White Chocolate Matcha Latte to a new level with a really fun superfood.
When it comes to making this white chocolate matcha latte at home, there are two ways you can do it:
The first way is to use cocoa or cacao butter, which is the edible fat extracted from the cocoa bean (it's pale yellow in color). The cocoa or cacao butter is used to make chocolate confections and is also used in personal care products and sometimes even pharmaceutical drugs. It has the flavor and aroma of chocolate, without the dark color. There is no added sugar or other ingredients when it comes in this form.
The second way is to use pre-made white chocolate. White chocolate is the cocoa butter that has been mixed with milk, sugar, and other ingredients to make a confection. If you use white chocolate, keep in mind that it will almost always have dairy in it and it quite often has quite a bit of sugar so you won't need to add much, if any, sweetener to your beverage.
Regardless of what you use, both will take amazing. The flavors of the cacao butter and matcha combine into a silky, creamy White Chocolate Matcha Latte that is a real treat to drink. It may quickly become a family favorite once you give it a try.
What is Perfect Matchinga™ Powder? (+ a coupon code!)
Perfect Matchinga™ is a brand new product from my friends over at Perfect Supplements. They have taken pure organic Japanese matcha green tea and blended it with one of the most nutrient dense plants on the planet, moringa. The end result is Perfect Matchinga™, an energy-boosting nutritious green powder that is loaded with antioxidants, iron, calcium, vitamins, minerals and all the essential amino acids.
Perfect Matchinga™ contains just 28mg of all natural caffeine per serving (a cup of coffee has about 100mg). The natural L-theanine in the Perfect Matchinga™ ensures that you get energy and focus, without the jitters and crash normally associated with caffeine.
The Organic Moringa used in Perfect Matchinga™ is sustainably grown and fairly traded. Not only is it good for you, but it is great for the planet. While moringa and matcha are terrific ingredients on their own, when combined they provide such a great hit of nutrients that it's hard not to fall in love!
I really love my plain matcha, but when presented with the opportunity to kick any of my recipes up a notch in the nutrition department, I take it. Especially when it tastes amazing and doesn't impact the flavor, texture, and consistency of the desired end product. You can totally use plain matcha for this White Chocolate Matcha Latte, but if you have the chance to try their Perfect Matchinga™, I recommend it!
Perfect Matchinga™ Coupon Code for YOU!
My dear friends over at Perfect Supplements are offering Delicious Obsessions readers 10% OFF their order of Perfect Matchinga™ and/or any of their other Perfect Brand products. Just use coupon code DELICIOUS10 to save at checkout. AND, unlike most other coupons that are for new customers only, you can use the coupon every time you order with them!
Visit the Perfect Supplements site here to learn more about their Perfect Matchinga™ and all of the other great products they sell. I personally use their collagen, gelatin, and desiccated liver supplements daily!
And now, for today's White Chocolate Matcha Latte recipe!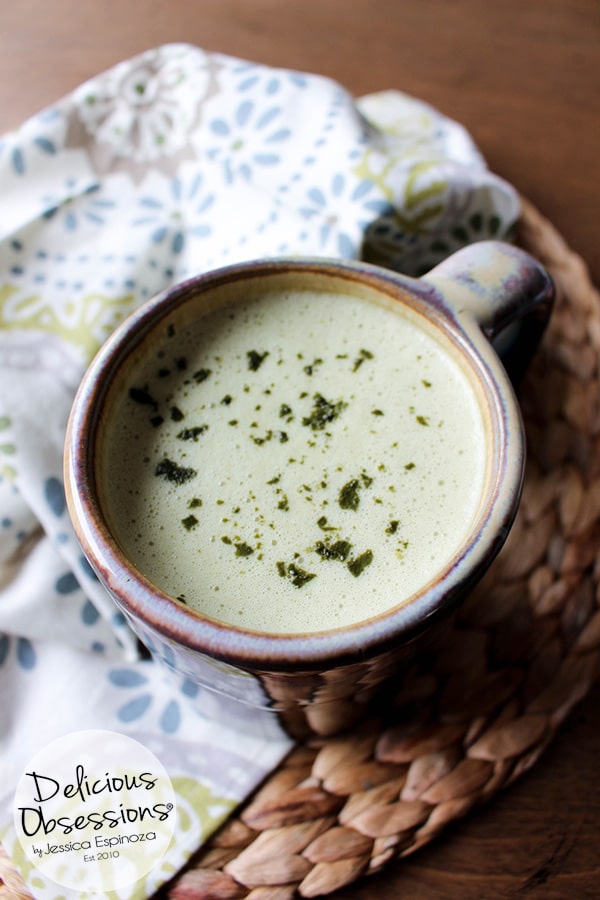 White Chocolate Matcha Latte :: Dairy-Free, Gluten-Free, Refined Sugar-Free, Low Carb, Real Food, Paleo
I have linked to the products from my affiliate partners that I personally use and recommend. If you purchase through one of these links, I may earn a small commission.
Author:
Jessica Espinoza @ Delicious Obsessions
Instructions
METHOD 1
Heat your water and coconut milk over medium heat until hot.
While that's heating, place all of the other ingredients into a blender.
Add the warmed water/milk and blend until frothy (I like to let it go for about 20-30 seconds).
Pour into two mugs and top with whipped cream if desired (try this amazing coconut milk whipped cream recipe if you're dairy-free!)
METHOD 2
When the water and coconut milk are warm, add all of the other ingredients to your saucepan and whisk to combine.
Continue whisking until the cocoa butter or white chocolate is melted.
To make it frothy, use an immersion blender (like this one) or a milk frother (like this one).
Pour into two mugs and top with whipped cream if desired (try this amazing coconut milk whipped cream recipe if you're dairy-free!)
Not Ready for Green Tea or Caffeine?
If you are still deep in your healing journey or just avoiding caffeine for other reasons, then I have a great option for you: herbal "coffees"! I developed these herbal blends when I had to give up coffee completely and needed something to take its place. Coffee, for me, was always a bit of a spiritual experience. It was something that calmed my soul, especially during a time in life where I was needing a lot of extra soothing.
When I gave up coffee completely, I tried to focus solely on herbal teas as a replacement, but the taste, aroma, and mouthfeel was beyond lacking for me. That's why I turned to herbs that could give me a similar experience as a freshly brewed cup of coffee. Thankfully such herbs exist and I created a handful of blends that did just the trick. It took a lot of experimenting, but I finally got the proportions right and had a new cuppa joe to soothe my soul. 🙂
I now have these recipes (the very ones that I used when I sold this line of herbal "coffees" online), in my DIY Herbal Coffee Substitutes Blending Guide. Not only do you get access to the recipes I created, you get a TON of info about coffee, caffeine, health, and the nutrition of these herbs. Oh, and did I mention that there are a bunch of coffee shop inspired beverage recipes too? If you've got a favorite, then it's likely in there.
If you've had to give up caffeine and herbal coffee is just not cutting it, then this is the book for you. Not only will these recipes soothe your coffee tooth, they will also support (and possibly) improve your health thanks to the nourishing herbs used.
For a limited time, I am offering Delicious Obsessions readers a special 50% OFF coupon code for my DIY Herbal Coffee Substitutes Blending Guide. Use coupon code COFFEE at checkout to save. Learn more and download your copy today here.

Delicious Obsessions is a participant in the Amazon Services LLC Associates Program, an affiliate advertising program designed to provide a means for us to earn fees by linking to Amazon.com and affiliated sites.Read our full terms and conditions here.