FTC Disclosure: This post contains affiliate links which means if you make a purchase through one of these links, I may earn a small commission on your sale which allows me to cover a portion of the cost of running the Delicious Obsessions site and free content we provide every week. This has no effect on your price and is simply a cost of doing business from the company you purchase from. I only recommend products or services that I have personally tried and love. You can view it like leaving a tip. Thank you for your support!
Frothy Golden Milk Hot Chocolate is the perfect cozy drink for colder months. This nourishing drink has all of the goodness of immune boosting Golden Milk plus the creamy, chocolaty sweetness of the old time classic hot chocolate. 
Who doesn't love a mug of good ole fashioned hot chocolate? It's a true nostalgic drink, one that pretty much everyone grew up drinking. There's just nothing like that hot, drinkable, creamy, chocolate. It's so good!
Even though hot chocolate is one of my all-time favorite warming drinks, I do like to switch it up from time to time. I love a glass of perfectly spiced chai tea on a chilly afternoon, or a bit of homemade spiced apple cider by a crackling fire.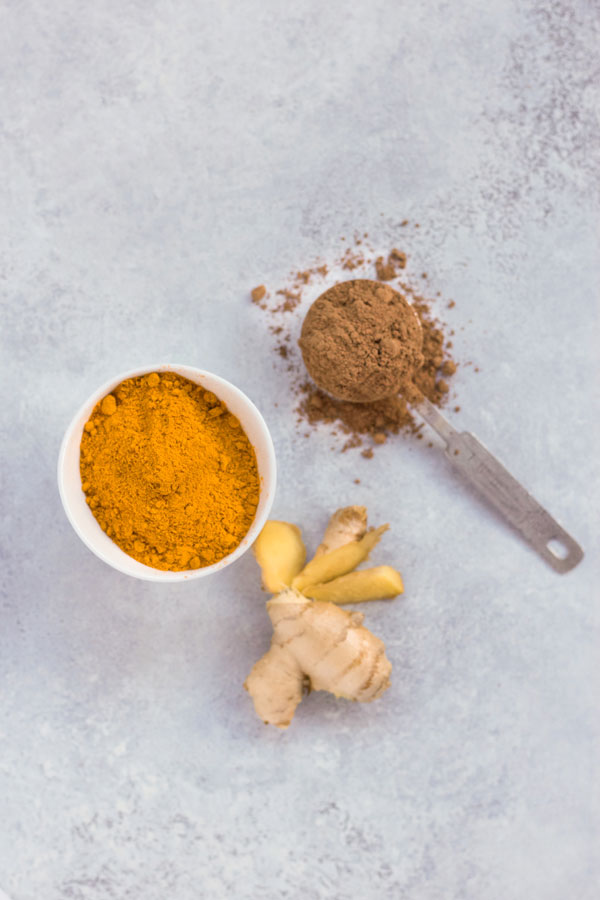 And then there's Golden Milk. Have you ever had it before? It's so delicious!
Golden Milk has quickly become a popular drink, although it's a traditional drink that's been around forever. This warming drink gets its name "Golden" Milk from immune supporting turmeric, which has been used in Ayurvedic medicine for centuries in India.
There are so many health benefits of turmeric. It's a well-known antioxidant and is known for supporting the immune system, digestion, skin health, and so much more.
This beautiful, creamy drink gets its golden color from the turmeric. It has a little bit of black pepper, which might seem odd. But the black pepper is important because it's known to give turmeric the extra health boost it needs (source). It's also packed with ginger, another immune booster, and adds a wonderful sweet and spicy flavor.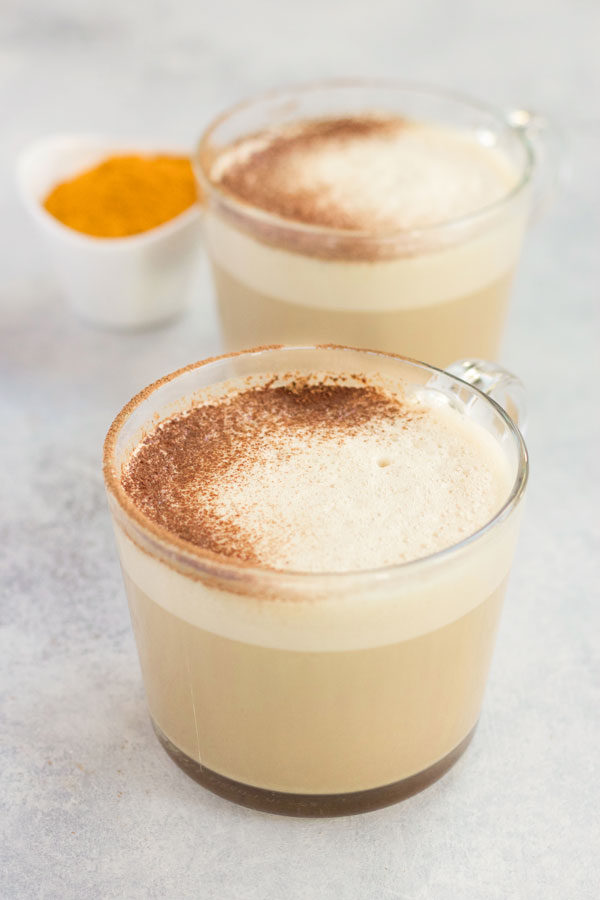 Golden Milk and Hot Chocolate Go Perfectly Together!
Since both of these warming drinks are heavenly, I figured combing both would be a good idea.
Wow, I am so glad I did! The flavor of this drink is everything I imagined it would be. Sweet, creamy, chocolaty, hot, and spicy. Absolute bliss!
Not only does Golden Milk Hot Chocolate taste amazing, but it's nourishing too! Now that's a good reason to enjoy this drink, right?!
This delectable drink supports the immune system with turmeric and ginger, has omega 3 fatty acids, vitamin D and K plus CLA (conjugated linoleic acid) from grass-fed ghee/butter, and another extra supporting boost from grass-fed gelatin. SO much nourishing goodness, plus it tastes amazing!
Give all of this deliciousness a whirl in the blender and in no time you'll have the most beautiful, frothy foam topping your Golden Milk Hot Chocolate.
Make sure to enjoy some of this comforting drink during the holiday season and the colder months!
Coupons and Freebies for Golden Milk Hot Chocolate Ingredients
I am always asked about my favorite ingredients and what I use in my own kitchen. I have linked to the products from my affiliate partners that I personally use and recommend. All funds earned go to help support the maintenance of this site and free content. You can view it like leaving a tip. Thank you! 🙂 And now, here are the special coupon offers that select affiliate partners are currently offering:
Thrive Market

: If you sign up through

this link

, you will get

15% OFF your first order

.
Vitacost

: If you sign up through

this link

, you'll get a coupon for

$10 off your first purchase.
Amazon, of course, has everything you need for this recipe. Their prices are often very good, though I love to shop around and sometimes find that Vitacost and Thrive Market have better deals. If you like saving money, it's good to shop around! 🙂
I get all of my herbs and spices from Mountain Rose Herbs. I have tried so many other brands and have never found the quality, flavor, and aroma to be as good as the herbs I get from Mountain Rose.
I get all of my vanilla beans and other vanilla goodies from Beanilla. I've tried a ton of brands of vanilla and vanilla beans and Beanilla is by far the best quality I've found! Make sure you check out their Bean Bucks Rewards program so you can save on future orders.
Frothy Golden Milk Hot Chocolate :: Dairy-Free Option
yield: approx. 3 servings  
Ingredients
Instructions
Place all ingredients EXCEPT gelatin into a medium-size sauce pan. Slowly warm over medium-low heat for about 5-7 minutes (heat to your desired temperature). If you are using coconut milk, make sure you do not boil it, it tends to become thick and unpalatable when boiled. If you're using raw milk, you'll want to heat over a lower heat so you do not destroy the beneficial properties.
Pour hot Golden Milk Hot Chocolate into a blender. Add gelatin. Immediately blend for about 15-20 seconds, until the gelatin has dissolved and is super frothy. [Note: Use CAUTION when using the blender, the hot chocolate is very hot and increases in volume when blending. Make sure to hold the lid on tight while blending or the hot air and liquid can escape making the lid pop off the blender.] If you're not using gelatin, it's still best to blend the Golden Milk Hot Chocolate so that the ghee/butter emulsifies and becomes frothy.
Serve hot and enjoy immediately.
Notes
Dairy-Free Version: Use coconut milk instead of dairy milk. Use coconut oil instead of ghee or butter.
If you prefer a sweeter drink, add another tablespoon of honey or maple syrup. Use a lighter honey like clover, star thistle or orange blossom (wild flower varieties tend to be too strong).
Paid Endorsement Disclosure: Delicious Obsessions is a participant in the Amazon Services LLC Associates Program, an affiliate advertising program designed to provide a means for sites to earn advertising fees by advertising and linking to AMAZON.COM. This post may contain affiliate links and/or ads. We only recommend products or services that we have personally tried and love. When you make a purchase through any of these links, we earn a small commission on each sale, which allows us to cover a portion of the cost of this site. This has no effect on your sale price and is simply a cost of doing business for the company you are purchasing from. All funds received help with the continued maintenance of this website and free content. You can view it like leaving a tip. Thank you! Read our full terms and conditions here.

Emily Sunwell-Vidaurri is a water kefir and chocolate loving, holistic-minded wife and homebirth mom of two little loves. She's the founder and voice behind Recipes to Nourish, a gluten free blog focusing on Real Food and Holistic Health. She's a real foodie, passionate about nourishing home cooking, lover of seasonal food, advocate of "green" living and daydreams about being a homesteader by the sea. Her passion and mission is to make healthy and natural living as uncomplicated and enjoyable as possible. Find Emily's latest recipes and natural living tips at Recipes to Nourish. Connect with her on Facebook, Instagram, Pinterest, and Twitter plus grab her free eBook Holistic Tips to Keep Your Family Healthy.