FTC Disclosure: Delicious Obsessions may receive comissions from purchases made through links in this article. As an Amazon Associate I earn from qualifying purchases.Read our full terms and conditions here.

Woooooo hooooo
! It's here! Finally! This is a project that has been in the works for close to 6 months and now the cat is out of the bag!
My friend Eileen over at Phoenix Helix has organized another amazing AIP (autoimmune protocol) community eCookbook — this time for the INSTANT POT! I am one of the authors and also an affiliate for it (meaning I earn a commission on each book that is purchased through my affiliate link).
Here are the two main reasons that I am so thrilled about this new release:
1. The AIP is tough!
I have gone through it a couple times during my healing journey and it can be really hard. Often we find ourselves having to eliminate our favorite foods and these are often the foods that we react most strongly to.
2. The Instant Pot is pretty much the bee's knees when it comes to kitchen appliances.
If you don't have one, you need to get one. Like now. Seriously. Get it one now on Amazon. I use mine all the time…and I often wish I had a second one!
I am so honored to have been among the 37 amazing bloggers selected to participate in this project. It was a lot of fun coming up with new recipes for my AIP peeps and using my #1 favorite kitchen appliance.
To celebrate the launch, I am offering a super special bonus to anyone who snags a copy of this great new eBook. Full details below!
But for now, let me give you the full scoop on the new eCookbook!
The Paleo AIP Instant Pot eCookbook
I am beyond thrilled to introduce you to the brand new Paleo AIP Instant Pot Cookbook! It is a collaborative cookbook that features recipes from yours truly along with 36 other of the best AIP bloggers out there! This recipe for AIP "Chocolate" Cake is a special sneak peek into the incredible recipes that await you inside.
There are over 140 recipes inside, all of which use the pressure cooker function of the Instant Pot pressure cooker so you can have food on the table FAST without having to deviate from your healing autoimmune protocol (AIP) diet.
Every recipe in the eBook is free from:
Processed food (anything artificial)
Refined sugars
Refined vegetable oils
Grains (including corn)
All legumes (including dried beans, soy, peanuts, green beans and green peas)
Dairy
Eggs
Nightshades (including nightshade spices)
Nuts
Seeds (including coffee and cocoa)
Alcohol (allowed during cooking, since the alcohol burns off)
Emulsifiers and thickeners
Non-nutritive sweeteners (including stevia)
Fruit-based and seed-based spices
Nut-based and seed-based oils
With a list like that you may be wondering what is left! Let me assure you that these recipes are simply divine. Even if you are not on the AIP, you will LOVE the delicious "fast food" recipes in this book. Each recipe is designed to be flavorful, nutritious, and easy to make with time-saving in mind as well.
Here's a peek at a few of the tasty recipes:
And, as you can see from this delicious "chocolate" cake recipe I'm sharing with you from the cookbook, the recipes are so much more than just main dishes! There are chapters covering all of the following:
Broths
Sauces and Condiments
Vegetables
Poultry
Meat
Seafood
Offal
Dessert
and fun Extras!
Isn't it amazing how many things you can make (and make QUICKLY) using your Instant Pot?! I'm telling you, this appliance is truly a lifesaver in the kitchen, and a godsend for the AIP since it reduces both time and effort needed to prepare food. (You can read my formal review of the Instant Pot here.)
Dr. Sarah Ballantyne (The Paleo Mom and the New York Times bestselling author of The Paleo Approach) had this to say about the new eBook:
"The Paleo AIP Instant Pot Cookbook brings delicious, hassle-free, one-pot, healthy, 100% AIP recipes to your table, making healing from autoimmune disease as easy as pressing a button!"
To purchase a copy you'll need to hop on over to the Phoenix Helix website through this link, or click the image of the cover below. Psst, don't forget to check the bonus offer below too! 🙂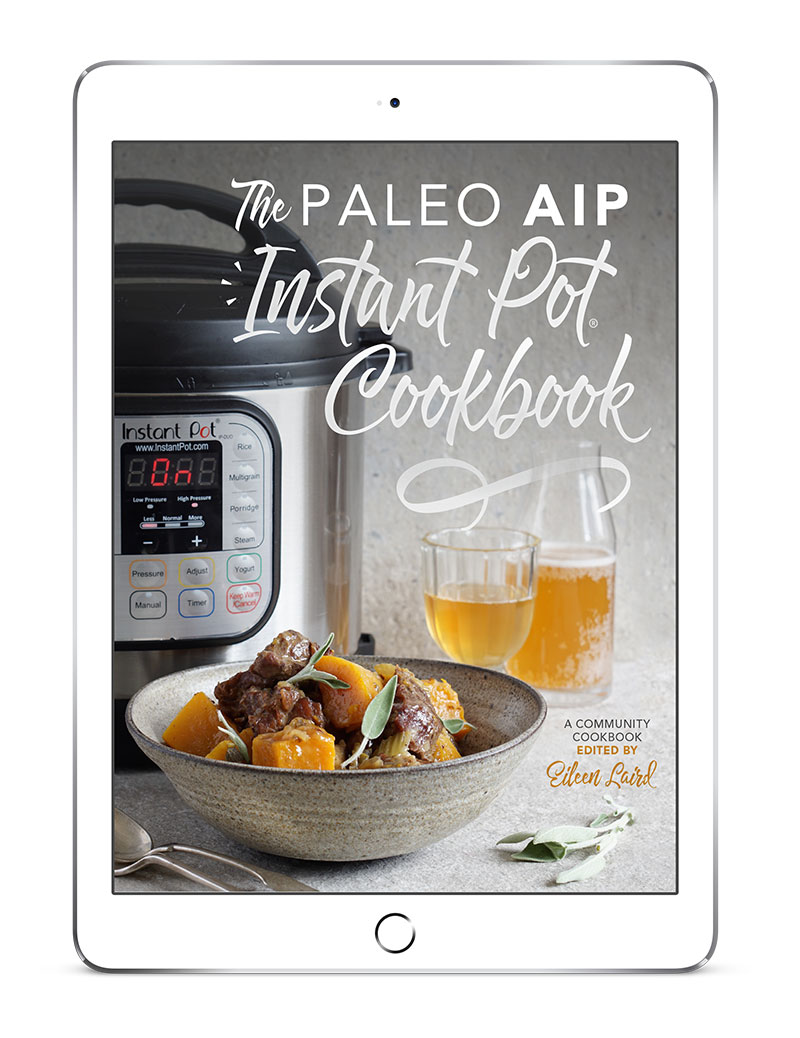 BONUS: Free eBook from the Delicious Obsessions store (through 10/15 only)
To celebrate the launch of this amazing new eBook I've decided to offer my readers a special bonus with their purchase: one FREE eBook from my own bookstore! You can choose to receive ANY of the books in my store (except 85 AIP Breakfasts) as a thank you gift for purchasing The Paleo AIP Instant Pot Cookbook.
In order to claim your FREE eBook you need to do the following:
Place your order for The Paleo AIP Instant Pot Cookbook using this link.
Forward your receipt to support(at)deliciousobsessions(dot)com and specify which eBook you would like as your gift (see list below).
Place your order by Oct 15th. eBooks will be delivered beginning on Oct 17th.
You can choose from the following eBooks:
(note: this special offer excludes the AIP Breakfasts book and the Gluten-Free Snacks books)
Coupons and Freebies for Instant Pot AIP "Chocolate" Cake
I am always asked about my favorite ingredients and what I use in my own kitchen. I have linked to the products from my affiliate partners that I personally use and recommend. And now, here are the special coupon offers that select affiliate partners are currently offering:
Thrive Market: If you sign up through this link, you will get 15% OFF your first order.
Amazon, of course, has everything you need for this recipe. Their prices are often very good, though I love to shop around and sometimes find that Thrive Market has better deals. If you like saving money, it's good to shop around! 🙂
AIP "Chocolate" Cake from The Paleo AIP Instant Pot Cookbook
Dessert on the AIP might feel like a no-go, but not when you have this amazing "chocolate cake" recipe! Plus, it's made even easier with the use of your Instant Pot!
Instructions
Add the plantain, banana, avocado, coconut oil, honey, carob, vinegar, baking soda, and cream of tartar to a food processor and blend until smooth.
Lightly grease three mini fluted pans or ramekins with additional coconut oil.
Pour the batter into prepared pans until they are about ¾ of the way full.
Pour the water into the Instant Pot® and add the steaming rack. Place the pans onto the steaming rack.
Close and lock the lid. Press MANUAL for high pressure. Set cooking time to18 minutes. Once the time is up, quick release the pressure carefully.
Garnish with coconut cream, coconut flakes, or fruit and serve warm.
Recommended Products
As an Amazon Associate and member of other affiliate programs, I may earn a small commission from qualifying purchases.
Nutrition Information:
Yield:

3
Serving Size:

1
Amount Per Serving:
Calories:

189
Total Fat:

4g
Saturated Fat:

1g
Trans Fat:

0g
Unsaturated Fat:

2g
Cholesterol:

0mg
Sodium:

12mg
Carbohydrates:

42g
Fiber:

4g
Sugar:

23g
Protein:

2g
This website provides approximate nutrition information for convenience and as a courtesy only. Nutrition data is gathered from Nutritionix and we often find their calculations to be slightly inaccurate based on the whole food ingredients we use on this site. Nutrition information can vary for a recipe based on many factors. We strive to keep the information as accurate as possible, but make no warranties regarding its accuracy. We encourage readers to make their own calculations based on the actual ingredients used in your recipe, using your preferred nutrition calculator.

Delicious Obsessions is a participant in the Amazon Services LLC Associates Program, an affiliate advertising program designed to provide a means for us to earn fees by linking to Amazon.com and affiliated sites.Read our full terms and conditions here.