FTC Disclosure: Delicious Obsessions may receive comissions from purchases made through links in this article. Read our full terms and conditions here.

This creamy garlic basic vinaigrette will likely become your new favorite dressing. Not only is it delicious on salads of any kind, but it's also super delicious drizzled over roasted veggies, potatoes, chicken, fish, and even steak! Making your own dressing at home is a cinch and this flavor-filled recipe takes dressing from boring to outstanding in a snap.
Salad dressings. In the nearly 10 years that I've been writing a food blog, salad dressings may be one of the foods that I've received the most questions about. I'm thinking fats and meat consumption fall into first and second place, but salad dressings may be pulling up in a close third.
I tell everyone (blog readers and clients) that if they only want to make one change to their diet to help support or improve their health, changing the types of fats they use is the very best thing they can do. In that light, making your own salad dressing is a no-brainer. Since the basis of most salad dressings is oil, there's no better place to make the switch to healthier fat.
If you're new to which fats are healthy and which ones you should avoid, I'd invite you to read this Ultimate Guide To Healthy Cooking Oils. In the last decade, I have seen such a change in the landscape of real food products available on traditional grocery store shelves. It's amazing what 10 years has done — just imagine what the next ten years will do?!
While yes, you can buy your own salad dressings at the store, and there are some really "clean" brands out there, making your own is so very simple. In my opinion, everyone needs a super fast and easy salad dressing recipe in their toolbox and this creamy garlic basic vinaigrette can't get any easier.
Homemade Salad Dressing 101
When it comes to making your own salad dressings, there really are no hard and fast rules. I've made dressings that were more vinegar/acid centered and I've made dressings that were more oil centered. The proportions of ingredients are super flexible, but for those getting started, here are a couple of basic guidelines:
The classic ratio of oil to vinegar is 3 parts oil to 1 part vinegar/acid (lemon, lime, orange, grapefruit, etc. juice fall into this category).
Some people prefer 2 parts oil to 1 part vinegar/acid.
Some people prefer equal amounts oil and vinegar/acid.
You can use fresh or dried herbs and any spice that tickles your fancy. Always add salt and pepper, but from there feel free to experiment with things like thyme, rosemary, tarragon, cumin, coriander… The list goes on and on.
Some people use a classic shake method (think basic Italian dressings), while others like to emulsify their dressing using a blender or an immersion blender (like today's creamy garlic basic vinaigrette).
Again, it's all about personal preference. If you're a fan of emulsified dressings, I highly recommend investing in an immersion blender like this one. It's fast and easy and means fewer dishes than if you used your regular blender.
Creamy Garlic Basil Vinaigrette
This creamy garlic basic vinaigrette recipe came about because I had gotten a killer deal on a huge tub of basil at the grocery store. It was way more than I'd be able to use in other recipes, so I decided to make a dressing out of it. And I'm so glad I did because it turned out amazing and is now my favorite dressing (after ranch, of course).
I took the easy route for this creamy garlic basic vinaigrette recipe and threw everything in my high-speed blender and pureed it. I rinsed the basil and put the whole lot in the blender, stems and all, along with all of the other ingredients and voilà! Green dressing magic!
Since I had so much dressing to use (and it was so delicious), I decided to put it on everything I ate for the next few days. I started with a salad, of course, but over the course of the next few days, this creamy garlic basic vinaigrette went on everything from roasted veggies to chicken to potatoes to fish. It even tasted good on steak!
To say this dressing is versatile is an understatement. 🙂 I'd love to hear what creative ways you decide to use it. Leave a comment below!
And now, how about we get busy making dressing?! A deliciously creamy garlic basic vinaigrette to be exact!
Creamy Garlic Basil Vinaigrette :: Gluten-Free, Grain-Free, Dairy-Free, Refined Sugar-Free, Real Food, Paleo
I have linked to the products from my affiliate partners that I personally use and recommend. If you purchase through one of these links, I may earn a small commission.
Author:
Jessica Espinoza @ Delicious Obsessions
Instructions
Rinse your basil and place in the blender. You can remove the stems, but I never do.
Peel your garlic cloves and place in blender.
Peel your shallot and cut into quarters. Add to blender.
Add the rest of your ingredients to the blender.
Puree for 15-30 seconds or until the mixture is smooth and creamy.
Store in an airtight container in the fridge. Will keep for 4-6 days.
Try This Creamy Garlic Basil Vinaigrette While Eating the Rainbow! (+ Special Coupon Code)
As you guys know, I am a huge fan of all things veggies. If there was just one single thing that I could tell people to do to improve their health, it would be to eat more vegetables. An increased intake of veggies helps boost your nutrition and your health in ways that you simply cannot achieve elsewhere. Science continues to explore and show how the antioxidants and phytonutrients in fruits and veggies can "talk" directly to our genes and help alter genetic expression. It's truly fascinating and I want to help you improve your health and your life with Nature's miracle "drug."
That's why I love sharing recipes like this (and all the other veggie recipes on this site) and also why I created my popular Eat the Rainbow eCourse. Most people know that vegetables are heath-packed powerhouses, but they simply do not feel they have the knowledge, time, or the ability to add more to their diet. I want to help change that and make eating vegetables easier and a heck of a lot more fun!
In the Eat the Rainbow eCourse, I show you how to do exactly that (and a ton more). This 30-day eCourse arms you with the skills and creativity you need to make vegetables a centerpiece in your diet — all in bite-sized nuggets that won't overwhelm or frustrate you. In order to really get the full spectrum of phytonutrients and antioxidants that vegetables provide, you need to eat a wide variety of types and colors (i.e. the rainbow), but so many people find themselves eating the same four or five veggies over and over and over again.
For a limited time, I am running a special on my Eat the Rainbow eCourse where you can enroll for 50% off. That means you can get a full 30 days of content + a bonus cookbook for only $10. This is a steal for one of the most important investments you can make for your health (eating more veggies).
Enroll in the Eat the Rainbow eCourse here (or click the image below) and enter coupon code VEGGIE at checkout to save 50%.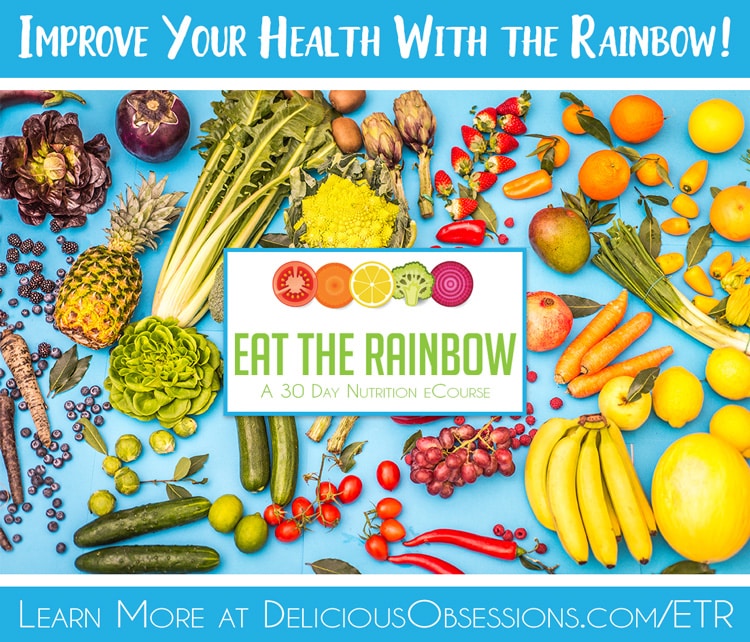 I can't wait to see you in the course and hear how your health improves once you start eating the rainbow! Now, on to today's recipe!

Delicious Obsessions is a participant in the Amazon Services LLC Associates Program, an affiliate advertising program designed to provide a means for us to earn fees by linking to Amazon.com and affiliated sites.Read our full terms and conditions here.