FTC Disclosure: Delicious Obsessions may receive comissions from purchases made through links in this article. As an Amazon Associate I earn from qualifying purchases.Read our full terms and conditions here.

I have a confession to make.
I am addicted to kale chips.
And not just any kale chips.
I'm talking about the Zesty Nacho Kale Chips by Rhythm Superfoods.
Ahem.
Dear Rhythm Superfoods,

If you happen to be reading this and want to send me a case of your chips, I certainly won't complain.

Sincerely,
Your #1 Fan
OK. Moving on.
The problem with this addiction is that it could easily eat me out of house and home. These kale chips are PRICEY at $5.75 for a 2 ounce bag. And let's face it … I could easily eat more than 2 ounces at a time. Oh, yes, yes I could.
So, before we lose what little savings we have built up, I figured I best try to recreate a version at home that will ensure we will still have money left in our retirement account down the road. I really wanted to perfectly re-create the Rhythm chips as best I could, so I built my recipe based on the ingredients on the back of the bag. After playing with the ingredients and proportions, I found that I had added a few other items, but they turned out great. Not a perfect recreation, but pretty darn close and they sure hit the spot when I am craving that crunchy, "cheesy" kale chip experience.
Rhythm's Zesty Nacho Kale Chips ingredients are: organic kale, organic sunflower seeds, organic tahini, organic carrot powder, organic spices, organic red bell pepper powder, organic apple cider vinegar, organic lemon juice concentrate, organic evaporated cane juice, sea salt.
My "Cheesy" Kale Chips ingredients are: organic kale, organic sunflower seed butter, organic tahini, organic apple cider vinegar, nutritional yeast, organic lemon juice, organic red bell pepper, organic sesame oil, raw honey, golden balsamic vinegar, coconut aminos, garlic powder, onion powder, sea salt, and black pepper.
I have a few additional ingredients in my list when compared to Rhythm's, but I still think they turned out well. Being that I am dairy-free, this is the closest I'll ever get to cheese! Enjoy!
Note: I have made this with both curly kale and the flat dinosaur kale. I prefer the curly, because it seems to "grab" the dressing better, so you get thicker coated pieces (for the ultimate cheesy experience). When I make it with 2 large bunches of curly kale, I use all of the dressing in this recipe. When I make it with 2 large bunches of dinosaur kale, I only use about half of the recipe, since the dressing doesn't stick to the leaves as well. If you want to use the flat kale, you could do one of 3 things to remedy this conundrum:
You can double the amount of dinosaur kale you use (4 bunches as opposed to 2)
You can cut the dressing recipe in half
You can make the full batch of the dressing and save the extra for another batch of kale chips (the dressing will stay good in the fridge for a couple weeks. Or, you can use the extra on chicken, fish, or as a veggie dip. It's SUPER good on almost everything!
Also, I like the kale chips to be super duper coated in the sauce, so if you're wanting them a little less coated, just start with half of the recipe and add more dressing until you get your desired coating.
P.S. I did do a cost breakdown and sadly, these kale chips are on the pricey side, even when I make them at home. My version comes out to about $1.90 – $2.00 an ounce, compared to Rhythm's $2.86 an ounce. The per ounce cost is going to vary depending on where you live and the prices of your ingredients. This summer, I'm planning on growing my own kale, so that will shave off a bit of the cost. But, I am still in love with them, regardless! 🙂
Coupons and Freebies for Zesty Nacho Kale Chips Ingredients 
I am always asked about my favorite ingredients and what I use in my own kitchen. I have linked to the products from my affiliate partners that I personally use and recommend. And now, here are the special coupon offers that select affiliate partners are currently offering:
Thrive Market: If you sign up through this link, you will get 15% OFF your first order.
Amazon, of course, has everything you need for this recipe. Their prices are often very good, though I love to shop around and sometimes find that Thrive Market has better deals. If you like saving money, it's good to shop around! 🙂
I get all of my herbs and spices from Mountain Rose Herbs. I have tried so many other brands and have never found the quality, flavor, and aroma to be as good as the herbs I get from Mountain Rose.
Copycat Recipe: Rhythm's Zesty Nacho Kale Chips
If you're looking for a healthy, "cheesy" snack, make these easy zesty nacho kale chips. But be careful, they can be addicting.
Instructions
Wash your kale and remove all of the stems. Tear the kale leaves into bite sized pieces. Lay kale pieces out in a thin layer on some towels and let the water drain and the leaves to dry. You want to make sure the leaves are dry before tossing them with the sauce.
In a high-powered blender or a food processor, combine all of the ingredients (except the kale) and blend until smooth and creamy. An immersion blender works well too. Make sure you taste for salt. I like lots of salt, but others may not like as much.
Pour the sauce in a large bowl and then add the dry kale leaves. Using tongs (or your hands), toss the leaves in the dressing until coated.
If you have a dehydrator, dehydrate the kale chips, following your dehydrator's instructions.
If you're like me and have to use your oven, pre-heat the oven to 170°.
Line some sheet pans with parchment paper. Spread the kale leaves out on the pans, making sure there are not big clumps of leaves stuck together. You want to make sure each chip has room to dehydrate on the pan.
Bake in the oven for 3-5 hours, or until the chips are dry and crispy.
You can also dehydrate in your dehydrator at 115 degrees for 6-8 hours.
Store in an airtight container. If you want to keep your chips crisp, you can use a couple of the moisture packs that come in vitamin bottles, or add a couple tablespoons of uncooked rice to the bottom of the container. This will help absorb any moisture and keep your chips dry. I do this with my salt shakers -- add some uncooked rice to the shaker and it keeps the salt from clumping.
Enjoy!
Recommended Products
As an Amazon Associate and member of other affiliate programs, I may earn a small commission from qualifying purchases.
Sometimes You Just Need a Good Snack!
If you're reading this blog, chances are you've embarked on your gluten-free journey, but are missing your favorite snack foods. You're bored with all of the gluten-free options out there (which, let's face it, aren't all that healthy). Let me ask you a few questions:
Are you new to a real foods diet or just bored with eating the same thing every day?
Are you in need of healthy snack ideas for your whole family?
Would you like recipes that are easy, delicious, and healthy?
If you answered yes to any of these, then my eBook, Gluten-Free Snacks, is for YOU! This book features delicious real food snack recipes from an established community of real food bloggers. All of the recipes featured in this ebook are tried and true recipes that have been put to the test of both preparation and taste.
Long before blogging and social networks, trading recipes has been a way to connect and transfer culture, nourishment, and love from the heart of the home (the kitchen) to others. So, in the spirit of old-fashioned cookbooks produced by schools and churches, each cook featured in this book has provided her BEST recipe, so it winds up a collection of the best of the best!
You will love all the new ideas and new flavors in this book. Clear, easy to follow instructions, beautiful photographs, and accessible ingredients will make this book a favorite resource.
Feed your family healthy and nourishing gluten-free snacks every day without sacrificing taste! These snacks are a great way to add variety to your family's diet. Healthy snacks are what keep us going between meal times, giving us the energy and sustainable blood sugar that we need to power through our to-do list.
It's time to ditch the food boredom and embrace deliciousness once again! The Gluten-Free Snacks eBook is your ticket to healthy, delicious, well-balanced snacks to keep you energized and focused no matter the time of day or activities you're enjoying! Learn more about this eBook and how to download your copy of Gluten-Free Snacks here (or click on the image below).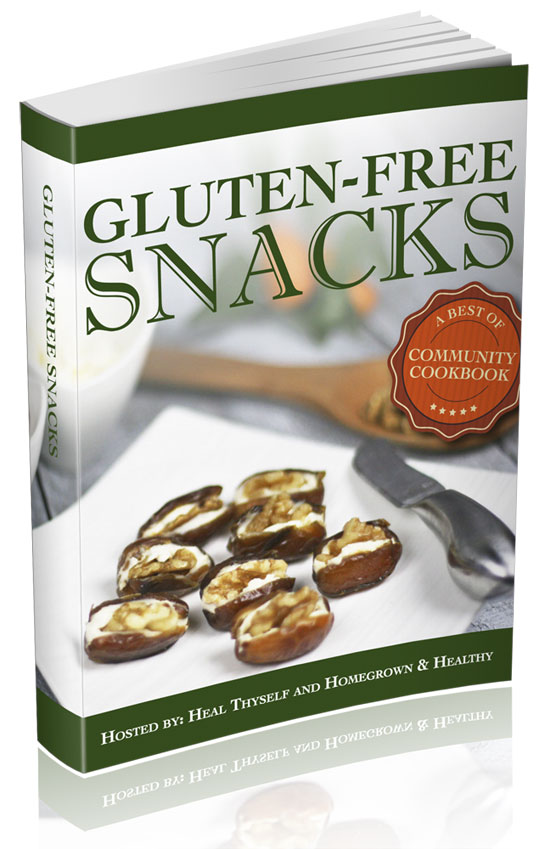 Delicious Obsessions is a participant in the Amazon Services LLC Associates Program, an affiliate advertising program designed to provide a means for us to earn fees by linking to Amazon.com and affiliated sites.Read our full terms and conditions here.