FTC Disclosure: Delicious Obsessions may receive comissions from purchases made through links in this article. As an Amazon Associate I earn from qualifying purchases.Read our full terms and conditions here.

I love figs. Every year, I patiently wait until late summer early fall when fresh figs start showing up in my health food store's produce section. I'm not sure what it is about figs that I love. I don't like dried figs — only fresh. It must be that they are one of the produce items that we literally cannot get year-round. They truly are only available, at least here in Colorado, when they are in season. California figs are in season from June through late September. They start showing up on grocery store shelves here in mid-to-late July most years.
The taste and texture of fresh figs are nothing less than unique. I think the texture is one of the things I love. The flesh is soft, but the seeds are super crunchy. Figs are an excellent source of potassium and calcium, as well as dietary fiber. I did not know that fig leaves are sometimes used for culinary applications and they are actually helpful for diabetics. According to The World's Healthiest Foods:
The leaves of the fig have repeatedly been shown to have antidiabetic properties and can actually reduce the amount of insulin needed by persons with diabetes who require insulin injections. In one study, a liquid extract made from fig leaves was simply added to the breakfast of insulin-dependent diabetic subjects in order to produce this insulin-lowering effect.
Figs are not very shelf-stable, so when purchasing fresh, you need to use it within a day or so. You want to select figs that are rich in color, plump and tender, but not mushy. Fully ripened figs (a rich, dark purple hue) will have the most antioxidants. Store them in the fridge.
Fresh figs have a multitude of uses, from fresh to cooked. Two of my favorite ways (besides this delicious dessert recipe) to eat figs are:
This dessert is so simple to make and tastes amazing. It's perfect for after a summertime meal and won't leave you feeling overly full and weighed down from dessert. If you don't like ricotta, you could use yogurt, sour cream, crème fraîche, or even vanilla ice cream would be heavenly.
Coupons and Freebies for Orange Honey Balsamic Glazed Figs with Ricotta Ingredients
I am always asked about my favorite ingredients and what I use in my own kitchen. I have linked to the products from my affiliate partners that I personally use and recommend. And now, here are the special coupon offers that select affiliate partners are currently offering:
Thrive Market: If you sign up through this link, you will get 15% OFF your first order.
Amazon, of course, has everything you need for this recipe. Their prices are often very good, though I love to shop around and sometimes find that Thrive Market has better deals. If you like saving money, it's good to shop around! 🙂
Orange Honey Balsamic Glazed Figs with Ricotta
This dessert is so simple to make and tastes amazing. It's perfect for after a meal and won't leave you feeling overly full and weighed down from dessert.
Instructions
In a small frying pan, heat 1-2 tablespoons of coconut oil over medium heat.
Add the figs, sliced side down.
Cook for 2-4 minutes, or until the figs are soft and the sliced side is browned.
Remove the figs from the pan and add your orange juice, balsamic vinegar, and honey. Whisk the mixture until the honey is completely dissolved.
Reduce heat to low or medium-low and simmer (uncovered) until it is reduced by about half. Be careful to keep an eye on it and don't let it burn.
Place a scoop of ricotta (or ice cream, crème fraîche, etc.) in the center of your bowl and then top with a couple of the seared figs and a drizzle of the balsamic glaze. If you're dairy-free or autoimmune, try these over some of my rich and creamy coconut milk yogurt.
Recommended Products
As an Amazon Associate and member of other affiliate programs, I may earn a small commission from qualifying purchases.
Looking for more delicious fig recipes?
Here are some from around the Web that look delicious!
What is your favorite recipe for figs? Leave a comment below!
Hey AIP (and even non-AIP) Friends! Listen Up! It's Finally Time for "FAST" Food on the AIP!
Yes, you read that right. FAST FOOD on the AIP! How is that even possible you ask? Well, I'll tell you:
The Instant Pot!
Yes, this small kitchen appliance will take your healing autoimmune protocol meals to a whole new level of deliciousness and simplicity. You'll be preparing gourmet, restaurant-style dishes in the comfort of your own home, easily and quickly.
I know, it sounds too good to be true, but I assure you, it's not. And listen, while this eBook was created for our AIP friends, everyone will LOVE the nourishing, real food recipes in this book, regardless of your eating style.
I've done the AIP twice in my life, once for 6 months and then the second time for about 18 months. Both times I found myself struggling with the amount of time it took to prepare my food. And, because our food choices are limited, especially during the initial healing phase, I started to get really bored and stuck in a rut with food.
That is why I am so passionate about The Paleo AIP Instant Pot Cookbook that myself and 36 other experienced AIP bloggers and practitioners have put together just for you. We created this resource as a way to help you alleviate the burden of time and energy that comes with cooking AIP meals from scratch.
This is the first digital eBook written specifically for the AIP community using the Instant Pot. This book:
Focuses on the pressure cooker function, creating fast and delicious meals. Are you nervous about using a pressure cooker? No worries. There's a tutorial in the front of the e-cookbook.

Features over 140 recipes, including Broths, Sauces/Condiments, Vegetables, Poultry, Meat, Seafood, Organ Meat, and Dessert.
Special diet modifications: Over half the recipes in this e-cookbook can be easily modified for Low-FODMAP, GAPS/SCD and Coconut-Free diets. (Charts are included at the back of the book.)
Packed with flavor with such diverse recipes as: Bone Broth (of course), Cranberry BBQ Sauce, Marinara Sauce, Cauli-fredo Sauce, Bacon Orange Cherry Jam, "Baked" Sweet Potatoes, Cauliflower Rice, Artichokes with Lemon Tarragon Dipping Sauce, Smothered Okra, Creamy Kabocha Squash Soup, Fall Off the Bone Whole Chicken, Mole Chicken with Bluecumber Salsa, Lemongrass and Ginger Chicken Zoodle Soup, Stuffed Acorn Squash, Turkey and Gravy, Speedy Chili, Teriyaki Garlic Beef, Ukrainian Borscht, Sticky Pork Short Ribs, Pork Vindaloo, Lamb and Apricot Curry, Simple French Navarin Lamb Stew, Chicken Liver Pâté, Steak and Kidney Stew, Tongue Tacos, Jambalaya, Steamed Crab, Leek and Shrimp Risotto, Salmon and Sweet Potato Chowder, Poached Pears, "Chocolate" Cake, Pina Colada Tapioca Pudding, Mini Pumpkin Pies, and over 100 other fabulous recipes!
Written by 37 AIP bloggers who have used the paleo autoimmune protocol to improve their own health. The result is a book far better than anyone person could have created alone.
It's time to stop using all of your precious time and energy slaving away in the kitchen. Eating real food can be time-consuming enough, but adding the AIP on top of it can lead to even more work.
Now you can FINALLY enjoy "fast" food on your healing protocol. Less time, less stress, more flavor. You deserve it. Learn more about the Paleo AIP Instant Pot Cookbook and how to download your copy here (or just click on the image below).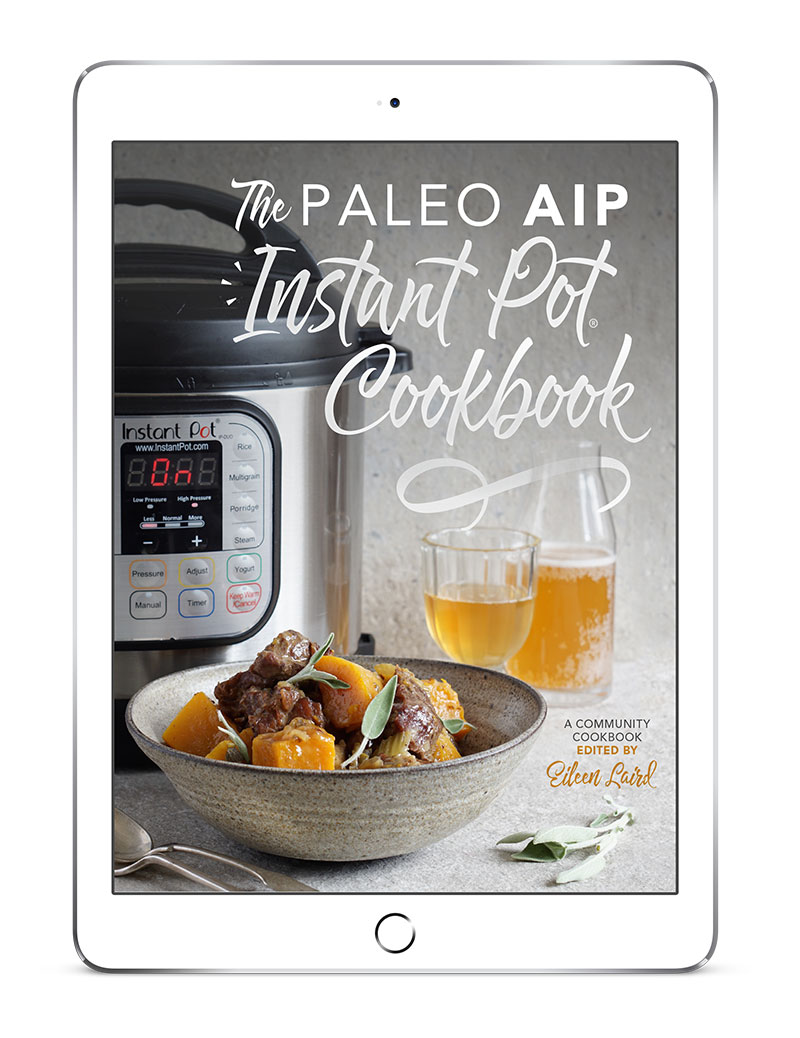 Delicious Obsessions is a participant in the Amazon Services LLC Associates Program, an affiliate advertising program designed to provide a means for us to earn fees by linking to Amazon.com and affiliated sites.Read our full terms and conditions here.