FTC Disclosure: This post contains affiliate links which means if you make a purchase through one of these links, I may earn a small commission on your sale which allows me to cover a portion of the cost of running the Delicious Obsessions site and free content we provide every week. This has no effect on your price and is simply a cost of doing business from the company you purchase from. I only recommend products or services that I have personally tried and love. You can view it like leaving a tip. Thank you for your support!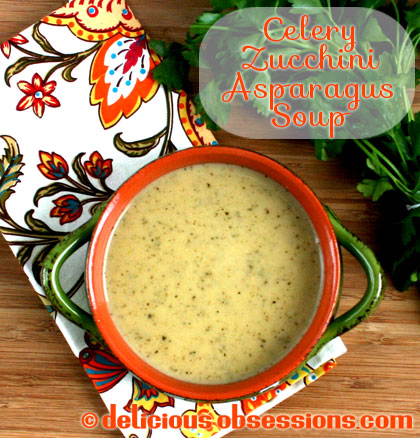 I love soup. This cream of asparagus, celery, and zucchini soup is right up my alley. This soup is not fancy. It is not bursting with exotic flavor. It is smooth, warming, and comforting. Sometimes I like my soups to be a little plain. Sure, fancy soups have their place in my rotation, but there are times when I just want something simple. This soup is perfect.
I eat soup almost every day, which is a great way to get nourishing, gut-healing bone broth into our bodies. I always use homemade stocks for my soup, ensuring I can get the biggest bang for our nutritional buck. Since I am not eating dairy, I make it with coconut milk, however, it would be equally delicious with fresh cream, if you can tolerate it. I really, really miss fresh cream! Sigh.
You could also adjust the recipe to fit whatever veggies you have on hand. It just so happened on one Sunday morning, I opened my fridge and freezer and celery, asparagus, and zucchini were all I had, so this recipe was born. You could always leave it chunky, but I prefer to puree it with my hand blender so you get a smooth soup. Like most soups, this one freezes well, so make a big batch and reserve some for quick lunches.
Delicious Obsessions Trusted Product Recommendations
My affiliate partner, Vitacost, has really good prices on some of the ingredients in this recipe. If you sign up through this link, you'll get a coupon for $10 off your first purchase from Vitacost, and when your order ships, I'll get a $10 off coupon for referring you. The cool thing about this program is that you can then refer your family and friends through your own link and YOU can get the $10 coupons too! 🙂
Amazon, of course, has everything you need for this recipe. Their prices are often very good, though I love to shop around and sometimes find that Vitacost and Thrive Market have better deals. If you like saving money, it's good to shop around! 🙂
In addition, my affiliate partner, Tropical Traditions, is where I get all of my coconut products from and if you make a purchase from them through any of my links, you will receive a free copy of their Virgin Coconut Oil book, and I will receive a discount coupon for referring you.
Mountain Rose Herbs is where I get all of my herbs and spices. Because of their exceptional products and customer service, I am happy to support them as one of my affiliate partners. I have tried many brands of herbs over the years and keep coming back to Mountain Rose.
P.S. Did you know that soups and stews are an EXCELLENT source of gelatin if you use homemade stock? Sometimes, I even add a tablespoon or so of gelatin into my bowl of soup for added nutrition. If you want to learn more about gelatin and its benefits for our health, I highly recommend this book, The Gelatin Secret: The Surprising Superfood That Transforms Your Health and Beauty, from my affiliate partner, Sylvie McCracken. This book is packed with incredible information on how gelatin helps all aspects of our health and also features delicious recipes!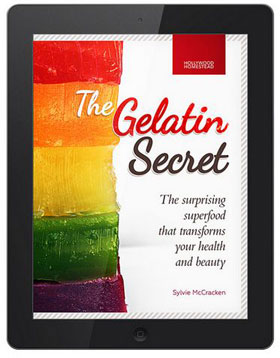 Cream of Asparagus, Celery, and Zucchini Soup Recipe
I have linked to the products from my affiliate partners that I personally use and recommend.
Ingredients:
1 large sweet onion
10 cloves fresh garlic
1 small head of celery
1 bunch of asparagus (mine was approx. 1 pound)
6 small to medium zucchini
3 quarts of chicken stock (homemade if possible)
1 tbsp. lemon thyme (or regular thyme)
3 large bay leaves
1 bunch fresh parsley
2 cups coconut milk or heavy cream
Sea salt and fresh ground black pepper to taste
Instructions:
1. Chop your onion and garlic.
2. In a large soup pot, melt a couple tablespoons of coconut oil, add the onions and garlic.
3. While the onions and garlic are cooking, rough chop the celery, zucchini, and asparagus. If you are going to puree the soup, you can make them really rough chopped. If you want to leave it chunky, you might chop them into more even bite-sized pieces.
4. When the onions and garlic are lightly browned, add the chopped veggies (not the parsley).
5. Add your chicken stock and bring to a simmer.
6. Cover and let simmer on low heat for approximately 45-60 minutes, or until all the veggies are really soft.
7. Rough chop your parsley and when the veggies are soft, add the parsley in. Cook for 5 more minutes.
8. Remove from heat and using your hand blender, puree until smooth.
9. Stir in your coconut cream or heavy cream.
10. Taste for salt and pepper and adjust if needed.
11. Top with fresh parsley or chopped cilantro.
Paid Endorsement Disclosure: Delicious Obsessions is a participant in the Amazon Services LLC Associates Program, an affiliate advertising program designed to provide a means for sites to earn advertising fees by advertising and linking to AMAZON.COM. This post may contain affiliate links and/or ads. We only recommend products or services that we have personally tried and love. When you make a purchase through any of these links, we earn a small commission on each sale, which allows us to cover a portion of the cost of this site. This has no effect on your sale price and is simply a cost of doing business for the company you are purchasing from. All funds received help with the continued maintenance of this website and free content. You can view it like leaving a tip. Thank you! Read our full terms and conditions here.