FTC Disclosure: Delicious Obsessions may receive comissions from purchases made through links in this article. As an Amazon Associate I earn from qualifying purchases.Read our full terms and conditions here.

I know it's getting into spring and who wants to think about hot soup or stock when the weather turns warm? But, making your own chicken stock is one of the best things you can do for yourself and your family. Broth is a  highly nourishing food and should be eaten all the time, not just when you're sick. A good batch of broth is good enough to drink by the glass – you don't even have to wait to make it into soup. It's economical and full of nutrition. Also, making a rich, flavorful stock is somewhat of a lost art form in today's modern world.
Stock is so nutritious because it contains minerals from cartilage, bone marrow, and vegetables in an electrolyte form, which makes them very easy to absorb and be used by your body. Throughout the centuries, stock has been a remedy for what ails you and modern studies have shown that stock does indeed help prevent and heal infection. Also, properly made stock with good ingredients should contain a high level of gelatin, which is an important digestion aid. Gelatin isn't a complete protein, but it contains the amino acids arginine and glycine, which help the body metabolize the protein you eat.
If you want to learn more about gelatin and its benefits for our health, I highly recommend this book, The Gelatin Secret: The Surprising Supergood That Transforms Your Health and Beauty, from my affiliate partner, Sylvie McCracken. This book is packed with incredible information on how gelatin helps all aspects of our health and also features delicious recipes!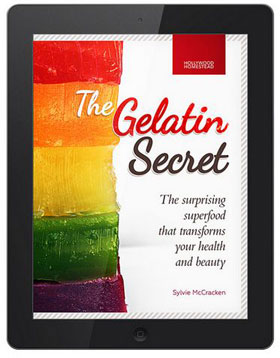 Stock Making Tips
When it comes to recipes, you really can just throw your ingredients in a pot and let it cook. However, there are a few tips that make it easier.
1. Keep a Ziploc bag or a container in your freezer and add all of your celery, onion, and carrot scraps in there. I keep one container for the veggie scraps and one container for chicken bones and scraps. Then, when I've collected enough for a batch of stock, I typically don't have to buy anything, except maybe some fresh parsley.
2. Always remember to let the bones soak in filtered water and some apple cider vinegar for at least one hour before starting your broth. The vinegar helps leach minerals from the bones and make them more accessible in the broth.
3. When you bring your stock to a boil, always skim off any foam that rises to the top. These are impurities that you need to get rid of.
4. Once it has boiled out the impurities, reduce the heat and simmer for as long as possible. I like to do a minimum of 8 hours, but if you can get up to 24 hours, that's even better. Note: You can also use your crockpot, which I seem to prefer. I find the flavor is better than on the stove top, plus, you don't have to worry about keeping the stove on all day and night! I just keep my crockpot on low and it comes to a very gentle simmer, but not a hard boil.
5. After the stock has cooled, a layer of fat will rise to the top. DON'T throw this away! It's good for you. Skim it off and store in an airtight container in the fridge or freezer. You can use it in all sorts of things from frying food to mashed potatoes and more. Some people say that the fat goes bad if heated too high, but I personally have not experienced that. If you don't want to save it, you could certainly just skim it off and throw it out.
As many of you know, I rarely follow recipes when I'm in the kitchen. That is one thing that has been hard for me to change when I'm cooking – I am constantly reminding myself that I have to slow down and measure. I can't tell you how many recipes I've created in excitement to post on the blog, only to realize I never wrote down the recipe. I am getting much better at that!
Here is the basic recipe from Sally Fallon's Nourishing Traditions (affiliate link). Pretty much all chicken stock recipes are going to be the same. This is the one I recommend.
Nourishing Traditions Chicken Stock
1 whole free-range chicken or 2-3 pounds of bony chicken parts (necks, backs, breastbones, wings, or other chix scraps)
gizzards from one chicken (optional)
feet from one chicken (optional)
1 gallon cold filtered water
2 tablespoons vinegar
1 large onion, roughly chopped
2 carrots, peeled and roughly chopped
3 sticks of celery, roughly chopped
1 bunch parsley
If you are using the whole chicken, cut off the wings and remove the neck, fat glands and gizzards from the cavity. By all means, use the chicken feet if you can find them. They are full of gelatin. If you can find it, use a whole chicken, with the head intact. You can sometimes find these in Oriental markets, but make sure you look for farm-raised, free-range birds for the best nutrition.
Cut the chicken parts into pieces – if you're using a whole chicken, cut off the wings and the neck and cut those down. Put the chicken and/or chicken pieces in a large stainless steel stock pot and cover with the water, vinegar, and veggies (minus the parsley). Let the mixture stand for 30-60 minutes. This is supposed to help bring out the most minerals. Bring to a boil and skim off any foam that rises to the top. Once you have that all skimmed, reduce the heat and cook (covered) for 6 hours to 24 hours. The longer the better – it will yield a much richer stock. About 10 minutes before the stock is done, add the parsley. The parsley is important because it adds mineral ions to the broth.
Let the broth cool slightly and then remove the chicken pieces with a slotted spoon or tongs. If you used a whole chicken, make sure you save the meat for casseroles or soup. The skin and small bones will be soft enough that you can feed them to your cat or dog without any harm. Strain the stock into another bowl and stick it in the fridge until the broth congeals and the fat rises to the top. Skim off the fat and reserve it for future projects.
NOTE: My new favorite way to make bone broth is using an Instant Pot. You can learn more about the Instant Pot in my thorough review here or find them on Amazon if you are interested in snagging one (sometimes they have some amazing deals!). Learn more about making bone broth in an Instant Pot or pressure cooker here.

Delicious Obsessions is a participant in the Amazon Services LLC Associates Program, an affiliate advertising program designed to provide a means for us to earn fees by linking to Amazon.com and affiliated sites.Read our full terms and conditions here.