FTC Disclosure: This post contains affiliate links which means if you make a purchase through one of these links, I may earn a small commission on your sale which allows me to cover a portion of the cost of running the Delicious Obsessions site and free content we provide every week. This has no effect on your price and is simply a cost of doing business from the company you purchase from. I only recommend products or services that I have personally tried and love. You can view it like leaving a tip. Thank you for your support!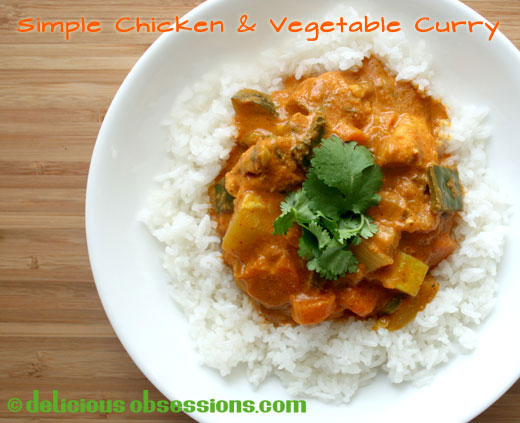 I love curry, but have never been satisfied with the curry dishes that I'd make at home. None of them tasted quite right. Turns out, it was the curry blends that I have been using. I thought I was destined for sub-par curry until I got my sister's curry blend recipe. Now, I feel like I make curry dishes at home that taste like my favorite local Nepalese, Indian, and Tibetan restaurant, Yak and Yeti.
You can use whatever curry blend you want in this dish. That's the awesome thing about curries — you can make them to whatever suits your taste buds! The addition of coconut milk soothes some of the heat and gives a richness and depth to the sauce. This makes a BIG batch of curry, so you could halve the recipe if you'd like. I make big batches and stick them in the freezer for easy meals. Also, depending on what's in season, you could switch out any of the vegetables to fit what you have available.
P.S. I don't normally eat white rice. As a matter of fact, I always feel like I'm doing something bad when I do eat white rice. On this occasion, I was sampling one of my affiliate partner, Tropical Traditions' new varieties of rice — organic Mekong Flower Rice. It has great flavor and texture, provided you don't overcook it. They have a brown variety of this rice as well.
Simple Chicken Vegetable Curry
I have linked to the products from my affiliate partners that I personally use and recommend.
serves 4-6 
Ingredients
1 sweet onion, chopped coarsely
1 zucchini, chopped into bite size pieces
1 yellow squash, chopped into bite size pieces
2 poblano peppers, chopped into bite size pieces
2 cloves garlic, minced
4 carrots, chopped into bite size pieces
1 pound chicken, cut of your choice (ground, breast, dark meat, shredded)
24 ounces

strained tomatoes

or tomato sauce
1 can full-fat coconut milk (or use

homemade

)
2 tbsp. curry powder (see my

curry powder blend recipe here

)
3/4 tsp. sea salt
1 cup chopped cilantro
1 cup chopped parsley
Pinch of red pepper flakes (optional, depending on how spicy you like your curry)
Rice or quinoa for serving (optional) (for rice, I prefer Lundberg, as they are very knowledgable about the arsenic issue with rice and regularly test their products.)
lots of

coconut oil

for cooking
Instructions
1. Wash and chop all of your veggies and set aside.
2. In a large frying pan, heat a couple tablespoons of coconut oil and brown the chicken over medium-high heat.
3. Once the chicken is browned, add the peppers, carrots, onion, and garlic to the pan. Saute until browned. You might need to add some more coconut oil.
4. Next, add the zucchini and squash to the pan and stir around until mixed in with the chicken and browned veggies. Add more coconut oil if anything starts to stick.
5. Reduce the heat to medium low and add the strained tomatoes, coconut milk, curry powder, and salt and stir to combine.
6. Cover with a lid and bring curry to a gentle simmer. Reduce heat to low.
7. Let curry simmer until all of the veggies are done, approx. 20-30 minutes. I like to add the cilantro and parsley in about 5 minutes before I turn off the heat.
8. Remove from heat and taste for salt. Add more if needed. Serve alone, or over your choice of rice or quinoa if you do grains. The curry freezes wonderfully!
Paid Endorsement Disclosure: Delicious Obsessions is a participant in the Amazon Services LLC Associates Program, an affiliate advertising program designed to provide a means for sites to earn advertising fees by advertising and linking to AMAZON.COM. This post may contain affiliate links and/or ads. We only recommend products or services that we have personally tried and love. When you make a purchase through any of these links, we earn a small commission on each sale, which allows us to cover a portion of the cost of this site. This has no effect on your sale price and is simply a cost of doing business for the company you are purchasing from. All funds received help with the continued maintenance of this website and free content. You can view it like leaving a tip. Thank you! Read our full terms and conditions here.

Jessica is a real food wellness educator and the founder of the Delicious Obsessions website. She has had a life-long passion for food and being in the kitchen is where she is the happiest. She began helping her mother cook and bake around the age of three and she's been in the kitchen ever since, including working in a restaurant in her hometown for almost a decade, where she worked every position before finally becoming the lead chef. Jessica started Delicious Obsessions in 2010 as a way to help share her love for food and cooking. Since then, it has grown into a trusted online resource with a vibrant community of people learning to live healthy, happy lives through real food and natural living.