FTC Disclosure: Delicious Obsessions may receive comissions from purchases made through links in this article. As an Amazon Associate I earn from qualifying purchases.Read our full terms and conditions here.

I recently had the honor of reviewing one of KitchenAid's amazing food processors. This was perfect timing, because the food processor that I was using was on its last legs and just could not hold up to the demands that I required of it. I require a lot of my food processors. I use it all the time, whether it's shredding cheese, slicing veggies, or whipping up a batch of Almond Butter Protein Snacks or Chocolate Energy Bars.
I typically use my food processor a few times a week, but I do go through stretches where I use it daily. The cheap brands just can't hold up to the constant work! Because we have been on a tight budget over the last few years, I have been purchasing the cheaper food processors (think $30ish). In the last three years, I have been through three food processors. Not a good track record! This is a perfect lesson in "you get what you pay for".
So, the hard lesson learned is that when you are going to buy a kitchen appliance, especially when you do as much cooking as I do, then it pays to invest the money in a quality product from a brand with a proven track record, even if you have to save up for a little while. I have used KitchenAid appliances for years in my kitchen, as has my family, so I don't know why I didn't just go with a trusted brand. That's my fault for only looking only at cost, rather than cost and value!
The model that I was given to review was the KitchenAid 13-cup Food Processor with ExactSlice™ System, Model KFP1333. Thank you KitchenAid for the opportunity to review it!
DISCLOSURE: I was provided with a sample of this product at no charge. I was under no obligation to post a review or giveaway, nor did I receive any monetary compensation for this post. All views and opinions expressed are my own. This post contains affiliate links and/or ads. I only recommend products or services that I have personally tried and love. When you make a purchase through any of these links, I earn a small commission on each sale. This has no effect on your sale price and is simply a cost of doing business for the company you are purchasing from. Read our full terms and conditions here.
KitchenAid Food Processor Features
Where to start?
Well, the first thing I will say about this food processor is that it is beautiful. I received the red one for review and it matches my fantastic KitchenAid stand mixer, which, as you know, is critical to proper kitchen functioning! 😉
All kidding aside, the first thing that stood out to me as I was unpacking it, was that it comes with many more gadgets than I have ever seen with a food processor. Here is what the package came with:
Heavy duty processor base (for as big as it is, it's not as heavy as you'd expect)
BPA-free 13-cup bowl (with 3-in-1 Ultra Wide Mouth™ Feed Tube)
BPA-free 4-cup mini bowl
Adjustable slicing disk (so you can vary the thickness of the items you're slicing)
Reversible shredding disk (with two shred thicknesses)
Multipurpose processor blade
Mini processor blade (to use with the 4-cup bowl)
Dough blade
Storage case for all the accessories
This food processor has the first EVER and ONLY externally adjustable slicing feature. You can choose the thickness of your slices, by using the easy-to-reach lever on the front of the processor. It's nice to have options!
The appliance also features the ONLY 3-in-1 Ultra Wide Mouth™ Feed Tube. This is probably one of the best features of this product. It allows you three different widths for processing a wide variety of foods.
There are three speeds – "Low", "High", and "Pulse". Most food processors only have "Pulse" and "On" options. The extra choices for speed really help you control the results of your end product. Also, the lid features their UltraTight™ Seal that has a leak resistant ring and locking system to help prevent leaks and spills.
The KitchenAid 13-Cup Food Processor with ExactSlice™ System is available in Contour Silver, Empire Red, Onyx Black, and White.
Here's a photo of the whole system (please excuse all the other clutter on my counter!).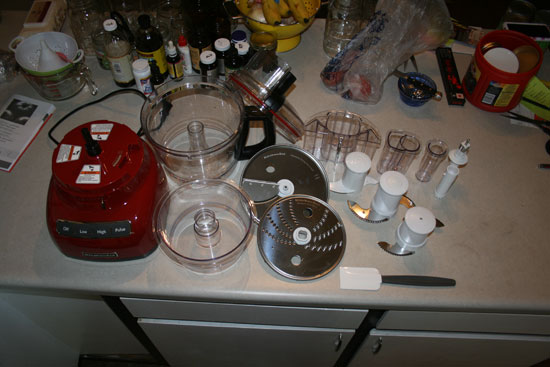 KitchenAid Food Processor Features – My Thoughts On the Product and Accessories
OK. Just as a side note, I actually had to read the user manual to figure out how everything worked! I have never had to do that before, but there were so many options that I actually need to crack the booklet open!
First, a storage case? Why yes, a storage case! Do you know how awesome that is? No longer are my food processor accessories scattered around my kitchen cupboards and drawers. Now, they're in one easy-to-find location. Plus, I know having everything tucked away in a case will help preserve the quality of the parts as well.
Second, two work bowls? This is awesome! Many times I am using my food processor for several different things at the same time and this gives me some options without having to wash the bowl every time I want to shred or slice something new.
Third, an adjustable slicing disk? Awesome! All of my past food processors have had one-size-fits all. If I wanted anything other than medium slices, then I had to do it by hand. There was no option for thin or thick. But, now, I have that option! Also, I love the reversible shredding disk with two shred sizes. Again, all of my past food processor accessories have only had one shred size. Now, I can shred up the big blocks of cheese that I get from Costco into whatever shred size suits my fancy that day! I like the regular size shreds for my cheddar and the thin shreds for my Parmesan. I love having the option!
Fifth, the processor blades are S-H-A-R-P. When I first got the processor and was washing everything by hand, I sliced open the tip of my thumb on one of the blades. Just to give you an idea of how sharp it was, I didn't even feel myself get cut until I looked down and saw blood. Back in the restaurant biz, we always used to say that you could determine the quality of your knives by how much pain you had when you cut yourself. There was none, so I dub these blades high quality! There is no comparison between these KitchenAid blades and the blades of my old food processor. The blade on my old processor is so dull that it barely chops up tomatoes! And yes, I'll save you from seeing a picture of my finger! 🙂
KitchenAid Food Processor – Things I Think Are Important
So, now that I have discussed the features of the food processor, I wanted to share some of the things that stood out to me as I used it in my kitchen.
First and foremost, the food processor lid features the UltraTight™ Seal around the edge and I noticed it would stick when I was trying to twist the lid on and off. I quickly remedied that problem by rubbing a little coconut oil around the edge of the lid. Once I did that, the lid twisted on and off as smooth as butter, er, coconut oil. 😉
Second, I just love having the three different sized mouth options. Not only can I slice a cucumber into perfectly even slices (thick or thin, depending on what I adjust the blade to), but I can also slice whole tomatoes and even a whole bell pepper! No more slicing veggies by hand. I think this food processor has single-handedly eliminated the need for me to spend much, if any, time slicing veggies by hand.
Third, the speed and efficiency of the processor. My old processor was sluggish. Small motor and dull blades. Shredding cheese was a nightmare, because sometimes the blade would shift and get all askew, creating a horrible sound and getting cheese stuck all over the blade and lid. When I shredded a block of cheese in this processor, I felt like it took half the time it normally would, just because the blades turned faster and were much, much sharper. When I sliced a cucumber, I only had to hit the pulse button twice for the whole cucumber to be sliced. Amazing!
This food processor makes my old food processor seem tiny. This picture doesn't do the comparison justice, but my old food processor is a 7-cup and the new one is a 13-cup. Almost double the size!
All in all, I am so pleased with this KitchenAid food processor. I know that it is going to make my kitchen prep so much easier and I am looking forward to seeing how it holds up to the test of time. I'm sure it will still be here years down the road!
Again, a big THANK YOU to KitchenAid for allowing me to review this small kitchen appliance!
What is your favorite kitchen appliance? Do you have something that you simply can't live without? If so, leave me a comment below!
UPDATE October 2012: Because I want my review to be completely honest, I wanted to let you know that I did have one problem with the food processor. I was making a batch of these delicious muffins when the blade got stuck in the bowl. Because the blade was stuck in the bowl, the bowl was then stuck to the motor base. My husband and I tried EVERYTHING to get that blade out, to no avail. I finally contacted KitchenAid's customer service and after a few troubleshooting emails back and forth, they decided to send me a replacement, because nothing we tried would work at loosening the blade. Their customer service was excellent and I was quite pleased with their responses and timeliness. I quickly received my new processor and shipped the old one back to them (they provided the pre-paid label). So far, I have not had any further problems with the blade getting stuck (knock on wood). I am still quite pleased with it and use it all the time! I consider what happened to me a fluke, because I Googled that issue and found very little info on it, so I don't think it happens regularly.
UPDATE May 2013: I am still very happy with this food processor. I have not had any further problems with it, since the issue last year of the blade getting stuck.
UPDATE February 2016: This food processor is almost four years old (I cannot believe how time flies) and I still love it. I use it regularly and everything is still working great, though things are showing some wear. The blades have held up nicely and are still quite sharp. All in all, I have been very pleased with this product.

Delicious Obsessions is a participant in the Amazon Services LLC Associates Program, an affiliate advertising program designed to provide a means for us to earn fees by linking to Amazon.com and affiliated sites.Read our full terms and conditions here.