FTC Disclosure: Delicious Obsessions may receive comissions from purchases made through links in this article. As an Amazon Associate I earn from qualifying purchases.Read our full terms and conditions here.

Today, I am thrilled to have a guest post by my friend, Amanda Rose. Amanda is what I consider a traditional foods and nourishing foods guru. She is a published author and she, along with her mother, writes and maintains the Traditional Foods website, which helps people like you and me keep traditional foods easy and realistic. In addition, Amanda has a number of other websites covering topics from nutritional healing for depression, to an iron rich foods database, to a phytic acid guide. Her expertise makes her one of the leaders in her field. Today, Amanda is writing about bone broth, which is one of the most nutritionally dense foods we can consume, yet we often don't take advantage of this powerhouse of nutrition. But, there is no time like today to make a commitment to bone broth. Thanksgiving is just a couple days away and you will most likely have turkey bones leftover from the big meal. What are your plans for those bones? Amanda shows you just how easy it is to make homemade turkey broth and soup. Enjoy!
My favorite way to make bone broth is using an Instant Pot. You can learn more about the Instant Pot in my thorough review here or find them on Amazon if you are interesting in snagging one (sometimes they have some amazing deals!). Learn more about making bone broth in an Instant Pot or pressure cooker here.
Turkey Leftovers: Bone Broth Soup
Do not miss your opportunity this Thanksgiving season to enjoy a rich bone broth made from your leftover turkey carcass. Even if you are visiting family and not preparing the turkey yourself, be bold and ask if anyone will be using the left-over carcass. Thanksgiving cooks are typically so exhausted that they will not consider making yet another dish. Take the carcass off their hands and put it to use.
Making a turkey broth is basically the same as making a chicken broth or any sort of bone broth for that matter. The basics are these:
Place the turkey carcass in a crock pot or stew pot.
Add vegetables if you have them, avoiding vegetables that may impart a bitterness to your broth: broccoli, turnip peels, cabbage (and related foods such as brussel sprouts), green peppers, collard greens, and mustard greens.
Cover the carcass and vegetables completely with water. The water level should be an inch or two above the ingredients.
Add two tablespoons of vinegar.
Simmer on low for 24 hours.
Strain the broth into a soup pot and make a soup.
Cover the bones with more water, add more vinegar, and let them simmer again for another 24 hours. Make more soup.
You can be adventuresome and get three or four batches of broth out of your turkey carcass, until the bones literally disintegrate. With larger beef bones, we once got 12 days of gelatin broth from one batch of bones. Check out my bone broth resource for more on that adventure.
Do not underestimate the nourishment that may remain in your bones.
As for the leftover turkey meat itself, do not waste it in the bone broth. Set it aside and use the meat in the soup you are about to make.
For soup ideas, explore the Internet for great chicken soup recipes. The flavors will be similar and chicken recipes are far more abundant. Start with Jessica's soups that call for chicken broth:
My own mother offers you some other options:
Enjoy your Thanksgiving holiday with your family, if you are lucky enough to do so, and do not miss your chance to get that extra bit of nourishment out of your turkey feast.
P.S. Did you know that soups and stews are an EXCELLENT source of gelatin if you use homemade stock? Sometimes, I even add a tablespoon or so of gelatin into my bowl of soup for added nutrition. If you want to learn more about gelatin and its benefits for our health, I highly recommend this book, The Gelatin Secret: The Surprising Superfood That Transforms Your Health and Beauty, from my affiliate partner, Sylvie McCracken. This book is packed with incredible information on how gelatin helps all aspects of our health and also features delicious recipes!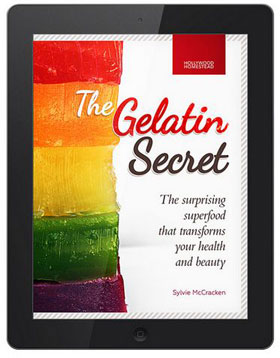 Amanda Rose writes at the Traditional Foods website. Find her free video course on broth- and soup-making on Facebook. You can also connect with her on Twitter.

Delicious Obsessions is a participant in the Amazon Services LLC Associates Program, an affiliate advertising program designed to provide a means for us to earn fees by linking to Amazon.com and affiliated sites.Read our full terms and conditions here.