FTC Disclosure: Delicious Obsessions may receive comissions from purchases made through links in this article. As an Amazon Associate I earn from qualifying purchases.Read our full terms and conditions here.

If you're looking for a delightfully fresh and crunchy salad, look no further than this Fennel and Apple Slaw. This crisp salad is so easy to whip up with only a handful of simple ingredients. It tastes great with just about any main dish and it packs well so you can take it to picnics, potlucks, or any other gathering where food is involved.
Fennel is not a vegetable that I grew up eating. As a matter of fact, I don't remember ever having it prior to my 30s when I one day decided to pick one up at the store and try it. That was when I was trying to be more adventurous with veggies and really increase my daily intake.
I really didn't know what to do with it at the time so I just ate some of it raw and then used the rest to make my fennel, apple, and ginger pie. I have no idea what inspired me to make a pie with it, but I'm so glad I did because it is one of my favorite ways to eat it now! Despite people thinking that the flavor combination is a bit weird, everyone who tries it falls in love just like I did. Trust me, you should try it!
But I digress.
This post is not about pie. It's about salad. And I'd have to say that this slaw is my second favorite way to eat fennel (after pie, of course).
The thing I love about this salad is its simplicity. It has so much bright, cheery flavor with just a handful of fresh ingredients. It's so easy to make and adds such freshness to any meal.
This is the perfect salad to make in the dead of winter when you're craving something bright and sunny. Or, it's the perfect salad to make in the middle of the summer when you want something cool and refreshing. And of course, it tastes great any other time of year too.
Fennel Nutrition
Believe it or not, fennel is actually packed with some good things. Outside of fiber, fennel is also a great source of:
Potassium
Vitamin A
Calcium
Vitamin C
Magnesium
In addition, you'll also find trace amounts of:
Copper
Selenium
Niacin
Phosphorus
Zinc
Folate
Choline
Lutein
and several other vitamins and minerals (source)
Tips for Selecting and Using Fennel
Fennel is one of those veggies that many people have never tried. Almost every grocery store is going to carry it and I'll bet you've seen it in the produce department many times before. If you're ready to give it a try, here are a few tips for selecting a fresh fennel bulb:
Select small to medium-size bulbs that are firm and heavy.
Make sure the fronds (the stems and fern-like ends) are bright green and healthy-looking.
Inspect the bulbs and make sure they are free of soft spots, cracks, discoloration, and other damage.
Fennel can be used in so many different ways. It can be eaten raw or cooked. It goes great in both sweet and savory dishes. If you want to come experiment further after this recipe, try adding it to soups, stress, stir-frys, or other salads. You can also just saute it up in some butter with salt and pepper and it tastes amazing all on its own.
This recipe is so simple and delicious! I can't wait for you to try it! 🙂
Fennel and Apple Slaw
If you're looking for a delightfully fresh and crunchy salad, look no further than this Fennel and Apple Slaw. This crisp salad is so easy to whip up with only a handful of simple ingredients. It tastes great with just about any main dish and it packs well so you can take it to picnics, potlucks, or any other gathering where food is involved.
Ingredients
2 apples
1 bulb fennel
¼ cup chopped parsley
½ small red onion thinly sliced
juice of one lemon
3 tbsp extra virgin olive oil (more or less depending on how much dressing you like)
¼ tsp salt
⅛ tsp ground black pepper
¼ cup to ½ cup toasted walnuts (optional, but delicious)
Instructions
1. Slice, shred, or chop your apples, fennel, and onion and place in a large bowl. I prefer to slice mine into thin matchsticks but you can do whatever is easiest!
Chop your parsley and add to the bowl.
Add the juice of one lemon, the extra virgin olive oil, salt, and pepper and toss to combine.
If you are serving right away, go ahead and add the walnuts. If you are making in advance, leave the walnuts out and toss them in right before serving to keep them from getting soggy.
Recommended Products
As an Amazon Associate and member of other affiliate programs, I may earn a small commission from qualifying purchases.
Nutrition Information:
Yield:

4
Serving Size:

1
Amount Per Serving:
Calories:

69
Total Fat:

1g
Saturated Fat:

0g
Trans Fat:

0g
Unsaturated Fat:

1g
Cholesterol:

0mg
Sodium:

206mg
Carbohydrates:

16g
Fiber:

3g
Sugar:

11g
Protein:

1g
IMPORTANT! PLEASE READ!!! This website provides approximate nutrition information for convenience and as a courtesy only. Nutrition data is gathered from Nutritionix and we often find their calculations to be slightly inaccurate based on the whole food ingredients we use on this site. Nutrition information can vary for a recipe based on many factors. We strive to keep the information as accurate as possible, but make no warranties regarding its accuracy. We encourage readers to make their own calculations based on the actual ingredients used in your recipe, using your preferred nutrition calculator.
This Fennel and Apple Slaw Helps You Eat the Rainbow! (+ Special Coupon Code)
As you guys know, I am a huge fan of all things veggies. If there was just one single thing that I could tell people to do to improve their health, it would be to eat more vegetables. An increased intake of veggies helps boost your nutrition and your health in ways that you simply cannot achieve elsewhere. Science continues to explore and show how the antioxidants and phytonutrients in fruits and veggies can "talk" directly to our genes and help alter genetic expression. It's truly fascinating and I want to help you improve your health and your life with Nature's miracle "drug."
That's why I love sharing recipes like this (and all the other veggie recipes on this site) and also why I created my popular Eat the Rainbow eCourse. Most people know that vegetables are heath-packed powerhouses, but they simply do not feel they have the knowledge, time, or the ability to add more to their diet. I want to help change that and make eating vegetables easier and a heck of a lot more fun!
In the Eat the Rainbow eCourse, I show you how to do exactly that (and a ton more). This 30-day eCourse arms you with the skills and creativity you need to make vegetables a centerpiece in your diet — all in bite-sized nuggets that won't overwhelm or frustrate you. In order to really get the full spectrum of phytonutrients and antioxidants that vegetables provide, you need to eat a wide variety of types and colors (i.e. the rainbow), but so many people find themselves eating the same four or five veggies over and over and over again.
For a limited time, I am running a special on my Eat the Rainbow eCourse where you can enroll for 50% off. That means you can get a full 30 days of content + a bonus cookbook for only $10. This is a steal for one of the most important investments you can make for your health (eating more veggies).
Enroll in the Eat the Rainbow eCourse here (or click the image below) and enter coupon code VEGGIE at checkout to save 50%.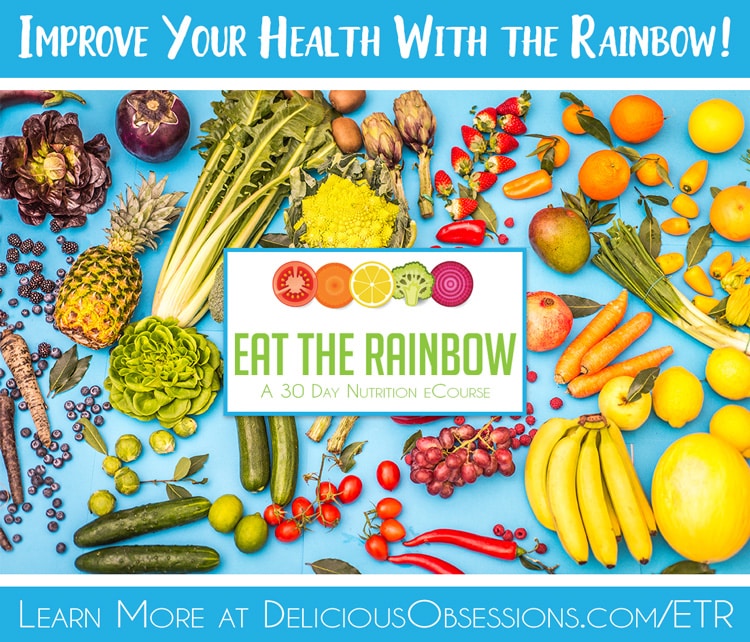 I can't wait to see you in the course and hear how your health improves once you start eating the rainbow!

Delicious Obsessions is a participant in the Amazon Services LLC Associates Program, an affiliate advertising program designed to provide a means for us to earn fees by linking to Amazon.com and affiliated sites.Read our full terms and conditions here.