FTC Disclosure: Delicious Obsessions may receive comissions from purchases made through links in this article. As an Amazon Associate I earn from qualifying purchases.Read our full terms and conditions here.

Editor's Note: Please welcome my friend Amy to the site today to share another great post! Make sure you stop by Amy's site to learn more about all things food and natural living!
October is breast cancer awareness month.
In addition to reaching out to those who have been affected by this horrible disease, I believe the best way to observe this month is to become more aware of how we can take charge of our own health, particularly breast health.
The easiest way we can take charge of our health and help support our breast health is through a clean, nutrient-dense, whole foods diet.
Most women have been brainwashed to believe that a low-fat or fat-free diet is the ticket to good health (and a slim figure). But increasingly, research is showing that nothing could be further from the truth.
In fact, in her book Know Your Fats, Mary Enig PhD, states that "high lauric acid-containing oils (such as coconut oil) prevent experimentally induced cancer."
Butter also contains lauric acid.
But wait, there's more!
Butter also contains selenium which is a key antioxidant and cancer preventer in addition to the fat-soluble vitamins A and D, which are high in antioxidants and both help protect against cancer.
And all the butter lovers said: AMEN!
So on the topic of breast health and cancer prevention, it's important to get plenty of good fat into your diet.
I like to start my day off with healthy fats first thing in the morning. Adding a little coconut oil to my smoothie or making this delicious hot buttered toffee "coffee" recipe are two of my favorite ways of doing this.
So, today, skip the toxic sugar bomb from the coffee shop and protect your breast (and overall) health with this delicious hot drink. It is also great for those with sensitivity to caffeine.
Delicious Obsessions Trusted Product Recommendations for Hot Buttered Toffee "Coffee"
I am always asked about my favorite ingredients and what I use in my own kitchen. I have linked to the products from my affiliate partners that I personally use and recommend. And now, here are the special coupon offers that select affiliate partners are currently offering:
Thrive Market: If you sign up through this link, you will get 15% OFF your first order.
Amazon, of course, has everything you need for this recipe. Their prices are often very good, though I love to shop around and sometimes find that Thrive Market has better deals. If you like saving money, it's good to shop around! 🙂
Hot Buttered Toffee "Coffee" :: Gluten-Free, Grain-Free, Dairy-Free Option, Refined Sugar-Free
Skip the sugar and chemical-laden drinks at your local coffee shop and whip up a healthy, low sugar treat in the comfort of your own home with this easy recipe!
Instructions
Set your water to boil on the stove.
Place cocoa brew and chicory in a glass jar or a French press.
Pour boiling water over and allow to steep for 5 - 8 minutes.
Meanwhile, add coconut oil, butter, and honey to the pitcher of your blender.
Either pour the liquid from your French press or use a wire mesh strainer to remove grounds as you add the liquid into your blender with the other ingredients.
Give it a quick whirl in your blender on high (about 15 seconds).
Pour into a coffee mug and enjoy!
Recommended Products
As an Amazon Associate and member of other affiliate programs, I may earn a small commission from qualifying purchases.
Nutrition Information:
Yield:

1
Serving Size:

1
Amount Per Serving:
Calories:

102
Total Fat:

12g
Saturated Fat:

7g
Trans Fat:

0g
Unsaturated Fat:

3g
Cholesterol:

31mg
Sodium:

101mg
Carbohydrates:

10g
Fiber:

4g
Sugar:

6g
Protein:

0g
This website provides approximate nutrition information for convenience and as a courtesy only. Nutrition data is gathered from Nutritionix and we often find their calculations to be slightly inaccurate based on the whole food ingredients we use on this site. Nutrition information can vary for a recipe based on many factors. We strive to keep the information as accurate as possible, but make no warranties regarding its accuracy. We encourage readers to make their own calculations based on the actual ingredients used in your recipe, using your preferred nutrition calculator.
Want to Make Your Own Gourmet Herbal Coffee Blends & Support Your Stress Response, Adrenals, Thyroid, and Whole Body Through Herbs?
When it comes to supporting overall wellness, herbs are a great tool to have in your toolkit, especially those who may be dealing with chronic illness of some type. Since 2009, when I started this site, I have met thousands upon thousands of people through my work and by far, the #1 health complaints are:
Because of this, I wanted to add in a section into this post about the benefit of using herbs with chronic illness. Adaptogens are by far one of the most used herbs when it comes to working with people who have low energy, fatigue, and overall imbalance in the endocrine system (thyroid, adrenals, and blood sugar).
While the benefits of adaptogenic herbs extend far beyond just supporting that one system, this tends to be one of the main reasons people turn to adaptogenic herbs in the first place. That said there are a lot of other herbs out there that offer amazing support for the body, especially those dealing with chronic illness which is why I wanted to share this section today.
If you are dealing with any type of chronic illness, I'm sorry to break it to you, but caffeine may not be your best friend. 🙁 While you can find lots of info online in both the pro- and the anti-coffee camps, the fact of the matter comes down to the fact that are a lot of people dealing with chronic illness, especially thyroid and adrenal problems, that simply cannot tolerate coffee and caffeine.
While those with sluggish adrenal glands tend to feel run down and in need of a regular pick-me-up (like coffee and other caffeinated beverages), in the long run, caffeine can do more harm than good while you are healing. I go into the "whys" around caffeine and your adrenals in this detailed post here. In addition to the caffeine, there are other constituents, molds, and mycotoxins that can show up in coffee that some people find they react to and can further exacerbate the toxic load on the body.
When I was diagnosed with autoimmune disease and adrenal fatigue, one of the first things that had to go was coffee. In addition to dealing with these issues, we suspected that I was having some detox pathway sluggishness so we wanted to also focus on supporting the liver and lymph systems. Most people who are dealing with chronic illness are also going to have issues with detoxification of the body, which is why herbs can play such an important role.
To be honest, I never drank coffee because of the caffeine. I drank coffee for the taste and aroma, as well as the emotional experience I felt to my morning cup of joe. For me, it was a ritual that I looked forward to every day (and sometimes multiple times a day). Whether I was brewing it at home or going to my local coffee shops, the experience was one that I clung to tightly.
But, when I was faced with new health struggles, I knew I had to do whatever I could to support my body and give it the tools it needed to heal. Giving up coffee and caffeine was one step in this direction.
And it sucked.
I turned to the coffee substitutes on the market in a desperate attempt to recreate the ritual I had grown so fond of, but nothing ever tasted the way I wanted it to. Nothing ever gave me that same experience that my cup of "real" coffee did. I knew there had to be something better, but I simply could not find it on my health food store's shelves.
Necessity is the mother of invention so that is why I created my own coffee substitutes. They were made with organic, sustainably harvested herbs with zero grains, zero gluten, and zero caffeine. Just herbs.
Herbs that not only tasted delicious but supported my body's function, like liver detox, bile production, digestion, etc. All of the herbs used in my "coffee" blends have been used for thousands of years to support the body's normal functions and help everything work a little better — something we all need in today's toxic world! (psst, dandelion is one of the herbs!)
When it came to creating these blends, if I could get something to not only tasted amazing (and helped me recreate my dearly loved ritual), but also did amazingly supportive things for my body, then it's a no brainer!
I sold these pre-made blends on Etsy for awhile and the demand was more than I could keep up with. People literally LOVED these blends and were stunned at how much like coffee they actually tasted. Customers who had been dealing with a variety of chronic illnesses had given up coffee to heal their bodies, but like me were deeply missing their morning cup of joe ritual.
After careful consideration and work with some highly experienced advisors, I decided to stop selling the pre-made blends and instead share my proprietary recipes in the form of an eBook. That way I could arm people with the knowledge and recipes they needed to make their own caffeine-free, gluten-free, grain-free blends in the comfort of their own home.
That is why I created the best-selling DIY Herbal Coffees eBook: A Complete Guide To Making Delicious Herbal Coffees to Support Healing & Stress Relief.
Now in its second edition, this ebook features:
All of my proprietary herbal blend recipes to you can craft a homemade herbal cup of "coffee" at home.
A ton of researched information about coffee's impact on the health of those dealing with issues like adrenal fatigue, blood sugar dysregulation, autoimmune disease, thyroid disease, and any other chronic illness.
Information about all of the herbs used, why I selected them, how to source them, how to prepare and store you "coffees", and much more.
Access to your own personal coffee shop where I show you how to recreate your favorite coffee shop drinks and pastries with wholesome, nourishing real food ingredients. No junk here. Only real food.
This book truly is a comprehensive guide to supporting your health, reducing your stress, and bringing a little something special back into your healing journey. You can learn more and download your own copy of this revolutionary wellness guide here, or simply click on the image below.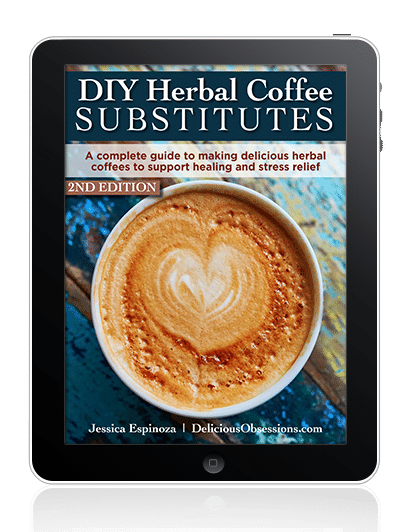 Delicious Obsessions is a participant in the Amazon Services LLC Associates Program, an affiliate advertising program designed to provide a means for us to earn fees by linking to Amazon.com and affiliated sites.Read our full terms and conditions here.