FTC Disclosure: Delicious Obsessions may receive comissions from purchases made through links in this article. Read our full terms and conditions here.

I love turmeric. It's one of my favorite herbs and I eat it in some form every day.
Both dried and fresh turmeric are great for you and provide a wide range of health benefits. Read all about the health benefits of turmeric here.
If you can find fresh turmeric, it's a real treat. The flavor is absolutely delicious (I think). I add it to soups, stews, stir-frys, and even juice it or add it to your smoothies. Look at your local Asian or Indian grocery stores for fresh. If you can't find it there, you may be able to find it online.
This idea for candied turmeric and turmeric syrup actually came from a reader who left a comment on my Facebook page asking if it was possible.
Well, I wasn't sure, but I decided I wanted to find out.
And oh boy, am I glad I did!
Not only is the candied turmeric delicious, but the syrup is amazing! It's so good that I like to just sip it off the spoon, but since I am trying to keep the sugar intake to a minimum, I fight the urge to do so. 🙂
You could use the syrup in stir-fry sauce (like teriyaki, orange chicken, etc.), but my new favorite way to use it is in my second water kefir ferment. YUM!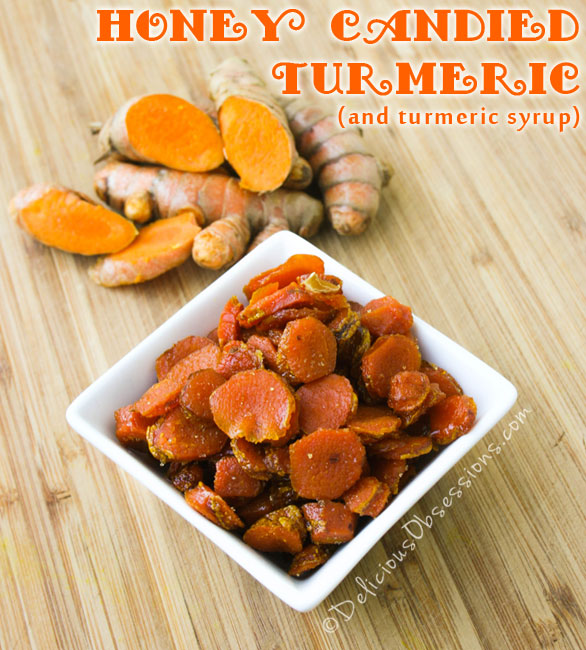 How to Make Candied Turmeric and Turmeric Syrup
Author:
Jessica Espinoza @ Delicious Obsessions
Ingredients
1 pound fresh turmeric
1½ cups honey
1½ cups filtered water
Instructions
Wash your turmeric and peel if desired. I personally don't peel it. I just scrub it really well.
Slice it very thin or chop into small chunks.
Place in a small saucepan and cover with the honey and water.
Bring to a simmer and reduce to low heat.
Cover and let simmer for 30 minutes.
Remove lid and let summer on low heat for another 30 minutes or until the turmeric is tender when you poke it with a fork. The syrup should also be reduced by about half.
Remove from heat and let cool.
Pour the mixture through a strainer and let the syrup completely drip off the turmeric pieces.
Once drained completely, spread the turmeric pieces out in a single layer on a wire rack or a sheet pan covered with wax paper. The wire rack works best if you have one.
Let the turmeric sit out for at least 12 hours or until it has started to dry. You could also use your dehydrator on low for about 8 hours if you prefer.
Transfer to an airtight container. I store mine in the fridge and it will keep for quite a long time.
Enjoy as a healthy little sweet treat, or come up with creative ways to incorporate it into your cooking or baking!
 Tell me, have you ever tried candied turmeric? Did you like it? Leave a comment below!

Delicious Obsessions is a participant in the Amazon Services LLC Associates Program, an affiliate advertising program designed to provide a means for us to earn fees by linking to Amazon.com and affiliated sites.Read our full terms and conditions here.