FTC Disclosure: Delicious Obsessions may receive comissions from purchases made through links in this article. As an Amazon Associate I earn from qualifying purchases.Read our full terms and conditions here.

This Creamy Coconut Green Chili Chicken Soup is the perfect way to warm up on a cold, blustery winter day. It's also great if you're feeling a little under the weather, as it is jam-packed with nourishing ingredients to help fight off those bugs.
The rich, creamy coconut broth is the perfect compliment to tender chicken and mildly spicy green chilies. The soup packs a very subtle punch of heat, but nothing overwhelming. Just make sure you use MILD green chilies and not HOT! Not that I know anything about that…
I really love soup and usually make a batch of some sort of soup every week. I eat soup for lunch daily. It's an easy way to eat a lot of vegetables and get the gut-healing benefit of bone broth, which is something we all need. In addition, I especially love soup recipes that I can make in the slow cooker. I love being able to toss a bunch of ingredients in one pot and then I can set it and forget it. Before I know it, I have a healthy, nourishing meal ready to go. It really doesn't get much better than that, eh?
This soup does freeze well, so if you wanted to double the recipe and save some for a later date, it would re-heat wonderfully. If you can tolerate dairy, you could use heavy cream in place of the coconut milk, but you would miss out on some of the rich flavor that the coconut brings to the soup.
Delicious Obsessions Trusted Product Recommendations
I am always asked about my favorite ingredients and what I use in my own kitchen. I have linked to the products from my affiliate partners that I personally use and recommend. And now, here are the special coupon offers that select affiliate partners are currently offering:
Thrive Market: If you sign up through this link, you will get 15% OFF your first order.
Amazon, of course, has everything you need for this recipe. Their prices are often very good, though I love to shop around and sometimes find that Thrive Market has better deals. If you like saving money, it's good to shop around! 🙂
I get all of my herbs and spices from Mountain Rose Herbs. I have tried so many other brands and have never found the quality, flavor, and aroma to be as good as the herbs I get from Mountain Rose.
P.S. Did you know that soups and stews are an EXCELLENT source of gelatin if you use homemade stock? Sometimes, I even add a tablespoon or so of gelatin into my bowl of soup for added nutrition. If you want to learn more about gelatin and its benefits for our health, I highly recommend this book, The Gelatin Secret: The Surprising Superfood That Transforms Your Health and Beauty, from my affiliate partner, Sylvie McCracken. This book is packed with incredible information on how gelatin helps all aspects of our health and also features delicious recipes!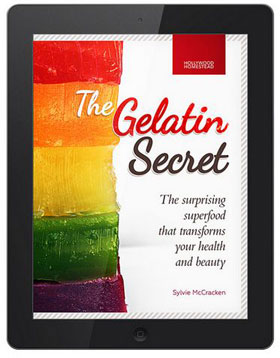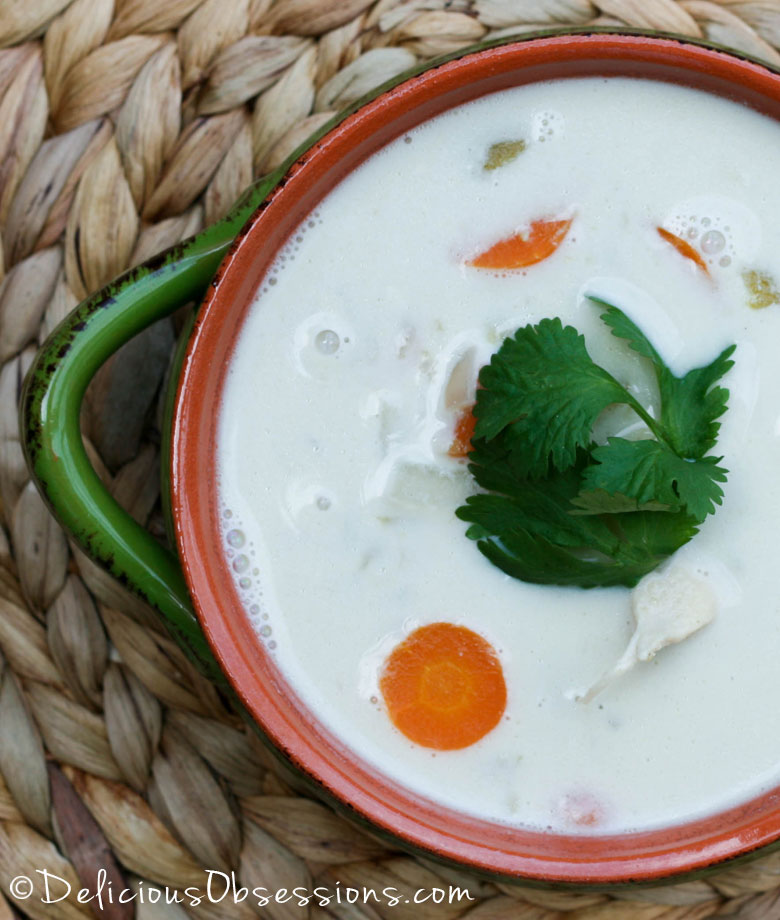 Coconut Green Chili Chicken Soup :: Dairy-Free, Gluten-Free, Grain-Free, Low-Carb
I have linked to the products from my affiliate partners that I personally use and recommend. If you purchase through one of these links, I may earn a small commission.
Author:
Jessica Espinoza @ Delicious Obsessions
Instructions
Dice your chicken into bite-sized pieces and place in crock-pot.
Dice your onion and carrots and add to chicken.
Add the diced green chilies, chicken stock, garlic, salt, cumin, coriander, and black pepper to crock pot.
Stir until well combined.
Cover and cook on low for 5 hours.
About 10 minutes before serving, stir in your coconut milk or cream and the coconut flour. The coconut flour will help thicken the soup just a little.
Taste for salt and adjust as needed.
Garnish with fresh cilantro and a splash of lime juice.

Delicious Obsessions is a participant in the Amazon Services LLC Associates Program, an affiliate advertising program designed to provide a means for us to earn fees by linking to Amazon.com and affiliated sites.Read our full terms and conditions here.