FTC Disclosure: Delicious Obsessions may receive comissions from purchases made through links in this article. As an Amazon Associate I earn from qualifying purchases.Read our full terms and conditions here.

Another simple, yet elegant side dish, especially if you can find actual baby carrots (not the fake baby carrots from the grocery store, though those will work too!). Actual baby carrots look like regular carrots (with the tops still on), but they are much smaller. You can often find them at your local farmers markets and sometimes a regular grocery store.
These are a great side dish for any summer meal. The roasting process concentrates the natural sugars and sweetness and also brings out that "browned" flavor that we all love. This side dish is so easy to make and will certainly look like a fancy restaurant-style dish.
Happy eating!
Roasted Baby Carrots With Herbs, Sea Salt, and Butter
I have linked to the products from my affiliate partners that I personally use and recommend.
Ingredients
1 bunch fresh baby carrots
1 tablespoon tarragon (dried or fresh)
1/2 teaspoon thyme (dried or fresh)
1/4 cup melted pasture butter (use coconut oil for dairy free or autoimmune)
Sea salt to taste (I love this Maldon flake sea salt for this recipe)
Instructions
Wash the baby carrots and dry completely.
Trim the tops off, leaving just a teeny bit of the greens on there (see picture).
In a large bowl, combine the carrots butter, tarragon, and sea salt and mix until the carrots are completely covered.
Pour onto the cookie sheet and spread in a single layer.
Bake at 400 for 15-20 minutes, or until the carrots are tender, but still slightly firm.
Serve topped with melted butter (ahhh…for the love of butter!) 🙂
Real Food 101 + Companion Cookbook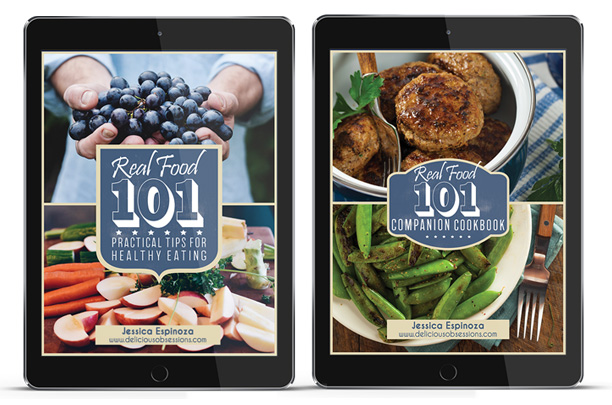 This Roasted Young Carrots recipe is just one of the amazing recipes in my newest book, The Real Food 101 Companion Cookbook! The Real Food 101 Companion Cookbook is your comprehensive guide to delicious, Real Food recipes that are easy to prepare and won't break the bank.
Created as a companion to our popular Real Food 101: Practical Tips for Healthy Eating eBook, this cookbook helps support our mission of helping people eat better and live better.
True health can only come through a solid foundation of good nutrition.
This cookbook is perfect on its own or to complement the practical wisdom in Real Food 101: Practical Tips for Healthy Eating eBook. If you're already familiar with real food and are just looking for some delicious, kitchen-tested recipes to help you stay the course, then The Real Food 101 Companion Cookbook is for you.

Delicious Obsessions is a participant in the Amazon Services LLC Associates Program, an affiliate advertising program designed to provide a means for us to earn fees by linking to Amazon.com and affiliated sites.Read our full terms and conditions here.