FTC Disclosure: Delicious Obsessions may receive comissions from purchases made through links in this article. As an Amazon Associate I earn from qualifying purchases.Read our full terms and conditions here.

Is there anything better than a big pot of soup simmering on the stove? Soup is a wonderful food. It can be a simple or complex as you want it to be. It is one of those dishes that you really don't need a recipe for – you can make soup out of just about anything. And, the longer it simmers, the better it tastes. As a matter of fact, homemade soup tastes better the next day than it does the day it's made!
Another reason that soup is so wonderful is that it can be a low calorie food. It can be hearty and filling without totally derailing your calorie count (if you count calories). If you are trying to lose weight, or just trying to eat more vegetables, then a big bowl of vegetable soup is just what the doctor ordered.
Because it's such a versatile food, I'm going to outline the basic building blocks for you, but then let you run with it. Make it your own … soup is very forgiving. As my mother always says, "If you start with good ingredients, then it will turn out good!" If you have leftover veggies, chicken, steak, potatoes, etc, this is another great place to use them up! I often keep a Ziploc bag in the freezer to collect little remnants of stuff that I can later use in the soup pot. It's a great way to ensure that nothing goes to waste!
Basic Chicken and Vegetable Soup
Ingredients
1# chicken (ground, breasts, or whatever you have on hand)
1 large Vidalia onion, cut into bite size pieces
3 cloves garlic, minced
10 sweet peppers, cut into bite size pieces (the small ones that come in red, orange, and yellow)
5 stalks of celery, cut into bite size pieces
5 carrots, cut into bite size pieces
5 organic Yukon gold potatoes, cut into bite size pieces
8 ounces fresh chopped mushrooms (optional)
2 cans of organic diced tomatoes (you can also use fresh or frozen tomatoes if you have them)
1.5 quarts of chicken stock (if you use store bought, make sure it's low-sodium)
2 bay leaves
1 tablespoon all purpose seasoning
1 tablespoon blackening seasoning
1/2 teaspoon dried or fresh thyme
Several large sprigs of parsley
Instructions
Sauté the onions and chicken together in a large soup pot, adding the garlic and chopped peppers once the chicken is about 3/4 cooked.
Cook together for about five minutes – cover the pot to keep the steam in.
Add in the rest of the ingredients and turn down on low.
Keep the pot covered let simmer until the veggies are cooked through.
Taste the broth after about an hour and adjust seasoning as needed.
You can add whatever seasoning you want. The standard soup seasonings are garlic, salt, pepper, thyme, and bay leaves.
P.S. Did you know that soups and stews are an EXCELLENT source of gelatin if you use homemade stock? Sometimes, I even add a tablespoon or so of gelatin into my bowl of soup for added nutrition. If you want to learn more about gelatin and its benefits for our health, I highly recommend this book, The Gelatin Secret: The Surprising Superfood That Transforms Your Health and Beauty, from my affiliate partner, Sylvie McCracken. This book is packed with incredible information on how gelatin helps all aspects of our health and also features delicious recipes!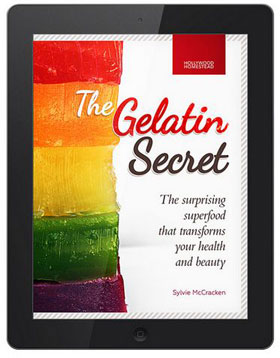 Delicious Obsessions is a participant in the Amazon Services LLC Associates Program, an affiliate advertising program designed to provide a means for us to earn fees by linking to Amazon.com and affiliated sites.Read our full terms and conditions here.