FTC Disclosure: Delicious Obsessions may receive comissions from purchases made through links in this article. As an Amazon Associate I earn from qualifying purchases.Read our full terms and conditions here.

In my house, blackening seasoning is a staple. I use it ALL the time in just about anything from soups, to salad dressings, to chicken, beef and fish, to casseroles, and much more!
I used to purchase the seasoning blend, but once I started paying attention to the ingredients, I decided that I should just make my own to avoid any preservatives, anti-caking agents, and MSG. Plus, it's a lot cheaper. I started experimenting and quickly realized how easy it is – I already had all of the ingredients that I needed on hand.
Delicious Obsessions Product Recommendations
I am always asked about my favorite ingredients and what I use in my own kitchen. I have linked to the products from my affiliate partners that I personally use and recommend. And now, here are the special coupon offers that select affiliate partners are currently offering:
Thrive Market: If you sign up through this link, you will get 15% OFF your first order.
Amazon, of course, has everything you need for this recipe. Their prices are often very good, though I love to shop around and sometimes find that Thrive Market has better deals. If you like saving money, it's good to shop around! 🙂
I get all of my herbs and spices from Mountain Rose Herbs. I have tried so many other brands and have never found the quality, flavor, and aroma to be as good as the herbs I get from Mountain Rose.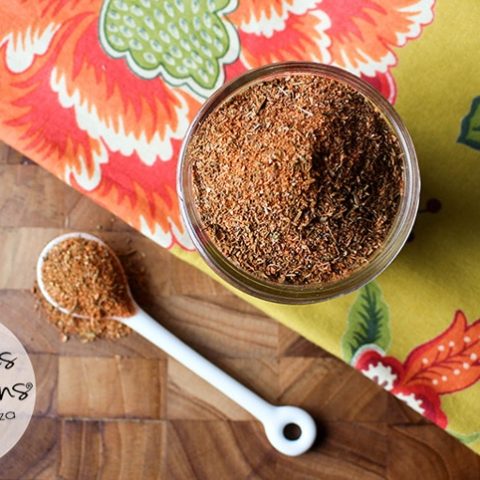 Homemade Blackened Seasoning
Ditch the store-bought spices and make your own spice blend. Use this tasty blend on your favorite protein for a zesty flavor.
Instructions
Stir all of the ingredients together in a bowl and store them in an airtight container.
This makes a pretty large batch, so if you don't anticipate using it quickly, I would recommend cutting it in half or quarters for a smaller batch. I make a big batch because we use it in everything!
Recommended Products
As an Amazon Associate and member of other affiliate programs, I may earn a small commission from qualifying purchases.

Delicious Obsessions is a participant in the Amazon Services LLC Associates Program, an affiliate advertising program designed to provide a means for us to earn fees by linking to Amazon.com and affiliated sites.Read our full terms and conditions here.