FTC Disclosure: Delicious Obsessions may receive comissions from purchases made through links in this article. As an Amazon Associate I earn from qualifying purchases.Read our full terms and conditions here.

Hello friends! I am super excited to welcome my colleague, Rosalee de la Forêt to the site today. Many of you know Rosalee from her work as an herbalist. I have shared her work on this site and my social media for years. Today she is stopping by to share her recipe for herbal Sore Throat Pastilles. I just know you guys are going to love it!
~~~~
Pastilles are a fancy name for herbal pills. They can be made simply by combining powdered herbs with a liquid to form a type of dough. They can be made in advance or prepared when needed.
I really like using herb powders as part of my herbal creations — in this way we are consuming the whole herb and not just extracting certain parts of the herb with water, alcohol, or vinegar.
Powdered herbs will lose their potency faster than herbs stored in their whole form, so be sure to use recently powdered herbs by getting them from a reputable apothecary or by powdering them yourself.
Before getting started on the recipe, let's take a look at sore throats. Why we are using these particular herbs for sore throats?
When throats are sore due to symptoms of a cold or flu, they're usually red, hot, scratchy, swollen, and downright uncomfortable. To help relieve the discomfort, we can use cooling, demulcent, and astringent herbs.
Cooling herbs bring relief to a hot and red throat. Demulcent herbs can soothe a dry irritated throat and astringent herbs can tighten and tone swollen tissues in the throat.
By understanding the state of the tissues involved and by understanding how to match those with herbs, we can be more effective at matching herbs and people.
Herbs Used in Sore Throat Pastilles
Here's a closer look at the herbs in this recipe.
Rose Petals (Rosa spp.)
Cooling and astringent, rose can reduce inflammation and relieve pain. All parts of the rose are astringent and can be used in a variety of ways. Using the petals in medicine adds a sense of luxury.
Sage leaves (Salvia officinalis)
Most of us use this pungent spice once or twice a year when making stuffing to accompany the turkey, but sage offers us many healing attributes. It's antimicrobial and astringent, meaning that it can disable pathogens on contact while tightening and toning tissues. It has a long history of use for mouth ulcerations and sore throats.
Marshmallow (Althaea officinalis)
This sweet and demulcent herb can boost our immune system, relieve a dry cough, and soothe a sore, irritated throat. Common mallow (Malva neglecta) can be used similarly and it probably grows somewhere near you.
Honey
Honey is wonderfully soothing for sore throats and it's also antimicrobial. I like to use raw local honey. Beekeepers are springing up all over the US, making this a fairly easy product to find.
And now on to today's recipe, which is a favorite in our house. I learned of it years ago from herbalist Kiva Rose. I hope you enjoy!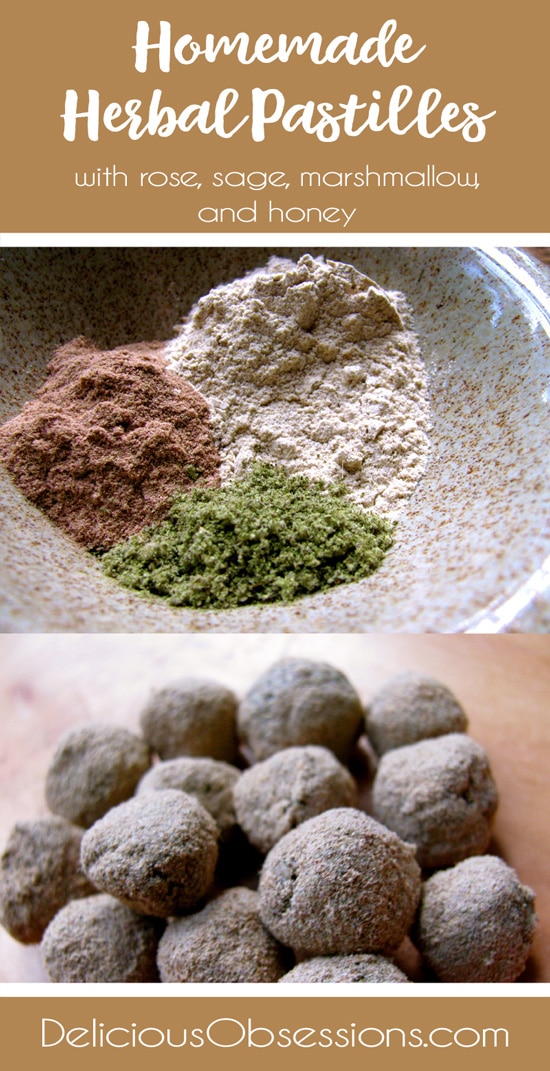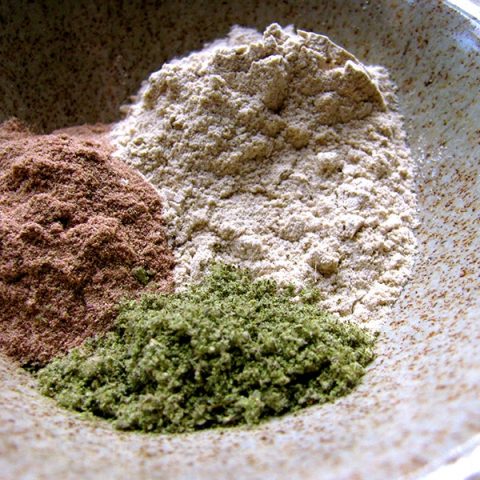 Sore Throat Pastilles
Pastilles can be made simply by combining powdered herbs with a liquid to form a type of dough. They can be made in advance or made when needed. These pastilles can be a great addition to your natural medicine cabinet.
Ingredients
1 tablespoon powdered rose petals
1/2 tablespoon powdered sage leaves
2 tablespoons marshmallow root
1 1/2 tablespoons warmed honey
Optional: additional cinnamon and rose powders
Instructions
Mix the powdered herbs together.
Warm some honey over really low heat. We want this honey to be warm enough to have a syrup consistency but never hot.
Add the honey slowly to the powdered herbs. I like to add a little honey, stir, and reevaluate for the consistency. The end result should be a soft doughy mixture that is not too sticky. You can adjust the honey and powder as necessary.
Once you have mixed the herbs and honey together, you can roll them into balls.
I like to finish the pastilles by rolling them in some additional rose petal and cinnamon powder.
These can be used immediately or stored in the fridge for a couple of weeks.

Delicious Obsessions is a participant in the Amazon Services LLC Associates Program, an affiliate advertising program designed to provide a means for us to earn fees by linking to Amazon.com and affiliated sites.Read our full terms and conditions here.