FTC Disclosure: Delicious Obsessions may receive comissions from purchases made through links in this article. As an Amazon Associate I earn from qualifying purchases.Read our full terms and conditions here.

Super fluffy, high protein gluten-free waffles are on the menu today. If you're looking for a way to get a protein-packed breakfast (or snack) into you or your kids, look no further than these high protein gluten-free waffles. Top them with your favorite toppings for a delicious meal or snack that will keep you satisfied for hours.
If you guys read my First Trimester Update post, you know that those first 13 weeks were ROUGH. I started feeling much better in my second trimester, but that didn't happen until about week 19. So that was A LONG time to feel cruddy. I'm not sure I could have made it if the nausea, fatigue, and food aversions had lasted throughout the whole pregnancy.
My food aversions were something totally unexpected and way more intense than anything I'd ever experienced before. I am not normally a picky eater. I like to try new things, I love bold flavors, and I eat a wide variety of foods.
Yeah. That all went out the window during my first trimester.
First Trimester Adventures…
Starting at week 6, I started having intense aversions to almost everything I would attempt to eat, especially meat.
Ick.
Meat was the WORST. I can't even tell you how many times I gagged trying to choke down a piece of chicken or steak. And any form of ground meat? NO WAY!!! I would get nauseous just thinking about it.
I actually gave up on trying to eat meat daily because it got so bad. I was largely vegetarian from week 6 until week 12. Thankfully I was able to tolerate eggs the whole way through. And occasionally, I could toss in some turkey sausage links or turkey bacon and get that down.
At week 12, things started shifting slightly. Can I get a HALLELUJAH???? Around then, I started noticing that I could eat some steak without gagging. And then at week 13, I was even able to eat some canned salmon.
I thought I was finally over the hump, but at week 14, just as I was entering the second trimester, those food aversions came back full swing. They stuck with me through week 19-ish and thankfully started to let up. Even though I dealt with some food aversions, especially around meat, for the remainder of my pregnancy, I was at least able to eat a little more normally after week 19.
Anywho. You can read that full First Trimester Update post here. I was pretty honest and open about my experience just because it was so rough physically and emotionally. And from talking to other women, there is a need for this honest discussion about pregnancy.
Too often all we see and hear about is the "perfect" stuff. The easy pregnancies, the easy labor, the easy postpartum. We need more REAL, HONEST discussion about all the ins and outs of the most transformational period in a woman's life, am I right?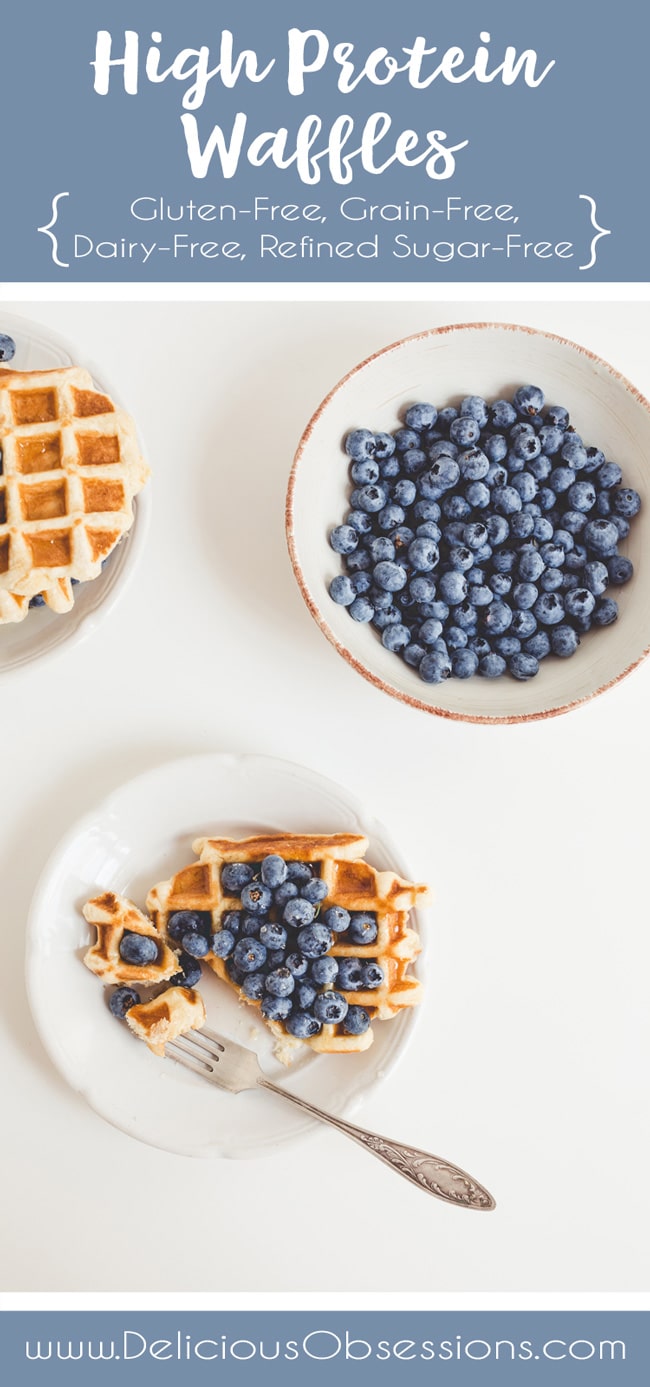 The Necessity of High Protein Gluten-Free Waffles
When I was in the thick of that 6 week period, I was struggling to get in enough calories each day. I spent a few weeks living on peanut butter, hot tea, frozen blueberries, and dairy-free yogurt.
That got really old, really fast.
One day I got a hankering for waffles. I had not made waffles in probably a year, despite my waffle maker sitting on my kitchen shelf staring at me.
Most cooking was completely out of the question, but waffles I felt like I could manage without gagging.
So, in my never-ending quest to pack in as much nutrition as possible into the things I make, I decided to try to make a super, duper high protein gluten-free recipe with lots of healthy fats. I figured if I could eat these along with a couple eggs every day, at least I'd be doing OK in the protein department. I was still WAY deficient, but anything is better than nothing when you're in the thick of it.
This recipe was born out of this necessity. How many times have I have I created new recipes because of necessity? Reminds me of one of my favorite quotes: necessity is the mother of invention.
In this case, the necessity to eat more than a couple of tablespoons of peanut butter each day was what drove me to invent these super high-protein gluten-free waffles. And they worked. I could stomach them and pretty much lived on them for a few weeks straight.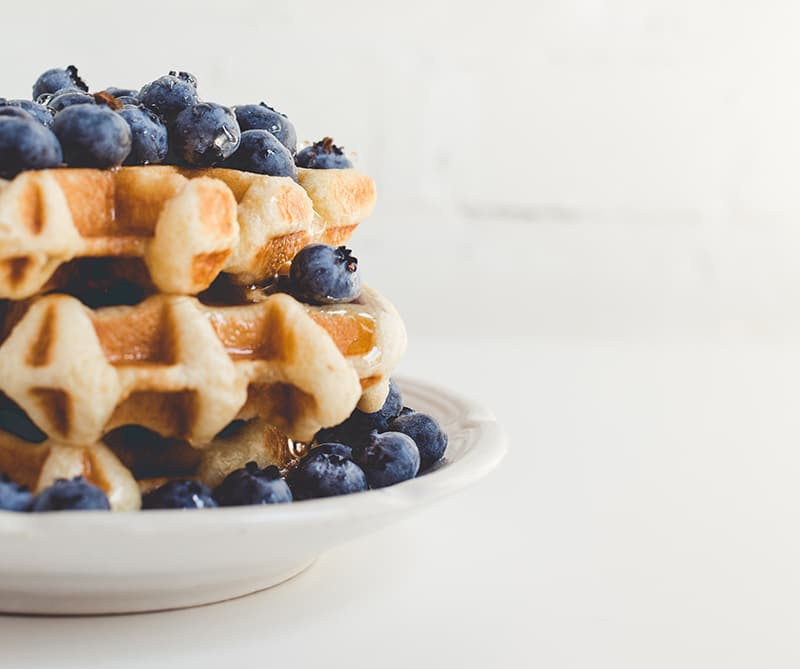 High Protein Gluten-Free Waffles Notes
These high protein gluten-free waffles are amazingly thick and fluffy. I was actually pretty surprised at how well they turned out. They are definitely going to be denser than a wheat-based waffle, but they are just as good.
This recipe makes 4 large waffles for me. The recipe yield is going to depend on what waffle maker you have. I have this one and I'll toss a few of my other favorites below this section.
The protein comes from the 4 core ingredients: eggs, collagen powder, almond flour, and coconut flour. According to my calculations (and the nutrition panels on each product I used), each waffle has 35.5 grams of protein.
5 eggs = 30 grams of protein
5 scoops grass-fed collagen powder = 50 grams of protein
2 cups almond flour = 56 grams protein
1/4 cup coconut flour = 6 grams protein
Total protein = 142 grams, divided by 4 waffles (or however many your maker makes)
If you like sweeter waffles, feel free to add in some granulated sweetener of your choice. I just used a little stevia in my recipe.
Also, the xanthan gum is optional because I know some of you can't tolerate it. I do fine with it and I find it really improves the texture of gluten-free things so that's why I use it in some of my recipes.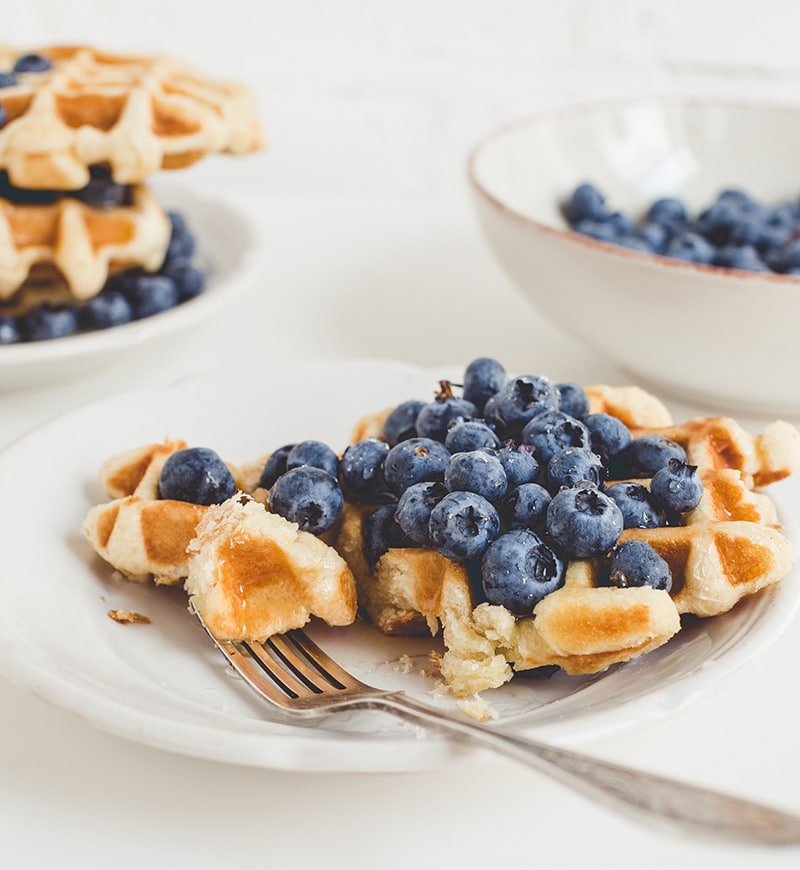 Delicious Obsessions Trusted Product Recommendations for High Protein Gluten-Free Waffles
I am always asked about my favorite ingredients and what I use in my own kitchen. I have linked to the products from my affiliate partners that I personally use and recommend. And now, here are the special coupon offers that select affiliate partners are currently offering:
Thrive Market: If you sign up through this link, you will get 15% OFF your first order.
Amazon, of course, has everything you need for this recipe. Their prices are often very good, though I love to shop around and sometimes find that Thrive Market has better deals. If you like saving money, it's good to shop around! 🙂
Waffle Maker Suggestions for High Protein Gluten-Free Waffles
If you don't have a waffle maker, I bet these would make delicious pancakes. While I know that a waffle maker is not a kitchen tool that I use all the time, I really like having one on hand for special occasions. One of my favorite things when I used to go out and eat breakfast a lot was waffles so it's nice to have the option to make them at home when the mood strikes. More times than none, I have been asked on social media which waffle makers I recommend. So here are a few popular options, including the one I have (and love):
This Oster Ceramic Waffle Maker is the one I have and love. It's easy to use and clean and it has a non-stick ceramic coating that is free of PTFE and PFOA chemicals. The coating also doesn't flake or peel and it's 4x more durable than other coatings. It also cooks up to 20% faster than other waffle irons which saves some time and energy (though I don't use it enough to really have that be a big issue for me). It also has an adjustable temperature control. At under $35, I thought it was a great deal considering it had the ceramic coating I was looking for.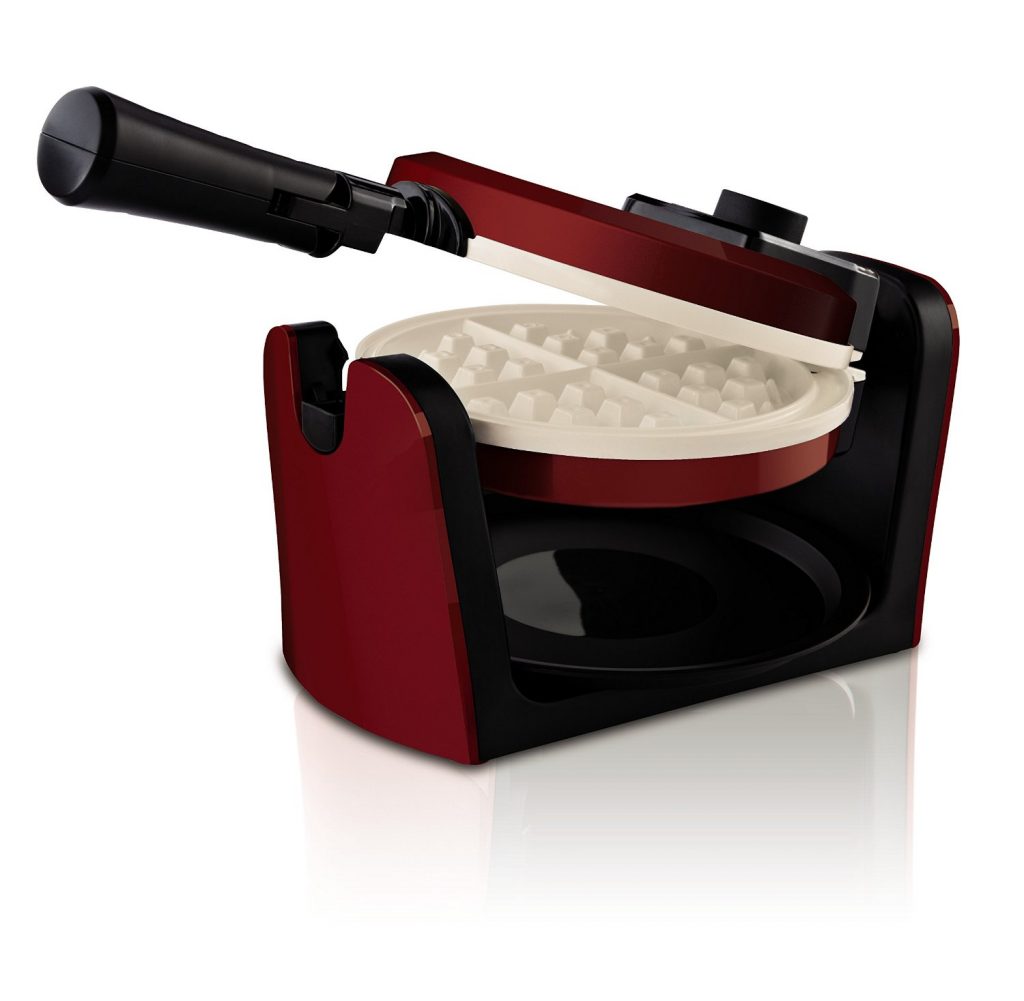 P.S. If you're looking for some other ceramic options, check these out.
This Hamilton Beach Waffle Maker reminds me of the one my mom had when I was little. Square waffles were what I was accustomed to when I was growing up. I didn't even realize there were round waffles until I was a little older. No junk food in my home growing up so I don't think I even knew about Eggo® Waffles! LOL!
This one has a non-stick grid that makes 2 waffles and a shade selector so you can get the perfect brown every time. It's compact and can be stored upright. The exterior is made from stainless steel. At under $20, this is a great option for people who are not going to use it very often.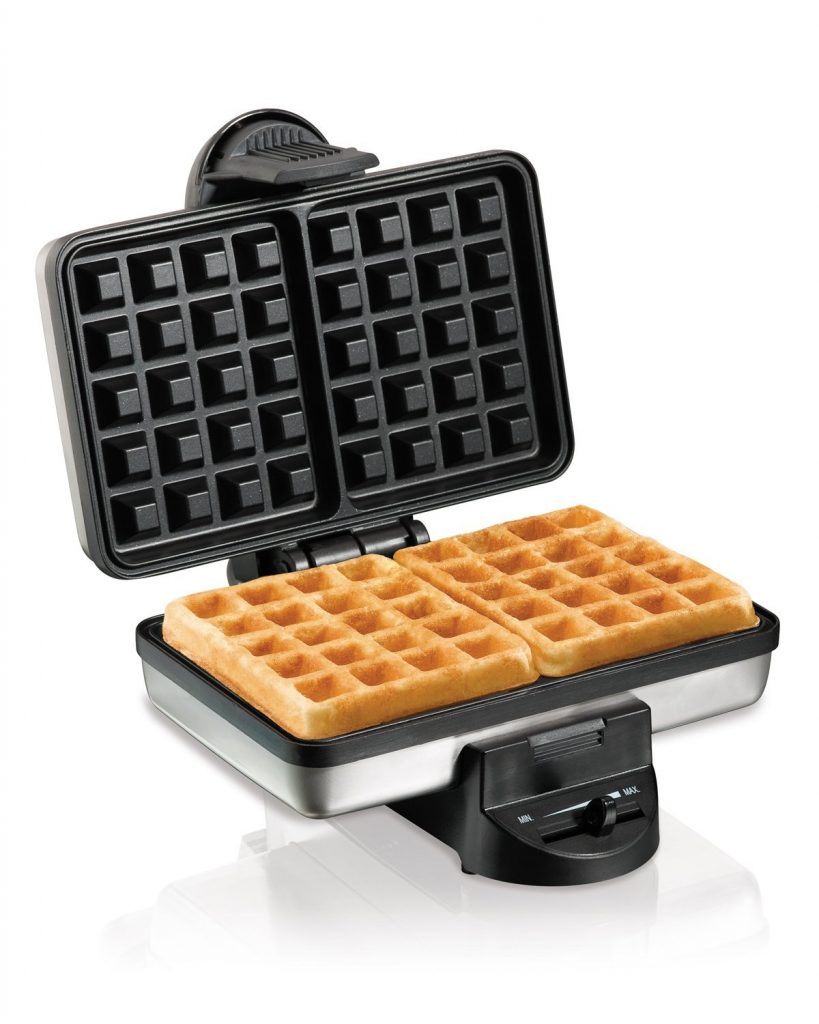 When it comes to a traditional waffle maker, this Presto FlipSide is what most people think of. It's no wonder that it is one of Amazon's #1 bestsellers. And it has almost 3,500 customer reviews! This waffle maker features an extra-thick grid that makes huge and thick waffles that can easily be cut into sections.
It also has a countdown timer so you know when the waffle is ready and a non-stick interior coating. The pricing for this one stays right around $35. It was one that I was wondering when I bought the Oster Ceramic Waffle Maker above and the price never moved more than a few cents.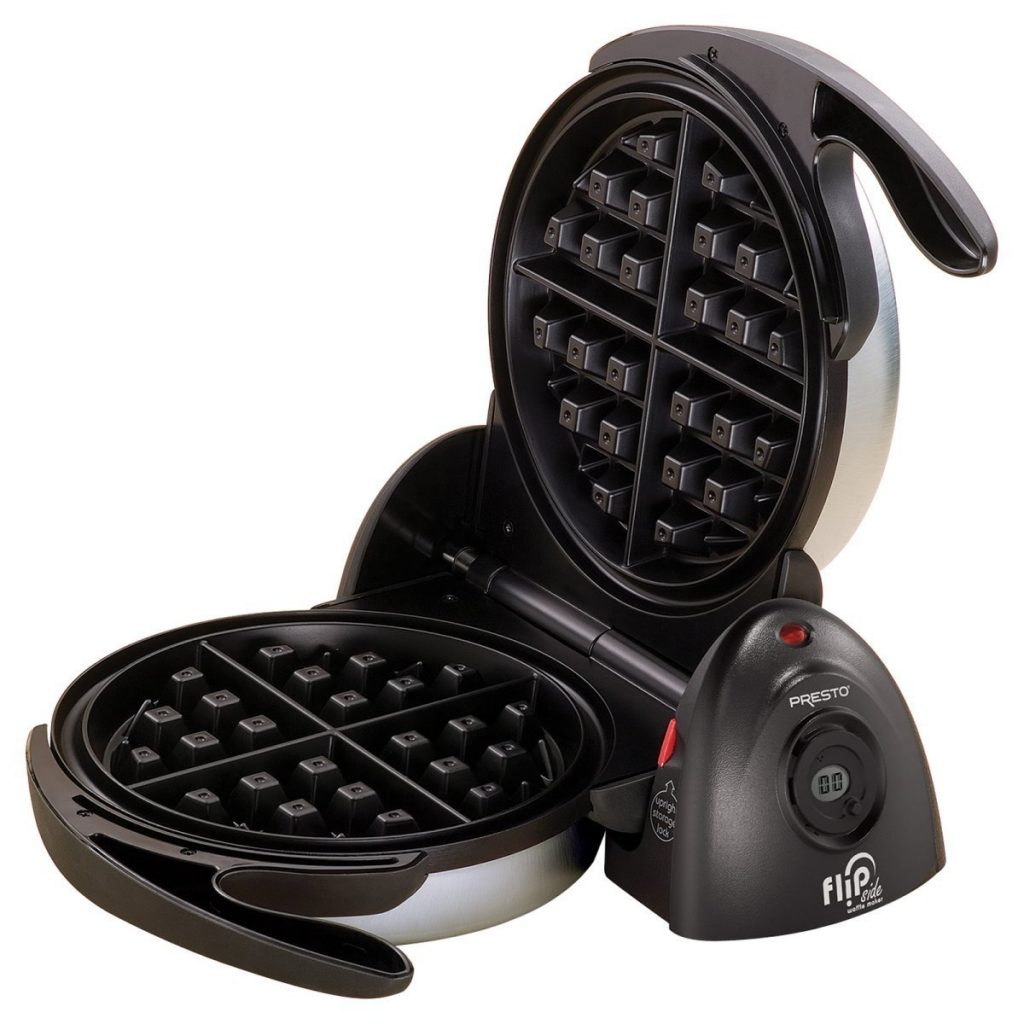 Old Fashioned Cast Iron Waffle Makers
If you want to avoid electric waffle makers and questionable coatings altogether, then they do still make cast iron options. Here are a few I found on Amazon, but they seem to come and go so if you see one you like, snag it. You might also keep an eye out at thrift stores and antique stores for a cast iron waffle maker. Click on the name of the product or the image to learn more.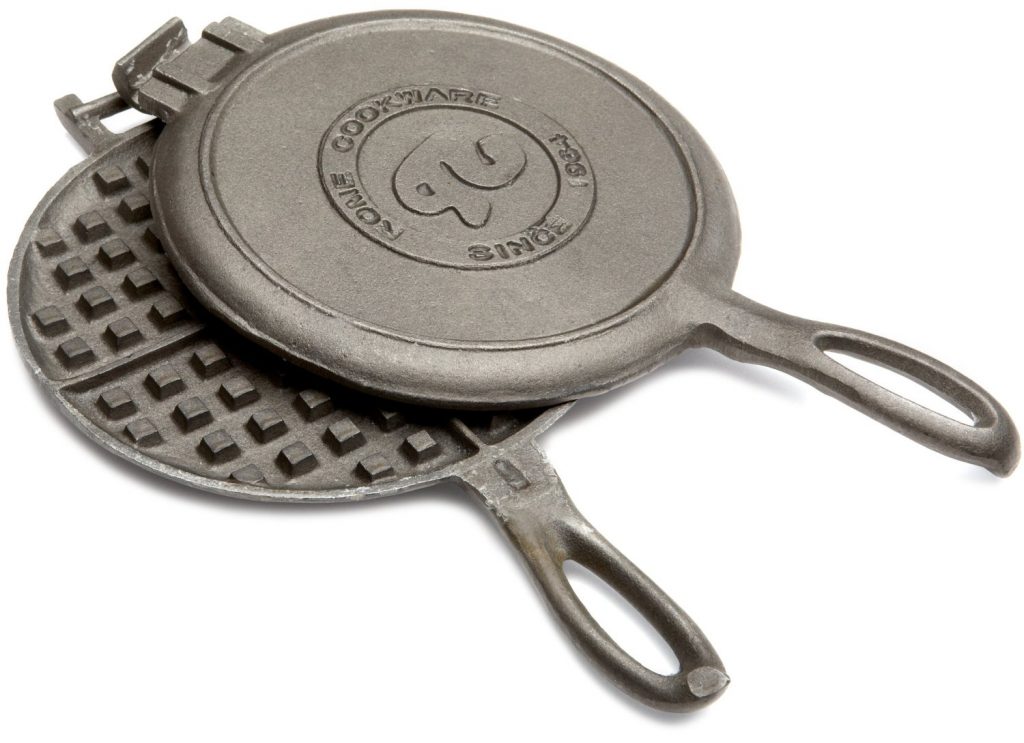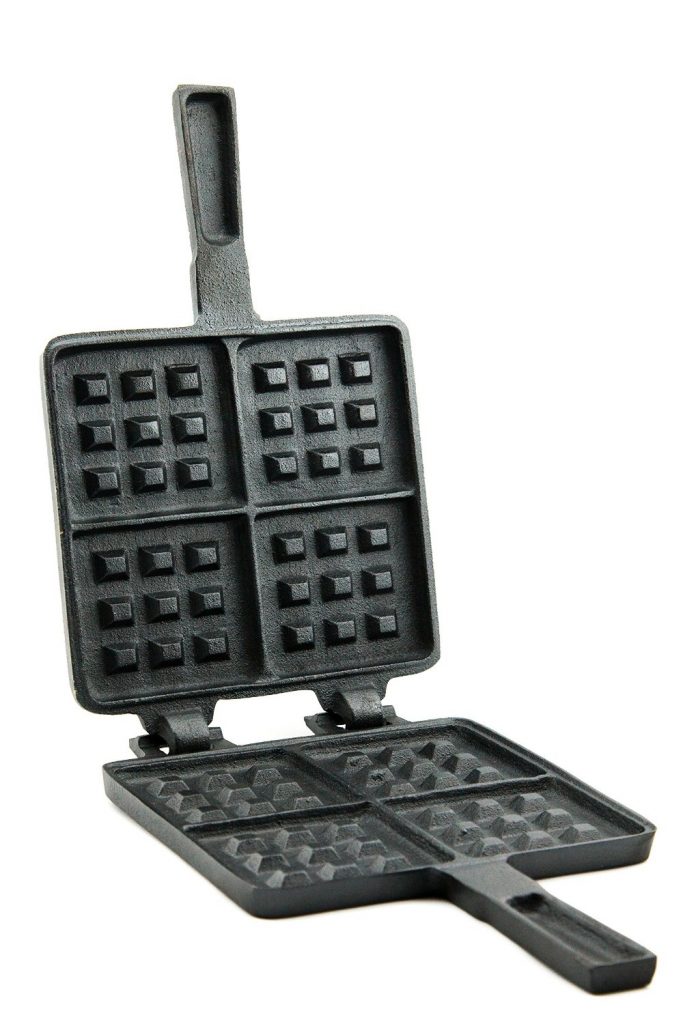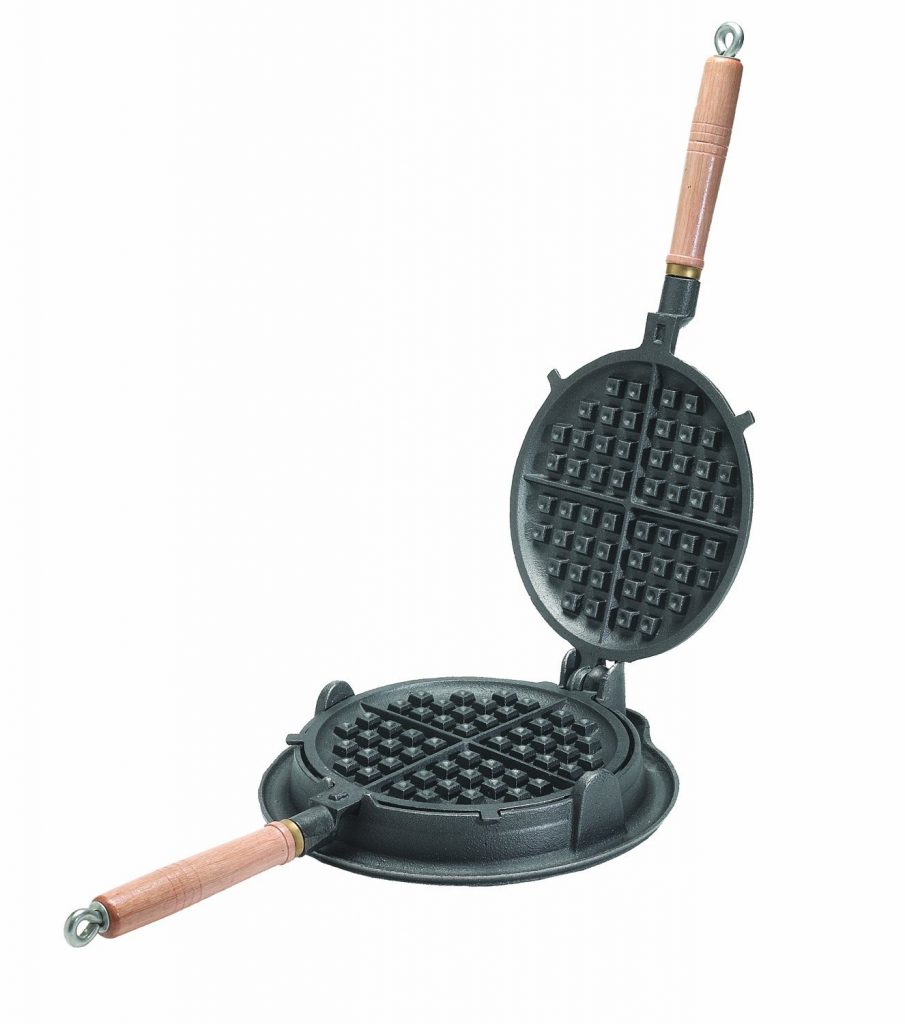 Hopefully, that gives you some options to research if you've been wanting to get a waffle iron for your own kitchen. IMHO, these waffles are worth getting a waffle iron for. 😉 Ready to dive in? Let's eat!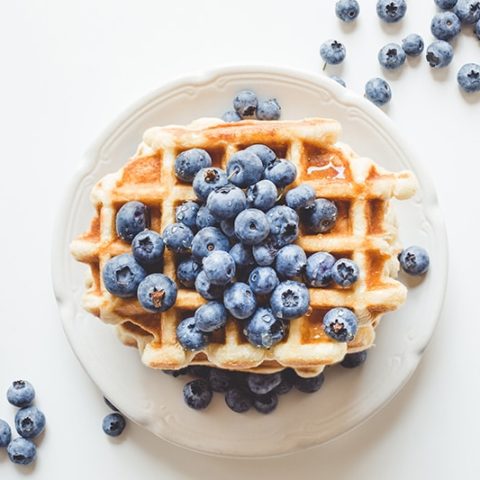 High Protein Gluten-Free Waffles :: Grain-Free, Dairy-Free, Refined Sugar-Free
Super fluffy, high protein gluten-free waffles are on the menu today. If you're looking for a way to get a protein-packed breakfast (or snack) into you or your kids, look no further than these high protein gluten-free waffles. Top them with your favorite toppings for a delicious meal or snack that will keep you satisfied for hours.
Instructions
Combine your eggs, milk, vanilla extract, almond extract, and stevia (or other sweetener) and mix until well-combined.
Slowly pour in the melted coconut oil and continue to mix until incorporated.
In a separate bowl, combine the collagen powder, almond flour, coconut flour, baking powder, xanthan gum, and sea salt. Stir to combine.
Slowly add the dry mixture into your wet ingredients.
This batter is not going to be super runny, as a matter of fact, it might get pretty thick. If it's too thick to handle, add a little extra milk. You don't want it to be super runny though. You want it to be more of a cookie dough consistency. Trust me. The waffles will turn out better if the batter is thicker. 🙂
Heat your waffle maker. Oil or spray the surface if desired/required.
Cook the batter according to your waffle maker's instructions. In my maker, each waffle takes about 5 minutes to cook completely.
Remove from the heat and serve with your favorite toppings.
These store well in the fridge for up to 5 days. They also freeze nicely. You can wrap them individually and then defrost in the oven when ready to eat.
Notes
Please don't use gelatin in this recipe! I tried it and the waffles get super sticky and hard to handle. I recommend sticking with the collagen powder.
Recommended Products
As an Amazon Associate and member of other affiliate programs, I may earn a small commission from qualifying purchases.
Nutrition Information:
Yield:

4
Serving Size:

1
Amount Per Serving:
Calories:

325
Total Fat:

29g
Saturated Fat:

10g
Trans Fat:

0g
Unsaturated Fat:

19g
Cholesterol:

233mg
Sodium:

345mg
Carbohydrates:

10g
Fiber:

6g
Sugar:

4g
Protein:

35g
This website provides approximate nutrition information for convenience and as a courtesy only. Nutrition data is gathered from Nutritionix and we often find their calculations to be slightly inaccurate based on the whole food ingredients we use on this site. Nutrition information can vary for a recipe based on many factors. We strive to keep the information as accurate as possible, but make no warranties regarding its accuracy. We encourage readers to make their own calculations based on the actual ingredients used in your recipe, using your preferred nutrition calculator.
Make Real Food Easy and Affordable! Introducing My Real Food 101 Series + Special Coupon!
Real food doesn't have to be complicated, overwhelming, or expensive. We're all busy, we're all on budgets, but we all deserve to eat nutritious food that satisfies our hunger and fuels our body.
That's why I created the Real Food 101 series and why I am sharing them (and a special coupon code with you today!). If you're new to real food, or just want a refresher, this series is PERFECT for you!
Countless hours of research, organization, recipe development, and design went into creating the perfect guide to all things real food. I created these books to help people eat better and live better through real food and natural living, which is the core mission of this site.

I'll be your personal guide, taking your hand and helping through every step of your whole health journey as you discover:
Why Your Health And Real Food Are Interconnected
What "Real Food" Actually Is
Making Real Food Affordable
Go-To Real Food Brands
Dozens Of Real Food Resources
Delicious, Kitchen-Tested Real Food Recipes the Whole Family Will Love
How to Stock Your Kitchen and Pantry
How to Prepare Real Food Meals at Home Without Breaking the Bank
How to Create Delicious Beverages and Smoothies.
How Making Your Own Condiments, Dressings, and Sauces is Easier Than You Think (and saves your Health and Your Budget!).
Ways to Eat More Vegetables (Even if There are Picky Eaters Involved).
How To Prepare Delicious Entrees That Will Have You Thinking You're Eating in a 5 Star Restaurant
Access To Curated Recipe Archives, Suggestions, And Pantry-Stocking Ideas
And Much, Much More!
In celebration of today's recipe, I am offering YOU a special coupon code where you can get my entire Real Food 101 Series for 50% OFF! Yes, you read that right! All you have to do is use coupon code REALFOOD50 at checkout to save.
For under $17 you will have a full resource library full for helpful information, tips, tricks, and delicious kitchen-tested recipes that will keep you and your family eating and feeling good year round.
Learn more about the Real Food 101 Series Bundle via this link, or click on the button below. Don't forget to use coupon code REALFOOD50 to save 50% on the full bundle! Here's to YOUR health and wellness!


Delicious Obsessions is a participant in the Amazon Services LLC Associates Program, an affiliate advertising program designed to provide a means for us to earn fees by linking to Amazon.com and affiliated sites.Read our full terms and conditions here.